Honda Accord Sport Hybrid vs Toyota Camry Hybrid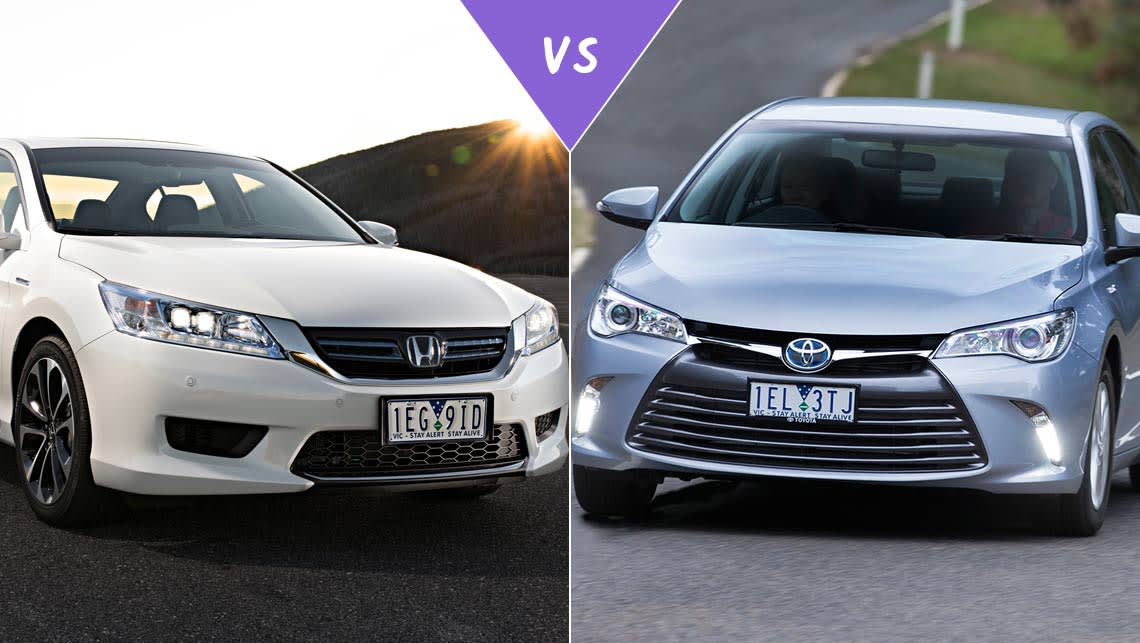 Fuel efficiency is tricky tech that comes at a cost — either a huge premium or diminished dynamcis. Craig Duff takes charge.
Honda Accord Sport Hybrid
from $58,990
Tell 'em they're dreaming. Honda isn't seen as a prestige brand, so $58,990 won't sit well when the Lexus IS300h is cheaper and a base Mercedes C-Class is a couple of grand more. The Accord is well-specced, with adaptive cruise control, auto braking, active lane keeping, satnav and leather upholstery. Servicing costs $307 every 12 months/10,000km for the first five years.
Toyota Camry SL Hybrid
from $40,440
If you are prepared to forgo the heated leather seats and more up-market plastics, there's almost $20K to be saved buying the Toyota. It may not be as premium but the price is far more practical. Standard kit runs from satnav and a reversing camera to autonomous emergency braking, active cruise control and blind-spot and lane-departure alerts. It will cost $140 to service every nine months/15,000km for the first five visits to the dealer.
Honda Accord Sport Hybrid
Engine
A 2.0-litre four-cylinder engine and a pair of motors (one drives the front wheels, the other works as a generator to charge the 1.3kWh lithium-ion battery) produce a combined 146kW/307Nm. Power is delivered via an "E-CVT", with software to govern the drivetrain's three modes: electric (up to 2km), hybrid and petrol-only. Fuel use is a claimed 4.6L/100km.
Toyota Camry SL Hybrid
Engine
A 2.5-litre four-cylinder engine is paired with an electric motor and 1.6kWh nickel-hydride battery pack. Drive is via a regular CVT to the front wheels and there's a combined 151kW (Toyota doesn't disclose torque) and the 0-100km/h sprint takes 7.2 seconds. Claimed fuel use is 5.2L/100km.
Honda Accord Sport Hybrid
It looks like a Honda Accord with 18-inch alloy wheels and blue highlights across the grille slats and around the lights. The regular Accord fulfils the smart but conservative brief; this is the neon version. The interior uses a smaller touchscreen for audio functions and a larger display for satnav and reversing camera. It is classy and well-built but a step away from premium.
The exterior look has leapt from banal to stylish. It still won't challenge a Mazda6 for cutting-edge contours but the overhaul works well from every angle. The inside didn't earn an update so doesn't look as modern as its competition but it is roomy, well-assembled and functional.
Honda Accord Sport Hybrid
ANCAP has not rated the hybrid version. It probably won't, given Honda expects only niche sales. It's 70kg heavier but it's safe to expect the hybrid to be close to the five-star rating earned by the petrol-powered Accords.
All Camrys have a five-star ANCAP rating and a score of 36.27/37. Seven airbags are standard fare, as is a reversing camera. As the top model, the SL adopts the radar/camera-based driver aids that are commonplace on luxury cars but increasingly finding their way into mainstream models.
Honda Accord Sport Hybrid
Efficient yes, engaging no. The Sport Hybrid is no quicker than a regular Accord and attempts to generate decent acceleration aren't fruitful. The transmission displays the generic CVT penchant for drivetrain drone, which is exacerbated by engine noise that is far from refined. The beefed-up suspension copes well with all but sharp-edged bumps. Steering and brake feel are above average.
Don't expect dynamic excellence and the Camry hybrid won't disappoint. It does everything reasonably well without excelling in any one area. It absorbs bumps with aplomb, the steering is never going to lead you astray and the CVT drone isn't overly intrusive. It is a commuters' city car where ease of driving and fuel use are the priorities and it achieves both aims.
Honda Accord Sport Hybrid
The Honda has more class than the Toyota — but it's not $20,000 classier, which puts the Camry out in front.