Mazda MX-5 RF GT special edition 2017 review
The Mythbusters tested the claim that if you're driving a convertible in the rain, with the top down, at high speed, you'll remain dry. We've failed to confirm it in Mazda's MX-5 GT RF special
What we like
Distinctive looks
Huge fun to drive
Value
What we don't
Steering wheel adjusts for height only
Not exactly practical
Frustrating glove box location
What we like
Distinctive looks
Huge fun to drive
Value
What we don't
Steering wheel adjusts for height only
Not exactly practical
Frustrating glove box location
The Mythbusters once tested the claim that if you're driving a convertible in the rain, with the top down, at high speed, you'll remain dry. And applying their usual regime of small- and full-scale testing worked up to the point where they determined that at 145km/h, blasting through a 60 metre long rain-simulating rig, not a drop of H2O will enter a soft-top's cabin.
Declared 'Plausible, but Not Recommended' due to "the inherent danger of driving at such high speeds on wet roads", the episode came to mind as an apocalyptic rain squall did its best to wash Friday evening peak hour traffic off the Sydney Harbour Bridge, as I drove home in the special edition version of Mazda's MX-5 RF GT… with the roof open.
As a long-time subscriber to the 'speed-will-keep-the-rain-out' theory, I was naïvely confident as ominous clouds darkened around 10 minutes beforehand, plus a solid plan-B was in place given the roof on Mazda's new MX-5 variant could be raised or lowered on the move.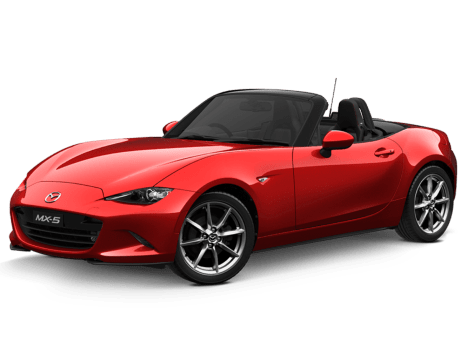 Explore the 2017 Mazda MX-5 range
But as the heavens opened, and a sizeable lake's worth of water dumped onto the freeway, Jamie and Adam's wise (and scientifically fortified words) began ringing in my decidedly damp ears. Plan-B was also a total fail as I hadn't twigged to the fact that the roof will only raise or lower at 10km/h or less, and travelling at exactly half the sweet spot speed, let's just say things got a bit damp.
Having given fellow commuters a brief end of week chuckle, a mad scramble for a splash and dash pit stop under the first available overpass required just 13 seconds for the electronically-controlled roof to do its fold-out party trick.
Thankfully, the special edition's 'Vienna' nappa leather trim wiped down a treat, and in the following week the weather gods turned off the taps occasionally, so we could enjoy the full range of this car's distinctive personality.
Is there anything interesting about its design?
The full soft-top version of the current (ND) MX-5 arrived in Australia in mid-2015. And because a retractable hardtop version had accounted for more than half of the previous gen NC's global sales, the logical expectation was that a folding hardtop version of the new ND would soon follow.
Sure enough, early last year, MX-5 program manager and chief designer Masashi Nakayama duly pulled the covers off this RF (Retractable Fastback) version. But as he did, eyebrows raised and jaws dropped.
Rather than collapse and disappear under the surface, the RF's entire rear roof section lifted up in the style of Porsche's current (991) 911 Targa, allowing a two-part lid to slip beneath, before the roof glided back into position.
And you can see what all the fuss is about. A long, tapering turret, complete with 'flying buttress' supports, shifts visual weight to the rear, giving the car a distinctive profile and striking stance, broadly reminiscent of BMW's M Coupe from the late 1990s.
Always a subjective call, but we reckon Nakayama-san has played a blinder. The MX-5 RF looks as cool as Bruno Mars with a new fedora, and surprisingly different from its soft-top sibling.
Inside, the only obvious difference between the roadster and RF is a small rocker switch on the centre console to control the roof's operation.
The characteristic, three ring instrument cluster is dominated by a larger central rev-counter, and while the left hand dial masquerades as a conventional gauge, displaying fuel, temp and distance read-outs, it's actually a 4.6-inch colour LCD screen which runs an animation of the roof when it's operating, so you don't have to swivel around like a laughing clown to check it's moving.
The familiar 7.0-inch 'MZD Connect' screen sits proud of the dashtop in the centre of the car, displaying a range of functions including internet connectivity, audio, phone and nav, all managed via touch or a rotary controller in the centre console.
A clear highlight is the slender leather-trimmed seats featuring a single line of hexagonal, diamond-shaped stitching along the pleat in their centre sections. Dead sexy.
Short story is the RF GT punches well above its weight in terms of visual impact, design quality and precision detailing.
How practical is the space inside?
If someone asks you to help them shift house, don't bring your MX-5 RF to chip in with the heavy lifting, the word practicality simply isn't in its vocabulary... and nor should it be.
We didn't photograph the CarsGuide pram or luggage set with this car, it's simply not relevant. Boot capacity is just 127 litres (three less than the soft-top), but that's plenty for a couple of decent soft bags, ready for a cheeky weekend away, covering some favourite backroads in the process.
Annoyingly, the glovebox is in the bulkhead behind and between the seats, with a couple of cupholders sitting below (they can be unplugged and moved down next to the ventilation controls). There's a small lidded oddments box lower down, a tiny cavity at the leading edge of the centre console, and that's about it for cabin storage.
 
In the spirit of less is more, there are no door pockets or bottle bins, but you will find a pair of USB inputs, and an in-line audio socket in the centre console, plus a 12 volt outlet (weirdly hidden) in the top of the passenger footwell.
Does it represent good value for the price? What features does it come with?
Cost of entry to the 2.0-litre-only MX-5 RF club is $38,550 for the six-speed manual (+$4060 on the equivalent roadster), while our GT special edition comes in at $44,890 for the six-speed manual (as tested) and $46,890 for the six-speed auto. By comparison, the top-spec GTS version of Toyota's 86 coupe will set you back $36,490 (for a manual).
All MX-5 RFs boast a healthy standard equipment list including, 17-inch alloy rims, LED headlights and DRL's, air-conditioning, cruise control, six-speaker audio with internet radio integration - Pandora, Stitcher, and Aha – (but no Apple CarPlay or Android Auto), the 7.0-inch MZD Connect touchscreen display, and satellite navigation.
The GT version adds auto headlights and wipers, heated leather seats, climate control air, 203 watt, nine-speaker 'Premium Bose' audio, an auto-dimming rear-view mirror, adaptive front-lighting (optimises light distribution for specific driving conditions), and keyless entry. While the GT special edition picks up a black-painted roof and the super-soft nappa leather trim.
A price nudging perilously close to $50k isn't to be sneezed at, but the flagship MX-5 doesn't miss out on much relative to the competition (which strictly speaking, is non-existent).
What are the key stats for the engine and transmission?
Largely because the RF tips the scales 47 kegs heavier than the corresponding soft-top (auto +49kg) it side-steps the latter's sweet 1.5-litre four cylinder base engine, and sticks with the big-banger 2.0-litre only.
The all-alloy 'Skyactiv-G' powerplant is a double-overhead cam design featuring direct-injection and variable valve timing, and produces 118kW at 6000rpm and 200Nm at 4600rpm.
Those kilowatts and torques are fed to the rear wheels via six-speed manual gearbox or six-speed (torque converter) automatic transmission.
How much fuel does it consume?
Claimed combined cycle fuel economy is 7.0L/100km (auto 7.4), and we recorded 8.6L/100 (courtesy of the on-board trip computer) over roughly 300km, spread evenly across suburban, freeway, and (damp) city running.
Minimum fuel requirement is 95RON, and the tank holds 45 litres, which at our average consumption rate translates to a range of around 520km.
What's it like to drive?
You and I know it as 'Zoom Zoom', but internally Mazda refers to that notion of driving enjoyment as 'Jinba-ittai', which roughly translates from Japanese as 'horse and rider as one.' And if you ever wanted to saddle up and get a concentrated dose, the MX-5 is arguably its ultimate expression.
The ND MX-5 follows Mazda's 'Skyactiv' engineering and design philosophy to the hilt. That is, add lightness, optimise aero performance, and wring every last drop of efficiency from the engine and drivetrain.
At 3.9m long, 1.7m wide, and just over 1.2m high, it's compact, and despite an additional 47kg over the soft-top, the RF GT is still a relative lightweight at 1080kg.
In fact, Mazda's white coats pulled out all stops to lighten the roof and its related hardware, making the leading section from aluminium, the middle out of steel, and choosing SMC (Sealed Mould Compound) plastic for the rear.
However, at this point it might be worth noting a folding metal roof only added 36kg to the previous gen (NC) MX-5 hardtop's weight.
The RF's double wishbone front, multi-link rear suspension has been retuned with higher pressure gas dampers, stiffer springs, a fatter front anti-roll bar, and tweaked rear links. And the electrically-assisted power steering has also been revised to align with the car's extra kilos and their specific distribution.
Given most people drive facing forward, with the roof back there's not a lot of difference between soft and hardtop versions for the person behind the wheel; open air, a raspy exhaust note drifting into the cabin, and the often pleasant, occasionally unsettling smells of the passing landscape hitting your nostrils.
An acrylic 'Aero Board' wind blocker in the RF helps improve the balance of air pressure inside and outside the car by preventing air from the rear blowing back into the cabin, all the while maintaining rear visibility. And with the roof up, a three-layer headliner helps keep things quiet and secure, with more than enough headroom for this 183cm occupant.
For what it's worth, I reckon the 1.5-litre is the pick of the two engines offered in the soft-top MX-5, but somehow the 2.0-litre feels just right in the RF.
Although peak torque (200Nm) arrives high in the rev range (4600rpm), acceleration, while hardly neck-snapping, is still handy lower down, and really gets into its stride by the time peak power (118kW) comes on board at 6000rpm. Purely in the interests of thorough assessment we discovered the rev limiter drops in to spoil the party at 6900rpm.
Mazda isn't quoting a 0-100km/h time for the RF GT, but bank on 7.5sec. However, this car isn't about brute force. It's light-footed, agile, and simply swapping through the manual's six ratios is half the fun. The manual gearbox retains the same 40mm shift stroke that's been carried through all MX-5's since the first-generation close to 30 years ago, and it feels brilliantly click-clack direct.
Ride comfort is impressive, the steering delivers clear road feel and rapid response, while body control through quick twisting sections is superb.
The grippy 17-inch (205/45) Bridgestone Potenza S001 rubber is a perfect match for the taut and nimble chassis, while the (manual only) limited-slip differential ensures drive is going to the rear wheel that can use it most.
Brakes don't need to be dinner plate size for a car in this weight division, and the RF's ventilated front, solid rear discs deliver progressive and secure stopping power.
A few niggles. Surprisingly, the steering wheel adjusts for height but not reach, a digital speedo in the rev-counter (as per other Mazda models) would be great, and while the seats look super-classy, the backrest feels decidedly slim as lateral Gs start to build through even modest corners.
What safety equipment is fitted? What's the safety rating?
In terms of active safety the MX-5 RF GT features ABS brakes, electronic brake force distribution, blind spot monitoring, rear cross traffic alert, dynamic stability control, traction control, and a tyre pressure monitoring system.
And if contact is unavoidable front and side airbags for driver and passenger are on-board to help minimise injury.
Although ANCAP doesn't rate the RF version specifically, it awarded a maximum five stars to the MX-5 when it was tested in mid-2016.
What does it cost to own? What warranty is offered?
The MX-5 is covered by Mazda's three year, unlimited kilometre warranty.
Scheduled maintenance is due every 10,000 km or 12 months (whichever comes first), and the first five years of the 'Mazda Service Select' capped price serving program breaks out as - $299 for the first service, $341 for the second, then back to $299 for the third, another $341 for the fourth, and, you guessed it, $299 for the fifth. You'll also be need to replace the brake fluid every 40,000km or two years at $91 a throw.
Mazda's Australian website also allows owners to enter their vehicle's VIN and calculate current service pricing.
Verdict
Since the original NA version burst into life in 1989, more than a million MX-5s have rolled out of Mazda's Hiroshima plant and into the hands of enthusiastic owners at all points of the globe. It is, as they say, a massive success, and a modern classic.
We love the fact that over close to 30 years Mazda has stayed true to the original idea of a traditional, simple sports car that's light, nimble and driver-focused. And don't be fooled by our overall score, a less than stellar ranking for practicality skews the average. This RF GT, especially in special edition guise, is a beautiful, brilliantly versatile and dynamically outstanding addition to the line.
Do you think the RF hardtop is a plus or minus for the MX-5? Tell us what you think in the comments below.  
Pricing guides
$36,990
Based on 27 cars listed for sale in the last 6 months
Range and Specs
| Vehicle | Specs | Price* | |
| --- | --- | --- | --- |
| (base) | 2.0L, PULP, 6 SP AUTO | $20,400 – 27,720 | 2017 Mazda MX-5 2017 (base) Pricing and Specs |
| GT | 1.5L, PULP, 6 SP MAN | $20,300 – 27,610 | 2017 Mazda MX-5 2017 GT Pricing and Specs |
| RF | 2.0L, PULP, 6 SP AUTO | $23,300 – 31,680 | 2017 Mazda MX-5 2017 RF Pricing and Specs |
| RF GT | 2.0L, PULP, 6 SP AUTO | $25,100 – 33,330 | 2017 Mazda MX-5 2017 RF GT Pricing and Specs |
Pricing Guide
$29,990
Lowest price, based on 18 car listings in the last 6 months
View cars for sale
Similar Cars
Nissan 370Z

Mazda 3

BMW Z4

Mini Cooper

Disclaimer: The pricing information shown in the editorial content (Review Prices) is to be used as a guide only and is based on information provided to Carsguide Autotrader Media Solutions Pty Ltd (Carsguide) both by third party sources and the car manufacturer at the time of publication. The Review Prices were correct at the time of publication.  Carsguide does not warrant or represent that the information is accurate, reliable, complete, current or suitable for any particular purpose. You should not use or rely upon this information without conducting an independent assessment and valuation of the vehicle.