Aston Martin Rapide 2011 review

Rapide by name, rapid by nature. That is the essence of Aston Martin's biggest step away from its traditional home ground in the company's almost 100-year history. At least the biggest until the arrival of the Cygnet next year.
However, do not expect anyone behind the winged badge to budge an inch to any suggestion that this four-door, four-seater is anything but a traditional Aston Martin ... albeit with extra luggage space. "It is a sports car ... that is exactly what it is," Aston Martin CEO Dr Ulrich Bez says at the company's Gaydon, England, headquarters as Carsguide prepares to be one of the first invited to ride in the radical new Aston. "The seats are real sports seats and when you sit in them you sit like you would in the front seat of the V12. The only thing missing is the steering wheel."
There is a degree of licence in those comments — not because the seats are not sporting but rather because you are also missing any real sense of an outside world when tucked in behind the high-backed front seats. There is headroom and shoulder room for an average-sized adult, and leg room for a reasonably tall one ... but somehow it all still feels very tight.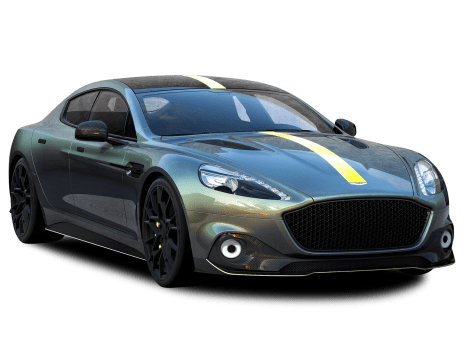 Explore the 2011 Aston Martin Rapide range
To be fair, I lean towards the claustrophobic and am not in the lithe category, but entry and exit to the rear is difficult. "I agree that it is not that easy to go in or go out for some people, but in that I would consider it like a Rolls-Royce where you have to also crawl in and crawl out," Dr Bez says. Any suggestion that Porsche's Panamera, a natural competitor for the Rapide, offers a better rear-seat experience is the equivalent of a flame to touchpaper.
"That is not a sportscar, it is a sedan ... a sports sedan," Dr Bez counters. "Our car is a sportscar. It looks like a sports car, it drives like a sports car, it is a sportscar ... and it is beautiful."
Porsche may well take unbrage at the suggestion that their iteration of a four-door 911 is not a sportscar, however it would be difficult for the German meisters to mount a credible defence to the question of which designer has best represented the core product.
Appearance
Our chariot for this first experience of the Rapide is a development prototype — a late one, to be sure but still not the finished item. The glass roof will not make an appearance on production models for some time yet and there are still a few tweaks and refinements being made in a bid to make the rear more comfortable for more people.
"There is some sculpting of trim around the C-Pillar and slight changes to the seat base to include some extra bolstering on the inboard side," Simon Barnes, Vehicle Engineering Manager and the man responsible for shepherding the Rapide through to the culmination of Dr Bez's vision of a true four-seat sportscar.
With only a handful of completed Rapides in existence  a total of 35 development cars have been built but most are no longer with us Aston Martin is not about to trust its cars to anyone outside the company just yet. Still, with Barnes behind the wheel, the demonstration of the Rapide's competence as a performance machine is quite probably well beyond any limits an outsider would be prepared to push through a loop of English country roads.
"We have really set the car up to be on a performance par with the DBS," Barnes explains as the countryside flashes by at what would be an alarming rate in less practiced hands. "I am not about to give any firm performance figures now but there is enough evidence to suggest it will match the DBS ... at least. "There are some compromises to the more luxurious nature of the car  some softer suspension settings and less engine and exhaust noise intrusion  but in no way is the car compromised."
That said, Barnes is already planning to incorporate the Rapide's suspension settings into the DB9 and DBS  — 'they are actually better for handling'  — along with the car's torsional stiffness, an eye-watering 29,500 Newtons per single degree of twist (2500 more than the DB twins). The Rapide sits on a variant of the company's VH platform  according to Dr Bez, an evolving philosophy as much as a physical engineering structure  with a 250mm longer wheelbase than the DB9 and at just on five metres long it has an extra 450mm in overall length.
Drivetrain
Under the bonnet is the bespoke Aston Martin 6-litre V12 punching out 355kW and 645Nm. For all its extra size the Rapide weighs in at less than 200kg more than the DB9 and boasts a 51:49 weight distribution. Oddly, Aston Martin will not offer the performance carbon ceramic brake package available on the light DB cars.
The boot has just over 300 litres of space with a full passenger complement but with the rear seats folded flat that balloons to close to 1000 litres of useable luggage space.
"There is a huge variability in how you can use the car," Dr Bez says. "There is a very generous luggage space with the seats folded and even if you have one person in the back you can have the other side folded down for extra luggage."
It is innevitable that the Rapide will take sales from the DB9 and DBS 2+2 cars, but Dr Bez says he is hopeful of as much as 80 per cent of the projected 2000 annual sales will be conquest. "Of course DB9 or DBS customers who need a little more space will go to this car, but they are not my main targets. There are many people who are happy to have a 2+2 and don't need anything more.
"But there are other people who may want to take family or friends on longer journeys where the back of a DB9 or DBS is just not suitable. However, while they need more flexibility they do not need or want a big car  they don't want an SUV or a limousine." What Aston Martin hopes to do is leverage off the brand's exclusivity and desireability.
"Our car is representative (of succcess and position) and in the same way delivers real freedom of space and sportscar performance. So, I am looking for people who are looking at or already own Maserati Quattreporte, BMW 7 Series, Mercedes S-Class or CLS and (Porsche) Panamera of course. "Rapide is absolutely a conquest vehicle. I would love to have 50 to 80 per cent of conquest with this car, not just the old Aston Martin guys saying `well, now I have something else'. Rapide should open us to a new group of customers who for whatever reason previously could not consider an Aston Martin."
Pricing guides
$122,870
Based on third party pricing data
Disclaimer: The pricing information shown in the editorial content (Review Prices) is to be used as a guide only and is based on information provided to Carsguide Autotrader Media Solutions Pty Ltd (Carsguide) both by third party sources and the car manufacturer at the time of publication. The Review Prices were correct at the time of publication.  Carsguide does not warrant or represent that the information is accurate, reliable, complete, current or suitable for any particular purpose. You should not use or rely upon this information without conducting an independent assessment and valuation of the vehicle.