Mazda RX-8 GT 2008 review
That it remains the only mass-produced car on this planet powered by a rotary, rather than a piston, engine is perhaps the least of this.
The RX-8 looks as though it was designed by a committee of Japanese Manga nerds who had drunk too much sake and, to save face the next morning, agreed to incorporate everyone's ideas: look at the science-fiction interior and the suicide (or kamikaze, if you will) rear half-doors.
The petrol-blooded bemoan the lack of a turbocharger, without which the revvin'-to-high-heaven 1.3-litre twin rotary is a bit like sashimi sans wasabi.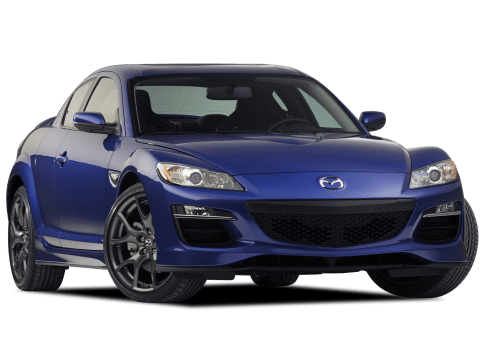 Explore the 2008 Mazda RX-8 range
As opposed to the storied RX-7s that gave Mazda its last big motor-racing moments more than a decade ago, there is only one blown RX-8 in the world.
That Allan Horsley special was driven by a handful of highly fortunate hacks and is now in the possession of Mazda's Australian boss. So torque is not so much far from cheap in the RX-8 — it's literally priceless.
What, then, of the "renewed" -as distinct from new — RX-8 that was launched on the NSW Mid North Coast last week? Well, talk about perversity at play.
It's pretty much taken as said that a revision of any sporty car will come up with some performance or efficiency improvements. Not the five-year-old RX-8, though.
An engine the Japanese claim to have so thoroughly revised as to make it almost new retains the same outputs as the recent 40th Anniversary model: 170kW and 211Nm. That's 7kW down on the original '03 car. Odd.
Odder yet, the claimed performance and consumption figures are marginally worse.
At 6.4 seconds from zero to 100km/h, it's a few tenths slower. And the hugely optimistic claim of 12.9 litres of premium unleaded per 100km is up by 0.3 litres.
Of course, accepting that this tiny unit will drink a V8 under the table in a skolling contest is part of the RX-8 owners' creed, hence the much-needed increase in fuel tank size from 61 to 65 litres. At least the new engine is said to use less oil.
Mazda reckons the acceleration deficit is down to the sharper gearing of the new six-speed manual transmission, derived from that in the MX-5, although you wouldn't argue it's better in real-world conditions.
It says the need to change up from second gear at 97km/h causes that 0-100km/h hiccup.
Indeed, a shrill warning beep sounds at that speed, so we obediently stuck the stubby, short-throw gearstick into third.
Yet a colleague using another car on the twisting drive route stretched second gear to 104km/h.
If you have one of the highest-revving cars available to humanity (it attains the better part of nine grand), surely the idea should be to use it all whenever the opportunity arises. Doing so is the essence of the RX-8. With the meagre amount of maximum torque remaining aloof until 5500rpm, the tacho needle is almost always in the vicinity of 4000 just to achieve satisfactory progress.
It doesn't pay to be lazy or tardy with gear changes. But then, as still another colleague remarked, classic sports cars are supposed to require driving.
There will be a new six-speed automatic available in a few months, but its 158kW tops out at a "mere" 7500rpm. So, although that car isn't equipped with a blower either, it will doubtless suit those who use blowers in their salons of employment.
Indeed, this whole relaunch is in large part an exercise in cosmetics: the RX-8 range has been made-over, tarted up and blinged a bit.
Prices are nicer in the new, three-model line-up: the base RX-8 is $49,720, the Luxury version $55,520 and the GT $57,625. Auto transmission is a $1645 option in the Luxury.
As we slipped the surly bonds of suburbia in our GT — with 19-inch, low-profile rubber and Bilstein suspension — it delivered in a dynamic manner that made Mazda's apparently pig-headed persistence with rotary power seem sublimely logical.
This two-plus-two is a perfectly balanced rear-wheel-drive car that could teach BMW a thing about ride and another thing about steering: its electrically assisted set-up is perfectly weighted and always informative.
On the sinuous back roads selected to showcase the Mazda's aptitude, it felt fluid and rapid through the gears.
Nor does the GT's serious chassis treatment particularly affect its ride quality. Mazda is right up there with our local car manufacturers when it comes to matchmaking sharpness with compliance.
Such is the GT's all-round competence that the more lushly damped Luxury felt underdone and without the same dynamic dividend.
The GT's cockpit isn't any less comfortable, whereas the Luxury's sunroof merely makes life unpleasant for the tall. Neither model has steering-wheel reach adjustment.
But the GT's work station accesses a more purposeful and rewarding device, with the deftest DSC interventions when things get untidy.
The GT provides substance to the RX-8's "renewal" and clarity to those still mystified by this singular car.

Related  story
Pricing guides
$10,825
Based on third party pricing data
Range and Specs
| Vehicle | Specs | Price* | |
| --- | --- | --- | --- |
| (base) | 1.3L, PULP, 6 SP MAN | $8,000 – 12,430 | 2008 Mazda RX-8 2008 (base) Pricing and Specs |
| 40th Anniversary | 1.3L, PULP, 6 SP MAN | $8,800 – 13,310 | 2008 Mazda RX-8 2008 40th Anniversary Pricing and Specs |
| GT | 1.3L, PULP, 6 SP MAN | $9,100 – 13,750 | 2008 Mazda RX-8 2008 GT Pricing and Specs |
| Luxury | 1.3L, PULP, 6 SP MAN | $8,800 – 13,310 | 2008 Mazda RX-8 2008 Luxury Pricing and Specs |
Disclaimer: The pricing information shown in the editorial content (Review Prices) is to be used as a guide only and is based on information provided to Carsguide Autotrader Media Solutions Pty Ltd (Carsguide) both by third party sources and the car manufacturer at the time of publication. The Review Prices were correct at the time of publication.  Carsguide does not warrant or represent that the information is accurate, reliable, complete, current or suitable for any particular purpose. You should not use or rely upon this information without conducting an independent assessment and valuation of the vehicle.