Geneva motor show preview 2014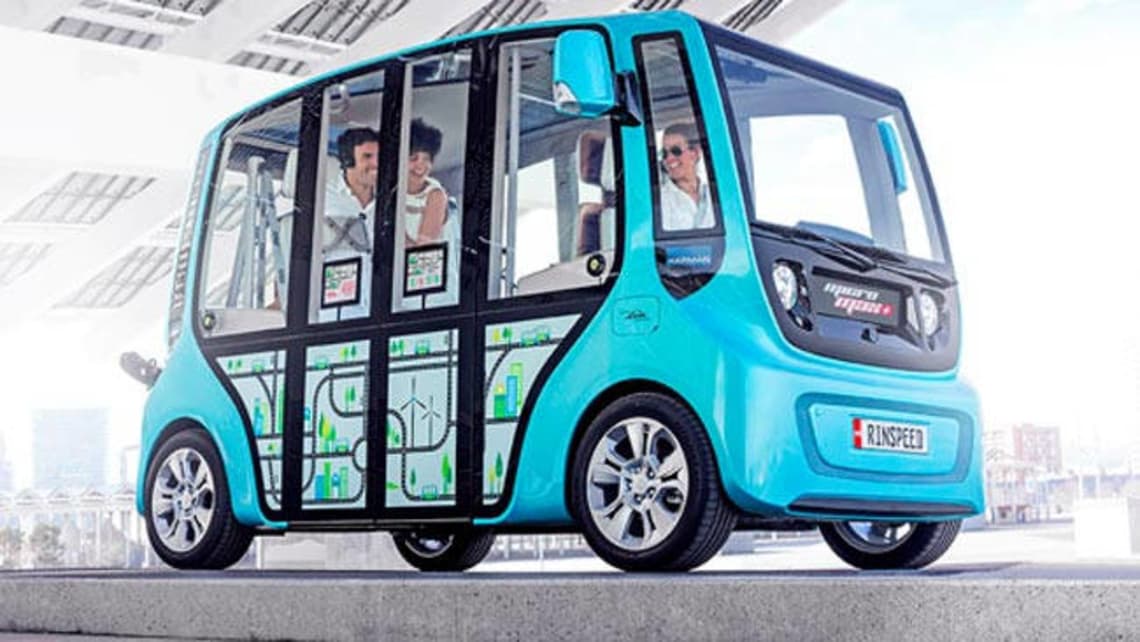 A car that comes with a drone to see what's causing the traffic snarl ahead, another that accepts deliveries while you're at work, and a self driving car with seats that face backwards.
Welcome to the 2014 Geneva motor show where the weird on wheels are poised to take centre stage when the doors open to the world's media on Tuesday (March 4).
Of course, these crazy concepts rarely make it to showroom floors but they're an opportunity for the car world to demonstrate what's possible if not sensible.
As technology giant Apple prepares to unveil its next generation of in-car integration on the eve of the show, there will be plenty to distract show-goers.
Swiss tuning firm Rinspeed has a reputation for stretching the imaginations of its designers (last year it unveiled a tiny box-shaped hatchback that had standing room only, like a bus).
This year, it has converted a Tesla electric car with aircraft-style reclining seats and a massive flatscreen TV so you can become a coach potato while behind the wheel.
It's a little premature because the introduction of the self-driving car will be a long, drawn out process, and one in which there will be much debate about the definition of "self-driving".
Some cars on sale today already have automated functions, such as radar cruise control (that maintains a gap with the car it front) and automatic braking (Volvo, Volkswagen, Mercedes-Benz and others) in low-speed traffic.
But handing control completely to the automobile and wirelessly connected traffic lights is still the better part of two decades away. "How long before we can actually handle all of city traffic without any human intervention? I'd say 2030 or 2040," says Audi's autonomous driving expert Dr Bjorn Giesler.
"City traffic is just so, so complex that's there's always going to be a situation where the driver needs to come back to the driving task.
"I don't think (technology) can handle everything the city can throw at you right now. That's going to take a long time."
The futuristic-looking Renault Kwid is making its European debut after being unveiled at last month's Delhi motor show. A toy-sized remote controlled drone has tiny onboard cameras that send images back to the car. Even the company admits it's a fantasy, but at least it's one shared by most people in the daily grind.
Meanwhile Swedish car maker Volvo is due to unveil a new wagon that can accept deliveries even if you're nowhere near it. The car doors will unlock remotely using a mobile phone, and lock again once the parcel is delivered.
One of the weirdest cars that will actually make it into showrooms is the uniquely-styled and oddly named Citroen Cactus. It's based on Citroen's new small car and designed to turn heads and change minds about compact SUVs. It's not yet confirmed for Australia, but if it does make it Down Under the company may want to consider changing the name.
Of course, it wouldn't be a motor show without supercars. Lamborghini will give its new Huracan supercar its first public outing -- and there's not a hybrid badge anywhere near it. Indeed, the only electric motors in this V10 Lamborghini are the electric seat adjusters.
Ferrari has a new convertible: the California T stands for "targa roof" but could also stand for turbo as it marks the Italian maker's return to turbo power with a twin-turbo V8 to meet stricter European emissions laws.
And finally, there is yet another limited edition Bugatti Veyron. The world's fastest car -- which has a Guinness World Record top speed of 431 km/h -- is nearing the end of its production run with a 2.2 million Euro special edition.
The company is struggling to shift the last 40 cars, worth a combined total of about $85 million before taxes. Bugatti has reportedly made a loss of every Veyron it has built. Bugatti has sold out of the 300 coupes it built since 2005, and just 43 of the 150 roadsters, introduced in 2012, remain to be built before the end of 2015.
This reporter is on Twitter: @JoshuaDowling