'Australia will have the cheapest hydrogen in the world' according to Hyundai

Speaking to media at the launch of its Xcient hydrogen fuel cell truck, Hyundai singled out Australia as a potential future energy powerhouse thanks to hydrogen.
The brand was keen not just to spruik the benefits of hydrogen fuel-cell electric vehicle (FCEV) technology for commercial vehicles, but also to promote it as a way of storing and transporting energy.
"In the future we have to use all renewables," explained Dr Sae Hoon Kim, VP of Hyundai's fuel cell research and development. "There are countries that are rich in [the required] resources but others will need to import energy, hydrogen provides a means to transport that energy."
Dr Sae Hoon identified Australia as not just one of those rich-in-resources countries, but potentially the ultimate hydrogen energy exporter.
"Australia has good potential for solar and wind," he continued. "I think Australia can provide all the energy for the world. A recent study said to buy hydrogen from Australia and ship it to Korea would still be cheaper than to produce it locally in Korea."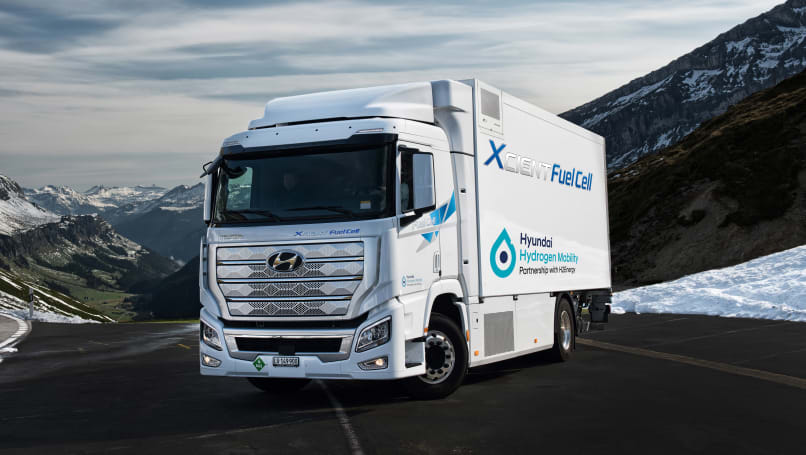 The Xcient in its current form has a 400km range appropriate for the European market, but the brand says more can easily be added.
What does that mean for energy prices in Australia? Dr Sae Hoon had some thoughts: "Australia will have the cheapest hydrogen in the world," he continued, explaining that the cost of diesel fuels will go up and hydrogen will come down, regardless of local regulations or legislation.
"Even Saudi Arabia is trying to use hydrogen technology."
Hyundai says hydrogen will be competitive with diesel at $4 per kilogram, but the Australian federal government predicts local hydrogen could get as low as $2 per kg under current plans. $A36 billion of total investment is being made in hydrogen technology in Australia, with at least 35 hydrogen projects in the pipeline including 22 refuelling stations and nine export projects.
The Korean automaker has been researching and developing hydrogen fuel cell technology since 1998, but has thus far only put a handful of products to market.
That's set to change, as the Xcient truck, which launches this month in Europe, is just the first stage in an energy roadmap that the Korean giant will invest $A9.3 billion into by 2025. It also plans to have 1600 fuel cell trucks on the road by that date.
The Xcient FCEV truck carries 32kg of hydrogen that is good for a driving range of 400km. Importantly it can refuel in 8–20 minutes (equivalent to a current diesel truck) and unlike a battery-electric vehicle, won't have its payload compromised.
Hyundai is employing a market-specific strategy for the rollout of its fuel cell commercial vehicles, focusing primarily on markets where there are significant subsidies for clean energy technologies, like some states of the US and China. It said commercial vehicles are essential for laying refuelling station infrastructure and that "passenger cars are the wrong product" for rolling out the technology.

While Hyundai says commercial vehicles will lead the fuel cell charge, passenger FCEVs will need to exist to keep costs down.
That said, research from the brand's Nexo hydrogen fuel cell SUV was critical in developing hydrogen drivetrains for the Xcient truck. The catalyst and membrane in the Xcient are simply lifted directly from the Nexo, and the brand concedes that it will need "more durable" components for heavier vehicles in the future, suggesting a 200kW stack and "improved technology and durability" for commercial vehicles by 2024.
The brand noted right-hand-drive commercial vehicles wouldn't be imminently available, with LHD markets being a focus, but said increases in hydrogen fuel cell pressure (currently the Xcient has half the cell pressure of the Nexo SUV) could easily double range for vehicles headed to markets with long distances like Australia.