17 December 2019
Need for Speed Heat review: Return to form for long-running video game series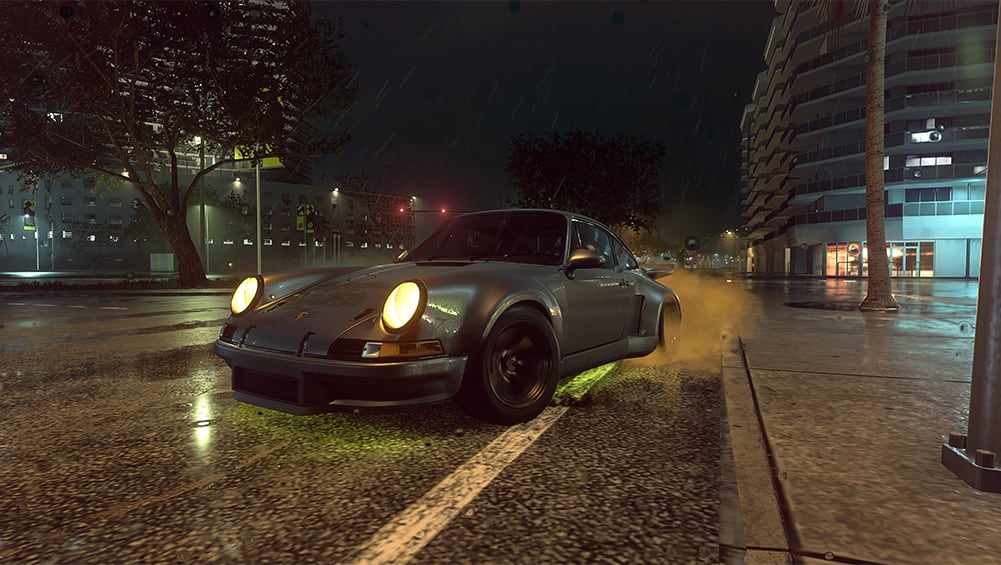 Need for Speed Heat is the latest instalment in the long-running video game franchise released this year for PS4, Xbox One and PC.
Though there has been no shortage in stellar racing games recently, with the likes of Grid, Forza Horizon 4 and Gran Turismo Sport launching in the last two years, the Need for Speed series has fallen to the back of the pack thanks to some questionable progression design decisions.
Thankfully 2017's Need for Speed Payback's loot box upgrade system – where parts would be randomised, and incentivised the use of real-world money to get the items you want – is nowhere to be seen in this year's Heat.
With the open world of Palm City (a fictionalised version of Miami) to roam around in and near endless car customisation options without any microtransactions in sight, there is plenty to keep players busy.

NFS Heat's story line wouldn't be out of place in a low-rent Fast and Furious rip off movie.
Gameplay, as you'd expect, is simple, get to the finish line first, but a few wrinkles have been thrown in by Swedish developers Ghost Games, who have put together each console iteration of the franchise since 2013's Rivals.
The Swedish part is important because it explains why Heat's cover car is a Polestar 1, a hybrid coupe based on Volvo's SPA platform.
Fun fact: both Ghost Games and Polestar (as well as Volvo) have their headquarters in the same city of Gothenburg.
For this instalment, the big gameplay hook is an option to enter the world during the day or night, with both options presenting its own set of unique challenges.

Need for Speed Heat is a welcome back to form for the storied video game series.
In the day, racing is a simple affair with fairly standard events to test your metal against ever faster opponents.
The police presence is basically non-existent, and even if you do come across the fuzz, they won't give chase unless you decide to swap some paint. Traffic meanwhile, is pretty sparse during the day.
Sound a bit boring to cruise around in the day? Well it's only during daytime events that you can earn cash, which is used to purchase new cars, upgrades and cosmetic modifications.

The list of cars runs 127-long, which includes the 2016 Ford Focus RS.
But things start to get really interesting when you switch to night. Now the cops are out in force and traffic (confusingly) gets denser, so you'd better hope you've perfected your counter-steering and Scandinavian flick to weave through the congestion.
You don't earn any dollars at night though, instead you earn reputation, which gates progression and is used to unlocked faster cars and better parts to then buy with the money you earn during the day.
Another interesting element to night-time racing is your heat level, which can go up to level five, and acts as a multiplier to the reputation you've earned during the session.

Day and night. I toss and turn, I keep stressing my mind, mind.
The higher the heat level, the higher your reputation multiplier.
This mechanic brings in a very palatable risk versus reward set up, as you have to physically make it back to a garage after a night session to bank your reputation.
Essentially, you head out, burn through races to get your reputation and heat level up, dodge the cops and try to make it back home in one piece.

The higher your heat level, the more aggressive the police will come after you.
If you wreck or get busted, you lose a healthy chunk of rep and cash. It's exhilarating, and raises the stakes and tension considerable. 
The higher your heat level, the more aggressive the police will come after you too, throwing everything they can to stop you including helicopters, spike strips, damage-dealing ramming vans and high-speed Corvettes.
This create an engaging gameplay loop, and elevates the Need for Speed franchise to levels of fun not seen since 2010's Hot Pursuit in our opinion.

Woop-woop! That's the sound of da police!
But it's not even the racing that is the best part of Heat, the most addictive aspect for us the customisation.
The list of cars runs 127-long, and includes old favourites like the Volvo 242DL sedan from 1975, hot hatches like the 2016 Ford Focus RS to high-end exotics such as the 2016 Ferrari Laferrari and 2016 Koenigsegg Regera. 
The car list isn't perfect though, there are probably a few too many BMW models with no less than four M3s and two M4s.

The E30 M3 is one of three starter cars to choose from.
The selection is also starting to get a bit dated, as most of the vehicles are recycled from older games.
For example, there's a Honda Civic Type R but it's the previous-generation FK2 from 2015 instead of the FK8 version that has been on sale for two years.
Each vehicle also comes with its own set of customisable parts, with components such as wheels, bodykits, exhausts and spoilers all open to individualisation.
Want to slap a widebody onto a Porsche 911 GT3 RS? Sure, you can do it here.
How about massive Work-branded wheels on a Ferrari 488 GTB? Sure.

Modification is a highlight of NFS Heat.
A lift kit for a Nissan GT-R to turn it into an off-road drift machine? Need for Speed Heat will let you do it.
Aside from the bodywork and mechanical upgrades, the game also offers an extensive decal editor where creatives can layer sticker upon sticker to create drivable pieces of art.
Our favourite though? Hands down it's the exhaust tuner – which we've not seen in any other racing game – that lets you tweak the resonance, tone and overrun for the perfect pops and crackles. 
The customisation also extends to the tuning of the vehicle, which can thankfully be done out in the open world on the fly, letting you adjust things like downforce levels and whether braking or tapping the throttle will initiate a drift.

There's plenty to keep players busy in NFS Heat.
We've not yet touched on the story of the game, but that's because it is ultimate forgettable.
It's your run of the mill corrupt cops versus street racers story that wouldn't be out of place in a low-rent Fast and Furious rip off movie.
The story does do a good job at introducing you to different disciplines of racing though, with street racing eventually expanding to off-road events and drifting trials.

Just send it!
Multiplayer is also somewhat forgettable unless you have a consistent group of friends to roll around with (called crews in the game), as you the world is so big you just end up missing most of the players on the map.
Thankfully there is an offline option too, unlike 2015's Need for Speed, for those without a consistent internet connection.
All in, Need for Speed Heat is a welcome back to form for the storied video game series.
Though it doesn't reach the outright fun and frivolity of last year's Forza Horizon 4, nor the technical brilliance of Gran Turismo (or even this year's Grid), the cop chases keep things interesting and fresh throughout the campaign.