14 February 2020
Mugen quick to modify Honda Fit... but now it looks like this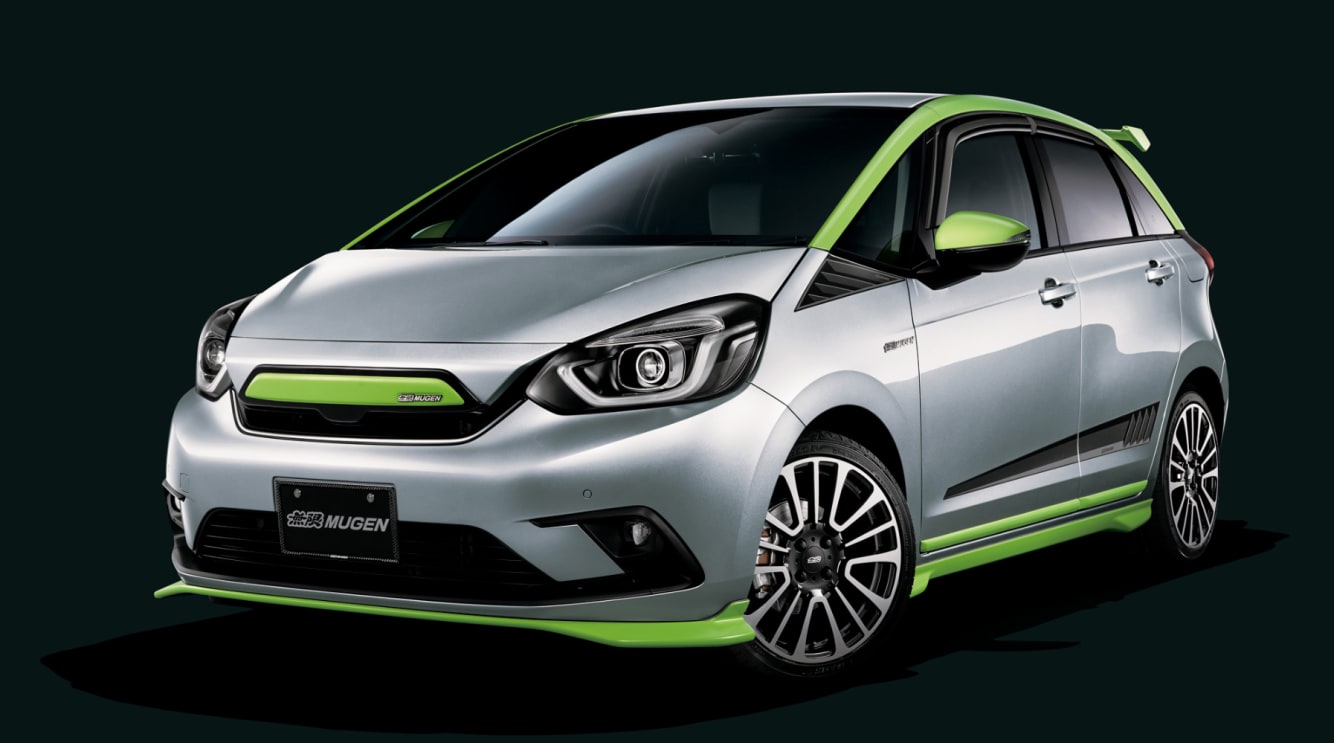 Mugen, Honda's renowned aftermarket performance part supplier, hasn't skipped a beat modifying the Fit/Jazz with a catalogue of performance-oriented parts, but the results are… divisive.
To be fair, Mugen offers the Fit in two styles, one with the uhh... overtly green cyber-frog look, dubbed the Skip, and another that looks a little more traditional called the Dash.
As is usual with Mugen kits, the bodystyling is JDM in the extreme, with an aerodynamics kit that adds flairs and air dams and spoilers and carbon bits. Only it seems a little at odds with the Fit's new-found eco-friendly hybrid personality.

The Mugen Fit scores an aerodynamics bodykit.
Naturally it doesn't matter whether you buy the 1.5-litre hybrid (80kW/253Nm) or the 1.3-litre naturally aspirated (72kW/118Nm) version, Mugen will fit the same parts either way.
Performance-wise, the parts are largely limited to a new single or dual exhaust system (said to "focus on excellent efficiency and exhaust sound"), a high-performance air filter which is said to reduce air inhalation resistance by about 10 per cent, and a high performance oil filter (again, said to reduce pressure loss by 10 per cent).
Otherwise there is the choice of either type T (for touring), or Type S (for… sport) upgraded brakes. They can also be paired with slotted discs and a micro mesh brake line (said to increase durability).

Out the back are a two exhaust tips.
The ridiculous body kit for the Skip comes in at the equivalent of AU$2263, not including the 17-inch Mugen wheels ($729.70 a corner).
Inside not much has changed apart from Mugen carpets, carbon-look trim bits (even a rear-vision mirror) and a Mugen-logo ignition button.
The Dash ($2532.70 not including wheels) is decidedly more agreeable.
If it were our money though, we'd like to see a tuned version of the new 1.0L three-cyl turbo (90kW/173Nm) in the Thai market City under the bonnet, paired to a six-speed manual!