27 October 2017
20 reasons why the Tokyo motor show is the wackiest on the calendar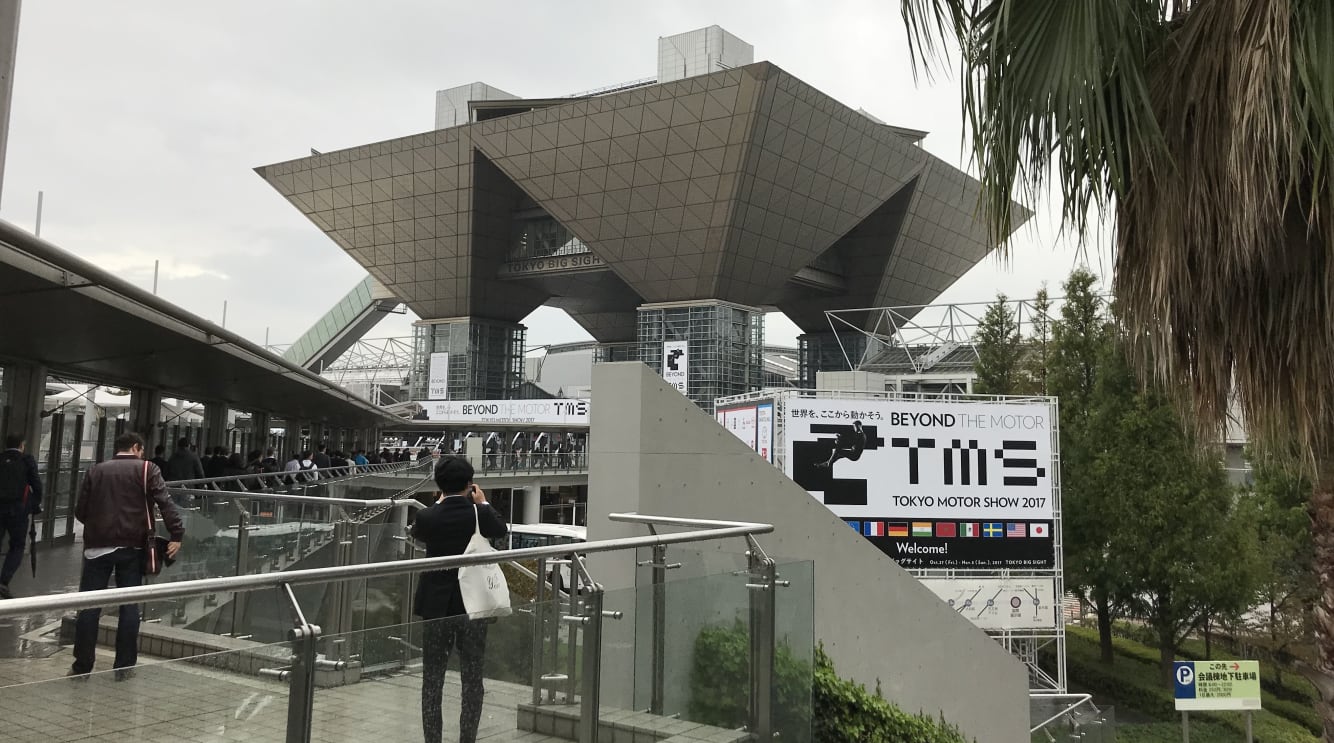 ​Every second year, the Tokyo International Exhibition Centre, better known as 'Tokyo Big Sight', is the venue for arguably the world's most intriguing motor show.
And behind all the shiny, high-profile new model releases, weird and wonderful things lurk in the shadows.
The extraordinary structure pictured above, where the TMS is hosted, is known as 'Tokyo Big Sight' (see what they did there?).
Here are our picks from the show floor this week:
1 - Yes, somewhere in there is a Yaris. Toyota's WRC weapon of choice is staggering up close.

Slight deviation from base specs...
2 - It's been around for a few years, but the Ikeya Formula IF-02RDS slipped past us. Mid-mounted 2.0-litre turbo four produces 260kW, it weighs 1150kg, and is intended for road use. Mad.

Road legal? At least in Japan...
3 - Nothing like a factory-restored Porsche 356 Speedster, straight out of the museum in Stuttgart.

Factory-restored, amazing!
4 - The Lexus Sport Yacht Concept (model) is a single seater, and super-cool.

What's this? A yacht for ants!?
5 - Suzuki's flagship outboard, the DF350A, is just on 2.0 metres tall and weighs 340kg. The 4.4-litre V6 produces 257kW (350 metric hp). Anchors aweigh!

The full-cutaway is suitably amazing.
6 - And you thought most Kei cars were boxy. The Takayama Cars 'Micro Freedom' is like a giant yum cha trolley, complete with counter tops and room for ovens and fridges. It even expands courtesy of a sliding metal case. What the hell?

What is going on with this?
7 - We told you the Suzuki Carry 'Open-Air Market Concept' would be in Tokyo, and it's glorious. All the fruit and veg on display is plastic, but those chrome hubcaps are real steel.

The Carry open-air Concept is so uniquely Japanese.
8 - The Suzuki Spacia 'Custom Concept' takes the award for angriest car in show.

Comes with a built-in scowl.
9 - Honda's S660 is even better in the metal. We want…

This car has been around for a while now, it's still difficult and expensive to get in Australia, though...
10 - Honda's come over all retro with its motorcycles to celebrate 50 years of certain models, and this single-cylinder 'Monkey' 125cc mini bike reloads a classic '60s design.

Monkey-Bike!
11 - The Yamaha 'Cross Hub Concept' is an aggressively fugly motor bike carrying ute. And guess who designed it? Gordon Murray. Yes, that Gordon Murray.

One of the less-known Gordon Murray designs...
12 - Nissan GT-R plus Calsonic has always equalled awesome.

As always Calsonic's livery looks iconic on a GT-R.
13 - So Falken turns up to a car show with a plane. Okay, a Red Bull Air Race winning plane, but still a plane.

They didn't get the memo that this is a car show...
14 - Now that's a Super GT. Why wouldn't you be 'Proud of BOXER'?

So proud...
15 - The Daihatsu 'DN Compagno' looked suitably weird next to the 1963 original.

Almost enough to make us sad that we don't get Daihatsus any more.
16 - Daihatsu's 'DN Pro Cargo' makes the Nissan Cube look like a water balloon.

Aerodynamics are perhaps not the DN Cargo's strong suit.
17 - This Daihatsu Kei car is standard weirdburger, but the name – 'Tanto Welcome Seat'. Perfect.

I hope it has a really very nice seat...
18 - The Daihatsu Copen Cero is 658cc and 870kg of two-seat, open-top fun.

Another kei roadster that we can't really get our hands on.
19 - We're frankly disappointed the new Toyota Century has a 5.0-litre V8 hybrid drivetrain rather than the previous V12. It does have seven coats of paint (three clear) and five bakes in the production process, though.

Seven coats of paint!
20 - Toyota's Tj Cruiser Concept looks like a cross between a bulldog, a tank and Wall-E the robot. But it's only little – 4.3m long, 1.7m wide, and 1.6m high. Rest assured, it will be built.

One of the wackier concepts confirmed for production.
Which one of these oddities would you most like to take for a drive? Tell us in the comments.