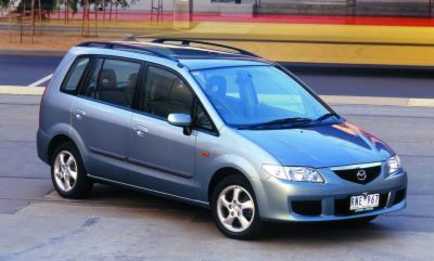 Mazda Premacy
What's on this page
Mazda Premacy Dimensions
The dimensions of the Mazda Premacy Hatchback vary according to year of manufacture and spec level.
Year
Body Type
Height x Width x Length
Ground Clearance
2003
Hatchback
1600x1705x4315 mm
155 mm
2002
Hatchback
1600x1705x4295 mm
155 mm
2001
Hatchback
1600x1705x4295 mm
155 mm
See All Mazda Premacy Dimensions
Mazda Premacy Wheel Size
The Mazda Premacy has a number of different wheel and tyre options. When it comes to tyres, these range from 195x55 R15 for Hatchback in 2003 with a wheel size that spans from 15x6 inches.
Year
Body Type
Front Tyre Size
Front Rim
Rear Tyre Size
Rear Rim
2003
Hatchback
195x55 R15
15x6 inches
195x55 R15
15x6 inches
2002
Hatchback
195x55 R15
15x6 inches
195x55 R15
15x6 inches
2001
Hatchback
195x55 R15
15x6 inches
195x55 R15
15x6 inches
See All Mazda Premacy Wheel Sizes