Nissan X-Trail vs Renault Koleos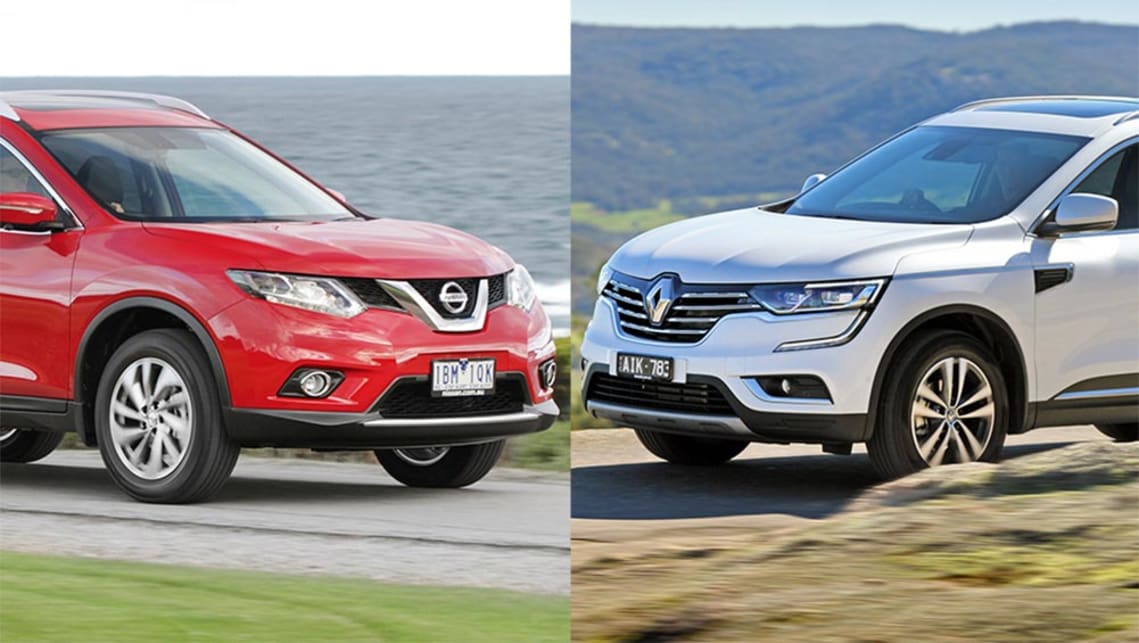 These wagons share chassis, engine and family SUV intent. The French connection eclipses its Japanese ally, says Craig Duff.
Nissan X-Trail ST AWD
$33,890
A base model all-wheel drive is $33,890 before on-roads. There's a five-inch multimedia display, cruise control and auto lights/wipers. It will need a trip to the mechanic every 12 months/10,000km. Prices vary according to the service but the first three will set owners back $750 for the AWD version and $726 for FWD variants. Nissan has a three-year/100,000km warranty.
Renault Koleos Zen AWD
$36,490
It's the entry all-wheel drive version and is worth $36,490 plus dealer delivery charges. The higher price brings more features, from a seven-inch touch screen with satnav to dual-zone aircon and heated front seats. Requires annual/30,000km servicing and the first three visits are $299 a trip. Warranty is five years/unlimited km.
Both cars share the same chassis and diverge in cabin layout and size. The X-Trail cedes length and width but is notably taller. Cargo space and stowage are more than adequate and there's plenty of adjustment in the second-row seats. Intriguingly the Nissan is rated at 1500kg braked towing against 2000kg for the Renault. Neither has Apple CarPlay or Android Auto compatibility.
Has an electronic parking brake and the Koleos also benefits from marginally better approach and departure angles for those few who do take the car farther afield than a gravel road. The middle rear seat isn't practical for anyone other than a toddler, effectively making it a four-seater.
Nissan X-Trail ST AWD
Engine
The 2.5-litre four-cylinder engine isn't going to set performance benchmarks but the 126kW/ 226Nm is good enough to keep it hustling in urban or freeway driving. It is paired with a continuously variable transmission and AWD. The CVT drones under heavy throttle without a matching surge in acceleration. The diesel version is a manual.
Renault Koleos Zen AWD
Engine
Renault shares the 2.5-litre engine and CVT with its alliance partner but hasn't done quite as good a job of insulating occupants from the noise when the engine is under load. It's not a problem on light throttle or when cruising, so it isn't a deal-breaker. There is no diesel alternative (one's on the way). Combined fuel use is 8.3L/100km for both vehicles.
ANCAP gave it five stars in 2014. The body structure was strong in all tests with pedestrian protection deemed acceptable. Six airbags are standard but active driver aids can't be had on the ST, making the $39,490 ST-L the pick for those who want the latest gear.
No one has officially crashed a Koleos yet, though you'd have to expect a solid score given the X-Trail's rating. Standard fare includes six airbags and a $1490 safety pack adds autonomous emergency braking, forward collision warning and blind-spot monitoring.
It's in the middle of the driving pack. Not as refined as Mazda's CX-5 in terms of driveline noise but not many buyers will push this car that hard. Suspension is reasonably supple with only sharp-edged ruts making any real impact on cabin comfort. It tilts a bit in the turns but that's the trade-off for buying a high-riding SUV.
The Renault's interior is a nicer place to be than the Nissan's but there is otherwise — not surprisingly — little to separate this pair. It feels slightly harder sprung, which improves corner composure and body roll but means it will occasionally thunk on bumps that cause only a minor jolt in the X-Trail. Around town it is easy to drive and see out of and the steering is about spot-on.
Despite its higher price, the Renault represents better value here. It is a spacious, well-appointed and well-priced car that shouldn't disappoint for family duties.
Do you prefer the X-Trail or the Koleos? Tell us in the comments below.