HSV GTS vs Mercedes C63 AMG S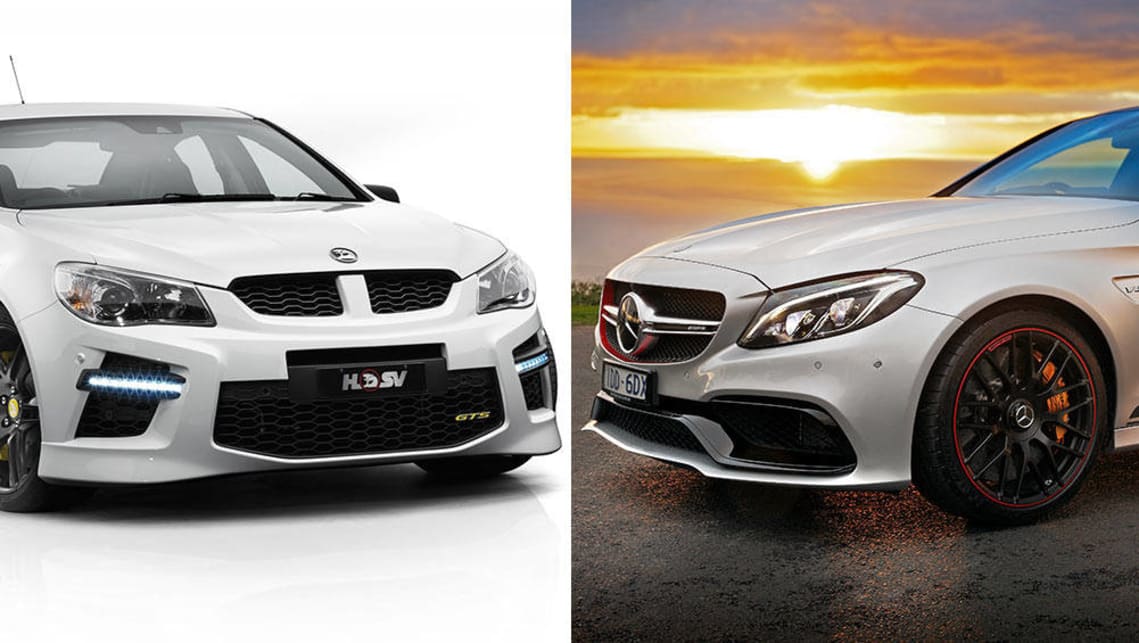 Think of them as family sedans that double as muscle cars. James Stanford rates the V8s.
HSV's range-topper comes at a premium — given its performance, it can be viewed as an absolute bargain. It gets leather trim, heated seats, head-up display, LED daytime running lights, ample driver aids and eight-inch multimedia screen with custom driver interface. Auto adds $2500. Warranty is three years/100,000km, service intervals are nine months/15,000km. Capped price servicing over five years will be $2513. Resale is 45 per cent.
Mercedes-Benz C63 AMG S
$154,900
The C63 S costs a lot but Mercedes skimps on nothing. It has adaptive cruise control, heated seats, TV tuner, adaptive LED lights and head-up display, Nappa leather trim, panoramic sunroof and a switchable sports exhaust. Metallic paint is included. Warranty cover is basic, three years/100,000km, and capped price servicing costs $3380 over three years. Resale is a healthy 60 per cent.
Commodore dictates much of the design. However, HSV designers contrive some stand-alone character with a dramatic rear-end design and a unique front clip. The look is much bolder and in-your-face than the C63, with a sizeable fixed spoiler on the boot and bright yellow brake calipers. It is far more basic than the Merc. There is a lot more space for second row passengers too.
At this price, you expect a brilliant interior and the C63 S delivers. Mixing wood, polished metal and leather, the cabin looks even more expensive than it is. Small touches such as an IWC Swiss clock, the fine detail of decorative speaker covers and an Alcantara steering wheel. The screens are super high quality with brilliant imagery. The exterior is not overtly aggressive, but is instead a nice mix of elegance and aggression.
The pride of the GTS is in the engine bay — a cracking Chevrolet LSA V8 displacing 6.2 litres. But wait, there's more. This one has a supercharger, so it belts out a remarkable 430kW/740Nm, making it easily the most powerful Australian performance car ever made. Expect 4.5 seconds for the 0-100km/h sprint. Drive modes can be changed through the centre screen but the alterations make far less difference than in the Merc.
The engine is the centrepiece but there is more to the car than that. The driver can change drive characteristics — there are active engine mounts and adjustments for dampers, steering, engine mapping and exhaust volume. The 4.0-litre V8 with two turbos generates 375kW/700Nm, good for 0-100km/h in 4.0 secs — yet claimed fuel economy is just 8.6L/100km (the GTS auto uses 15.7L/100km). The transmission is a fast-shifting seven-speed auto.
The GTS hasn't been tested. ANCAP gives the Commodore five stars and 35.06/37. There are six airbags, reversing camera, radar collision warning, lane departure and blind spot monitoring.
Five stars from ANCAP (latest score for the lesser C-Class models was 36.46/37). There are nine airbags, reversing camera, 360-degree overhead vision for parking and adaptive cruise control with emergency stop function and active lane keeping assist.
The GTS is a thrilling muscle car that can double as a family car. Its sheer performance will put a smile on your face. The engine makes a terrific roar, which builds into a vicious howl as the revs build. This seems like the closest a regular person could get to driving a V8 Supercar. It feels bigger and heavier than the Mercedes (and it is) and the steering disappoints thanks to limited feel. This is a far less refined machine than the C63 and levels of road and tyre noise are much higher.
This is the ultimate dual-purpose vehicle. You can set it to Comfort mode and cruise around in a luxury machine that is smooth, quiet and relaxed. Select a sporty mode and the C63 comes alive, harder and faster and louder. This is remarkably fast and the V8 sound is thunderous and the handling surpasses excellent. There is space for four adults, although this is a full size smaller than the HSV.
Both are great, with distinct flavours. The GTS is a beauty but the C63 pushes the performance sedan genre to a new level. It's expensive but awesome.