Ram 1500 Warlock 2021 review: Towing test
Published 9 December 2020
The Ram 1500 Warlock is brash, bold, and big. It runs a big petrol V8 engine and is a full-size US-spec pick-up, and as you can see here, it's bright red, too.
Those are all elements that mean it will catch some eyes in traffic. But for this review, we added another element to that rubbernecking recipe: we towed a tiny house.
My friends Deon and Marine have built their own home on wheels, and I figured a ute like the Ram 1500 would be perfect to help the move house. Like, literally move their house from one place to another.
While hardly pushing the limits of the Ram's capabilities in terms of towing, there were some interesting findings as part of this review. Read on - and see some of the video clips below - to find out more.
Does it represent good value for the price? What features does it come with?
The Ram 1500 Warlock is essentially a more aggressive looking version of the Express Crew Cab, but adds $15,000 to the price of that model, listing at $104,450 (MSRP - that's the price before on-road costs).

You could opt instead for the Express Crew ($89,950) or maybe jump up to the Laramie grade, which is much more premium in its intent yet costs just $500 more than the Warlock ($104,950).
Or you may be persuaded by the Chevrolet Silverado 1500, which lists at $113,990 - and that truck runs an even bigger petrol V8 engine. Or you might wish to take a look at a Ford F-150 from one of the local importers like Performax.
If you're thinking about this size of pick-up truck at this price point, you're likely going to want to know what you get for your money.
Well, here's a rundown of the standard equipment in the Warlock grade, though you might want to scroll down to see some of the design highlights, and down even further for the safety shortfalls seen in this generation Ram 1500.
Standard equipment includes:
20-inch black alloy wheels
dual-zone climate control
a reversing camera
electric front seats
partial leather trim - but a plastic steering wheel
an 8.4-inch multimedia touchscreen
satellite navigation.
Also included are:
halogen headlights
Apple CarPlay/Android Auto/Bluetooth connectivity
remote engine start
six-speaker stereo
10-way power adjustable driver's seat
7.0-inch digital driver info display
1.0-inch lift kit
tinted windows
heated exterior mirrors (but not electronic folding)
side steps
body decals
The standard inclusions also comprise in-built electric brake controller for towing, plus the 1500 Warlock has a tub liner, tub divider and heavy duty soft tonneau/cargo cover included. There are large rear mudflaps, too - great for protecting your trailer if the surface is unsealed.
Stuff you might expect at this price point that isn't included? How about an auto-dimming rearview mirror, heated seats, heated steering wheel, leather-lined steering wheel, and a cover for the mirror on the driver's sunvisor - seriously, you end up glancing at your own crotch when you're driving into direct sunlight!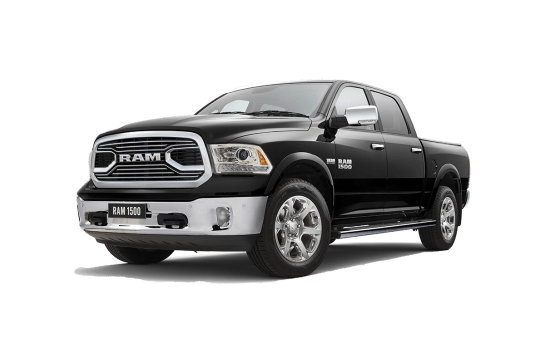 Is there anything interesting about its design?
Really, the reason you buy a Ram 1500 Warlock is because of the look. You're paying an extra $15K over the model it's based on, and while you're getting more kit for that, you really get a brasher looking brute of a ute.
The basic shape of the 1500 hasn't changed in ages - this generation spans back to 2009 in other markets despite only having launched here in Australia in mid-2018. There's a new-generation version due early next year, but this one still has a heck of a lot of presence on the road.
And if you're considering the 1500 Warlock specifically and wondering why it looks so different to other grades in the range, the answer is that it essentially borrows heavily from the Rebel model in the North American market.
Plus there are fender flares to bolster the tough guy look, and those aforementioned 20-inch black rims and smoked headlights.
Contrasting all the blacked-out exterior bits is either a 'Flame Red', 'Bright White' or 'Patriot Blue' paint scheme
Download a brochure
At the rear there is a distinctly beasty look with twin exhaust pipes poking out from the rear bumper bar. The optional tow bar ($1016.40) is available with a choice of 50mmtow ball mount ($241.01) or 70mm tow ball, as an accessory fit.

The RamBox cargo system is a neat addition despite eating into the tub space available, so you might need to consider whether being able to lock away some drinks in ice is more important to you than the usability of the cargo zone.

The cabin carries over the dark theme, with black leather trim, a big black dashboard, and some interesting material treatments alongside plenty of cargo storage options. More below.
How practical is the space inside?
The Ram 1500 is a big vehicle. It measures 5850mm long and rides on a 3569mm wheelbase, it's 2097mm wide (with the mirrors folded) and stands a proud 1950mm tall.
That's considerably bigger than the likes of the HiLux and Ranger, but you knew that already. This is a Yank tank, with five seats and a decent sized tray behind (1712mm long, 509mm deep and 1270mm wide because those RamBox units eat into the space. They offer 210L of cargo capacity each side, though, in addition to 1.4 cubic metres of volume in the tray (SAE standard).
In case you aren't aware, Ram 1500 models sold here are brought in left-hand drive and converted to be right-hand drive - otherwise known as "remanufactured" - by American Special Vehicles. The job is done in Melbourne, and it's mostly very convincing.
There are still some issues, like the park brake being foot-operated and being mounted oddly near the door opening, and the fact the pedals are a bit out of whack in terms of their height (the accelerator is much lower than the brake). But the dash looks right, the storage is good, and there's otherwise very little compromise to consider. Just a shame there's no reach adjustment for the steering - I'd like to pull the wheel closer to me.
If you buy a Crew Cab version of the Ram (as opposed to the Quad Cab, which has a smaller back door and squishy back seat but gets a longer tub), then you clearly are prioritising the cabin experience over the cargo.
As such, it should come as no surprise that there is ample space in the back for a couple of big units. I'm not especially large, but at 182cm (6'0") I had enough room to slide in behind the driver's seat (set for me) and be very comfortable. It's wide enough for three adults, too, and there are three child seat anchor points - but they're the North American-market LATCH system, not ISOFIX.

As you might expect there are cup holders in the fold down armrest, a pair on the floor near the middle seat position, and bottle holders in the doors as well - the Americans seem to get the whole "hydration" thing.
There are map pockets on the seats as well as rear seat air vents, meaning those in the back are pretty well catered for.
If power is needed in the second row, there is a 12-volt outlet in the back, but sadly this generation of Ram 1500 is running behind when it comes to device charge points, as there are no USB ports back here. Guess you could get a 12V USB adaptor for the kids?
It's a very comfortable space in the back, with my passengers commenting how roomy it felt both in terms of width and legroom.
They also appreciated the sliding rear window - but it's a shame it's not electric, like in some newer vehicles.
That sort of practicality in the second row isn't unusual in the dual cab ute space, but the fact there's a level storage platform just makes it more usable. If you're concerned about keeping something secure or out of the weather, this zone allows you a bit of extra cargo load space.
Overall, the cabin space is big, open, airy and pleasant - not luxurious, but smart and well sorted. Easily big enough for a family, and certainly suitable for business owners who need to transport their tradies with them.
There is a spare wheel under the tub - a full-size unit, too.
All told, the size and practicality on offer in the Ram 1500 is beyond what you will find in the more mainstream utes on the market like the Ranger and HiLux. Whether it's worth the money over that size of double cab ute will come down to your budget and preferences.
What are the key stats for the engine, motors, and transmission?
The Ram 1500 Warlock gets a 5.7-litre Hemi V8 (or 5.7-liter HEMI V-8 with Fuel Saver Technology, in Ram speak), which is a thumper of a unit.
It's a bit of a hard-revver, too, with peak power hitting at 5600rpm and the max pulling power reached at 3950rpm. If you prefer the low-rev, stress-free urge of a diesel, there is such an engine in the Ram 1500 lineup - the EcoDiesel - but it isn't sold in Warlock trim.

The Warlock is part-time four-wheel drive, with an electric transfer case setup. It runs an eight-speed TorqueFlite automatic transmission as standard. It has a rotary dial transmission selector which makes it easy to change between D and R when you're performing complex moves.
It's a shame the conversion didn't incorporate an electronic parking brake, because the foot-push park brake on the far right of the driver's footwell is a real pain - and doesn't offer the most reassurance when you're well laden like we were.
Towing capability is a huge reason to consider a Ram 1500. If you're regularly towing, it'll no doubt make a solid companion - be it towing a smaller caravan or a tiny house like we did.
Find out more detail about its towing performance in the driving section below.
How much fuel does it consume?
You aren't buying a petrol V8 ute of this size if fuel consumption is a key concern of yours.
Why? Because it's going to like a drink. And even on paper it has a pretty high claimed fuel use figure.
The official combined cycle (ADR 81/02) claimed fuel consumption for the Ram 1500 Warlock is 12.2 litres per 100 kilometres. The emissions claim for this version is 283g/km of CO2.
Both of those numbers are high, but I would argue they're actually not ridiculous given the type of vehicle this is and its intended user case.
There are Gear+ and Gear- buttons on the steering wheel in lieu of paddle-shifters, but in regular driving, I didn't find myself calling on that facility. In towing the tiny house? That's a different story.
The job for this test was to move the tiny house from its original position to its new resting place, about 25 minutes drive away. So this was hardly a comprehensive long-distance towing test, but at 3250kg and almost 4.2m tall and 9.0m long (trailer - house length 7.2m), it was still a worthy challenge for the Warlock.
Before we hitched up, I noticed the reversing camera wasn't as clear or as good as adjusting to bright light as it could be. It is a bit disturbed by contrast, but the guidance lines did help hook me hook it up.
The petrol engine revved eagerly during towing, and I used the steering wheel gear selectors up a particularly long, steep hill on Sydney's northern beaches. The weight was definitely noticeable on the back, and I needed to use the gears a lot more than when I towed a large caravan with the diesel version of the Ram 1500.
And I was super thankful for the electronic brake control system that's built-in to the Ram 1500 models, which allows you to adjust the trailer braking gain and make it more responsive to inputs. The route we took was hilly - but ascents and descents - and there was no way around that, so the braking system impressed in this application.
The mirrors could be better, too - if I were buying a Ram 1500 to tow with regularly, a set of trailer mirrors would be my first upgrade. The stock ones are good for width, but they don't allow the driver enough vertical vision.
Book a test drive
The ease of driving the Ram with this much mass on the back was impressive, though. The hardest part of the test was maneuvering the trailer into its final parking position. There were low-hanging telephone lines and tree branches, and the driveway was narrow and required a lot of thought in its approach.
All told it took us about an hour to figure out the best approach to parking the tiny house in its new position. After wrangling the almost-six-metre ute and its nine-metre long trailer - meaning a combined total length of 17m! - we managed to get it in its spot.
At low speeds for parking, the steering was impressively light in its action, and while the gear shift - a rotary dial on the dashboard - takes a bit of learning when jumping between D and R, plus the fact you have to manage the brake pedal and the parking brake pedal (which isn't as reassuring as you might hope), it was entirely manageable. But if you have a large caravan or trailer that you'll regularly be towing, the foot shuffle may get a little annoying.
Verdict
The Ram 1500 Warlock proved an adept towing companion for this tiny house adventure, and it's also a pretty decent all-round truck if you want something that's large on size and personality.
I'd personally prefer a diesel Ram if I was going to be towing this much weight on a regular basis, but like I said, the diesel doesn't come with the Warlock styling treatment, which could be a big deal for buyers of this type of truck.
What we like
Great usable towing capability
Tray practicality on offer
Huge cabin
What we don't
No active safety tech
The fuel bill
Missing some stuff for the money