Alfa Romeo 4C Spider 2015 review
Paul Gover reviews the Alfa Romeo 4C Spider at its international launch in Italy.
One look at the Alfa 4C Spider gets you. It's that sort of car.
It looks fast and keen. Not intimidating like a Lamborghini, or soft like a Toyota 86, but spot-on in size and style.
When the engine room is home for a turbocharged 1750 engine, bolted to a six-speed twin-clutch gearbox feeding to the rear wheels, it ticks even more boxes.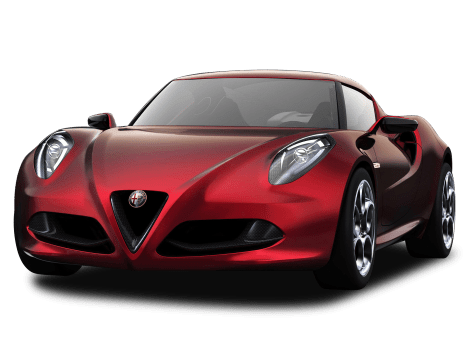 Explore the 2015 Alfa Romeo 4C range
And then there is the lift-out roof panel that elevates the Spider beyond the 4C Coupe that's already a sellout in Australia despite an $89,000 base price.
Even in Milan, home base for Alfa Romeo and the scene this week of a renaissance announcement for the Italian brand that spins on the all-new Giulia sedan, the Spider turns heads and has a magnetic effect on mobile phones and their owners.
But it's also a car that's as deeply flawed as any I've driven in recent times, and not a car I'd like to own.
It's too noisy by half or more, the seats don't have enough support and, worst of all, the front suspension and steering sabotages the driving enjoyment. At times it feels downright spooky.
It's important to confess that most of my one-day Italian immersion is spent on highways, the natural enemy of cars like the 4C Spider, and it's a day I will never get back. In fact, it's one I'd happily forget.
But I have to drive what I have, and that means running the 4C from Alfa's test base at Balocco to the production base at Modena - where Maseratis are also built - and back again. A tight timetable means lots of highways with just a couple of curves.
I'm smiling when I first spot the Spider, which looks like a Lotus Elise done properly. The proportions are good, it has the right combination of curves, and the cabin is shrink-fitted but relatively roomy and well equipped.
When I fire the turbo four there is Italian theatre with whooshing and chuffing
I can forgive the small boot because I only have a day pack, and I can see the removable roof - a roll-up canvas panel that's quick and easy to use - is practical and effective.
When I fire the turbo four there is Italian theatre with whooshing and chuffing, with pops and bangs as I accelerate and then brake into the first corner.
But already I hate the steering, which feels like I have a pair of flat front tyres when I try to steering out of the parking lot. I know Alfa has sacrificed power steering to save weight, but this is plain silly. I know my partner Ali could not make a successful reverse park in the Spider.
Then I get to the corner and I have no idea what the front end is doing. The steering is still too heavy, the wheel jumps in my hands, and I resort to a point-and-squirt technique instead of exploiting the chassis.
I know the 4C should stick like paint in curves with its carbon-fibre chassis, but it feels as if the suspension is flexing on the mounts and I never feel remotely confident.
It's also super-sensitive to highway crosswinds and jumps about over bumps and wanders alarmingly when braking hard on any surface that's not perfectly flat.
After the first hour on the highway I'm also sick of the droning exhaust note and tyre roar. It's fun to punch down a couple of gears for an overtaking sprint, but there is noticeable turbo lag in the engine.
After another hour I'm disliking the driver's seat, which does not reach down far enough below my butt. And, in the rare corners, it is also lacking side support.
Now, I know that the Alfisti will be reading this in horror and disgust, because they are the Alfa fans, and I'm expecting anger from Alfa Romeo. But it's a story that has to be told.
It feels like a good idea that was never completed
And I do like the lift-out roof, which is quick and easy to use. And there is very, very little turbulence with the roof panel out. In fact, it almost seems quieter in my 4C than running as a coupe.
But some people believe that the 4C Spider is a rival for a Porsche Boxster and that's plain silly. Even if the Coupe is $89,000, the Spider needs the same pricetag - or less - if it's to make any impact in Australia beyond people who want it as a look-at-me car for a coffee stop on Saturday mornings.
Verdict
It feels like a good idea that was never completed. And I can see clear evidence of catch-up work in the gearbox-cooling scoop fitted behind the left-side door on some American cars, which has been disowned by Alfa's design chief Lorenzo Ramaciotti as an ugly and unnecessary botch job.
Things could change when the 4C Spider gets to Australia in November, when we have a crack at some corners and hear if Alfa Romeo has been able to make some tweaks to the steering - power assistance, perhaps? - and suspension.
But, as it stands, it's only a two-star car and far better for parking and posing than tackling my favourite driving roads.
Pricing guides
$59,220
Based on third party pricing data
Range and Specs
| Vehicle | Specs | Price* | |
| --- | --- | --- | --- |
| Launch Edition | 1.7L, PULP, 6 SP DUAL-CLUTCH AUTO | $56,900 – 71,940 | 2015 Alfa Romeo 4C 2015 Launch Edition Pricing and Specs |
| (base) | 1.7L, PULP, 6 SP DUAL-CLUTCH AUTO | $46,500 – 58,740 | 2015 Alfa Romeo 4C 2015 (base) Pricing and Specs |
| Targa | 1.7L, PULP, 6 SP DUAL-CLUTCH AUTO | $51,700 – 65,340 | 2015 Alfa Romeo 4C 2015 Targa Pricing and Specs |
Pricing Guide
$46,500
Lowest price, based on third party pricing data
View cars for sale
Similar Cars
Ford Mustang

Disclaimer: The pricing information shown in the editorial content (Review Prices) is to be used as a guide only and is based on information provided to Carsguide Autotrader Media Solutions Pty Ltd (Carsguide) both by third party sources and the car manufacturer at the time of publication. The Review Prices were correct at the time of publication.  Carsguide does not warrant or represent that the information is accurate, reliable, complete, current or suitable for any particular purpose. You should not use or rely upon this information without conducting an independent assessment and valuation of the vehicle.