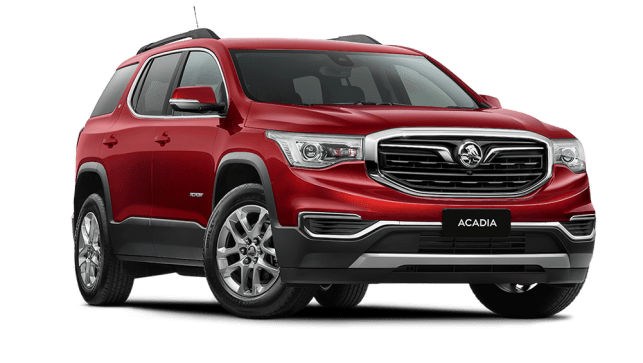 COMPARE
Holden Acadia
VS
LDV D90
Holden Acadia
Likes
Truck-like exterior
Third row spacious for class
Good value
Dislikes
Truck-like interior
V6 needs to be pushed hard for results
Handling not as good as CX-9
---
LDV D90
Likes
Makes more sense as a diesel
People-mover practicality
Affordable
Dislikes
Terrible software
Cheap interior
A bit unwieldy to drive
Summary
Holden Acadia
The Acadia is now here and finally Holden has a proper seven-seat SUV in its range. Yup, the now redundant Captiva can rust in peace because the Acadia is bigger, safer, more practical and high tech.
The thing is, there are some excellent seven-seat SUVs out there already – Mazda's CX-9 is outstanding in terms of its cabin refinement and on-road dynamics, while Kia's Sorento is great value and there's the popular Toyota Kluger.
Made in Tennessee in the US of A, the Acadia has some serious competition. So, can the American with a Holden badge do anything the others can't?
We attended the launch of the Holden Acadia and learned a lot. Let us tell you…
| | |
| --- | --- |
| Safety rating | |
| Engine Type | 3.6L |
| Fuel Type | Regular Unleaded Petrol |
| Fuel Efficiency | 8.9L/100km |
| Seating | 7 seats |
---
LDV D90
It's pretty hard to miss the LDV D90.
Mainly because it is gigantic; it's one of the biggest SUVs you can buy. In fact, I'd say what's drawn you to this review is maybe you've seen one of these behemoths trucking past, and you're wondering what the LDV badge is all about and how this relatively unknown SUV stands up against popular rivals and other notable newcomers.
To get one confusing thing out of the way, LDV once stood for Leyland DAF Vans, a now-defunct British company which has been brought back to life by none other than China's SAIC Motor – yes, the same one which also resurrected MG.
So, is this MG big brother worth looking into? We took the recently released diesel version of the D90 on test for a week to seek some answers…
| | |
| --- | --- |
| Safety rating | |
| Engine Type | 2.0L turbo |
| Fuel Type | Diesel |
| Fuel Efficiency | 9.1L/100km |
| Seating | 7 seats |
Verdict
Holden Acadia
7.6/10
The Acadia offers a tough-looking American take on the seven-seat SUV which won't be appealing to everybody but will be loved by others. While the interior quality and design falls short of rivals such as the CX-9 and the handling isn't as sharp as that SUV either, the ride is comfortable, the features list is extensive, the cabin space is outstanding and the level of advanced safety equipment is impressive.
The sweet spot for the range is really the base grade LT, but the best car is the LTZ-V.
What do you think of the Acadia's tough truck looks? Tell us what you think in the comments below.
---
LDV D90
7.1/10
Looking for a cheap, powerful diesel SUV with huge cabin space and a humane third row for adults? The D90 is a really sound offering, especially considering the price of entry for this top-spec diesel which should resonate with Aussies a bit better than the petrol version.
It has plenty of issues that could be ironed out, but they're all so small and not sale-breaking it's almost annoying how much better the D90 could be with just a little work. Rivals should be looking over their shoulder for what comes next.
Design
Holden Acadia
7/10
Made in Tennessee in the United States, the Acadia couldn't look more American, with that blocky profile and truck-like face. Only the Toyota Kluger comes close to matching its macho design, while Mazda's CX-9 and Kia's Sorento have sleeker and more curvaceous styling.
Some people aren't going to be fans of those bold, angular looks, but this is a large seven-seat SUV that's obviously not trying to please everybody, and that will probably be part of the appeal to its fans – the Acadia is unapologetically tough looking.
The swapping of the GMC lettering (it's called GMC Acadia in North Amercia) for a Holden badge and subtler grille treatment give the Acadia a more refined and upmarket look.
However, refined isn't a word you'd use to describe the interior, because while its truck-like looks make the Acadia appealing on the outside, the commercial styling in the cabin is disappointing.
Moulded plastics around the doors and hard plastics on the dash and centre console feel cheap and look tacky. The Acadia's cabin lags behind the more stylish cockpit of the CX-9 with its excellent fit and finish.
Buying a higher grade in the Acadia range won't really improve the cabin scenery much either. The LTZ-V is the top-of-the-line Acadia and while it comes with ventilated leather seats, the rest of the cabin looks almost identical in styling and materials as the base-grade LT.
The exterior differences between the grades isn't that obvious either. While all grades come with rear privacy glass and LED tail-lights, the LTZ-V comes with square exhaust tips, aluminium roof rails and a dual-pane sunroof.
What are the Acadia's dimensions? The Acadia is just under 5.0m long, while the CX-9 is 5.1m end-to-end. The Acadia is 2.1m wide (to the mirrors) and 1.8m tall.
The colour range is fairly limited with 'Glory Red', 'Mineral Black', 'Blue Steel', 'Summit White', 'Scorpion' (brown), 'Nitrate Silver', 'Dark Shadow' (a dark blue) and 'Abalone White' your only choices.
---
LDV D90
6/10
Some colleagues I've spoken to like the way the D90 looks. To me, it looks like someone gene-spliced a Hyundai Tucson with a SsangYong Rexton in a lab, then grew it in a stew of peptides and this was the result.
What can't really be communicated in images is how truly massive the D90 is. At over five metres long, two metres wide and almost two metres tall, the D90 is certifiably huge. Given that's the case then, it's admittedly almost admirable that only the side profile makes this thing look a little goofy.
I think LDV has done a pretty good job on the front, and the rear is simple but well resolved for a vehicle that rides on a ladder chassis (just take a look at the Pajero Sport for how ladder-chassis rear designs can get… controversial…).
The wheels, garnishes, and LED headlights are all tastefully applied. It's not ugly… just confronting… size-wise.
Inside shares some familiar characteristics with sister-brand MG. Look from a distance and it's all quite nice, get in too close and you'll see where the corners have been cut.
The first thing I don't like about the interior is the materials. Apart from the wheel they are all pretty cheap and nasty. It's a sea of hollow plastics and mixed trims. The faux-wood pattern, which is clearly just a print on a plastic resin is particularly gnarly. Reminds me of some Japanese cars from 20 years ago. It might work for the Chinese audience, but that's not where the market is in Australia.
On the other hand, you could say "well, what do you expect at this price?" and that is true. Everything is here and works, just don't expect the D90 to be playing alongside the established players when it comes to fit, finish, or material quality.
The huge screen works to finish the dash, but that darned software is so ugly you'll wish it didn't. At least all the major touch-points are ergonomically accessible.
Practicality
Holden Acadia
9/10
All Acadias are seven-seaters, but not all seven-seater SUVs in the world really fit seven adults. I can't sit comfortably in the third row of the CX-9 – the sloping roof line destroys headroom back there and my legs are wedged into the seat back.
 
Here's the big news: even at 191cm tall I can sit in the Acadia's second row (behind my driving position), and then behind that in the third row all without my head touching the roof or knees hitting the back of the seat in front. That is exceptional.
The dual sunroof in the LTZ-V limits headroom, so think about the LTZ if you're going to be carrying tall freaks like me all the time, but it'll be plenty spacious for kids.
Climbing into that third row is easier than the CX-9 thanks to the Acadia's tall roofline, although being American-made the larger folding section of the second row is on our kerb side (not the case with CX-9).
Still, the second row slid far enough forward to make getting into the back easy enough for me.
Cabin storage and utilities are excellent. Third-row passengers have two cupholders, a hidey hole for loose items, air vents and a USB port. Second-row dwellers have two USB ports, a large storage drawer, two cupholders in the fold down armrest, climate control dials and air vents, plus decent-sized door pockets.
Up front, the centre console bin is large and deep, the storage compartment in front of the shifter fits my iPhone 8 (in the LTZ and above there's wireless charging in there), you'll also find two large cupholders, a large glove box and door pockets. There are two 12-volt power outlets – one in the cockpit and the other in the cargo area.
Boot capacity with the third row in place is 292 litres, but that is measured to the roof (Mazda measures to the cargo cover). With the third row folded flat the luggage space of the Acadia is 1042 litres, and with the second and third rows folded you have 2102 litres of cargo room.
---
LDV D90
9/10
The D90 is as massive on the inside as it is on the outside. I'm talking better space than a minivan, and nothing says that more than the humane third row. At 182cm tall, I not only fit in the rearmost two seats, but I can do so in as much comfort as any other row. It's staggering. There's actual airspace for my knees and head back there.
The second row is massive and on rails too, so you can extend the amount of room available to third-rowers – and there's so much room in the second row, you'll have space even with the seats moved forward.
My only criticism here is that the giant rear door is far enough forward to make clambering into the third row a little tricky. Once you're there though there are really no complaints.
The boot is even usable with the third row deployed, with a claimed 343L of space. That should be hatchback-sized, but the measurement is a little deceptive as the space is tall but shallow, meaning it will only allow you to place smaller bags (a few, if you can stack them) with the remaining space.
The boot is otherwise cavernous with a wild 1350L available with the third row stowed flat, or 2382L with the second row stowed. In this configuration, with the front passenger seat slid forward to its furthest position, I was even able to get a 2.4-metre-long benchtop in the back. Truly impressive.
Without buying an actual commercial van then, this could be the cheapest way into such room, especially in a 4x4 bi-turbo diesel SUV. No arguing with that.
Second-row occupants get their own climate control module, USB ports and even a full-sized household power outlet, with more legroom than you could possibly need. My only complaint was that the seat trim seemed a little flat and cheap.
Front occupants get large cupholders in the centre console, a deep armrest box (with no connectivity in it, just a randomly placed DPF cycle switch), pockets in the doors, and an awkward binnacle under the climate controls that houses the single available USB port. My phone didn't fit in there.
No complaints about leg and headroom in the front either, though, with plenty of adjustability to boot. The driver's seat offers a commanding view of the road, although it can be a little unsettling to be so far off the ground in corners… more on that in the driving section.
Price and features
Holden Acadia
8/10
The Acadia range has three grades to it – the entry level LT which lists for $43,990, then the mid-spec LTZ for $53,490 and at the top of the range is the LTZ-V for $63,490. These are the prices for the front-wheel drive Acadias and you can have them in all-wheel drive, but it'll be an extra $4000 on top.
The LT comes with a mountain of standard features, including an 8.0-inch touchscreen with sat nav, reversing camera, Apple CarPlay and Android Auto, three-zone climate control, rear parking sensors, proximity key, rear privacy glass and 18-inch alloy wheels. There's also an impressive array of advanced safety equipment which I'll take you though further down this review.
The LTZ gets all the LT's features and adds leather seats, power adjustable and heated front seats, rain sensing wipers, wireless charging for phones, power tailgate, front parking sensors, and this will make some people very happy – automatic parking.
The LTZ-V comes with all the LTZ's features and more including ventilated seats, 20-inch wheels, dual-pane sun roof, 8.0-inch virtual instrument cluster, eight-speaker Bose stereo with amplifier and subwoofer, and adaptive suspension.
That's great value and it's on the same level as the CX-9, although the Mazda comes with a head-up display on all grades. You can't get one even on the top-of-the-range Acadia.
---
LDV D90
8/10
On paper, the seven-seat D90 is immediately quite appealing. At $47,990, it is literally a lot of car for the money. This latest iteration, the bi-turbo diesel, is only available in Executive trim at this price, but you can pinch pennies further by choosing one of the lesser petrol turbo variants.
Regardless, and much like its MG sister brand, LDV is good at making sure that essential spec boxes are ticked.
This includes screens galore as is popular in the Chinese market, including a massive 12-inch multimedia screen and 8.0-inch digital dash.
A screen is only as good as the software that runs on it though, and let me tell you, the D90's software is not good. A quick flick through the weirdly small menu reveals barebones functionality, terrible resolution and response time, as well as possibly the worst execution of Apple CarPlay I've ever seen.
I mean, it doesn't even use all of that screen real estate! Not only that, but in a recent overhaul to CarPlay, Apple released software to utilise wider displays – so the car's own software must simply be incapable of supporting it. Inputs also proved laggy, and I had to repeat myself on multiple occasions to get any use out of Siri. Unlike every other car I've used, the software in the D90 wouldn't return to the radio after you hang up or stop talking to Siri. Frustrating.
I'd rather have a far smaller display that actually worked well. The semi-digital dash was functional, although barely did anything that a small dot-matrix display isn't capable of and had one screen which for my entire week said 'loading'. I'm still not sure what it was meant to do…
At least it supports Apple CarPlay at all, which is more than could have been said for segment hero, the Toyota LandCruiser.
The D90 does tick some necessary items that are quite good. LED headlights are standard, as are leather seats with eight-way power adjust for the driver, a heated multi-function steering wheel, 19-inch alloy wheels (which still somehow look small on this huge thing), three-zone climate control, eight-speaker audio system, electric tailgate, keyless entry with push-start ignition, a reversing camera, front and rear parking sensors, tyre-pressure monitoring, as well as a fairly substantial safety suite which we'll explore later in this review.
Great on paper then, the bi-turbo diesel engine is a boon, as is the fact that the D90 rides on a ladder chassis with an electronically-controlled low-range terrain mode for the transmission, too.
You'd expect to pay more – even from Korean and Japanese rivals for this much specification. No matter which way you cut it, the D90 is good value.
Engine & trans
Holden Acadia
7/10
Now the engine – it's a V6 petrol that makes stacks of power at 231kW and plenty of torque at 367Nm. The problem here is the maximum torque comes in at 5000 rpm. Torque is the force that's sent from the engine and turns the wheels and it's preferable to have all the torque come in low in the rev range.
See, most of the time I drove the Acadia the revs never got above 3000rpm. If I wanted to overtake I needed to hammer it. The CX-9 makes 420Nm of torque at 2000rpm – it's under your right foot almost always. It's preferable to have low-end torque for towing, too.
Talking of that, the braked towing capacity of the Acadia is 2000kg.
The transmission is a nine-speed automatic – a torque converter. It's an excellent transmission, that shifts intuitively and smoothly. The Acadia offers a choice of front-wheel drive or the optional all-wheel drive.
---
LDV D90
7/10
The D90 was initially offered in Australia with a 2.0-litre turbo petrol four-cylinder, but this 2.0-litre bi-turbo diesel makes much more sense, both for towing and long-distance touring.
It's a four-cylinder offering a healthy 160kW/480Nm. You'll note that's pretty close to Ford's similar 2.0-litre bi-turbo diesel, which is currently offered in the Everest…
The diesel also gets its own transmission, an eight-speed torque converter automatic with computer-controlled 'Terrain Selection 4WD'.
This gives the D90 diesel a max towing capacity of 3100kg braked (or 750kg unbraked) with a max payload of 730kg.
Fuel consumption
Holden Acadia
6/10
It's a V6 so it's going to be thirsty right? Yes, but this engine can deactivate two cylinders to run on four when not under load. That said even on the country roads that the Acadia launch was held on, the mileage the trip computer was reporting ranged from about 10.0L-11.0/100km for both the all-wheel drive and front-wheel drive Acadias.
You can bet that will head higher in the traffic of the suburbs and city. Holden says that after a combination of urban and open roads the FWD Acadia should use 8.9L/100km and the all-wheel drive will need 9.3L/100km. Those are pretty optimistic numbers and the real-world fuel economy will certainly be higher.
---
LDV D90
6/10
The D90 diesel is said to consume 9.1L/100km of diesel on the combined cycle, but ours didn't score near that with a figure of 12.9L/100km after a week of what I'd consider "combined" testing.
The D90 a big unit, so that number doesn't seem outrageous, it's just nowhere near the claim… All D90s have 75-litre fuel tanks.
Driving
Holden Acadia
7/10
If you're a fan of SUVs because they can make you feel like you're a hundred feet tall wearing a Transformers suit, then you're going to like driving the Acadia. Yup, it looks like a truck and feels like one when you're looking out over that high, broad bonnet.
The dashboard is also tall, and this combined with the truck-like bonnet meant I had to raise my seat higher than the setting I'd normally use, just to see clearly over. Even then visibility isn't great thanks to long and wide A-Pillars framing the windscreen.
There are other ergonomic issues you'll face in this cabin. I found the centre console armrest way too high and my elbow kept hitting it as I turned the steering wheel it also made changing the drive modes on the rotating dial in front of it awkward using your left hand to scratch your left armpit. Made you do it, didn't I?
The indicator and wiper stalks are also positioned at a high angle and on the highest wiper setting I had to take my hand off the wheel to turn them off. If my hands aren't big enough to reach them while holding the steering wheel, there's no way Donald Trump could.
So how does the Acadia drive? Well there are two very different feeling Acadias in the range. There's the one Holden brought to Australia to test rigorously around its test track and Australian roads, tuning the adaptive suspension to offer a comfortable ride that suits our conditions – it's the LTZ-V.
Then there's the LT and LTZ, which didn't get the full Holden suspension work-over. Sure, Holden went to the US and helped develop a suspension system for these two grades, but they had to make a compromise and agree on a tune that would make the American drivers happy, too. In the US drivers prefer a softer, more cushioned ride, while in Australia we tend to like a firmer sportier one with better handling.
That means the LT and LTZ just don't handle as well as the LTZ-V. Not only do those lower grades have a softer ride that feels almost like you're bouncing on a space hopper at times, they also don't have the great adaptive suspension of the top grade LTZ-V. The adaptive suspension can not only be set in a sport setting, for better handling but is constantly adjusting itself to the driving style.
On the highway all grades cruise beautifully, like battleships ploughing through the miles of road – this is where they are really in their element. You'll also find them all comfortable for suburban adventures, too – even on patchy streets with bad surfaces the ride is composed and compliant.
But when I took the LT with AWD along a fantastic bit of familiar road with a great surface and plenty of twists, I could feel that suspension doing everything it could to rein in the body roll, but not winning. This is a 2.0-tonne and tall SUV and I don't expect it to behave like a sports car, but Mazda's CX-9 feels more agile with quicker steering and better handling than the Acadia.
The LTZ-V has an exceptional ride – almost limo like with adaptive suspension ironing out the road ahead.
Even as a passenger in the second row the journey was comfy and serene, the cabin well insulated, although those rear seats are unsupportive and in the corners I felt myself sliding around back there. And that's the thing, even in the corners the Aussie-developed LTZ-V still struggled to control its heft, and when pushed more the tyres began to chirp in the bends. The LTZ-V wears Continental ContiCrossContact high performance all-terrain tyres (235, 55 R20) if you're wondering.
Still I didn't feel the Acadia lacked grunt, the V6 is smooth and there was an instant connection between the accelerator pedal and the acceleration that you don't get with the turbo-charged CX-9.
The thing is you really need to get the Acadia up to 5000rpm to really get good oomph – and that's going to harm your fuel economy.
Choosing a front-wheel drive variant will save you a bit of money at the pump, and while the all-wheel drive adds some reassuring traction on wet roads and gravel, it's not essential. Front and all-wheel drive Acadias had identical comfort levels in terms of ride.
---
LDV D90
6/10
The D90 is easier to drive than it looks… to a degree…
It lacks some polish of its more established rivals, which results in a drive experience that isn't bad, but occasionally frustrating.
The ride somehow manages to be soft and harsh at the same time. It undulates over larger bumps, while transmitting the worst parts of smaller, sharper ones to the cabin. It speaks to a lack of calibration between the suspension and dampers.
That having been said, the D90 masks its ladder chassis underpinnings well, with little of that typical body-on-frame jiggle that some rivals still struggle with.
The drivetrain is good, but a little unruly. As you'd imagine from the figures, there's more than enough power on tap, but the transmission tends to have a mind of its own.
It will occasionally lurch between gears, pick the wrong gear, and off-the-line will sometimes be delayed before shunting the D90's bulk forward with a sudden mountain of torque. It doesn't sound particularly good either, with the diesel surging through the rev range with industrial crudeness.
By the time the D90 has reached cruising speed though, there's really not much to complain about, with the D90 milling along with plenty of power in reserve for overtaking. The view of the road is commanding, but you really feel the D90's high centre of gravity in the corners and under heavy braking. The physics of such a large object are undeniable.
I have to say, LDV has done a fantastic job of the D90's steering, with a quick, light feel that betrays the SUV's size. It manages to stray on the right side of lightness though, not being so disconnected that you lose a feeling of where the wheels are pointing. No mean feat in something this shape.
Overall then, the D90 isn't bad to drive and has some genuinely great characteristics, it just also has a litany of small issues that get in the way of it being truly competitive with segment leaders.
Safety
Holden Acadia
8/10
The Acadia has yet to be given an ANCAP crash rating, but the level of advanced safety equipment is outstanding. All grades come with AEB (on the LT and LTZ it's a city speed version, while the LTZ has higher speed AEB), there's blind spot warning, rear cross traffic alert, lane keeping assistance and lane departure warning, plus lateral impact avoidance which will swerve to avoid a vehicle that drifts into your lane.
Also excellent is that the side curtain airbags extend all the way back the entire third row – the CX-9's do, too, but not the Kia Sorrento's.
The chink in the Acadia's safety armour is a low-tech but essential item – the spare wheel; it's a space saver, which is not ideal in Australia where distances between towns can be vast. Also, to get the space saver out requires a stack of effort – it's under the boot floor but you'll need to remove the storage under the floor to get to it. We tried it on the launch and the process was overly difficult.
---
LDV D90
8/10
The LDV D90 carries a maximum five-star ANCAP safety rating as of 2017, and has a fairly comprehensive active safety suite.
Included on the diesel is auto emergency braking (AEB) with front collision warning, lane-departure warning, blind-spot monitoring, driver-attention alert, traffic-sign recognition, and adaptive cruise control.
Not bad for the price, and nice that there's nothing optional. Expected items include electronic traction, stability, and brake controls, as well as six airbags.
The curtain airbags do extend to the third row, and there's the bonus of a reversing camera and a tyre-pressure-monitoring system.
There is a full-size steel spare under the boot floor, and the D90 also gets dual ISOFIX and three top-tether child-seat mounting points.
Ownership
---
LDV D90
7/10
LDV covers the D90 with a five-year/130,000km warranty, which is not bad… but falls behind sister brand MG, which offers seven years/unlimited kilometres. At the very least it would be nice to have the unlimited kilometre promise.
Roadside assist is included for the duration of that warranty, but there's no capped price servicing offered through LDV. The brand gave us indicative pricing of $513.74, $667.15, and $652.64 for the first three annual services. An initial six-monthly 5000km checkup is free.
All D90s need to be serviced once every 12 months or 15,000km, whichever occurs first.