Used Datsun 2000 Sports review: 1967-1970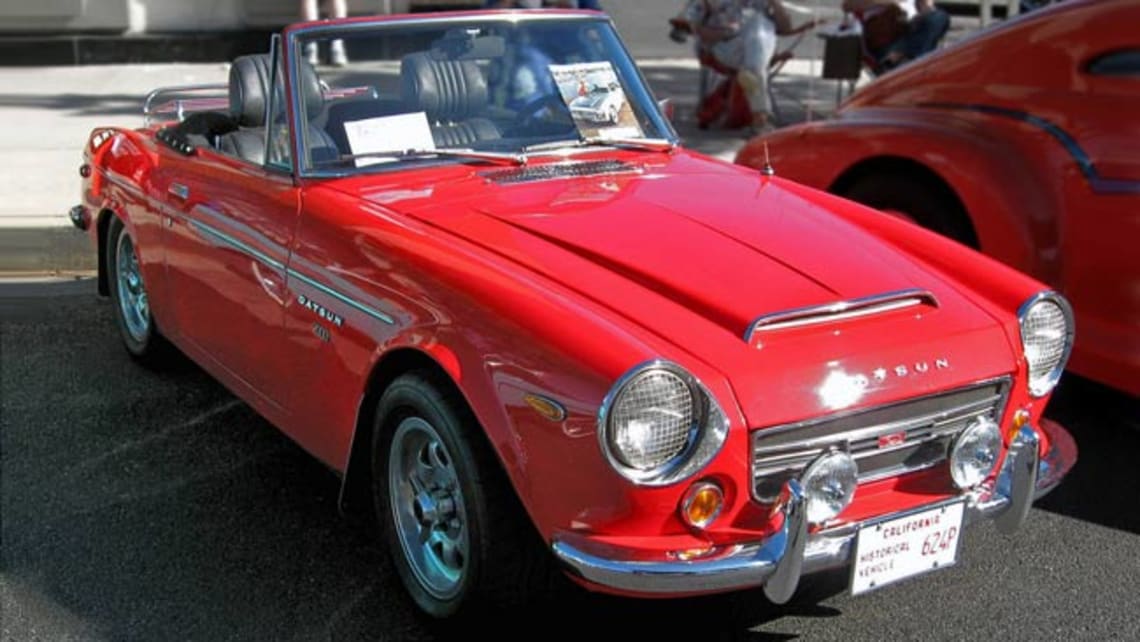 The Datsun 2000 Sports arrived here in 1967 to rave reviews, but it faced an uphill battle to win over fans of the British sports cars that dominated the market segment. Anti-Japanese sentiment was still present in the Australian community and it was often expressed as a resistance to buy products produced in the country we'd been fighting just a few years earlier.
When it arrived the Datsun 2000 Sports had to overcome this hurdle in addition to breaking down the well-established loyalty of locals to traditional British sports car brands like MG, Austin-Healey and Triumph.
MODEL WATCH
The Datsun 2000 Sports was the last in the line, and easily the best of the traditional open sports cars that began with the 1962 Fairlady 1500. In 1970 it was replaced by the very popular 240Z, the first of the Z-Series cars that continues in the 370Z today.
When the Fairlady arrived on the local scene in the early 1960s the market was dominated by the British, with cars like the MGB, Austin-Healey 3000 and Triumph TR4 all selling well. The MGB in particular was a top seller, and a very popular and affordable sports car for local fans of open-top motoring.
Perhaps not surprising the Datsun Fairlady looked much like the cars it was trying to beat, with long lean lines and athletic proportions of the sort that were familiar on British cars.
But the oddly named Fairlady 1500 wasn't a great success. Sports car buyers mostly shunned it, because it was Japanese. Japanese cars were yet to fully establish a place in the market and hadn't had a chance to demonstrate their qualities of reliability and durability. But by the time the 2000 Sports arrived in 1967 the MGB had been on the market for five years and was looking rather tired in comparison.
A steady rather than stunning performer the MGB was easily outpaced by the 2000 Sports, which had a top speed in excess of 200 km/h when the British car barely topped 160 km/h. The source of this performance was a 2.0-litre single overhead camshaft four-cylinder engine that put out 112 kW at 6000 revs and 184 Nm at 4800 revs. It was backed up by a five-speed all-synchro manual gearbox.
Underneath it boasted independent coil spring front suspension with semi-elliptic leaf springs and torque rod at the rear. Braking was by discs at the front and drums at the rear, while steering was without power-assistance.
IN THE SHOP
It's important to realise the Datsun 2000 Sports is now an old car, and as such most are wearied by age. While they are now more appreciated they were once thought of as ugly ducklings, and many were neglected as a result.
Neglect, poor maintenance and years of being driven hard are the main causes of problems in the otherwise sturdy car. Look for rust in the sills, footwells, and around the boot hinges, and check the door gaps, as they can be a giveaway to previous crash damage.
The 2000 had the U20 engine, which was generally a reliable and robust unit. Look for oil leaks around the rear of the cylinder head and the fuel pump. It's important to use a good coolant, changed regularly to prevent electrolysis with the aluminium cylinder head and cast-iron block.
Check for worn synchroes in the gearbox and make sure it doesn't jump out of gear, particularly in fifth when backing off after hard acceleration. Clunking or binding when steering is an indication of wear. The chassis is quite robust and gives little trouble, but look out for sagging rear springs.
Generally the interior holds up well, but most parts can be sourced if needed.
IN A CRASH
Don't look for airbags in the Datsun 2000 Sports, it came from an era before airbags and relied on an agile chassis, responsive steering and powerful brakes to avoid a crash.
AT THE PUMP
Like all sports cars fuel consumption of the 2000 depends largely on the driver's thirst for speed, but driven normally it's quite economical. Road testers at the time of the 2000 Sport's release reported fuel consumption of 12.2 L/100 km.
Of greater interest today is the fuel that can be used. The Datsun was tuned to use Super leaded petrol when new and a fuel with a similar octane rating is best used now. That really means 98-octane unleaded, with an additive to take care of the valves and valve seats.
LOOK FOR
Lusty performance
Solid construction
Classic roadster looks
Robust and reliable
Affordable fun motoring.
THE BOTTOM LINE: A sturdy, reliable, and fun sports car capable of outperforming similar British cars of its era.
Pricing guides
$2,325
Based on third party pricing data
Range and Specs
| Vehicle | Specs | Price* | |
| --- | --- | --- | --- |
| (base) | 2.0L, Leaded, 5 SP MAN | No recent listings | 1967 Datsun 2000 1967 (base) Pricing and Specs |
| Custom 6 | 2.0L, Leaded, 3 SP MAN | $1,350 – 2,200 | 1967 Datsun 2000 1967 Custom 6 Pricing and Specs |
| Super SIX | 2.0L, Leaded, 4 SP MAN | $1,600 – 2,640 | 1967 Datsun 2000 1967 Super SIX Pricing and Specs |
| (base) | 2.0L, Leaded, 3 SP AUTO | $1,900 – 3,300 | 1967 Datsun 2000 1967 (base) Pricing and Specs |
Disclaimer: The pricing information shown in the editorial content (Review Prices) is to be used as a guide only and is based on information provided to Carsguide Autotrader Media Solutions Pty Ltd (Carsguide) both by third party sources and the car manufacturer at the time of publication. The Review Prices were correct at the time of publication.  Carsguide does not warrant or represent that the information is accurate, reliable, complete, current or suitable for any particular purpose. You should not use or rely upon this information without conducting an independent assessment and valuation of the vehicle.