Kombi capers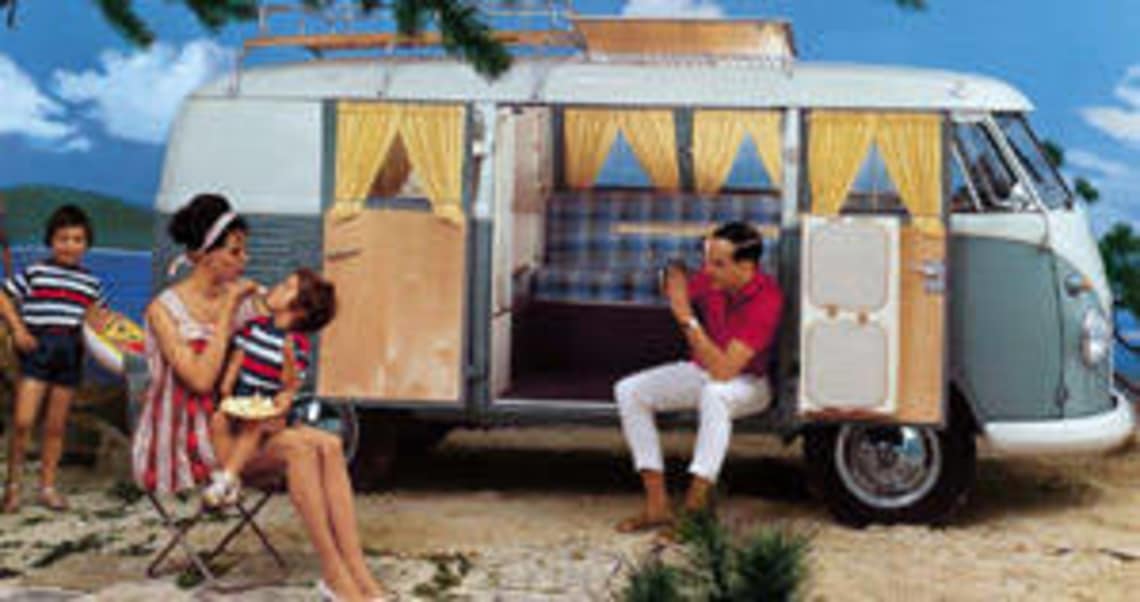 So says Kombi Club founding president Roy Hodkinson, who owned a VW Beetle in 1974 and a Kombi in 1977 and a few years ago bought a 1959 Kombi Microbus Splitscreen shell for $1000.
The 47-year-old Gold Coast carpenter owns four Kombis in various states of repair, but only the Microbus is roadworthy.
"People no longer are using them to drive them into the ground," he said.
"They are spending a lot of money on them. Their other car might be a Merc, Ferrari or Jag, but they prefer to drive the Kombi. I think everybody has that bit of eccentricity in them and wants to relive their youth a bit, whether they were a hippie or not.
"It's a release from everyday life and it's certainly something a bit different."
Three years ago, Hodkinson opened the Bus Stop, in Burleigh Heads, to import VW parts and, about 18 months ago, he established the Kombi Club.
"Kombis are getting so popular you can actually build a brand new one out of new panels and parts," he said.
He spent $35,000 on his Microbus which is now like new.
"I just find them the most reliable cars on the road.
"They are also very versatile. You can go camping, or carry nine people or take rubbish to the dump in them."
The Kombi Club, which is free to join, now has about 1050 on-line members from New Zealand, the United States, the United Kingdom, Switzerland and Germany with about 900 from Australia, plus 200 members who do not have computer access.
The club organises camping events and cruises around Australia, with the first National Kombi Club Bus Stop Run in Canberra at Easter.
"We have a technical section where someone in Adelaide can help someone with a technical problem in Cairns," Hodkinson said.
Fellow club founder Bert Wright, 54, of Bracken Ridge, bought his fully restored 1973 Microbus Deluxe in 2004.
He has loved them since he learnt to drive in a crew cab Kombi in 1969.
"It's a funny thing with VWs like Beetles and Kombis; they get in your blood and never get out," Wright said.
"I've thought about getting another but I've been told I can only have one."
He bought the fully restored Kombi from world drag champion Peter Keegan of New South Wales for $15,000.
The value to rebuild it would be about $35,000 to $40,000.
"It has been lowered with wider wheels and the two-litre air-cooled engine has Watson 275 racing cams and twin 40mm Dellorto carbs to help it breathe and ride a little better.
"Keegan wanted it to keep it largely in original condition and not go too overboard, although some people put Subaru engines in them and do a lot of modifications," Wright said.
Visit: www.kombiclub.com
Return of a hippy icon
The iconic German bus is cool all over again
KOMBI, the iconic hippie bus, is making a comeback.
The Volkswagen bus is featuring in TV advertisements, movies and there is even a museum in Nimbin to the hallowed transporter.
VW Magazine Australia editor Craig Hughes says the Kombi has never been as popular, particularly in the advertising industry.
"There is big-time retro happening in advertising and the Kombi is at the pointy end," he said.
Hughes drives a rare Kombi dual cab as his "daily driver".
"Well, it used to be rare . . . seems like everyone wants one now."
Kombis have been a pop-culture vehicle for many years, becoming synonymous in the US in the 1960 and '70s with counter-culture and a popular form of transport for Aussie surfies.
In 1981, Australian band Men at Work mentioned "travelling in a fried-out Kombi" in their hit record Down Under and The Who's Magic Bus is said to be about a Kombi.
Kombi history dates back to 1950 when the classic Type 1 van first broke cover in Wolfsburg, Germany, powered by the 19kW 1.3-litre air-cooled engine from the Beetle and later increased to 25kW in the Type 2 in 1959.
The name is the shortened version of the German Kombinationskraftwagen, which means combined-use vehicle. In some markets it is spelt Combi.
In 1968 the split window gave way to a single window and a 1.6-litre 35kW engine. By 1976, the Kombi came with a two-litre engine with a "massive" 52kW.
From 1979, it became the Type 3 (T3) and the Kombi name was dropped in Australia.
The modern Kombi Beach, introduced here earlier this year, is a far cry from the spartan old Kombis.
It features 180-degree swivelling seats, height and reach adjustable leather steering wheel, airconditioning, heating, central locking, power windows and power mirrors.
It also has a table with legs for indoor or outdoor use, outdoor chairs and a roll-away cloth bed for two. There are even curtains for privacy and shade.
It is powered by a 2.5-litre turbo-diesel engine developing 96kW of power at 3500rpm and 340Nm of torque at 2000-2300rpm.
It comes in six-speed manual or automatic with Porsche-style Tiptronic selectors and there is even a four-wheel-drive version.
Top speed is in excess of the old 100mph (160km/h) mark.
The Kombi Beach is priced from $54,990 for the TDI manual, $57,990 for the TDI automatic.
Media mania
* The split-window Kombi used in the Telstra Bigpond "I've Been Everywhere" ad has also been used by Yokohama;
* A bay window Kombi is featured in a Hungry Jacks ad;
* The Tasmanian Government has just finished a tourism campaign using an early split-window Kombi as its main focus;
* TV show Blue Water High uses a red bay window Microbus;
* A 1960s Kombi features heavily in the Toni Collette movie Little Miss Sunshine and there is a Kombi called Fillmore in the animated film Cars;
* Oporto has completed a $100,000 Bay Window restoration for their giveaway promotion; and
* Even new V8 Supercar champion Rick Kelly and his racing driver brother Todd are restoring a Kombi for their personal use.