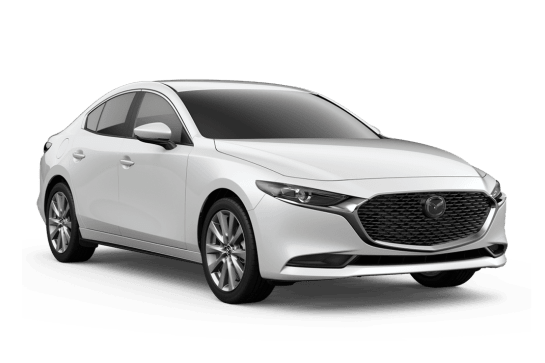 COMPARE
Mazda3
VS
Volkswagen Passat
---
Volkswagen Passat
Likes
Outstanding safety tech
Good value
Practical
Dislikes
Bending to strap kids into their seats
Not overly engaging to drive
Conservative styling
Summary
Mazda3
We all know that X means buried treasure in the world of children's book pirates, but it's looking like it could hold similar relevance for what lies under the bonnet of future Mazdas.
We first officially heard about Mazda's industry-leading Skyactiv-X technology at the brand's Global Tech Forum in Germany two years ago, but now we've ventured back to Germany to drive it in production form ahead of its Australian arrival aboard a new flagship version of the Mazda3 early next year. 
No other manufacturer has managed to productionise compression ignition for a petrol engine, and with an underlying intention to make the combustion engine work better for everyday driving, in the face of the electric-focus of all other global brands, this could be the most exciting technological development of my career.
Why invest so much in combustion engines if every other major brand is beginning to treat them like yesterday's news? While the Japanese government predicts that 52 per cent of new cars sold in 2030 will use some form of electrification in their drivetrain, the same data suggests 90 per cent will still use an internal combustion engine as at least an element of their drivetrain. That's 90 per cent of the market, more than a decade from now.
| | |
| --- | --- |
| Safety rating | |
| Engine Type | 2.5L |
| Fuel Type | Regular Unleaded Petrol |
| Fuel Efficiency | 6.6L/100km |
| Seating | 5 seats |
---
Volkswagen Passat
As if the Passat couldn't look any more like a company car, when it was updated late last year Volkswagen named the new version of its large sedan and wagon the 'Business'.
It makes sense. I mean calling the Passat something it's not would be silly. Can you imagine the Passat Arouse? The Passat Danger King? The Passat Wrestle? Nope, this is not Peugeot, it's Volkswagen.
Yes, in the history of aptly named things, nothing has been more aptly named than the Passat Business, especially the wagon.
For formal occasions this Passat calls itself the Passat 140TSI Business and I'll explain what that all means below.
So, along with the new name what else is new for the updated Passat? Is it all just business as usual or could the Passat wagon be the best reason not to buy an SUV for your family?
| | |
| --- | --- |
| Safety rating | |
| Engine Type | 2.0L turbo |
| Fuel Type | Premium Unleaded Petrol |
| Fuel Efficiency | 6.6L/100km |
| Seating | 5 seats |
Verdict
Mazda3
8.4/10
Unlike most big technological advancements, this isn't about extra performance or reinventing the wheel, it's about Mazda's bigger picture approach to deliver the best mobility solutions for right now, while still planning for electric and fuel cell vehicles in the future.
That may sound like a line straight out of the Skyactiv-X press release, but Mazda's realistic approach to our continued dependence on combustion engines is commendable. 
My final judgement will have to wait until we know how much more it will cost over a regular Mazda3, but I can say the technology works really well and should really suit Australian conditions.
Note: CarsGuide attended this event as a guest of the manufacturer, with travel and meals provided.
---
Volkswagen Passat
8/10
The Passat 140TSI Business wagon is one of the best excuses for not buying an SUV like seemingly everybody else. Not only is it effortless to drive, its updated safety tech is outstanding, it's practical and the value is excellent. More than just business class, it's family proof, too.
Design
Mazda3
Aside from the stunning good looks of the new Mazda3, the only visual distinctions the Skyactiv-X version scores over a regular high-sec model are bigger exhaust tips like those seen on the latest version of the Mazda6, and a Skyactiv-X badge in place of the regular models' Skyactiv-G. 
---
Volkswagen Passat
7/10
The updated Passat had more changes made to its cabin technology and safety equipment list than to its appearance, but there are a couple of cosmetic tweaks.
The front bumper and grille have a new design with a 'pinched' effect to the styling of the fog lights compared to the more horizontal and squared off look of the previous Passat.
The rear of the wagon was refined further with sleeker tail-lights and the letters P A S S A T spaced across the centre of the tailgate, using a similar typeface to the font applied to the new-gen Volkswagen Touareg.
Despite the styling changes the Passat wagon remains the most sensible, most conservative, most business-like model in Volkswagen's line-up, especially in our test car's 'Pure White' finish.
That's not a bad thing, unless you're looking for something more emotive, or in another colour, like grey, or blue or black, which is the Passat's entire paint palette. These are also the colours of the suits in my wardrobe. Apart from white, that is. 
Again, the cabin of this new Passat is much like the previous one: business class all the way, with premium but restrained styling applied to the broad flat dash, comfortable but not lounge-like leather seats and modern media system.
The Passat wagon is 4773mm in length, 1832mm wide and 1477mm tall. How does that compare to the sedan version? Well the sedan is about 2.0mm longer, the same amount wider and about 20mm shorter in height. All riveting facts which will stun and amaze your friends, I'm sure.
Practicality
Mazda3
It's a similar story for practicality, except it's completely identical to the regular Mazda3 this time. So expect the same decent interior packaging and convenience for four adults, with a 295L VDA boot and a space saver spare tyre under the boot floor. 
---
Volkswagen Passat
8/10
Nobody buys a wagon accidentally. Nope, they're bought by those who need cargo space almost as much as they need room for people. But not all wagons offer as much utility as the Passat version.
See, while the Passat loses points for its lack of sleekness and sporty styling it makes up for it in interior space thanks to its almost panel van, slab-like dimensions.
The Passat is a five-seater and with the second-row seats in place there's 650 litres of boot space.
Take a look at the images to see what that means in real-world terms – we were able to fit the CarsGuide luggage and pram in with room to spare.
The low load lip, wide boot opening, handy bag hooks, partitioned storage areas behind the wheel arches, and an extendable net to divide off the second row from the cargo area make the Passat wagon's boot truly useful. I'd definitely buy a cargo net, though, to stop your groceries rolling around.
Quick release levers unlatch the back seats to fold them flat and then Passat offers a cavernous 1780 litres cargo capacity.  
Cabin storage is also great with three cupholders in the second row and two more up front, a decent sized centre console bin and super large door pockets all around.
People room is excellent. The cockpit is open and spacious, even for me with my 2.0-metre wingspan, while I can sit behind my driving position with about 50mm to spare between my knees and the seat back.
As a dad, the first things I look for when gauging a vehicle's family friendliness are directional air vents and sunshades in the rear.
In Australian summers, these are good to have, and the Passat Business wagon comes standard with both. There's climate control in the rear, too.
For charging and power outlets older USB-A ports were phased out in this update, replaced by the new USB-C sockets – two in the front and one for the second row.
Keeping it old school are three 12-volt outlets – one in the front, another in the second row and a third in the cargo area.
The Passat's ride height means my five-year old could climb in easily, but meant I had to bend more than I would for an SUV to buckle him into his seat.
So, while the Passat wagon ticks many family boxes, parents may find the bending literally a pain in the back.
Price and features
Mazda3
This is probably the biggest question mark above the Mazda3 Skyactiv-X's head for now, with all we know being Mazda Australia's plan to launch it as a new top-spec version, so sit above the existing $36,990 G25 Astina flagship. 
How far above will be the clincher, and given it's not likely to quite match the performance of the G25, it will depend on what value you place on outright driveability and a marginal fuel saving over the base 2.0-litre engine. 
Like the rest of the Mazda3 line-up, we also expect to see the Skyactiv-X with a choice of hatch or sedan bodystyles with either manual or automatic transmissions.
---
Volkswagen Passat
8/10
The 140TSI Business has a list price of $47,990. You're essentially paying $2K more than the sedan for the privilege of having a really big boot. How big? We'll get to that in the practicality section below.
For now, let's look at the standard features which include a new multimedia system with an 8.0-inch screen and wireless Apple CarPlay (you'll need a cord for Android Auto), there's sat nav, an eight-speaker stereo, leather upholstery, three-zone climate control, proximity key, tinted glass, roof rails and 18-inch alloy wheels.
That's good value and we haven't reached the new safety tech, yet - keep reading or skip ahead to that bit.
What are the Passat 140TSI Business wagon's rivals? There's the closely related Skoda Superb wagon, which in 162 TSI form is a smart buy for $45,690.
Also have a look at the Mazda6 wagon, the GT lists for $47,290. I reckon you could get a pretty great deal on a Holden Commodore Sportwagon RS-V which normally list for $49,190. That is provided you're reading this before Holden closes up shop at the end of 2020.
There aren't many other wagons in the price range – the Volvo V60 is $56,990, the Peugeot 508 GT wagon is $55,990 and Mercedes-Benz C-Class Estate and BMW 3 Series Touring start at about $70K.   
Engine & trans
Mazda3
What's compression ignition again? It's basically how a diesel engine works, by using extreme pressure instead of spark plugs to burn fuel. Skyactiv-X still uses spark plugs, but only to kick off the ignition process and act as a safety net for cold starts and other edge cases, while extreme compression makes for much more effective combustion, which means improved efficiency. 
This combustion efficiency means the engine can use a much leaner fuel-to-air mixture, and make more power and torque with less fuel and even less wasted fuel out the exhaust. Mazda describes it as delivering diesel-like torque and fuel consumption, with the power, responsiveness and refinement of a petrol. Or in other words, one step away from turning water into wine... 
Mazda is calling the process Spark Controlled Compression Ignition (SPCCI), and the extreme pressures required to make it all happen are created by higher static compression ratio (but less than a typical diesel), much higher fuel pressure and boosted air pressure entering the combustion chamber. 
Key to managing all these heightened parameters (and the very technological advancement that makes it all possible) is an ultra sensitive in-cylinder pressure sensor that has been developed specifically for this task. 
Delivering the boosted air pressure is a Roots-type supercharger - or what Mazda describes as a high-response air supply - which was chosen over other air pump designs like a turbocharger or the Miller-cycle supercharger previously used in Eunos models because of its instantaneous boost delivery and breadth of efficiency.
Speaking of breadth of efficiency, perhaps the biggest plus for average motorists is that the engine's efficiency zone has multiplied, meaning the difference between city and highway consumption, leadfoot drivers and my Dad, heavy and empty loads etc will be far less than a typical petrol engine.
This all represents a continuation of core principles we've seen from the start of Mazda's Skyactiv era. That is, to make an existing engine type work better under everyday driving conditions rather than targeting outright performance.
The Skyactiv-X era starts with a 2.0-litre based on the regular Skyactiv-G engine, with the same 1998cc capacity. Other capacities are planned, with the eventual reborn rotary looking increasingly Skyactiv-X along with a straight-six version for a new CX-9 in a couple of years. Smaller versions are unlikely due to the economies of scale involved with such technology in a smaller and therefore cheaper car. 
Mazda is making two versions of the Skyactiv-X 2.0-litre for now, one with 16.3:1 compression designed for Europe that favours Premium unleaded petrol, and one 15:1 version aimed at the US with their abundance of lower grade unleaded. 
Unlike conventional engines, it's the lower compression version that will deliver the biggest benefits, because Skyactiv-X relies on the usually "bad thing" pinging to do its best. 
We're set to get the Euro-spec one in Australia, which unfortunately means we won't quite be getting the very best Skyactiv tech again.
The Euro-spec engine puts out 132kW at 6000rpm and 224Nm from just 3000rpm, which on paper sounds about halfway between the existing Skyactiv-G 114kW/200Nm 2.0-litre and 139kW/252Nm 2.5-litre petrol engines.
The engine also incorporates a mild hybrid system, but don't be confused by the H-word, there's no electric drive element. It simply means its got a cleaver alternator that only engages when needed and on deceleration to reduce efficiency-sapping drivetrain friction,
Pop the bonnet and you're confronted by the biggest engine cover you've ever seen, but unlike most, this one is equipped with labeled latches that encourage you to have a look underneath. This encouragement continues with a clever little retention hook to hold the cover up against the bonnet while you're poking around.
Unless you're a Mazda engineer you're likely to be baffled by the array of hoses, ducts and wiring, but you might get a kick out of spotting the supercharger.
There's less to be said for the transmissions though, with versions of the existing six speed manual and torque converter automatics deemed up to the task, with the new engine's increased efficiency zone negating any increase to the ratio count. The ratios have been adjusted to suit the new output characteristics, and while the ratios are yet to be published, there's a narrower spread across the six with what feels to be taller first and sixth gears.
---
Volkswagen Passat
8/10
The update to the Passat late last year brought more than just new USB ports, there's a new engine, too.
The 1.8-litre was swapped for 2.0-litre four-cylinder turbo-petrol making 8.0kW more power at 140kW (that's where the 140TSI in the name comes from) and 70Nm more torque at 320Nm.
That's quite a stack more grunt and it all goes to the front wheels only.
Shifting gears is a seven-speed dual-clutch automatic. It's fairly smooth in slow traffic but better suited to motorways and country roads where fewer gear changes cause less hesitation in the transmission.
Acceleration is swift for the class with 0-100km/h coming up in 8.1 seconds.  
Fuel consumption
Mazda3
All this hooha about fuel savings, and Mazda is yet to confirm an actual figure for Australia. We do know the hatch is rated at 4.5L/100km in manual and 5.3L/100km in auto according to the NEDC, which is historically close to the figures generated by the ADR 81/02 test we go by in Australia. 
If it comes close to matching the NEDC figure it will be a win, sitting comfortably under the 6.4L/100km (manual) and 6.2L/100km (auto) figures currently applied to the Skyactiv-G 2.0-litre Mazda3 hatch. 
While the Australian-spec Skyactiv-X engine is expected to align with Europe rather than the US, and therefore be tuned to deal with Premium 95 RON unleaded, it's still unclear if it will accept the cheaper Regular 91 RON unleaded.
---
Volkswagen Passat
7/10
The Passat wagon got the full family workout in this test. Specifically, 249.5km of Newcastle to Sydney motorway back from the grandparents, daily work commutes into the city, preschool drop offs and pick ups and the weekly shopping trip.
Filling the (66-litre) tank back up to full needed just 23.10L of premium unleaded which works out to be 9.3L/100km. Not bad at all, although Volkswagen says over a combination of open and urban roads you should see 6.6L/100km.
Driving
Mazda3
What's probably most amazing about Skyactiv-X is that you can't really tell there's anything special going on under the bonnet. 
Push the start button and it gets going like any other petrol Mazda, although perhaps quieter. 
Move off from rest and there's no significant difference to the way it feels. 
When I drove the prototype version of this drivetrain, there was a slight pinging under light throttle as it transitioned from spark to compression ignition, but I'm pleased to confirm that the extra two years of calibration has tuned this down to the tiniest occasional diesel sound, and it all feels a bit like a smooth diesel that's more responsive than you expect.
The European-spec Skyactiv-X 2.0-litre's outputs suggest it should be closer to the existing 2.5-litre in terms of performance, but in reality it feels closer to the 2.0 litre.
My perception is likely to be clouded by the Skyactiv-X's specific transmission gearing, but it could also be because it's able to do the same job with less revs and therefore not sound like it's working so hard. 
First gear feels quite tall with either transmission, and we also found the auto and manual were only sitting on 3500rpm in sixth at 160km/h on the Autobahn. 
Mazda doesn't specify performance figures, so it would be handy to put all three alongside each other from a standing start. But then, that's not what Skyactiv-X is all about, it's more about performing better under light throttle and incidental bursts of acceleration. 
We can't wait to put it to the test over some hilly terrain and familiar territory when it hits Australia early next year.
---
Volkswagen Passat
8/10
Really, the true sports utility vehicles are wagons because they have as much utility as an SUV but in most cases are more naturally sporty thanks to their lower centre of mass.
That was the case driving the Passat wagon which was far more planted and stable than any regular SUV.
True to its name, the 140TSI Business wagon is an easy, comfortable and effortless car to drive.
But, let's say you're running late for a radio interview and you need to get where you're going as quickly (and legally) as possible. The Passat is able to match that urgency with the dynamics and performance needed. I made it by the way, with time to spare.
There's a decent amount of torque, all going to the front wheels and if that accelerator pedal is poked with a bit too much enthusiasm it's not hard to cause a loss traction. You just have to remember not to be so heavy footed. The Passat I tested wore 235/45/R18 Pirelli Cinturato P7 which are an excellent tyre.
An 11.7m turning circle isn't fantastic, but I didn't notice it hindering my daily use.
As for towing, although I didn't do any, Volkswagen says the Passat 140TSI Business wagon has a braked towing capacity of 1800kg.
Safety
Mazda3
The existing Mazda3's maximum five-star ANCAP safety rating will almost certainly be carried over, and the high level of safety gear fitted to the existing G25 Astina is also likely to be matched. 
This means front and rear airbag coverage, front and rear AEB, front and rear cross-traffic alerts, lane keeping assistance and blind-spot monitoring. 
---
Volkswagen Passat
9/10
The Volkswagen Passat scored the maximum five-star ANCAP rating when it was tested in 2015, but more advanced safety features were added when the car was updated last year.
This included the 'Travel Assist' system which is a higher level of adaptive cruise control combining lane keeping assistance and speed recognition of the car in front.
Also standard is AEB, which operates when maneuvering forwards and backwards, blind spot monitoring, rear cross traffic alert, auto parking (parallel and perpendicular) driver fatigue detection, a reversing camera, plus front and rear parking sensors.
For child seats you'll find three top tether anchor points and two ISOFIX mounts across the second row.
That's an outstanding armoury of potentially life-saving equipment, topped off by a full-sized spare alloy wheel under the boot floor.
Ownership
Mazda3
Service pricing is also yet to be confirmed, but Mazda engine development boss Eiji Nakai assures CarsGuide that the new engine will not need servicing more frequently or cost any more to service than existing Skyactiv-G engines.  
So expect the same 12month/10,000km intervals, with five year/50,000km capped servicing plan totalling just under $2000 over that period.  
Like all new Mazdas, the recently upgraded five-year, unlimited kilometre warranty will apply to the 3 Skyactiv-X. 
---
Volkswagen Passat
9/10
The Passat is covered by Volkswagen's five-year/unlimited kilometre warranty.
Servicing is recommended at 12 month/15,000km intervals and you can expect to pay $458 for the first service, $660 for the second, $552 for the third, $873 for the fourth, and $458 for the fifth visit.