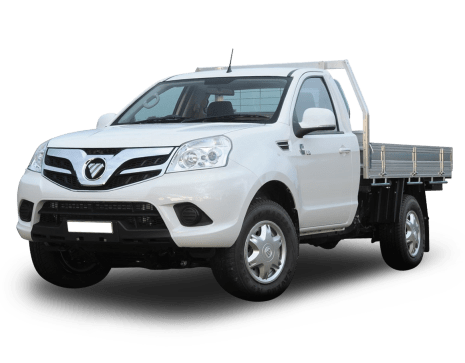 COMPARE
Foton Tunland
VS
Mazda BT-50
Foton Tunland
Likes
Cummins engine
Improved build quality
Roomy interior
Dislikes
Lack of safety gear
Front end (bullbar will fix that easily)
Some flimsy, and awkwardly positioned switchgear
---
Mazda BT-50
Likes
Great safety on all models
Decent fuel economy and grunt
A big step forward from the old BT-50
Dislikes
Cup holders are an issue
Top spec missing some gear
Feels a bit 'badge-engineered'
Summary
Foton Tunland
Marcus Craft road tests and reviews the new Foton Tunland dual-cab 4X4 with specs, fuel consumption and verdict.
When I told mates I'd be testing a Foton Tunland a few snort-laughed their craft beer out of their noses in not-so-mock shock. "Why don't you save yourself the hassle and just write about another HiLux or Ranger or Amarok?" they said. The idea of me supposedly risking my skin in a Chinese dual-cab ute, lambasted in the past for lacklustre build quality and dogged by doubts over vehicle safety, delighted these blokes.
"Is your life insurance up to date?" one fella quipped. Yep, funny. Well, the joke's on them because this latest-gen Tunland is a well built and well priced dual-cab ute with a bloody good Cummins turbo-diesel engine and a stack of other top-quality components thrown in for good measure. But, it's not all good news – there are some safety issues. Read on.
| | |
| --- | --- |
| Safety rating | — |
| Engine Type | 2.8L turbo |
| Fuel Type | Diesel |
| Fuel Efficiency | 8.3L/100km |
| Seating | 2 seats |
---
Mazda BT-50
This is the biggest change in the history of Mazda utes. Not just because this is the all-new Mazda BT-50, which takes massive leaps forward in terms of safety and technology over its predecessor.
Nope, it's a dramatic departure from the roots of the Mazda ute - this is the first pick-up or light commercial utility vehicle not to be built alongside a Ford equivalent for almost 60 years. Since 1965 there has been an intrinsic link between Ford and Mazda utes, but now all that heritage is done with, as Mazda has instead teamed up with Isuzu for this new generation BT-50 model.
Is that a bad thing? In the scheme of things, the answer is a resounding 'no'. This third-generation BT-50 is an all-new ute; the existing PX series Ranger will soldier on for a while yet, and the now-defunct BT-50 that shared a lot with the current Ranger was always behind it in terms of tech and, well, if we're honest, attention from the brand.
But now, the new BT-50 is here. It's more thoughtful, better equipped, offers class-lead-equalling safety tech alongside its fraternal twin the D-Max, and it also takes a different tact to the rest of the ute market. It has a bit of plush up its sleeve.
Let's get to it - in this review we'll cover off cabin space, presentation, safety tech, pricing and specifications for the BT-50 range, and we'll even drive it on-road and off-road.
| | |
| --- | --- |
| Safety rating | |
| Engine Type | 3.2L turbo |
| Fuel Type | Diesel |
| Fuel Efficiency | 9.7L/100km |
| Seating | 3 seats |
Verdict
Foton Tunland
7/10
The Tunland is a damn good value-for-money proposition and it's the best of the budget dual-cab ute mob, but a less than ideal suite of safety features impacts its appeal.
If those flaws are erased from the updated model, then it will likely stake an even stronger claim in a highly competitive ute market.
Does Foton's Tunland make the cut as a family-friendly work truck? Tell us what you think in the comments below.
---
Mazda BT-50
8.1/10
The Mazda BT-50 is certainly an impressive ute, one that stands apart from some of its main rivals. It is still something of a badge-engineered exercise, though the brand deserves credit for changing up the exterior look and pushing up the perceived quality of the cabin, too.
Having only driven the GT, it stands up as a solid offering - but on paper, and depending on what you plan to do with the ute, the XTR could well be the pick of the range if you don't want or need the luxuries of the top-spec.
Design
Foton Tunland
7/10
The Tunland looks good, not spectacular; like a noughties-era dual-cab rather than a contemporary one. And you know what? That's fine with this journalist because it's an easy fix. The Tunland is not unlike the BT-50 of recent years, in that once you've thrown a bull bar over the ordinary-looking front end (with its Wi-Fi-symbol-rotated-90-degrees-looking Foton logo) then all is forgiven.
Elsewhere, the Foton is a softer edged beast than some of its modern counterparts, with rounded headlights flowing back to a 'truck-lite' rear end, but it retains a robust, old-school ute presence.
Inside, the Tunland is neat, tidy and roomy. It looks ready for day-to-day duties – whether as a job-site workhorse, a daily driver, or a family mover. There is grey plastic everywhere but the cabin has nice touches like the leather-trim seats and wood-look panels.
---
Mazda BT-50
8/10
I'd love to hear from you in the comments section about what you think of the new look BT-50. It really is a vast improvement over the predecessor, and certainly looks a bit more masculine than before, too.
But is it good looking? Hmmm. I'm not so sure. It has those trademark Mazda looks we have come to know so well - the broad shapely grille, the squinty LED headlights, and from there back it's pretty much all D-Max (well, to the untrained eye). But it's the front bumper that gets me - it's just a bit… chinny. Of course a bullbar or nudge bar will fix that.
Mazda's designers apparently wanted that sloping look, which they say helps plant the front end to the ground and shows the plantedness of the vehicle - they even showed how they drew inspiration from the stance of a sumo wrestler. I honestly can't see it, but there you go.
I also am not a fan of the fact the XTR and GT models get the same alloy wheels. Why? How hard can it be to specify a different alloy for the top-spec? And don't you want your ute to look different if it's the most expensive one? But in reality, buyers will probably get rid of those rims quick smart anyway!
The exterior styling is one thing, but I do like what Mazda has done inside the cabin to differentiate it from the D-Max. More on that below.
Now, the new BT-50 - being based on the D-Max and not the Ranger - is a bit shorter now than it once was, but it gets a longer wheelbase. And yes, things are about to get data heavy.
First, here's a table of the body dimensions for dual cab models:
| | |
| --- | --- |
|   | Dual cab ute and cab-chassis |
| Length | 5280mm |
| Wheelbase | 3125mm |
| Width | 1870mm |
| Height | 1785mm-1800mm |
The height varies depending on the model, but the stated length and width are identical if you choose cab-chassis or pick-up.
Next up, load space dimensions - and while we don't have figures for the cab-chassis models (your tray size will depend on the tray you fit), here are the figures for the dual cab pick-up models, which are identical in 4x2 and 4x4 guises.
| | |
| --- | --- |
|   | Dual cab ute |
| Cargo floor length | 1571mm |
| Width at top rail | 1530mm |
| Width between wheel arches | 1120mm |
| Depth | 490mm |
The Mazda BT-50 isn't unusual in that it can't fit an Aussie pallet between the wheel arches (they measure 1165mm by 1165mm) but if you really need that capability and want a pick-up bodystyle, the Amarok has you covered. Or you can rip off the tub and custom make a tray. Lots of people do.
Next up we'll look at dual cab payload capacity for the models in the range. And every single version is a genuine one-tonne ute.
 

Dual cab-chassis

Dual cab Pickup

Payload capacity

1195kg-1220kg

1055kg-1090kg

Gross vehicle mass (GVM)

3000kg (4x2) / 3100kg (4x4)

Gross combination mass (GCM)

5850kg (4x2) / 5950kg (4x4)

Towing capacity

750kg unbraked / 3500kg braked
Right, now let's take a deep dive into the off-road dimensions and angles you probably want to know about. We're just covering off the 4x4 models in terms of off-road specs below:
 

Dual cab-chassis

Dual cab ute

Ground clearance mm

235mm (XT)

235mm (XT), 240mm (XTR / GT)

Approach angle 

29.6 (XT)

30.0 (XT), 30.4 (XTR / GT)

Break over/ramp over angle

23.9 (XT)

23.3 (XT), 23.8 (XTR / GT)

Departure angle

25.3 (XT)

23.9 (XT), 24.2 (XTR / GT)

Wading depth

800mm
We know that's a lot of design DNA and intel to digest. We'll see how it translates to reality in the driving section below.
Practicality
Foton Tunland
7/10
Tunland's remote entry is two-stage: first press unlocks only the driver's door; second press unlocks the other doors – that can be annoying when you have people champing at the bit to get into the vehicle during a heatwave, and there is an almost-comical series of mistimed attempts at opening doors and pressing buttons.
The cabin is spacious. Build quality and fit and finish have been improved well beyond expectations. One or two buttons feel a bit flimsy and the button to adjust the wing-mirrors is tucked away on the right-hand-side dash behind the steering wheel; quite awkward to see, reach and use.
The air con defaults to 'off' every time you re-start, which is a bit of a niggle, especially during the heatwave conditions during which some of this review took place.
Seats are supportive enough without going beyond the call of duty; the front seat bases are a touch too short for tall people and extra side bolstering would be welcome.
There is ample head and leg room, front and back, although rear-seat passengers are forced into an upright, knees-high position; still they should be used to that if they've been riding around in utes for any length of time. Cupholder count runs to two in the front centre console.
The dual-cab Tunland has a 1025kg payload, a maximum braked towing capacity of 2500kg (1000kg less than most other utes) and 750kg unbraked.
Its cargo area is 1500mm long, 1570mm wide (1380mm, internal width at floor level; 1050mm internal width between the wheel arches) and 430mm deep. The tray has four tie-down points at each interior corner and a poly tray-liner which protects the top 'lip' of the tray and that's a big bonus.
---
Mazda BT-50
8/10
There's a bit to like about the cabin of the GT grade of the BT-50 - and that's even if you're not a fan of brown leather (what's wrong with you?!).
That's because the GT grade gets some of the things we wished were in the D-Max X-Terrain, including heated front seats and an auto-dimming rearview mirror. Both of those are luxurious additions that add a bit to the feel of the BT-50's interior, and the brown leather - standard on GT - just adds to the plush vibes. The silver metallic-look trim that runs from the doors across the dashboard is very Mazda, while the buttons, screens, dials and controls are all common with the D-Max.
The interior trims on the doors and dashboard have been adjusted and the vents have been redesigned to add just a little bit of visual intrigue compared to the D-Max. It's a nice looking cabin, and the big 9.0-inch media screen (in XTR and GT models) is a sight to behold.
This is a class-leading size for a ute media screen, and it incorporates Android Auto (via USB) and both wireless and USB-connect Apple CarPlay. The same phone mirroring tech is also fitted in the entry-level XT, which runs a smaller 7.0-inch screen but still in the 9.0-inch bezel. And yes, it's all touchscreen operated - no MZD Connect rotary dial getting in the way here.
As with the D-Max, our complaint about that screen is that instead of dials and knobs for volume/channel, there are buttons, which can be hard to hit correctly if you're driving. The media system's native menu systems are okay, but do take some learning. It's a big step up from the aftermarket updated unit fitted to later BT-50s of the last generation.
The cabin materials and finishes are mostly very impressive, with soft sections on the dash and doors in the XTR and GT models, and there's good adjustment for the driver to get their correct position as well - rake and reach adjustment for the steering, height adjust for the driver's seat, and lumbar adjustment too. The driver's electric seat adjustment in the GT is eight-way, but there are no memory settings and no passenger seat electric adjustment, either.
Plus one thing worth noting - the seats (both in BT-50 and D-Max) are very comfy.
As mentioned above there's a 4.2-inch digital driver info screen that has a digital speedometer, and you can configure it a few different ways. That screen is also where you access the safety system settings (by way of the buttons on the steering wheel).
There are some clever storage options including a double glovebox, but unlike D-Max there's no dash top storage bin, and while you do get cupholders between the seats, they're more like bottle holders and you will lose a smaller coffee cup down there, and it'll be messy to retrieve it. Sadly, the BT-50 doesn't get the clever pop-out cup holders near the outer air-vents, which means you're going to be caught out on the coffee front unless you order the largest you can get.
Elsewhere there's a decent centre console bin with armrest, and bottle holders in the front doors with pockets alongside.
The rear of the XTR and GT models includes a pair of cup holders in a flip-down armrest, and there are door pockets with bottle caddies in all dual cab models. There is a USB port in the second row of all double cab models as well as rear directional air vents.
The rear seat space is good - not class-leading, but comfortable enough for me to sit behind my own driving position (I'm 182cm / 6'0" tall) with adequate knee room, headroom and toe space.
There is enough room for three adults to fit across, and for children there are two ISOFIX and two top-tether loops that allow you to collect to a centre attachment point. That means you can only fit two child seats in the back legally.
Price and features
Foton Tunland
7/10
The manual-only Tunland is available as a single cab 4x2 ($22,490), single cab 4x2 styleside ($23,490), single cab 4x4 ($25,990), dual cab 4x2 ($27,990), or dual cab 4x4 ($30,990), which we tested. Single cabs have an alloy tray. Metallic paint on any model is $400 extra.
For a ute firmly located at the budget end of the pricing scale, the Tunland's interior has a fair few cheeky little extras packed into what is, at first glance anyway, a standard-looking workhorse inside and out. It has a tilt-adjustable-only, leather-trim, steering wheel with controls for Bluetooth, audio and cruise control.
The Tunland audio set-up plays MP3 files and CDs. There is an auxiliary port for a mini USB right beside the CD slot. Music can be streamed from Bluetooth-compatible devices. Air conditioning, electric windows, electric wing mirrors (with defrost function) and remote two-stage unlocking are all standard on Tunlands.
All seats in the dual-cab are leather trimmed and the driver's seat is (manually) eight-way adjustable.
There are plenty of storage receptacles: a good-sized glove box, cup holders, door and seatback pockets, as well as a few handy little spaces for knick-knacks.
Standard features elsewhere on the dual-cab include daytime running lights, 17-inch alloy wheels, rear step bumper with parking sensor and fog lights, and a tyre-pressure-monitoring system; handy for off-road tourers.
Our test vehicle was one of the last of the model year 2016 examples, fitted with disc brakes all-round and stability control, and had a Euro 4 emissions compliant engine, according to general manager of Foton Motors Australia, Alex Stuart. An updated model, expected mid year, will have a Euro 5 engine, "but with the same exterior and basically same interior", Mr Stuart said.
Accessories include pretty much everything you could ever want on a ute, ranging from a clear bonnet protector ($123.70) and full recovery kit ($343.92), to bullbar ($2237.84) and winch ($1231.84). Foton has a Tunland kitted out with most, if not all, of its available accessories as an example of what a fully geared-up Tunland looks like – and it looks bloody good.
---
Mazda BT-50
8/10
Progress doesn't come cheap, and pricing for the BT-50 range is up compared to its predecessor.
Just note, Madza hasn't announced all the pricing and details for every version of the BT-50 just yet - only the dual cab models are covered in this 2021 range review as that was all that came to Australia at launch.
So when you see the cheapest 4x2 dual cab XT kicks off at a rather high $44,090 (MSRP/RRP) and the range-topping GT 4x4 auto is $59,990 (MSRP/RRP), you might think that's a lot for a Mazda ute - but funnily enough, the existing range-topping BT-50 Boss was a $63,250 proposition. So there's headroom for a more enthusiast-focused ute as a flagship… watch this space.
Now, there are three grades - XT, XTR and GT - so let's break it down and see what you get. The XT comes with the choice of cab-chassis or Pickup (ute) body styles, while the rest are the pick-up well-back tub design.
The XT badge is stuck on more BT-50 variations than any other. As a dual cab, it comes in 2WD/RWD/4x2 (as a Hi-Rider - there is no low-ride model anymore) or 4WD/4x4. And no matter the grade you choose, the BT-50 is fitted with the same engine and a choice of six-speed manual or automatic transmissions depending on the derivative. Here's a table to make it easier to understand the XT dual cab line-up.
MAZDA BT-50 XT

Drivetrain

Body type

Transmission

RRP

 

4x2

Dual cab-chassis

Automatic 

$44,090

Dual cab Pickup

Automatic

$45,490



 

4x4

 

Dual cab-chassis 

Manual

$49,360

Automatic

$51,860

 

Dual cab Pickup

Manual

$50,760

Automatic

$53,260
Standard equipment for the XT comprises: 17-inch alloy wheels (most vehicles at the base level have steel wheels), LED headlights (often halogens - including the D-Max in base grade), power-adjustable mirrors, a 4.2-inch driver display with digital speedometer, black cloth interior trim, carpet flooring (most work focused models have vinyl flooring), and there's a 7.0-inch multimedia touchscreen with wireless Apple CarPlay, wired Android Auto, digital radio and four-speaker sound system in 4x2 models and 4x4s get a six-speaker sound system.
The XT comes with manual air-conditioning, power windows, power mirrors, automatic wipers, tilt and telescopic multi-function steering wheel, and body colour bumpers (including a rear step bumper). Dual cab models have a USB port and rear seat directional air vents.
From the XT up there's a reversing camera - both for the cab-chassis and pick-up models - but the cab-chassis misses out on rear parking sensors that the Pickup model gets.
The second tier up the BT-50 range is the XTR. Here are the parameters of this variant: 
MAZDA BT-50 XTR

Drivetrain

Body type

Transmission

RRP

4x2

Dual cab Pickup

Automatic

$49,470

 

4x4

 

Dual cab Pickup

Manual

$54,710

Automatic

$57,210
Thinking you need your XT to be a bit more R rated? The XTR gets you a few nice extras, such as 18-inch alloy wheels, LED front fog lights and daytime running lights to complement the LED headlights, and there are different headlight inlays, as well as chrome horizontal bars for the grille. Plus you get side steps as well. That's it for exterior differentiators.
But inside there are a few more notable changes, including dual-zone climate control with rear directional air vents, a leather-wrapped steering wheel and gear selector, an auto-dimming rearview mirror (which you can't get on any grade of D-Max or HiLux), a fold-down rear-seat armrest, keyless entry, push-button start, and the media screen upsizes to a larger 9.0-inch multimedia system with satellite navigation and there's a six-speaker stereo.
Seems a pretty good option, the XTR. But if you want a bit more luxury, the 4x4-only GT is for you.
MAZDA BT-50 GT

Drivetrain

Body type

Transmission

RRP

 

4x4

 

Dual cab Pickup

Manual

$56,990

Automatic

$59,990
The top-end GT model is loaded with gear, including: chrome mirror caps, heated exterior mirrors, an eight speaker stereo system, power-adjustable driver's seat, front parking sensors, remote engine start (automatic only), as well as a brown leather interior with heated front seats (again, which the D-Max doesn't get).
That makes the GT seem pretty compelling - but all models in the BT-50 range have a strong safety story to tell, too - more on that in the safety section below.
Thinking about which accessories you might want to custom build your BT-50? There's a long list of items available, including two different bull bar options, roof rack, roof rail, roof platform, mud flap, nudge bar, canopy, tub liner, body protection, a snorkel, side steps, and - of course - floor mats. There are tray options for cab-chassis models, too.
Trying to figure out which colour you'll choose? There are seven options: Concrete Grey mica, Gunblue mica, Ice White solid, Rock Grey mica, Red Volcano mica, Ingot Silver metallic, and True Black mica. That's right, there's no Soul Red or Machine Grey - and nor is there green, brown, orange or yellow. But thankfully, every single paint option is at no-cost!
Engine & trans
Foton Tunland
8/10
The Tunland has a Cummins 2.8-litre turbo-diesel engine, producing 120kw at 3600rpm, and 360Nm at 1800rpm-3000rpm, backed up by a Getrag five-speed manual transmission. These are two components with great reputations made by the best of the best in their respective fields: engines and transmissions.
BorgWarner, another industry leader (in powertrains, among other things), built the two-speed transfer case in the Tunland 4x4s. All Tunlands in Australia have Dana axles and differentials; the rear is a LSD. 
---
Mazda BT-50
7/10
Unlike the previous version of the BT-50, which had different engines available to fit different applications (a 2.2-litre four-cylinder diesel in the lower grades, and a 3.2-litre five-cylinder diesel for higher spec models), the new-generation model follows the same path as the Isuzu D-Max that it's based on: one engine for all applications.
That engine is the new Isuzu 4JJ3-TCX unit, which has seen a major rework compared to the previous D-Max with increased horsepower and torque - but the engine specs are actually lower than the previous BT-50 with the 3.2L.
Yep, there's a power output of 140kW (at 3600rpm) and a torque rating of 450Nm (from 1600-2600rpm), which is lower than the old 3.2L's 147kW/470Nm.
And the new 3.0L motor is lower for engine outputs than other rivals - not just the Ranger 3.2L, but also the Ranger Bi-turbo 2.0L (157kW/500Nm), and the revamped 2.8L HiLux (150kW/500Nm auto).
We'll get to how it performs in practice in the driving section below, but there are two transmission options available for your consideration as well - a six-speed manual or six-speed automatic.
There's the choice of rear-wheel drive (RWD/2WD), and selectable four-wheel drive (4WD/4x4) with high (2H and 4H) and low range (4L). The 4x4 models come with a locking rear differential, too.
Towing capacity? You're covered, with the BT-50's towing rating being 750kg for an unbraked trailer and up to 3500kg for a braked trailer. Tow ball down load - when fitted with the genuine Mazda towing package - is 350kg across all variants.
Fuel consumption
Foton Tunland
7/10
The Tunland has a  76-litre  fuel  tank,  and is claimed to use 8.3L/100km (combined cycle). We recorded 9.0L/100km after 120km of stop-start city traffic, dirt, and some off-roading.
---
Mazda BT-50
8/10
Wondering how much fuel the new BT-50 will use? The official combined cycle fuel consumption figure varies slightly depending on the model you choose.
There's a span between 7.7 litres and 8.0 litres per 100 kilometres for diesel consumption across the entire range of engine, transmission, body style and drivetrain configurations. That's pretty good - the old BT-50 claimed 10.0L/100km for 4x4 3.2L auto dual cab models, so it's a marked improvement.
On test - in our 4x4 GT automatic - we saw a real world consumption figure of 8.9L/100km, which is better than acceptable considering that included urban, highway, country road, gravel track and serious off-road driving.
Fuel tank capacity is 76 litres for the BT-50, and there isn't a long range fuel tank option available.
All BT-50 models are specced to Euro 5 emissions levels, but the brand hasn't published the exact emissions of the variants (for reference, D-Max models run between 200g/km and 207g/km depending on the configuration). The BT-50 is fitted with a diesel particulate filter (DPF) but it has no Adblue after treatment.
You might be considering future BT-50s and whether there's potential for petrol, LPG, hybrid, plug-in hybrid or electric versions? Don't hold out hope… well, at least not for a few years.
Driving
Foton Tunland
7/10
The dual-cab Tunland is 5310mm long, 1880mm wide (excluding wing mirrors), 1870mm high, and has a 3105mm wheelbase. Kerb weight is listed as 1950kg. 
In other words, it's a big ute, one of the biggest models in Australia, but it doesn't feel like such a cumbersome beast when you drive it.
The Tunland has a wide stance and sits well on the road, only exhibiting that tell-tale ute sway when it was really thrown into corners. Its hydraulic steering is faster and lighter than you'd assume in a hefty ute at this price-point although there is some 'play' in it.
The Cummins engine is a real cracker; gutsy and responsive. We had fun with it in city traffic, on the highway and along back country roads, winding it up, giving it the boot, hearing it growl. Driven judiciously it maintains the rage throughout the rev range. 
The five-speed manual is a tall-geared, big-shifting unit; slick and fun to use. We had a few moments early on, but swiftly became used to the notchy action.
The Tunland has double wishbones and coil springs up front and leaf springs down the back. The set-up seemed firm but nothing out of the ordinary for a ute. Overall, ride and handling was drawing ever nearer to that of car-like dual-cabs that cost at least $10,000 more than this.
Our test vehicle was shod with Savero HT Plus 265/65 R17 tyres, which were generally fine on bitumen, gravel and off-road, however, we'd opt for ATs for off-road touring.
Visibility is mostly good, except for the chunky A-pillar and window shield combination, which eats into the driver's view, and the shallow slit of a rear window, again not an unfamiliar feature for ute drivers everywhere. (The window shields are dealer-fit accessories).
Off-road, the Tunland is more than capable. It has an unladen ground clearance of 200mm, the BorgWarner dual-range transmission and LSD at the rear.
We took it through a couple of shallow water crossings (the air intake is up high in the engine bay), over a section of knee-high jagged and staggered rocks, along a heavily rutted bush track, through sand and along washed out dirt roads. Some of it was very slow going, challenging stuff. The Tunland handled everything with ease.
Working through 4WD modes is simple enough: the driver uses buttons just in front of the gear stick to shift between 4x2 High and 4x4 High at speeds of up to 80km/h. You have to stop the vehicle to engage low range.
Underbody protection includes a steel plate sump guard, which is standard on the Tunland 4x4. 
---
Mazda BT-50
8/10
We gave the D-Max the same score for driving, and because the Mazda BT-50 has seen zero changes compared to that model, it gets the same score.
It is identical in the setup employed for the engine, transmission, steering and suspension. And that means that the BT-50 is a pretty good thing to drive.
Mind you, we're basing that assessment on the GT model only, which is the variant we've driven for this test. As with the LS-U and X-Terrain versions of the D-Max, this model employs a 'non-heavy-duty' suspension setup, where the lower grades get a more work-ready hardcore rear suspension.
No matter which you choose, though, there's a three-leaf live axle rear suspension setup, while the front suspension is independent coils. And the steering is an electric system, which will no doubt come as welcome relief to anyone who owns an existing BT-50, as those models were renowned for their excessively weighted steering.
Now, though, the BT-50 offers light and pretty effortless steering, though it still takes quite a few turns lock-to-lock and the turning circle is 12.5 metres. At least it's easy to do three- or five-point turns, with little effort to turn the wheel at lower speeds. At higher pace the steering offers a nice amount of feel and weight to it, though you can often feel the safety technology tugging at the wheel to correct your line.
The ride is decent, but you can still tell it's a ute. There is a bit of a difference between, say, the D-Max X-Terrain and the BT-50 GT, in that the latter has a higher payload as it doesn't have the additional weight of a rear roller cargo cover, sailplane and body accessories. As such, the GT has a circa-100kg payload advantage, though it is just a touch busier in the rear suspension as a result.
And the engine - while down on power and torque (not to mention a cylinder and some engine capacity) compared to the equivalent predecessor - is refined, offers good urge, and has linear power delivery too. There's some low-rev lag from a standstill, but the engine builds pace nicely and it's reasonably quiet, too.
The thing you'll need to know is that the transmission is a little busy at higher speeds as it aims to keep you in the engine's sweet spot. It's not annoying, but it's something you might take time to get used to. Rather than stick in sixth gear and lug out at low revs, it's more likely to drop a couple of cogs and keep things moving. The engine is reasonably quiet, though, and the gearbox is smooth and pretty quick shifting too.
So on road - be it urban, back road or highway driving, the BT-50 is a pleasant ute to drive. And off-road, it's pretty good, too.
That's no surprise as it's based on the D-Max, which we've already been pretty chuffed with. And as with that ute - and most stock-standard, showroom-spec models out there - the biggest letdown is the tyres, which on this BT-50 GT are Bridgestone Dueler H/T (265/60/18).
If you plan to do serious off-road driving, that's the first upgrade we'd recommend. The other might be removing the side steps, which on the GT saw a bit of bashing over our off-road loop, touching down over mismatched ruts.
The lower edges of the front bumper also copped a bit of a hard time - you might never end up scraping them in sedate off highway driving, but over our low-range, diff-locked, slippery slope of a track, we had a minor issue with the 'sumo stance' front hitting down on offset potholes.
But the hardware all worked great - it was simple to engage low-range, the rear diff lock engaged without fuss, and the hill descent control system kept things to a steady crawl on the way back down our set piece climb. All told, it was impressive - not quite as connected feeling as a HiLux, but easy to manage thanks to its light steering, and with ample grunt and clever gearing to ensure a simple and straightforward session off-road.
Safety
Foton Tunland
6/10
The Tunland has a three-star ANCAP rating, and was last tested in 2013.
As standard there are driver and front passenger airbags (no front side airbags); height-adjustable, front seat belts with pre-tensioners, as well as ABS and EBD. Our test vehicle also had the ESC package, which includes disc brakes all around.
There is only a lap belt for the middle passenger in the rear and there are no curtain airbags. 
There are no top tether points in the rear seats for child-seat restraints, but those are coming in the 2017 model, Mr Stuart told CarsGuide. Only booster seats, which don't require those top tether points, should be used in the 2016 models.
Those safety flaws are substantial, but it seems Foton plans to have them sorted out in the next-gen Tunland.
---
Mazda BT-50
10/10
The BT-50 has been awarded the maximum five-star ANCAP crash test safety rating, just like the ute it's based on - the D-Max - which also scored five stars under the strict 2020 testing criteria. It's no small achievement for a big ute. 
In this part of the review we're definitely giving the BT-50 the equivalent of five stars in terms of tech inclusions.
All models have a standard-fit reversing camera (even the cab-chassis models, which you don't get if you buy a Toyota HiLux cab-chassis), and all Pickup models are fitted with rear parking sensors, while GT models gain front parking sensors too.
The advanced safety tech includes an advanced auto emergency braking (AEB) system that works at speeds over 10km/h, and there's also mis-acceleration control to lessen the likelihood of very low-speed crashes. There is also pedestrian detection and cyclist detection that work at all speeds as part of the AEB system, and a forward collision warning light, too.
Advanced lane assistance tech includes a lane departure warning system with active lane keeping assistance (between 60km/h and 130km/h), plus a system called turn assist which can stop you from turning in front of oncoming traffic if it deems it unsafe to do so (operational between 5km/h and 18km/h).
And as with the D-Max, all BT-50s get blind spot monitoring, rear cross traffic alert, and all automatic models get adaptive cruise control (manuals get regular cruise).
There are also auto high-beam lights as well as automatic on/off headlights and windscreen wipers, plus a speed sign recognition and warning system and driver fatigue monitoring and alert.
As with D-Max the Mazda ute gets a new-for-the-segment front-centre airbag to protect those in the front seats in the event of a side impact. Also covered with airbag protection are the driver's knees, dual front (head), front side (thorax) and full-length curtain airbags, for a total of eight airbags in all variants.
Baby seat fitment is possible via dual ISOFIX child seat anchor points and two loop-style top-tether attachments in dual cab models, though the outer attachments hook to a centre mounted brace - meaning only two child seats are legally allowed to be fitted.
Ownership
Foton Tunland
7/10
There is a three-year/100,000km warranty, including roadside assistance.
---
Mazda BT-50
8/10
This is where you might be swayed towards the D-Max over the BT-50, because Mazda hasn't tried to match Isuzu for ownership prospects - meaning instead of a six year warranty and seven years of capped price servicing and roadside assistance, you're getting a lesser deal if you choose the BT-50.
The company backs the BT-50 with a five-year/unlimited kilometre warranty plan. If you do a lot of driving, the unlimited factor may come into play. But Isuzu has six years/150,000km, Ssangyong has seven years/unlimited kays, and Mitsubishi has just announced a huge 10-year/200,000km warranty (if serviced with the brand).
Mazda does give you five years of roadside assistance included with the BT-50 as part of the warranty, which is good. But again, you get seven years if you choose the Isuzu.
As for servicing, the BT-50 requires maintenance every 12 months/15,000km (thankfully not the shorter 10,000km intervals seen on other Mazdas), and the brand is offering a seven-year capped price plan … just like Isuzu.
The service costs are: 12 months/15,000km - $418; 24 months/30,000km - $390; 36 months/45,000km - $673; 48 months/60,000km - $496; 60 months/75,000km - $312; 72 months/90,000km - $750; and 84 months/105,000km - $435. That makes for an average cost per service of $496.28. And that makes it $15 per year more expensive to service than a D-Max, if that matters to you.
However, one thing Mazda offers that many ute sellers don't is a guaranteed future value program for customers who take out finance. You need to agree on a number of kilometres, duration of ownership and other elements, but then you're guaranteed a trade-in value at the end of the agreed period, provided the parameters are met and also the wear and tear of the vehicle. That might be a good thing for leisure customers, but maybe not for ute buyers who plan to put their vehicle to work.