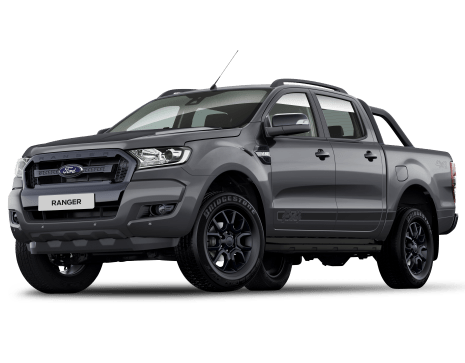 Ford Ranger 2021
The 2021 Ford Ranger range of configurations is currently priced from $29,990.
Our most recent review of the 2021 Ford Ranger resulted in a score of 9 out of 10 for that particular example.
Carsguide Contributing Journalist Mark Oastler had this to say at the time: So, it's time to hand back our Ranger XLT long-term test vehicle and we do that with some reluctance, not only because of its all-round excellence but also the hand-picked range of accessories we've added which have made it ideal for our family's requirements.
You can read the full review here.
This is what Mark Oastler liked most about this particular version of the Ford Ranger: Design, Cabin space, All-round performance
The 2021 Ford Ranger carries a braked towing capacity of up to 3500 Kg, but check to ensure this applies to the configuration you're considering.
What's on this page
Ford Ranger 2021 Accessories
Unique to the XLT is the most generous serving of chrome you can get in a Ranger. There's also chunky, good-looking 17-inch alloys with 265/65 R17 road-biased tyres and a full-size spare plus plenty of standard kit including front fog lights, privacy glass, side steps, rear sports bar with load tub light, tow bar, full bed-liner with 12-volt accessory socket and lots more.

Ford Ranger 2021 Colours
Exterior paint colours include Arctic White (no cost), Shadow Black, True Red, Blue Lightning, Aluminium Silver, and Meteor Grey.
True Red

Arctic White

Blue Lightning

Aluminium Silver

Shadow Black

Meteor Grey
Ford Ranger 2021 Q&As
Check out real-world situations relating to the Ford Ranger 2021 here, particularly what our experts have to say about them.
Is a C-TEK battery charger the best option for protecting the battery in my 2021 Ford Ranger?

The C-TEK brand has a huge reputation for performance and safety. I've personally had such a charger for more than 20 years which has been in use almost every single day of that time and still works perfectly. They're more expensive than some chargers, but the inbuilt protections against incorrect connection and overheating are worth the price, not to mention that longevity.

Some mechanics recommend connecting the two leads from the charger directly to the battery terminals, but conventional wisdom says that connecting the red cable to the positive terminal first and then the black cable to an earth somewhere in the engine bay is a better idea. This method means less chance of a spark igniting gasses emitted by the battery as it charges and discharges.

The indicator lights on the C-TEK unit will tell you when you've achieved a good connection. Using a metal part of the car for the negative attachment point works because the whole car is essentially one big negative terminal. Just make sure your attachment point isn't painted or coated with a chemical that prevents the flow of current. Or that it's not a plastic part (increasingly common these days). Many cars have a dedicated post or connection point within the engine bay.

Does having the "smart alternator" configured to a normal alternator void the warranty in my 2021 Ford Ranger?

The `smart' alternator fitted to the Ford Ranger was designed to cap the amount of charge being fed back into the vehicle's battery. In effect, it meant that the battery was usually charged to a lower voltage that it would have bene with a conventional alternator.

The reason for this was to extend battery life by never over-charging (and stressing) the battery, but many owners have found that the lower charge rate left them with a battery more likely to go flat when they most needed it. Many Rangers are also used for camping and therefore have a second battery fitted. That could also cause problems as the extra battery and electrical accessories often fitted to such vehicles weren't recognised by the vehicle's computer, leading to more low-voltage problems.

For many Ranger owners, the solution was a trip to a Ford dealer where the computer could be re-programmed to make the alternator perform in a traditional (non-smart) way and keep everything purring along. Having this performed at a dealership will not affect your warranty, but having a non-Ford technician fiddle with the charging system may not be so warranty-friendly.

I'm also informed that driving everywhere with the car's headlights switched on causes the alternator to acknowledge the current draw and switch to a higher charging output.

What is the fuel consumption of the 2021 Ford Ranger Wildtrak?

With the official combined fuel consumption figure for your Ranger being 8.9 litres per 100km, having 50km of range remaining should, theoretically, suggest you have slightly less than five litres of fuel in the tank. Which further suggests you should be able to add something like 75 litres of fuel at that point. But car-makers tend to set up these warnings on remaining fuel range fairly pessimistically, giving you a bigger margin before running out. And that's what I'd imagine is happening here. They do so because most cars will never match their official fuel number in the real world, as well as giving you a bit of lee-way in case a service station doesn't magically appear over the next hill. The upshot is that you won't be able to pump as much fuel into the tank as you thought it would take; that is, you had more fuel remaining in the tank than you thought.

As far as your distance per tank goes, that sounds about bang on the money to me. To get 700km from the Ranger's 80-litre tank gives you an overall fuel consumption number of 11.4 litres per 100km which I would say is just what you should expect from this vehicle in normal use.
See All Ford Ranger 2021 Q&As
Ford Ranger 2021 Price and Specs
The Ford Ranger 2021 is currently available from $29,990 for the Ranger XL 2.2 Hi-Rider (4x2) up to $79,990 for the Ranger Raptor 2.0 (4X4).
Pricing guides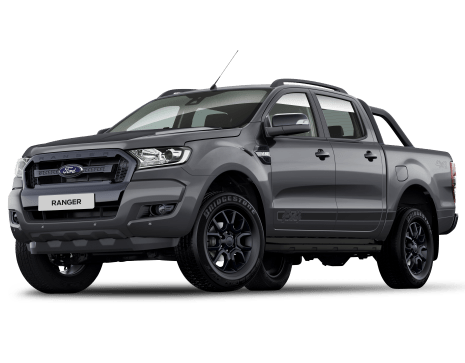 $57,998
Based on 1005 cars listed for sale in the last 6 months
Ford Ranger Model
Body Type
Specs
Price from
Price to
FX4 2.0 (4X4)
Ute
2.0L Diesel 10 SP AUTO
$62,810
$72,160
FX4 3.2 (4X4)
Ute
3.2L Diesel 6 SP AUTO
$57,420
$66,000
FX4 3.2 (4X4)
Ute
3.2L Diesel 6 SP MAN
$62,260
$71,610
FX4 MAX 2.0 (4X4)
Ute
2.0L Diesel 10 SP AUTO
$63,030
$72,490
See All Ford Ranger 2021 Pricing and Specs
Ford Ranger 2021 Towing capacity
The Ford Ranger's towing capacity ranges from 2500kg to 3500kg. Some models also offer heavy-duty or towing option packs which can increase towing capacity, as well as options which can hamper towing capacity. Towing capacities can vary wildly on a large number of factors. These include engine, transmission, model, and options chosen. Always check with the manufacturer or in your vehicles handbook before attempting to tow anything.
See All Ford Ranger 2021 Towing Capacity
Ford Ranger 2021 Dimensions
Dimensions for the 2021 Ford Ranger are dependent on which body type is chosen. The maximum width and height is 2028mm x 1873mm and can vary on the basis of model.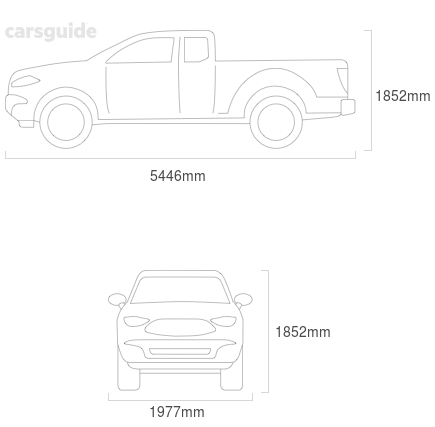 See All Ford Ranger 2021 Dimensions
Ford Ranger 2021 Wheel size
Wheel size for the 2021 Ford Ranger will vary depending on model chosen, although keep in mind that many manufacturers offer alternate wheel sizes as options on many models.The wheel size available will alter the range of tyres available to be fitted.
See All Ford Ranger 2021 Wheel Sizes
Ford Ranger 2021 Interior
Inside there's a leather-wrapped steering wheel and gearshift, six-way manual adjustable driver's seat, dual-zone climate control, smart keyless entry/push button start, plus the six-speaker infotainment system featuring SYNC 3 voice-activated controls and sat-nav, Apple Car Play, Android Auto, Bluetooth and DAB+ digital radio. The big 8.0-inch colour touchscreen and its intuitive software sets an industry benchmark for ease of use. This now includes new FordPass Connect, which when paired with the FordPass app on your smartphone opens a new dimension in connectivity.
Ford Ranger 2021 Fuel consumption
Fuel consumption for the 2021 Ford Ranger is dependent on the type of engine, transmission, or model chosen. The Ford Ranger currently offers fuel consumption from 6.5 to 8.9L/100km. The Ford Ranger is available with the following fuel type: Diesel.
See All Ford Ranger 2021 Pricing and Specs
Ford Ranger 2021 Seats
The Ranger XLT's front seats are comfortable with good lateral support. The rear bench seat is one of the more spacious offerings in dual cabs, even though like all utes this side of a full-size US pick-up can get a bit squeezy with three large adults strapped in. The optional leather-accented trim in our test vehicle adds a luxurious touch.
Ford Ranger 2021 Speed
The Ranger XLT dual cab ute can accelerate from 0-100km/h in approximately 10 seconds.