Mercedes-Benz SLK 250 2012 Review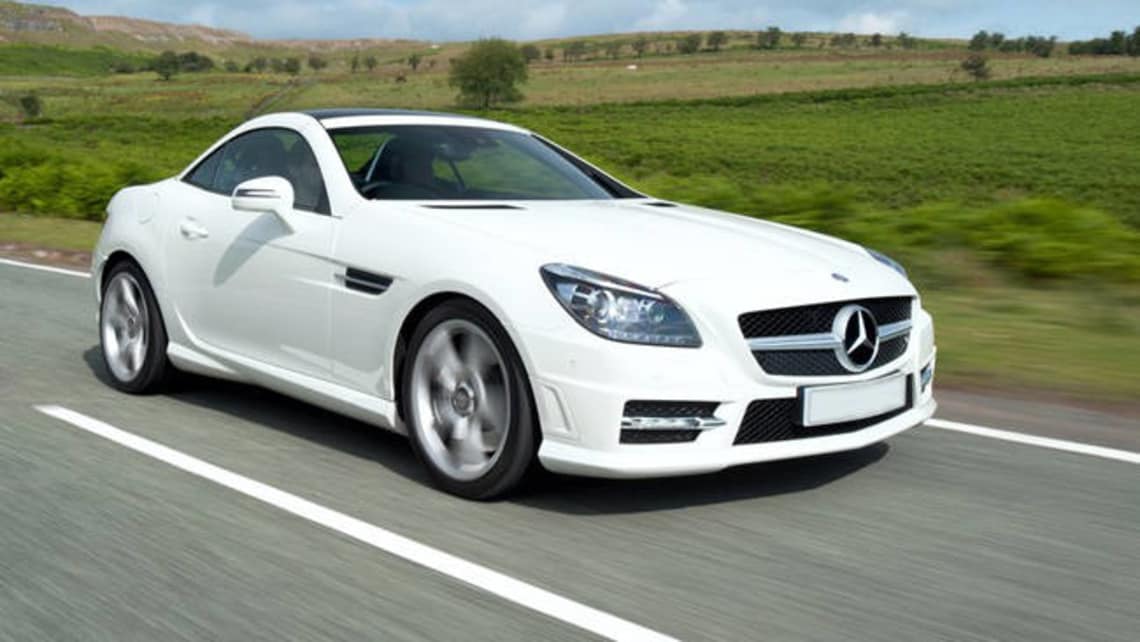 Mercedes-Benz is hot on the engineering front at the moment, turning out new models and engines at a huge rate in an effort to grab back buyers made nervous by gloomy global economic predictions.
VALUE
Not only is the engine of the SLK 250 on the small side, so is the price (these things are relative…) with a recommended retail of $92,450 you will see it sitting proudly in your driveway for comfortably under $100,000.
TECHNOLOGY
The car we have just reviewed on the great driving roads of Victoria - the Mercedes-Benz SLK 250 - is a classic example of continuous improvement. The smallest sportscar in the vast Mercedes sporting range, the SLK has one of the smallest engines, with only four cylinders and just 1.8 litres. But this hot little powerplant is force fed by a high-pressure turbocharger that enables far more air to be fed into the combustion chambers. The result is that it tops out at 150 kW of power and an impressive 310 Nm of torque.
Send that lot to the back wheels by way of some slick electronics that permit just enough wheelspin to keep the engine at its best and you can rocket from a standstill to 100 km/h in only 6.6 seconds. Not that many years back you would have needed 5.0 litres of HDT V8 engine to achieve that acceleration. Typical fuel consumption of an HDT would have been somewhere between 15 and 18 litres per hundred kilometres. The high-tech Mercedes-Benz four-cylinder is officially rated at just 6.7 litres per hundred kilometres.
DRIVING
It has to be said that during our test period that occupied a couple of hundred exhilarating kilometres our consumption was up in the eight to nine litre range, but considering the fun we got out of it the extra few dollars was money well spent. You don't necessarily buy a car like this with low emissions in mind, but this superb 1.8-turbo is one of Mercedes' family of Blue Efficiency units so the engine only puts out 155 grams per kilometre.
The engine is a dream to sit behind, with little turbo lag and lots of meaty torque once it is up and running to maximum effect. The chassis responds brilliantly to the way the throttle is manipulated and the rear drive gives a keen driver very pleasing control over exactly what their car is doing. The exhaust note has a great sound that's not overly muffled by the turbo, which is an excellent reason to power down that folding roof at every opportunity.
The new Merc engine is complemented by a seven-speed automatic transmission that's generally in the correct gear. Driver override is easy through paddles behind the steering wheel.
VERDICT
Top down motoring in a Merc roadster with a modest price tag - does life get any better than this?
Mercedes-Benz SLK 250
Price: from $92,450
Warranty: three years/100,000 km
Resale: 57 per cent
Service Interval: 12 months/15,000km
Crash rating: not tested
Safety: six airbags, ABS, TC, ESC, EBD
Engine: 1.8-litre turbo four-cylinder, 150kW/350Nm
Transmission: seven-speed automatic, RWD
Dimensions: 4.15m (L), 1.82m (W), 1.31m (H)
Weight: 1450kg
Spare: space-saver
Thirst: 6.7L/100km (95 RON), 155g/km CO2
Pricing Guides
$42,955
Based on third party pricing data