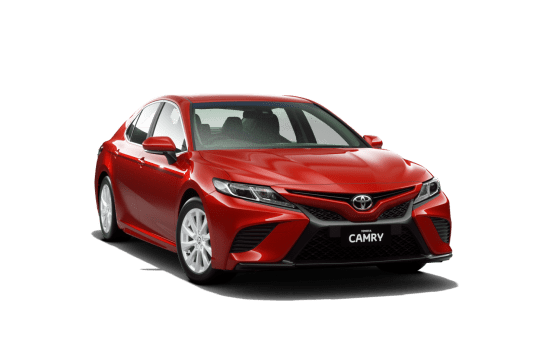 COMPARE
Toyota Camry
VS
Holden Calais
---
Holden Calais
Likes
Plenty of cabin space
Safety gear on-point
Punchy V6
Dislikes
Fuel use on the high side
Four-cylinder turbo petrol unavailable
Diesel not an option
Summary
Toyota Camry
I've got a line of Camry jokes that stretches to Mars and back, and I'm not alone. Heck, even Akio Toyoda sledged his own company's products when he famously delcared it would produce "no more boring cars". To be fair, the company is still struggling with that promise.
The new version has, sadly, knocked some of the stuffing out of my established Camry repartee. Until today, I had not yet had a go in the new car,  and thus it was something of a shock to realise that it doesn't even look terrible any more.
My cruel colleagues, however, muttered darkly that this was still a Camry, just not as we've always known it. 
Hmmm. I'm getting too old to deal with change. This Camry Ascent Sport Hybrid had better be boring.
| | |
| --- | --- |
| Safety rating | |
| Engine Type | 2.5L |
| Fuel Type | Hybrid with Premium Unleaded |
| Fuel Efficiency | 4.2L/100km |
| Seating | 5 seats |
---
Holden Calais
If Holden had a dollar for every time someone had criticised the new and international flavour of Australia's formerly home-grown hero, it would surely have more than enough spare cash to blow the dust of that vast South Australian factory and restart local Commodore production immediately.
Hell, there'd probably be enough left over to relaunch the Camira while they were at it. And maybe even knock out a new Gemini or two.
So we're not going to do that again here. The all-new Commodore, in this case the Calais Tourer, is now here - granted having travelled further than the one it replaces - and so we'll be playing this review with the straightest of bats.
Because the truth is, if you peel the badging - and thus the swirling emotion - off its elongated rump, then you'll find this German-built Tourer is, really and truly, a very good thing.
| | |
| --- | --- |
| Safety rating | |
| Engine Type | 3.6L |
| Fuel Type | Premium Unleaded Petrol |
| Fuel Efficiency | 9.1L/100km |
| Seating | 5 seats |
Verdict
Toyota Camry
7.4/10
It's a pity families don't buy sedans any more, because this is a terrific family car, particularly if you're not bothered by badge cache or speed, but do like an easy-to-drive, cheap-to-run car. Just a few years ago it would have been almost laughable to contemplate a car this big, for this money, being so cheap to own and run.
I'm also really annoyed that my hackneyed Camry jokes are no longer just not funny, they're not funny because they're not (as) true. No, it's not a super-fun excitement machine, but that's not the point. It is a very good car, with all the Toyota goodness of old, added warranty and the bonus of genuinely feeling good to drive. And you're a mild shade of enviro-green to go with it.
Is it true? Has the Camry shaken off most of its dowdy image?
---
Holden Calais
7.9/10
A best-of-both-worlds option that should have us questioning our SUV obsession, the Calais Tourer delivers plenty of practicality perks and a higher ride height in a dynamic and car-like package. The equipment levels are spot on, including the comprehensive safety package, and it you act smartly, you'll get a hugely long warranty to boot.  
It sure is thirsty, though, and we can't help but think plenty of owners would be happier with a smaller, more-efficient engine. 
Design
Toyota Camry
Some key changes to the design approach on the new Camry means it's not as knock-kneed and simpering as the last, um, six or so generations.
To be fair, the previous one wasn't terrible but there are actual hints of mild bravery, with an angry front-end look, some interesting surface detailing and, even what might be called a "Lexus-lite" look for the rest of it.
The new Camry is lower, has big wheel arches that the 17s struggle to fill but it has some genuine style, rather than looking like the clay modellers knocked off before lunch. The dual exhaust seemed incongruous to me, but is, in fact, a styling win.
Jokes aside, I don't mind it at all. It's no Supra, but it's no mid-90s Camry, either. Yeah, I bet you don't remember which one I'm talking about, either.
I really like the cabin. The dash design is quite something and shows some real flair. William Chergowsky told me last year that this interior was going to be more emotional and memorable. And it really is, along with Toyota's impressive build quality. Even the volume knob feels substantial, the materials are nice but the steering wheel is... well, more of that later.
---
Holden Calais
8/10
Less an SUV (happily), and more a high-riding wagon, the Calais Tourer borrows a little from the Subaru XV in its exterior design, sporting the same plastic cladding over each wheel arch. Clearly there is a whole heap of shared DNA between the Sportwagon and Tourer, and so it offers similar perks; like its SUV-shaming boot space. 
Elsewhere, the Tourer shares the same soft and rounded edges as the rest of the Commodore range, and while it is genuinely quite handsome from most angles, it is at its best viewed front on, where a simple front-end is bookmarked at each corner by a narrow headlight on top, and an encased fog light below. It's all a touch understated, sure, but it looks sharp in the metal.
Inside, it's a clean and functional cabin design, with most of the touchscreen functions controlled by a simple row of four horizontal buttons, and with a gloss-black surround encasing the centre console. The thin leather wheel feels lovely under the touch, and the contrasting door trims and soft-touch materials find their way into the backseat, too. 
Practicality
Toyota Camry
The new, stretched wheelbase has meant a lot more interior space for passengers, particularly in the rear. The Camry hasn't really been small for a very long time, but this one's generous rear legroom is probably why it's a smash-hit with the Uber crowd. The seats are comfortable too, if trimmed in what appears to be neoprene.
Front and rear passengers each have a pair of cupholders for a total of four, plus there's a deep central console bin and a space under the stereo for a phone. There's even a coin slot. Each door also has a bottle holder.
The boot in the Ascent Sport is a voluminous 524 litres - the Ascent has a full-size spare that swallows up 30 litres of that space. The seats fold down 60/40, but the cargo volume when they are down is not readily available.
---
Holden Calais
8/10
The Tourer serves up identical storage space to its Sportwagon near-enough twin, with 793 litres of storage (to the roof line) with the rear seats in place, and 1665 litres with the rear seat folded down. That's about 200 litres more than the regular Commodore hatchback.
Where the Tourer does differ from the Sportwagon is in its exterior dimensions, measuring 5004mm in length (versus 4986mm in the Sportwagon) and 1525mm in height (versus 1483mm). Width and wheelbase are identical, though (1871mm and 2829mm), and so the interior space dimensions - like headroom and legroom - are identical no matter which of the estate-style Commodores you opt for. 
The key dimension here, though, is ride height, with the Tourer offering 20mm more ground clearance (42mm greater height overall) than the Sportwagon. That, combined with the on-demand all-wheel-drive system, allows for some light off-roading - though you won't be conquering Everest.
Up front, expect two cupholders hidden under a gloss-black cover, as well as power and USB connections located in a central cubby. The back seat is home to two extra cupholders hidden in a pulldown divider, and there is room in each of the doors for bottles. The back seat is also home to air vents (but no temperature controls) and two USB charge points located just below the vents.
Price and features
Toyota Camry
The hybrid drivetrain is available on the Ascent, Ascent Sport and SL. I had the $31,990 Ascent Sport for the week.
It comes with 17-inch alloy wheels, a six-speaker stereo (with CD player!), dual-zone climate control, cloth trim, with space-saver spare wheel, electric driver's seat, auto LED headlights, keyless entry and start, sat nav, reversing camera, active cruise control, front and rear parking sensors, an impressive safety package, power mirrors and windows. Did I mention the CD player?
The six-speaker stereo is powered from the 8.0-inch touchscreen and the software is...um...not great. Which wouldn't matter if it had Android Auto and/or Apple CarPlay but Toyota Australia stubbornly refuses to include them. The damn Seppos get it in their Toyotas, so it's not like it's impossible. But our version does have a CD player. Hipsters rejoice!
---
Holden Calais
8/10
The Calais has long formed the most luxurious rung of the Commodore ladder, and the wagon-ish Tourer is without doubt the most practical version. It will set you back $45,990 ($47,990 drive-away) in the guise we've tested here, and $53,990 In Calais V specification.
Not to be sneezed at, then. But it does arrive with plenty of stuff to help justify your investment.
Outside, you'll find 18-inch alloys, a handsfree auto-opening boot, heated mirrors, keyless entry with push-button start, a remote start function, rain-sensing wipers and automatic headlights with LED DRLs. Inside, expect leather seats that are heated in the front, a leather-wrapped wheel, dual-zone climate control, standard satellite navigation and a wireless charging pad for compatible phones.
On the technology front, an 8.0-inch touchscreen pairs with an eight-speaker stereo, and it's both Apple CarPlay and Android Auto equipped. There's also a genuinely impressive standard safety package, too, but we'll drill down on that under the Safety sub-heading.
Engine & trans
Toyota Camry
While the standard Camry packs the same 2.5-litre four-cylinder, the Hybrid's ICE output is slightly lower, at 131kW. When paired with a hybrid motor, the total power figure is a pretty decent 160kW, but the torque figure appears to be unaffected, at 202Nm. Toyota doesn't quote combined torque figures, because it's tricky with the type of transmission it uses.
The front wheels are driven by Toyota's favoured e-CVT, with six artifical steps to make it feel like a proper auto, if you're feeling racy.
---
Holden Calais
7/10
A really rather good 3.6-litre V6 engine Is parked under the bonnet, feeding 235kW at 6800rpm and 381Nm at 5200rpm to all four wheels as required, thanks to an on-demand all-wheel-drive system. The suspension is tuned specifically for its high-riding antics, too.
The grunt is fed through a nine-speed automatic, and while Holden doesn't quote a specific zero-to-100km/h time, it's no slouch from the lights. 
The 3.6-litre engine means a braked towing capacity of 2100kg, and an unbraked max of 750kg.
Fuel consumption
Toyota Camry
The Hybrid's windscreen sticker makes the bold claim of 4.2L/100km on the combined cycle, which is amazing for a big sedan. Reality isn't quite so amazing. In our week with the car, 5.7L/100km was the best I could get, but it was mostly city driving, the weather was really humid and, it turns out, this isn't a bad thing to drive, which means you're tempted to hit the throttle regularly.
As it's a typical Toyota hybrid, there isn't a plug to charge it, so you'll not be running on batteries the way you can in, say, a Hyundai Ioniq PHEV.
---
Holden Calais
6/10
Not so good, I'm afraid. The offical number is on the high-side at 9.1 litres per 100 kilometres on the claimed/combined cycle (though that's less than the equivalent Subaru Outback), but we were averaging a smidge under 14.0L/100km after what was admittedly quite a lot of city driving. Still, that's high.
Emissions are pegged at 212g/km or C02, and the Tourer's 61-litre tank will accept cheaper 91RON fuel, or an E10 blend.
Driving
Toyota Camry
All the Camry markers are here. It's easy to get in and out of and easy to get comfortable. The dash isn't too high and, uh, the steering wheel is plastic, which is genuinely disappointing. A Mazda6 (no, not a hybrid, I know) doesn't have a plastic steering wheel. The Toyota one is pretty cheap-feeling.
Pressing the start-stop button, you hear the electrics switching on and, if you're backing out of the drive, you won't hear the engine until you're on the gas driving away. You may not hear anything, but your passengers might hear your tutting. The brakes are very grabby when you're in stealth, I mean, electric mode, whether you're going forward or backwards. No doubt it's something you will become accustomed to, but it's there. Toyota hybrids seem to be behind the game on this particular score.
In every other way, the Camry is exactly as it has always been. Except it isn't. Toyota kept all the good things - it's smooth, it's quiet and it rides well. Everyone is comfortable and everything works. I've already mentioned it was stinking hot the week we had it and the Camry's air-conditioning was super-fast cold.
The bit that's different, though, is that, just like the styling, things are better. Camrys past had over-light steering, marshmallows for suspension and as much grip on the road as Kanye West has on reality. This one has body control. The steering feels good. There is actual grip and you feel like you're driving the car rather than just steering it around.
---
Holden Calais
8/10
Really very good. That 3.6-litre engine (why they haven't offered the Tourer with the smaller and smarter turbo engine is something of a mystery) might be a touch old-school and a touch thirsty, but it's a rich and powerful thing, and it gives the Calais-stamped Tourer a perky personality that defies its dimensions.
The Calais Tourer was built in Germany, and fitted with an engine and transmission from the USA, before undergoing local tuning here in Australia (think bespoke steering and suspension tunes calibrated both at the company's testing facility and after a 200,000km test on Aussie roads), and it's the last of those Dr Frankenstein ingredients that have had the biggest impact here. 
The Tourer's ride is fantastic, perfectly poised between firm composure and everyday comfort, and - like most good wagons - it will honestly leave you wondering why so many people are clamouring aboard the SUV train when you can all the space with better dynamics in a humble estate. 
The nine-speed 'box is smooth and sharp in its operation, too. But the fuel use is a concern. Sure, we spent the bulk of our time in the city, where stop-start traffic naturally uses more fuel. But then, surely so would most owners? 
Safety
---
Holden Calais
9/10
You've got to hand it to the Lion for the standard safety package here, which includes the Holden Eye camera system as standard, adding auto emergency braking (AEB), lane keep assist, lane departure warning and forward collision warning. You'll also find semi-autonomous parking, a reversing camera and rear parking sensors.
The Calais Tourer adds blind-sport monitoring and rear cross-traffic alert to that pretty comprehensive package. All of which helps the Commodore range qualify for the maximum five-star ANCAP safety rating.
Finally, you can add six airbags and two ISOFIX attachment points to the mix.
Ownership
---
Holden Calais
9/10
Holden has recently relinquished the initial warranty offering, now including the Commodore in its seven-year, unlimited-kilometre warranty program, meaning it mixes with the very best in the aftercare business. For now, at least; normally, the Commodore carries the brand's standard three year/100,000km warranty. But be on the lookout for the return of this deal if you miss out this time.
Service intervals are pegged at 12 months or 12,000kms, and the Commodore falls under Holden's extensive capped-price servicing program, and it will cost between $259 and $359 for each of the first seven annual services.