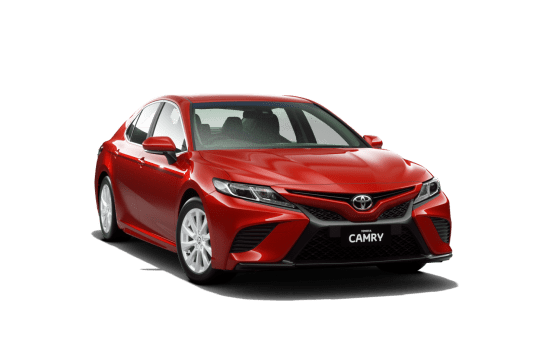 COMPARE
Toyota Camry
VS
Hyundai i40
---
Hyundai i40
Likes
Impressive ride and handling
Diesel engine provides plenty of oomph
Roomy
Dislikes
Tiny display screen
No AEB
Tyre noise
Summary
Toyota Camry
I've got a line of Camry jokes that stretches to Mars and back, and I'm not alone. Heck, even Akio Toyoda sledged his own company's products when he famously delcared it would produce "no more boring cars". To be fair, the company is still struggling with that promise.
The new version has, sadly, knocked some of the stuffing out of my established Camry repartee. Until today, I had not yet had a go in the new car,  and thus it was something of a shock to realise that it doesn't even look terrible any more.
My cruel colleagues, however, muttered darkly that this was still a Camry, just not as we've always known it. 
Hmmm. I'm getting too old to deal with change. This Camry Ascent Sport Hybrid had better be boring.
| | |
| --- | --- |
| Safety rating | |
| Engine Type | 2.5L |
| Fuel Type | Hybrid with Premium Unleaded |
| Fuel Efficiency | 4.2L/100km |
| Seating | 5 seats |
---
Hyundai i40
A wagon and not an SUV, eh? Respect. You see, when most people now think of a new car they think of an SUV, especially when they want something with a bit of cargo space. But not you. 
And for thinking outside the box you'll be rewarded with something that's better to drive than most SUVs – like the Hyundai i40 Tourer in the Active grade and a diesel engine we've road tested here.
So, what are the strengths and weaknesses of this Korean wagon, and should you wait or buy it now? Read on to find out.
| | |
| --- | --- |
| Safety rating | |
| Engine Type | 1.7L turbo |
| Fuel Type | Diesel |
| Fuel Efficiency | 5.1L/100km |
| Seating | 5 seats |
Verdict
Toyota Camry
7.4/10
It's a pity families don't buy sedans any more, because this is a terrific family car, particularly if you're not bothered by badge cache or speed, but do like an easy-to-drive, cheap-to-run car. Just a few years ago it would have been almost laughable to contemplate a car this big, for this money, being so cheap to own and run.
I'm also really annoyed that my hackneyed Camry jokes are no longer just not funny, they're not funny because they're not (as) true. No, it's not a super-fun excitement machine, but that's not the point. It is a very good car, with all the Toyota goodness of old, added warranty and the bonus of genuinely feeling good to drive. And you're a mild shade of enviro-green to go with it.
Is it true? Has the Camry shaken off most of its dowdy image?
---
Hyundai i40
7.1/10
The i40 Tourer in the Active grade is great to drive, it's practical, and should be low-cost to run. But you can bet the new version, due to arrive soon, will be, too. If you can wait, it's a safe bet the new i40 Tourer will have an updated look, improved safety equipment and retain all the good points of the previous model. 
Would you buy the current i40, or would you be mad not to wait for the new one, coming soon? Tell us what you think in the comments below.
Design
Toyota Camry
Some key changes to the design approach on the new Camry means it's not as knock-kneed and simpering as the last, um, six or so generations.
To be fair, the previous one wasn't terrible but there are actual hints of mild bravery, with an angry front-end look, some interesting surface detailing and, even what might be called a "Lexus-lite" look for the rest of it.
The new Camry is lower, has big wheel arches that the 17s struggle to fill but it has some genuine style, rather than looking like the clay modellers knocked off before lunch. The dual exhaust seemed incongruous to me, but is, in fact, a styling win.
Jokes aside, I don't mind it at all. It's no Supra, but it's no mid-90s Camry, either. Yeah, I bet you don't remember which one I'm talking about, either.
I really like the cabin. The dash design is quite something and shows some real flair. William Chergowsky told me last year that this interior was going to be more emotional and memorable. And it really is, along with Toyota's impressive build quality. Even the volume knob feels substantial, the materials are nice but the steering wheel is... well, more of that later.
---
Hyundai i40
7/10
The i40 wagon looks good, I even caught myself doing that admiring 'look back' thing you do when you walk away from your car. Thing is, the current i40 has the 'old' Hyundai styling that dates it compared to the new i30, Sonata and Kona, which reflect the brand's latest look.
This brings me to something you should really know – the newer, updated i40 will arrive in Australia soon, and it will be more in line with Hyundai's current design approach.
The i40 is also up against some hot-looking rivals. The Mondeo is gorgeous, the Passat is stately, and the Commodore also looks stunning. To be honest the i40 is the least attractive of that lot form where I'm looking. It's also about the same size as that trio at 4775mm long, 1815mm wide and 1470mm in height.
My mum would call the interior of the i40 Active smart looking, but she doesn't mean tech-smart, more school dance smart, and if she ever said that before you went to a school dance you'd get changed immediately.
Yes, it looks smart in a tidy, stylish way, but that tiny screen, cloth seats and ordinary plastics lower the tone compared to the Premium's more 'premium' interior. 
Practicality
Toyota Camry
The new, stretched wheelbase has meant a lot more interior space for passengers, particularly in the rear. The Camry hasn't really been small for a very long time, but this one's generous rear legroom is probably why it's a smash-hit with the Uber crowd. The seats are comfortable too, if trimmed in what appears to be neoprene.
Front and rear passengers each have a pair of cupholders for a total of four, plus there's a deep central console bin and a space under the stereo for a phone. There's even a coin slot. Each door also has a bottle holder.
The boot in the Ascent Sport is a voluminous 524 litres - the Ascent has a full-size spare that swallows up 30 litres of that space. The seats fold down 60/40, but the cargo volume when they are down is not readily available.
---
Hyundai i40
8/10
The i40 wagon nails the practicality category. Storage space is excellent with a deep, wide console bin under the centre armrest, and there's another big well in front of the gear shifter. 
There are large pockets in all the doors with bottle holders, two cupholders up front and another two in the fold-down rear armrest, plus another storage area in there, too.
The i40 Tourer's 506 litre cargo capacity is good, but can't beat the Passat's 650 litres, while it matches the Mazda6 wagon's boot space.
Rear legroom borders on limo territory and even at 191cm I can sit behind my driving position with about 50mm of space between my knees and the seat back. Headroom back there is also extremely generous.
The rear doors open wide, making for an easy exit or entry, too.
Price and features
Toyota Camry
The hybrid drivetrain is available on the Ascent, Ascent Sport and SL. I had the $31,990 Ascent Sport for the week.
It comes with 17-inch alloy wheels, a six-speaker stereo (with CD player!), dual-zone climate control, cloth trim, with space-saver spare wheel, electric driver's seat, auto LED headlights, keyless entry and start, sat nav, reversing camera, active cruise control, front and rear parking sensors, an impressive safety package, power mirrors and windows. Did I mention the CD player?
The six-speaker stereo is powered from the 8.0-inch touchscreen and the software is...um...not great. Which wouldn't matter if it had Android Auto and/or Apple CarPlay but Toyota Australia stubbornly refuses to include them. The damn Seppos get it in their Toyotas, so it's not like it's impossible. But our version does have a CD player. Hipsters rejoice!
---
Hyundai i40
7/10
There are only two grades in the i40 range - 'Active' and 'Premium'. And when it comes to engines you again have two choices - petrol or diesel. The latter adding $2600 to the price.
If you're looking for the most affordable way into an i40 wagon go for the Active. Listing at a base price of $35,690, 'our' i40 Active Tourer diesel had one option – 'Ocean View' metallic paint, adding an extra $595.
 
The Active grade costs $9160 less than Premium, and as much as I'd like to say that top-spec car is pretty much the same, with some shiny bits of door trim added, I'd be lying. 
The Active really does miss out on some decent stuff – the screen is the smallest I've seen since I wore a digital watch, at 4.3-inch (the Premium has a 7.0-inch), there's air-con but not climate control, there's keyless entry but not a proximity key or push button start.
The Active doesn't get a power tailgate with a handsfree function like the Premium, or tinted rear glass, or a digital speedo, or a panoramic sunroof, or a power adjustable driver's seat, or heated seats, all of which are standard on the Premium grade.
Yup, the Active may be as base grade as you can get but it still comes with paddles shifters, LED daytime running lights, an electric handbrake with auto hold function, front and rear parking sensors, cloth seats and 16-inch alloy wheels.
A list price nudging $36K may seem high, but don't' forget you're paying more for the diesel engine. There's good reason to spend the extra on the diesel, too – which I'll explain below.
The i40 Active Tourer diesel undercuts the $39,040 Ford Mondeo Ambiente diesel wagon, while the Volkswagen Passat 140TDI wagon only comes in the mid-spec Highline grade for $49,990 (and is a bit 'next level' by comparison), while the Mazda6 wagon in Touring spec with diesel engine is $41,440. 
Other rivals? Yes, the new Holden Commodore Sportwagon diesel is $38,890. So, compared to its rivals the i40 Active Tourer is a bit of a bargain.
Engine & trans
Toyota Camry
While the standard Camry packs the same 2.5-litre four-cylinder, the Hybrid's ICE output is slightly lower, at 131kW. When paired with a hybrid motor, the total power figure is a pretty decent 160kW, but the torque figure appears to be unaffected, at 202Nm. Toyota doesn't quote combined torque figures, because it's tricky with the type of transmission it uses.
The front wheels are driven by Toyota's favoured e-CVT, with six artifical steps to make it feel like a proper auto, if you're feeling racy.
---
Hyundai i40
7/10
This is another area in which our test car impressed with its 1.7-litre four-cylinder turbo-diesel and seven-speed dual clutch auto transmission.
At 104kW, it may be less powerful than the petrol (121kW) but its 340Nm of torque gave it the shove to accelerate impressively from 1750rpm (idle is 800rpm).
The engine and dual-clutch combination performs beautifully; smooth even at low speed in traffic, and shifting down intuitively to make best use of engine braking.
Fuel consumption
Toyota Camry
The Hybrid's windscreen sticker makes the bold claim of 4.2L/100km on the combined cycle, which is amazing for a big sedan. Reality isn't quite so amazing. In our week with the car, 5.7L/100km was the best I could get, but it was mostly city driving, the weather was really humid and, it turns out, this isn't a bad thing to drive, which means you're tempted to hit the throttle regularly.
As it's a typical Toyota hybrid, there isn't a plug to charge it, so you'll not be running on batteries the way you can in, say, a Hyundai Ioniq PHEV.
---
Hyundai i40
7/10
Hyundai will tell you the i40 Tourer diesel will get 5.1L/100km over a combination of open and urban roads. The trip computer in our test car said it was averaging 7.4L/100km. Still, that's not bad mileage.
Driving
Toyota Camry
All the Camry markers are here. It's easy to get in and out of and easy to get comfortable. The dash isn't too high and, uh, the steering wheel is plastic, which is genuinely disappointing. A Mazda6 (no, not a hybrid, I know) doesn't have a plastic steering wheel. The Toyota one is pretty cheap-feeling.
Pressing the start-stop button, you hear the electrics switching on and, if you're backing out of the drive, you won't hear the engine until you're on the gas driving away. You may not hear anything, but your passengers might hear your tutting. The brakes are very grabby when you're in stealth, I mean, electric mode, whether you're going forward or backwards. No doubt it's something you will become accustomed to, but it's there. Toyota hybrids seem to be behind the game on this particular score.
In every other way, the Camry is exactly as it has always been. Except it isn't. Toyota kept all the good things - it's smooth, it's quiet and it rides well. Everyone is comfortable and everything works. I've already mentioned it was stinking hot the week we had it and the Camry's air-conditioning was super-fast cold.
The bit that's different, though, is that, just like the styling, things are better. Camrys past had over-light steering, marshmallows for suspension and as much grip on the road as Kanye West has on reality. This one has body control. The steering feels good. There is actual grip and you feel like you're driving the car rather than just steering it around.
---
Hyundai i40
7/10
A comfortable ride, impressive handling for the class, and a great engine and transmission mean the i40 Active Tourer diesel is engaging and enjoyable to drive. 
The driving position is excellent, the seats are large but supportive, and the pedal feel is spot on. The i40 Tourer is way better to drive than it needs to be and would embarrass some cars from more prestigious brands.
It's not all perfect: the cabin could be better insulated with wind noise obvious at 90km/h and tyre rumble intruding on course chip roads; visibility is hampered by those slanted A-pillars and the reversing camera image is next to useless thanks to the business card-sized screen in the Active.
Safety
---
Hyundai i40
6/10
Hyundai's website says the i40 Tourer scores the maximum five-star ANCAP rating. That's true, but a bit sneaky because that ranking was given to the car back in 2013, and a lot has changed in terms of safety equipment in five years. 
AEB, for example, is becoming common. So is rear cross traffic alert and blind spot warning, along with adaptive cruise control. You can't get any of this advanced safety equipment on the current i40, not even the top-spec Premium.
Don't get me wrong, the i40 is extremely safe with its suite of airbags, plus traction and stability controls - it's just that the bar for safety has been raised higher.
The new i40 is expected to come armed with more up-to-date safety equipment.
 
If you're fitting child seats you'll find two ISOFIX mounts and three top tether anchor points across the rear row. It's great to see a full-sized spare wheel under the boot floor, too.
Ownership
---
Hyundai i40
8/10
The i40 Tourer is covered by Hyundai's five-year/unlimited-kilometre warranty. Servicing is recommended every 15,000km/12months at a capped price of $339. A servicing plan is also available for three years ($777), four years ($1136), and five years ($1395).