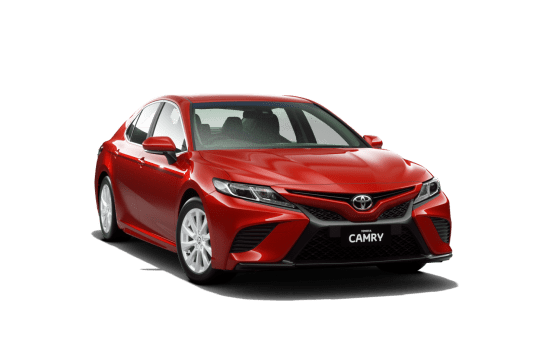 COMPARE
Toyota Camry
VS
Subaru Impreza
---
Subaru Impreza
Likes
Value for money
Great to drive
Cabin fit and finish
Dislikes
Not as spacious or practical as hatch version
CVT results holds back acceleration
No rear directional air vents
Summary
Toyota Camry
I've got a line of Camry jokes that stretches to Mars and back, and I'm not alone. Heck, even Akio Toyoda sledged his own company's products when he famously delcared it would produce "no more boring cars". To be fair, the company is still struggling with that promise.
The new version has, sadly, knocked some of the stuffing out of my established Camry repartee. Until today, I had not yet had a go in the new car,  and thus it was something of a shock to realise that it doesn't even look terrible any more.
My cruel colleagues, however, muttered darkly that this was still a Camry, just not as we've always known it. 
Hmmm. I'm getting too old to deal with change. This Camry Ascent Sport Hybrid had better be boring.
| | |
| --- | --- |
| Safety rating | |
| Engine Type | 2.5L |
| Fuel Type | Hybrid with Premium Unleaded |
| Fuel Efficiency | 4.2L/100km |
| Seating | 5 seats |
---
Subaru Impreza
So, you're thinking about a Subaru Impreza? The top-of-the-range one, too, the 2.0i-S? And the sedan version? Straight up, I'm going to tell you it's one of the best choices among its small-car rivals and its uniqueness is also its strength.
But is everything about this Impreza impressive? And is the sedan the right choice for you? Read on to find out.
| | |
| --- | --- |
| Safety rating | |
| Engine Type | 2.0L turbo |
| Fuel Type | Regular Unleaded Petrol |
| Fuel Efficiency | 7.2L/100km |
| Seating | 5 seats |
Verdict
Toyota Camry
7.4/10
It's a pity families don't buy sedans any more, because this is a terrific family car, particularly if you're not bothered by badge cache or speed, but do like an easy-to-drive, cheap-to-run car. Just a few years ago it would have been almost laughable to contemplate a car this big, for this money, being so cheap to own and run.
I'm also really annoyed that my hackneyed Camry jokes are no longer just not funny, they're not funny because they're not (as) true. No, it's not a super-fun excitement machine, but that's not the point. It is a very good car, with all the Toyota goodness of old, added warranty and the bonus of genuinely feeling good to drive. And you're a mild shade of enviro-green to go with it.
Is it true? Has the Camry shaken off most of its dowdy image?
---
Subaru Impreza
7.9/10
The Impreza 2.0i-S Sedan is outstanding in the way it drives, the value for money, its fit and finish and safety features. If you're after a small car that's practical, the sedan isn't bad, but the hatch is better for usable space.
Would you chose a small sedan over a hatch? Tell us what you think in the comments below.
Design
Toyota Camry
Some key changes to the design approach on the new Camry means it's not as knock-kneed and simpering as the last, um, six or so generations.
To be fair, the previous one wasn't terrible but there are actual hints of mild bravery, with an angry front-end look, some interesting surface detailing and, even what might be called a "Lexus-lite" look for the rest of it.
The new Camry is lower, has big wheel arches that the 17s struggle to fill but it has some genuine style, rather than looking like the clay modellers knocked off before lunch. The dual exhaust seemed incongruous to me, but is, in fact, a styling win.
Jokes aside, I don't mind it at all. It's no Supra, but it's no mid-90s Camry, either. Yeah, I bet you don't remember which one I'm talking about, either.
I really like the cabin. The dash design is quite something and shows some real flair. William Chergowsky told me last year that this interior was going to be more emotional and memorable. And it really is, along with Toyota's impressive build quality. Even the volume knob feels substantial, the materials are nice but the steering wheel is... well, more of that later.
---
Subaru Impreza
8/10
Subaru's Impreza is one of only a few small sedans which don't look they were styled the morning after the big party for the design team following their completion of the hatch version. If anything (and this will ruffle a few feathers in the Subie fan world) the sedan is a more traditional Impreza body-style than the hatch.
It's been years since the hardcore WRX became a standalone model in Australia and no longer the high-performance grade of the Impreza range, and the superb dynamics and aggro look justify the separation. Yep, the Impreza has a pretty sedate appearance in comparison, but that didn't stop the bloke in my street who owns a 2015 WRX from slowing right down to have sticky beak at the 2.0i-S out the front of my house.
Mazda is the master of making affordable cars look and feel high end. The only other rival in my view which can match that standard is Subaru. Clean, refined exterior styling, with an outstanding fit and finish inside. There are prestige cars costing three times the $30K asking price of the Impreza that don't feel this premium and well made.
The 2020 update to the Impreza added the new grille and front bumper, the fog-lights have also been restyled and the alloy wheels have a new design. The cabin was updated with a new door trim and piano black plastic was added around the climate controls.
You can tell a 2.0i-S from the rest of the range by its larger alloys (18-inch), body-coloured mirrors, sunroof, LED fog lights and side skirts. Inside there's leather seats in Ivory or Black and a leather steering wheel.
I'm a fan of the big integrated display, the sports pedals and how every touch point feels padded and cushioned.
You'll have to get used to displays which are busy with hard-to-interpret icons, though. From drive mode graphs to safety system alerts the little, colourful hieroglyphics are cute, but a bit messy and not at all necessary. It's a Subaru thing.
How big is the Impreza sedan? Well it's 4640mm long (165mm longer than the hatch), 1775mm wide, and 1455mm tall (25mm lower than hatch).
Practicality
Toyota Camry
The new, stretched wheelbase has meant a lot more interior space for passengers, particularly in the rear. The Camry hasn't really been small for a very long time, but this one's generous rear legroom is probably why it's a smash-hit with the Uber crowd. The seats are comfortable too, if trimmed in what appears to be neoprene.
Front and rear passengers each have a pair of cupholders for a total of four, plus there's a deep central console bin and a space under the stereo for a phone. There's even a coin slot. Each door also has a bottle holder.
The boot in the Ascent Sport is a voluminous 524 litres - the Ascent has a full-size spare that swallows up 30 litres of that space. The seats fold down 60/40, but the cargo volume when they are down is not readily available.
---
Subaru Impreza
7/10
The most practical Impreza is not the sedan - it's the hatch. You should know this right from the start. I found the hatch had more leg- and headroom in the rear seat, although at 191cm tall I still can sit behind my driving position in the sedan without my knees touching the seat back.
And while the boot in the sedan is 115 litres larger in cargo capacity at 460 litres (VDA) and it fit the two CarsGuide suitcases with ease (see the images), the hatch's tailgate opening is way larger and you can fold the rear seats down to open up 795 litres of space.
You can still fold the rear seats down in the sedan, which is what I did and loaded the Impreza up with a surprising amount of stuff I needed to clear out of the spare room. Take a look at the images – yes, that is an eight-foot Malibu surf board, and a pedestal fan and two heaters and a desk chair and a large plastic tub full of clippings of articles I'd written and for some reason still hold on to. They were all going to the in-laws 300km away which was a good chance to test the fuel economy too, and you can read about further on down.
The sedan's cabin storage is good with a decent-sized centre console bin, large door pockets and four cup holders (two front and two rear), but the hidey hole in the dash is too small to fit my big iPhone sideways.
For charging devices you'll find four USB ports (two in that hidey hole and two in the centre console bin) and two 12-volt outlets. The second row doesn't get USB ports or a 12V outlet. Making back seat passengers feel even more left out is a lack of directional air vents in the second row, too.
Price and features
Toyota Camry
The hybrid drivetrain is available on the Ascent, Ascent Sport and SL. I had the $31,990 Ascent Sport for the week.
It comes with 17-inch alloy wheels, a six-speaker stereo (with CD player!), dual-zone climate control, cloth trim, with space-saver spare wheel, electric driver's seat, auto LED headlights, keyless entry and start, sat nav, reversing camera, active cruise control, front and rear parking sensors, an impressive safety package, power mirrors and windows. Did I mention the CD player?
The six-speaker stereo is powered from the 8.0-inch touchscreen and the software is...um...not great. Which wouldn't matter if it had Android Auto and/or Apple CarPlay but Toyota Australia stubbornly refuses to include them. The damn Seppos get it in their Toyotas, so it's not like it's impossible. But our version does have a CD player. Hipsters rejoice!
---
Subaru Impreza
8/10
The 2.0i-S is the most expensive Impreza in the range, but the sedan costs $200 less than the hatch with it list price of $31,160 (before on-road costs). You're still getting the same standard equipment apart from the hatch's smoked-finish tail-lights.
The February 2020 update to the Impreza brought with it new equipment for all the grades in the range including the SI-Drive modes (see the driving section further down), a new alloy wheel design and auto door locking.
The 2.0i-S did well out of the update and scored more features such as new LED headlights, auto-power folding mirrors with passenger-side dipping mirror, front-view monitor, side-view monitor, memory settings for the driver's seat and a stitched sun visor.
There were also a few more styling tweaks inside and out but read about those in the design section. For now, let's talk about the rest of the standard features that come on a top o' the range Impreza.
Deep breath, because there's a lot. There are leather seats, an 8.0-inch touchscreen, sat nav, Apple CarPlay and Android Auto, reversing camera, six-speaker sound system, DAB digital radio, CD player, dual-zone climate control, power adjustable and heated front seats, privacy glass, rain-sensing wipers, proximity key, LED running lights and 18-inch alloy wheels. That's just the highlights reel, there are more but it'd be silly to list them all.
How does the Impreza compare with rivals on price? Well, there's the Toyota Corolla sedan in ZR form which lists for $33,635, and you can also compare the Impreza to a Honda Civic sedan in the RS grade for $32,840, and the Mazda3 G20 Touring with the Vision pack for $31,740.  So, as you can see the Subaru is priced well and you're getting great value for money.
Engine & trans
Toyota Camry
While the standard Camry packs the same 2.5-litre four-cylinder, the Hybrid's ICE output is slightly lower, at 131kW. When paired with a hybrid motor, the total power figure is a pretty decent 160kW, but the torque figure appears to be unaffected, at 202Nm. Toyota doesn't quote combined torque figures, because it's tricky with the type of transmission it uses.
The front wheels are driven by Toyota's favoured e-CVT, with six artifical steps to make it feel like a proper auto, if you're feeling racy.
---
Subaru Impreza
8/10
As with all Imprezas, the 2.0i-S has a 2.0-litre four-cylinder boxer petrol engine under the bonnet making 115kW and 196Nm. A boxer engine has cylinders which lay flat and pistons inside them which punch in and out horizontally like a boxer, as opposed to being aligned vertically and moving up and down. The benefits of a boxer engine include a lower centre of mass and a constant purr which Subaru owners imitate to themselves when they're in the shower.
If only you could have the Impreza with a manual gearbox, because the continuously variable transmission (CVT) auto, while smooth, results in fairly uninspiring acceleration and turns the purr of the engine into a drone when you put the boot in.
Like the rest of the Imprezas, the 2.0i-S is all-wheel drive.
Fuel consumption
Toyota Camry
The Hybrid's windscreen sticker makes the bold claim of 4.2L/100km on the combined cycle, which is amazing for a big sedan. Reality isn't quite so amazing. In our week with the car, 5.7L/100km was the best I could get, but it was mostly city driving, the weather was really humid and, it turns out, this isn't a bad thing to drive, which means you're tempted to hit the throttle regularly.
As it's a typical Toyota hybrid, there isn't a plug to charge it, so you'll not be running on batteries the way you can in, say, a Hyundai Ioniq PHEV.
---
Subaru Impreza
8/10
According to Subaru the Impreza should use 7.2L/100km after a combination of open and urban roads. I used the Impreza as a moving van for the strange collection of items mention above and after 307.5km of roads from inner Sydney to Maitland (city streets, suburban roads and motorways) the Impreza's trip computer reported 6.2L/100km.
I wasn't able to test that figure at the fuel pump, but in my experience of Subarus in the past the average fuel reading on the display is never far off what I measure at the petrol pump. So, I'm confident in saying that the Impreza isn't a thirsty beast.
Driving
Toyota Camry
All the Camry markers are here. It's easy to get in and out of and easy to get comfortable. The dash isn't too high and, uh, the steering wheel is plastic, which is genuinely disappointing. A Mazda6 (no, not a hybrid, I know) doesn't have a plastic steering wheel. The Toyota one is pretty cheap-feeling.
Pressing the start-stop button, you hear the electrics switching on and, if you're backing out of the drive, you won't hear the engine until you're on the gas driving away. You may not hear anything, but your passengers might hear your tutting. The brakes are very grabby when you're in stealth, I mean, electric mode, whether you're going forward or backwards. No doubt it's something you will become accustomed to, but it's there. Toyota hybrids seem to be behind the game on this particular score.
In every other way, the Camry is exactly as it has always been. Except it isn't. Toyota kept all the good things - it's smooth, it's quiet and it rides well. Everyone is comfortable and everything works. I've already mentioned it was stinking hot the week we had it and the Camry's air-conditioning was super-fast cold.
The bit that's different, though, is that, just like the styling, things are better. Camrys past had over-light steering, marshmallows for suspension and as much grip on the road as Kanye West has on reality. This one has body control. The steering feels good. There is actual grip and you feel like you're driving the car rather than just steering it around.
---
Subaru Impreza
8/10
The Impreza 2.0i-S's rivals are front-wheel drive cars. The Impreza is all-wheel drive. I feel like I could just leave that there and not have to write anything else, but I'll go on. See, even people who never think the journey is more important than the destination will like the way the Impreza drives.
They won't have any idea that regardless of the speed, or corner, or the muddy water that's streaming down the hill and across the road, that the Impreza's all-wheel drive system is constantly 'feeling' and anticipating any loss of traction and diverting drive away from a wheel that might slip and to another that will help keep everything under control. To them the Impreza will just feel really stable and easy to drive.
Along with being dynamic the Impreza 2.0i-S is also comfortable. The combination of the softness and with good handling is thanks to nicely turned suspension set up and a good choice of tyre (Yokohama 225/40R18 front and rear), while the planted feeling is helped by the boxer engine creating a lower centre of mass.
The continuously variable transmission is the only part of this excellent team letting things down slightly with acceleration being a little lacklustre. A regular automatic or manual gearbox would make the Impreza superb to drive.
The 2020 update added Subaru's SI-Drive modes. The S mode is for a sporty driving setting which favours better acceleration and responsiveness from the engine, while the I is an intelligent setting that's better for fuel economy.
Safety
---
Subaru Impreza
8/10
The Impreza scored the maximum five-star ANCAP rating when it was tested in 2016 and back then not many small cars had the same level of advanced safety equipment. The world has changed, and the rivals are now far better equipped than they were, but the 2.0i-S's standard safety features are still impressive.
The 2.0i-S comes with AEB (forward and reverse), blind spot warning, lane departure warning, lane change and lane keeping assistance, rear cross-traffic alert and adaptive cruise control. There's also lane sway alert, lead vehicle start and brake light recognition. The 2020 update saw side-view and front-view monitors joining the regular reversing camera. There are rear parking sensors but not front ones – personally, I'd rather a 'beep' than a camera picture, especially when it's dark.
For child seats you'll find three top tether anchor points and two ISOFIX mounts across the rear row.
Under the boot floor is a space saver spare wheel.
Ownership
---
Subaru Impreza
8/10
The Subaru Impreza 2.0i-S is covered by a five-year/unlimited kilometre warranty. There's also a five-year/62,500km capped price servicing program. Servicing is recommended at 12 month/12,500km intervals with the first capped at $350.25, the second at $588.31, the third at $354.83, the fourth at $784.77, and the fifth at $354.86 for a total of $2433.02 over the five years.