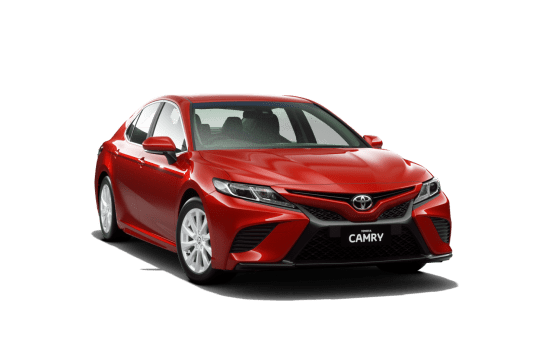 COMPARE
Toyota Camry
VS
Hyundai Elantra
---
Hyundai Elantra
Likes
All variants fun to drive
Sensible spec levels
Standard multimedia set-up
Dislikes
Optional safety on Go & Active
No radar safety on Sport
Polarising looks
Summary
Toyota Camry
I've got a line of Camry jokes that stretches to Mars and back, and I'm not alone. Heck, even Akio Toyoda sledged his own company's products when he famously delcared it would produce "no more boring cars". To be fair, the company is still struggling with that promise.
The new version has, sadly, knocked some of the stuffing out of my established Camry repartee. Until today, I had not yet had a go in the new car,  and thus it was something of a shock to realise that it doesn't even look terrible any more.
My cruel colleagues, however, muttered darkly that this was still a Camry, just not as we've always known it. 
Hmmm. I'm getting too old to deal with change. This Camry Ascent Sport Hybrid had better be boring.
| | |
| --- | --- |
| Safety rating | |
| Engine Type | 2.5L |
| Fuel Type | Hybrid with Premium Unleaded |
| Fuel Efficiency | 4.2L/100km |
| Seating | 5 seats |
---
Hyundai Elantra
Is there a place for the humble sedan in 2019?
Hyundai seems to think so. And so for 2019 it has overhauled its Elantra range, with a polarising new look and interesting new trim levels.
Is the price right to push the Elantra to the forefront, though? Or is the i30's less-famous sedan sibling destined to be overlooked?
We've spent some time in each of the Elantra's four variants over the past few months to find out. Read on to see what's what, and which one is our pick of the range.
| | |
| --- | --- |
| Safety rating | |
| Engine Type | 2.0L |
| Fuel Type | Regular Unleaded Petrol |
| Fuel Efficiency | 7.2L/100km |
| Seating | 5 seats |
Verdict
Toyota Camry
7.4/10
It's a pity families don't buy sedans any more, because this is a terrific family car, particularly if you're not bothered by badge cache or speed, but do like an easy-to-drive, cheap-to-run car. Just a few years ago it would have been almost laughable to contemplate a car this big, for this money, being so cheap to own and run.
I'm also really annoyed that my hackneyed Camry jokes are no longer just not funny, they're not funny because they're not (as) true. No, it's not a super-fun excitement machine, but that's not the point. It is a very good car, with all the Toyota goodness of old, added warranty and the bonus of genuinely feeling good to drive. And you're a mild shade of enviro-green to go with it.
Is it true? Has the Camry shaken off most of its dowdy image?
---
Hyundai Elantra
7.4/10
The Elantra might be overlooked compared to its famous i30 stablemate, but it shouldn't be. It's every bit as entertaining to drive and just as well equipped.
It's a shame active safety is on the option list for lower trim levels, and there's no radar features on higher ones, and the unnecessary styling changes might polarise buyers. But the Elantra is otherwise a well-equipped and rewarding-to-drive package across the range.
Would you consider the Elantra over a Japanese competitor? Tell us what you think in the comments below.
Design
Toyota Camry
Some key changes to the design approach on the new Camry means it's not as knock-kneed and simpering as the last, um, six or so generations.
To be fair, the previous one wasn't terrible but there are actual hints of mild bravery, with an angry front-end look, some interesting surface detailing and, even what might be called a "Lexus-lite" look for the rest of it.
The new Camry is lower, has big wheel arches that the 17s struggle to fill but it has some genuine style, rather than looking like the clay modellers knocked off before lunch. The dual exhaust seemed incongruous to me, but is, in fact, a styling win.
Jokes aside, I don't mind it at all. It's no Supra, but it's no mid-90s Camry, either. Yeah, I bet you don't remember which one I'm talking about, either.
I really like the cabin. The dash design is quite something and shows some real flair. William Chergowsky told me last year that this interior was going to be more emotional and memorable. And it really is, along with Toyota's impressive build quality. Even the volume knob feels substantial, the materials are nice but the steering wheel is... well, more of that later.
---
Hyundai Elantra
7/10
Despite being a facelift of the rather good looking 2016 Elantra, the 2019 car has taken a hard turn into the domain of triangles and right-angles.
The new styling has proved controversial in the CarsGuide office. The Go and Active seem to have largely abandoned many of the styling points which Hyundai has invested in over the past few years, with their vertically lined grilles and abundance of triangle light fittings.
All the extra space on the big, flat rear is taken up by the big-font 'Elantra' text and Hyundai logo, which is '90s-style in design.
The Sport and identical-from-the-outside Sport Premium are angry looking cars, with frowning LED light fittings, giant alloys and an abundance of angular black highlights.
The side skirts, rear diffuser and spindle grille give the Sport variants an impressive amount of presence on the road. There's no spoiler to be found, though.
Inside, the Go and Active are a fairly basic offering, with the Active scoring a leather wheel and some extra niceties. The dash is a sea of grey, however, and the nice touchscreen is humbled by its old-school in-dash positioning.
The Sport grades add some more sophisticated touches, with sporty leather-trimmed seats, a flat-bottomed steering wheel and a more subtle climate-control console rather than the clunky air-conditioning one used in lesser variants.
All cars have a sensible trip computer and simple gauges in the instrument cluster.
Missing from any variant is a digital dashboard as seen in the Honda Civic. There's also the argument that the Elantra's cousin, the Kia Cerato, has a more forward-thinking cabin design.
Practicality
Toyota Camry
The new, stretched wheelbase has meant a lot more interior space for passengers, particularly in the rear. The Camry hasn't really been small for a very long time, but this one's generous rear legroom is probably why it's a smash-hit with the Uber crowd. The seats are comfortable too, if trimmed in what appears to be neoprene.
Front and rear passengers each have a pair of cupholders for a total of four, plus there's a deep central console bin and a space under the stereo for a phone. There's even a coin slot. Each door also has a bottle holder.
The boot in the Ascent Sport is a voluminous 524 litres - the Ascent has a full-size spare that swallows up 30 litres of that space. The seats fold down 60/40, but the cargo volume when they are down is not readily available.
---
Hyundai Elantra
7/10
Up front, the Elantra offers decent room. The Cabin feels a smidge more spacious than its i30 hatch sibling, and there's plenty of leg and headroom on offer in every variant - except for the sport premium, which has a cropped roofline due to the sunroof. While there's a decent centre console box, the door lacks a bit of padded trim for your elbow.
Like the rest of Hyundai's range, the Elantra has a slew of generous cubbys and cupholders throughout the cabin. Underneath the air-con console is a deep trench which houses a 12v output, USB port and, in the Sport Premium variant, the Qi wireless phone charging pad.
Rear passengers are granted great legroom and decently sized cupholders in the doors, as well as a drop-down arm rest with two more cupholders.
The Active and Go lack rear air vents, whereas the Sport and Sport Premium offer two for back-seat passengers.
The available boot space should serve as a reminder why sedans shouldn't be overlooked for practicality reasons, with 458 litres VDA on offer. Still, it is bested in this segment by the luggage capacity of the Cerato (520L), Civic (517L), and Impreza (460L). A rubber cargo liner and fabric bumper protector are available as genuine accessories.
In an annoying niggle, the Sport variants ride quite low around their midsections due to the flared bodykit bits. I found these would quite easily scrape if you weren't careful over speedbumps or shopping centre ramps. Go and Active variants were fine in terms of clearance.
Price and features
Toyota Camry
The hybrid drivetrain is available on the Ascent, Ascent Sport and SL. I had the $31,990 Ascent Sport for the week.
It comes with 17-inch alloy wheels, a six-speaker stereo (with CD player!), dual-zone climate control, cloth trim, with space-saver spare wheel, electric driver's seat, auto LED headlights, keyless entry and start, sat nav, reversing camera, active cruise control, front and rear parking sensors, an impressive safety package, power mirrors and windows. Did I mention the CD player?
The six-speaker stereo is powered from the 8.0-inch touchscreen and the software is...um...not great. Which wouldn't matter if it had Android Auto and/or Apple CarPlay but Toyota Australia stubbornly refuses to include them. The damn Seppos get it in their Toyotas, so it's not like it's impossible. But our version does have a CD player. Hipsters rejoice!
---
Hyundai Elantra
7/10
The Elantra range is made up of four variants split into two price points. But there are also a few small catches to look out for.
Kicking off the range at $21,490 is the Elantra Go. That money buys you a six-speed manual gearbox. An automatic can be had for an extra $2300, and from there you can add the must-have 'SmartSense' safety pack for an additional $1700.
Standard features on the Go include 15-inch steel wheels, halogen headlamps, a 7.0-inch touchscreen with Apple CarPlay & Android Auto support, Bluetooth connectivity, a reversing camera, central locking, and a six-speaker audio system.
Next up is the Active. It starts from $25,990 and is offered exclusively as a six-speed automatic. Again, the must-have SafetySense is an extra $1700. The Active includes a larger 8.0-inch multimedia screen with built-in nav and DAB+ digital radio support, a premium audio system, 16-inch alloy wheels, body-coloured auto-folding wing-mirrors, as well as LED indicators and DRLs.
Then there's a price-jump to $28,990 for the Elantra Sport manual. The Sport gets a significantly overhauled drivetrain and exterior treatment, with a full bodykit, bumper and grille. It also gets a leather interior with slightly sportier seats, aggressive 18-inch alloy wheels clad in Michelin Pilot Sport 4 tyres, 'smart key' keyless entry with push-button start, full LED front lighting with high-beam assist, and some (but not all) active safety items… More on that in the 'Safety' section.
The Sport can be had with a seven-speed dual-clutch automatic at a $2500 premium. The other optional extra is  red leather interior ($295), which can be had only when the car is painted white, grey or black.
Speaking of which, all colours (including blue, orange, red and silver) are optional and will cost you $495. White is the only free shade.
At the top of the range is the Elantra Sport Premium ($31,490 manual/$33,990 auto), which adds a sunroof (not the panoramic kind), front parking sensors, a power-adjustable driver's seat, Qi wireless charging pad, auto-dimming rear mirror and a luggage net in the boot. Not a lot extra for a premium package, but it's not wildly priced either.
The spread of pricing pitches the Elantra against sedan versions of the Kia Cerato ($21,990 - $32,990), Honda Civic ($22,390 - $33,690) and Subaru Impreza ($22,690 - $29,540).
Engine & trans
Toyota Camry
While the standard Camry packs the same 2.5-litre four-cylinder, the Hybrid's ICE output is slightly lower, at 131kW. When paired with a hybrid motor, the total power figure is a pretty decent 160kW, but the torque figure appears to be unaffected, at 202Nm. Toyota doesn't quote combined torque figures, because it's tricky with the type of transmission it uses.
The front wheels are driven by Toyota's favoured e-CVT, with six artifical steps to make it feel like a proper auto, if you're feeling racy.
---
Hyundai Elantra
8/10
There are two engines in the Elantra range. A dated 2.0-litre non-turbo engine which has hung around for a long time in Hyundai's stable, and a much newer 1.6-litre turbo engine in higher variants.
Unlike the i30, there's no option for a 1.6-litre turbo-diesel. Any EV and plug-in hybrid versions are still beyond the horizon (perhaps pending the success of the Ioniq).
The Go and Active variants share the 2.0-litre engine which produces 112kW/192Nm. The Go is available as either a six-speed manual or a six-speed traditional torque converter automatic. The Active is six-speed auto only.
The Sport and Sport Premium are powered by the excellent 150kW/256Nm 1.6-litre turbo. Aside from the Kia Cerato GT, which shares the same engine, the next closest competitor at this price point is the outgoing Mazda3 SP25 (139kW/252Nm).
The Sport and Sport Premium can either be had with a six-speed manual gearbox or a seven-speed dual-clutch automatic, and can cycle between 'normal', 'sport' and 'eco' drive modes.
The Elantra range is a strictly front-wheel-drive affair, as there's no option for all-wheel drive.
Fuel consumption
Toyota Camry
The Hybrid's windscreen sticker makes the bold claim of 4.2L/100km on the combined cycle, which is amazing for a big sedan. Reality isn't quite so amazing. In our week with the car, 5.7L/100km was the best I could get, but it was mostly city driving, the weather was really humid and, it turns out, this isn't a bad thing to drive, which means you're tempted to hit the throttle regularly.
As it's a typical Toyota hybrid, there isn't a plug to charge it, so you'll not be running on batteries the way you can in, say, a Hyundai Ioniq PHEV.
---
Hyundai Elantra
7/10
All 2.0-litre Elantras have claimed/combined fuel usage figures of 7.4L/100km. Against this claim I scored a very reasonable 8.0L/100km in my road test of the Active.
The 1.6-litre variants have a marginally better claimed consumption figure of 7.0L/100km against which I scored 9.0L/100km in my test of the Sport. If you're having fun, expect at least 9.0L or above. That's a compliment.
All Elantra variants happily consume regular 91RON unleaded and have 50-litre tanks. Good stuff.
Driving
Toyota Camry
All the Camry markers are here. It's easy to get in and out of and easy to get comfortable. The dash isn't too high and, uh, the steering wheel is plastic, which is genuinely disappointing. A Mazda6 (no, not a hybrid, I know) doesn't have a plastic steering wheel. The Toyota one is pretty cheap-feeling.
Pressing the start-stop button, you hear the electrics switching on and, if you're backing out of the drive, you won't hear the engine until you're on the gas driving away. You may not hear anything, but your passengers might hear your tutting. The brakes are very grabby when you're in stealth, I mean, electric mode, whether you're going forward or backwards. No doubt it's something you will become accustomed to, but it's there. Toyota hybrids seem to be behind the game on this particular score.
In every other way, the Camry is exactly as it has always been. Except it isn't. Toyota kept all the good things - it's smooth, it's quiet and it rides well. Everyone is comfortable and everything works. I've already mentioned it was stinking hot the week we had it and the Camry's air-conditioning was super-fast cold.
The bit that's different, though, is that, just like the styling, things are better. Camrys past had over-light steering, marshmallows for suspension and as much grip on the road as Kanye West has on reality. This one has body control. The steering feels good. There is actual grip and you feel like you're driving the car rather than just steering it around.
---
Hyundai Elantra
8/10
All Elantra variants are great to drive. They share excellent suspension and steering characteristics, lending them a rewarding experience in the corners while not being too stiff or too soft over bumps.
The 2.0 litre variants offer, well, acceptable power, even if they're a little on the thrashy side, and their ride comfort is boosted by sensibly sized alloy wheels and soft rubber.
Sport variants are genuinely a blast to drive. The 1.6-litre turbo has small amounts of lag, but is otherwise strong through 1500-4500rpm. Torque steer is present but manageable, and even adds a little to the excitement.
Thick (and pricey) Michelin Pilot Sport 4 tyres (225/40R18s) help keep the Elantra Sport planted and surprisingly grippy through the corners.
Road noise is acceptable but not stellar across the range. The same goes for the 10.6-meter turning circle.
Truly gone are the days where you should question whether Korean cars can be fun; the Sport and Sport premium do a better job of channeling the characteristics of Japanese sports sedans of the '90s and '00s better than most current Japanese nameplates.
On the downside, the silly flared body kit on the Sport variants limit ground clearance on ramps or speedbumps and can be prone to bottoming out. This combines with the easily scratched giant wheels to make for some nervous driving.
Safety
---
Hyundai Elantra
7/10
Here's where it gets a little tricky. Go and Active variants have no active safety features as standard, but can be equipped with the very worthwhile $1700 safety pack.
Included is auto emergency braking (AEB), which detects pedestrians and works up to freeway speeds, blind-spot monitoring (BSM), rear cross-traffic alert (RCTA), active cruise, lane departure warning (LDW) and lane-keep assist (LKAS).
Most of these features come standard on the Sport and Sport Premium grades, with the omission of active cruise control and pedestrian detection. This is because the Sport grades lack a radar system.
Standard safety includes six airbags and the regular suite of electronic stability and traction controls, as well as two ISOFIX and three top-tether child seat mounting points across the rear seats.
The Elantra carries a maximum five-star ANCAP safety rating as of 2016.
As a bonus, Go and Active variants have matching full-size spare wheels under the boot floor. Sport and Sport Premium cars have space savers.
The Elantra is built in South Korea.
Ownership
---
Hyundai Elantra
8/10
Hyundai covers its range with an on-par five-year, unlimited-kilometre warranty promise offered by most of the competition. It is outdone by its mechanical twin, the Kia Cerato,with its seven-year warranty.
Hyundai's fixed service program is one of its strong suits, with service pricing on turbo Elantra models locked between reasonable $273 to $460 costs per visit, locked all the way out to 168 months/210,000 kilometres. And even beyond that there's the optional pre-paid 'iCare' packages. Costs are slightly less for 2.0-litre cars.