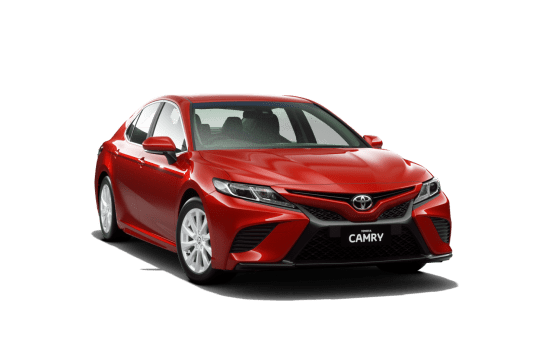 COMPARE
Toyota Camry
VS
Hyundai Sonata
---
Hyundai Sonata
Likes
Much improved looks
Cutting edge interior tech
Full-size alloy spare
Dislikes
No AEB available, at all
Big price jump to Premium
Still not a match for Mazda6 or new Camry
Summary
Toyota Camry
I've got a line of Camry jokes that stretches to Mars and back, and I'm not alone. Heck, even Akio Toyoda sledged his own company's products when he famously delcared it would produce "no more boring cars". To be fair, the company is still struggling with that promise.
The new version has, sadly, knocked some of the stuffing out of my established Camry repartee. Until today, I had not yet had a go in the new car,  and thus it was something of a shock to realise that it doesn't even look terrible any more.
My cruel colleagues, however, muttered darkly that this was still a Camry, just not as we've always known it. 
Hmmm. I'm getting too old to deal with change. This Camry Ascent Sport Hybrid had better be boring.
| | |
| --- | --- |
| Safety rating | |
| Engine Type | 2.5L |
| Fuel Type | Hybrid with Premium Unleaded |
| Fuel Efficiency | 4.2L/100km |
| Seating | 5 seats |
---
Hyundai Sonata
Australia's love for SUVs is a lot like our embrace of Netflix. EVERYONE seems to be getting on board and people love to boast that they never watch traditional free-to-air TV anymore, while fewer and fewer people are buying once-dominant sedans in favour of their boxier alternatives. 
But, there's still a good chunk of the population that prefer good old telly, and the shape of car most of us grew up with. Yes, many regular TV voters and sedan fans will be in the same camp, but that's okay. 
So if you're considering a sedan like the Hyundai Sonata, you're not alone. And like most mainstream brands, Hyundai is committed to building a range of cars to suit everyone. This commitment is so strong that you can choose between two mid-size sedans in the Hyundai stable, with the Sonata vying for your attention alongside the i40. 
The admittedly slow-selling Sonata has been given a pretty significant refresh for 2018, to help it compete with rivals like the new Camry and the Mazda6, but has Hyundai done enough? 
| | |
| --- | --- |
| Safety rating | |
| Engine Type | 2.4L |
| Fuel Type | Regular Unleaded Petrol |
| Fuel Efficiency | 8.3L/100km |
| Seating | 5 seats |
Verdict
Toyota Camry
7.4/10
It's a pity families don't buy sedans any more, because this is a terrific family car, particularly if you're not bothered by badge cache or speed, but do like an easy-to-drive, cheap-to-run car. Just a few years ago it would have been almost laughable to contemplate a car this big, for this money, being so cheap to own and run.
I'm also really annoyed that my hackneyed Camry jokes are no longer just not funny, they're not funny because they're not (as) true. No, it's not a super-fun excitement machine, but that's not the point. It is a very good car, with all the Toyota goodness of old, added warranty and the bonus of genuinely feeling good to drive. And you're a mild shade of enviro-green to go with it.
Is it true? Has the Camry shaken off most of its dowdy image?
---
Hyundai Sonata
7.3/10
The new Hyundai Sonata gets big marks for the Apple CarPlay and Android Auto, the Premium's sweet turbo engine and the fact that both variants have full size spare tyres and run on regular fuel. Oh, and Hyundai's five year warranty. 
It's a pretty good car overall, but it's a shame to see AEB missing from the spec sheet in 2018. The Premium is the clear pick between the two in terms of an overall package, but the Active's $14,500 cheaper price tag makes it the sweet spot in our eyes. The new Camry and the Mazda6 do seem to right the Sonata's wrongs though.
Would you look past the lack of AEB to buy a Sonata? Tell us what you think in the comments below. 
Design
Toyota Camry
Some key changes to the design approach on the new Camry means it's not as knock-kneed and simpering as the last, um, six or so generations.
To be fair, the previous one wasn't terrible but there are actual hints of mild bravery, with an angry front-end look, some interesting surface detailing and, even what might be called a "Lexus-lite" look for the rest of it.
The new Camry is lower, has big wheel arches that the 17s struggle to fill but it has some genuine style, rather than looking like the clay modellers knocked off before lunch. The dual exhaust seemed incongruous to me, but is, in fact, a styling win.
Jokes aside, I don't mind it at all. It's no Supra, but it's no mid-90s Camry, either. Yeah, I bet you don't remember which one I'm talking about, either.
I really like the cabin. The dash design is quite something and shows some real flair. William Chergowsky told me last year that this interior was going to be more emotional and memorable. And it really is, along with Toyota's impressive build quality. Even the volume knob feels substantial, the materials are nice but the steering wheel is... well, more of that later.
---
Hyundai Sonata
7/10
For 2018, the Sonata has been completely restyled ahead of the A-pillar to bring it in line with more recent models like the i30 and Kona. This means the new cascading corporate grille, sleeker headlights which are mounted lower due to a reshaped bonnet, bumper and front guards. 
The rear end has been similarly sharpened, with new rear quarter panels and tail-lights, while the number plate has been moved from between the lights to within the bumper. The bootlid has also been reprofiled to accentuate the Sonata's fastback roof profile.
On the inside there's an updated dash with metallic buttons under the multimedia unit, and both versions get bespoke steering and alloy wheel designs.
Practicality
Toyota Camry
The new, stretched wheelbase has meant a lot more interior space for passengers, particularly in the rear. The Camry hasn't really been small for a very long time, but this one's generous rear legroom is probably why it's a smash-hit with the Uber crowd. The seats are comfortable too, if trimmed in what appears to be neoprene.
Front and rear passengers each have a pair of cupholders for a total of four, plus there's a deep central console bin and a space under the stereo for a phone. There's even a coin slot. Each door also has a bottle holder.
The boot in the Ascent Sport is a voluminous 524 litres - the Ascent has a full-size spare that swallows up 30 litres of that space. The seats fold down 60/40, but the cargo volume when they are down is not readily available.
---
Hyundai Sonata
8/10
The Sonata was already one of the more spacious mid-size sedans around, with heaps of legroom for rear seat passengers, enough cabin width to manage three adults across on short journeys, and a surprising amount of rear headroom for its sloping roofline. The Premium does lose 40mm of headroom because of its sunroof, but rear passengers only lose 15mm.
This ample rear legroom also means more cabin length than most mid-size SUVs, which makes fitting a rearward-facing baby seat without compromising front passenger legroom a lot more likely.
There are two ISOFIX child seat mounts back there for optimum fitment as well, and the Premium's retractable door blinds are a far more elegant solution than the window socks that have become a fundamental of modern parenting.  
Front passengers get a cupholder each in the centre console, while rear occupants get the same in the fold-down armrest and there's a bottle holder in each door. 
The back seat folds 60/40 to expand beyond the generous 462 litres/510 litres VDA (even though conventional wisdom suggests the VDA figure should be smaller). The split-fold can be actioned via the cabin or boot pulls, and you'll be able to impress your friends with the hidden boot release button within the top of the H in the Hyundai badge.
One definite highlight is that both Sonatas get a full-size alloy spare wheel instead of the more common spacesaver under the boot floor.
A maximum braked tow rating of 1300kg for both versions is rather modest, however. 
Price and features
Toyota Camry
The hybrid drivetrain is available on the Ascent, Ascent Sport and SL. I had the $31,990 Ascent Sport for the week.
It comes with 17-inch alloy wheels, a six-speaker stereo (with CD player!), dual-zone climate control, cloth trim, with space-saver spare wheel, electric driver's seat, auto LED headlights, keyless entry and start, sat nav, reversing camera, active cruise control, front and rear parking sensors, an impressive safety package, power mirrors and windows. Did I mention the CD player?
The six-speaker stereo is powered from the 8.0-inch touchscreen and the software is...um...not great. Which wouldn't matter if it had Android Auto and/or Apple CarPlay but Toyota Australia stubbornly refuses to include them. The damn Seppos get it in their Toyotas, so it's not like it's impossible. But our version does have a CD player. Hipsters rejoice!
---
Hyundai Sonata
7/10
Nobody likes higher prices, but Hyundai claims to have met the $400 rise for the base Sonata Active (now $30,990 MSRP) with an extra $2000 of value. 
Extra features for 2018 include an 8.0-inch multimedia screen with in-built sat nav and Apple CarPlay and Android Auto. It also gains dual-zone climate control, push-button start, a hidden boot release button, and chrome door handles.
Other equipment highlights include a leather steering wheel and gear selector, auto headlights, a reversing camera and rear parking sensors, plus 17-inch alloys.
The previous mid-spec Elite has been dropped from the range, which creates a sizeable $14,500 gap between the Active and the $45,490 MSRP Premium (which carries the same price tag as before).
Hyundai claims the new Premium brings $1000 more value though, with the addition of LED headlights and a wireless Qi mobile phone charger on top of the updates applied to the Active.  
Beyond the Active's spec list, the Premium also adds features like leather trim, a panoramic sunroof, proximity boot opening, heated and ventilated front seats with power adjustment, plus memory settings for the driver's seat and side mirrors.  There's also active cruise control, front parking sensors, rear cross-traffic alert, auto wipers and 18-inch alloys.
While the Premium's extra features (and drivetrain advantages detailed below) are numerous, we'd find it tough to make the $14,500 jump over the Active. Hyundai sales expectations also reflect this, with the Active tipped to make up around 70 per cent of Sonatas on the road.
Engine & trans
Toyota Camry
While the standard Camry packs the same 2.5-litre four-cylinder, the Hybrid's ICE output is slightly lower, at 131kW. When paired with a hybrid motor, the total power figure is a pretty decent 160kW, but the torque figure appears to be unaffected, at 202Nm. Toyota doesn't quote combined torque figures, because it's tricky with the type of transmission it uses.
The front wheels are driven by Toyota's favoured e-CVT, with six artifical steps to make it feel like a proper auto, if you're feeling racy.
---
Hyundai Sonata
7/10
The biggest news under the new Sonata's bonnet is the eight-speed torque converter auto fitted to the Premium. Stepping up from the six-speeder used before, Hyundai claims it improves fuel consumption (more detail below) from the 2.0-litre turbo-petrol four-cylinder unit that still makes a very healthy 180kW of power and 353Nm of torque. 
The Active's drivetrain is unchanged though, with the same 138kW/241Nm 2.4-litre petrol four-cylinder engine, paired with a six-speed torque converter auto. 
Fuel consumption
Toyota Camry
The Hybrid's windscreen sticker makes the bold claim of 4.2L/100km on the combined cycle, which is amazing for a big sedan. Reality isn't quite so amazing. In our week with the car, 5.7L/100km was the best I could get, but it was mostly city driving, the weather was really humid and, it turns out, this isn't a bad thing to drive, which means you're tempted to hit the throttle regularly.
As it's a typical Toyota hybrid, there isn't a plug to charge it, so you'll not be running on batteries the way you can in, say, a Hyundai Ioniq PHEV.
---
Hyundai Sonata
7/10
The Sonata Premium's new automatic knocks 0.7L/100km off its official combined figure, which now stands at 8.5L/100km. 
The Active's simpler but less peppy drivetrain is still the better of the two, with an unchanged 8.3L/100km combined.
Neither figure may appear particularly frugal, but this would be offset to a large degree by the fact that both engines still deliver their best sipping regular old 91RON unleaded fuel. 
Considering 91 is a full 13.2c/L cheaper than premium 95RON on average across Sydney this week, the Sonata goes some way toward balancing key rivals' lower windscreen sticker numbers at the hip pocket.
Driving
Toyota Camry
All the Camry markers are here. It's easy to get in and out of and easy to get comfortable. The dash isn't too high and, uh, the steering wheel is plastic, which is genuinely disappointing. A Mazda6 (no, not a hybrid, I know) doesn't have a plastic steering wheel. The Toyota one is pretty cheap-feeling.
Pressing the start-stop button, you hear the electrics switching on and, if you're backing out of the drive, you won't hear the engine until you're on the gas driving away. You may not hear anything, but your passengers might hear your tutting. The brakes are very grabby when you're in stealth, I mean, electric mode, whether you're going forward or backwards. No doubt it's something you will become accustomed to, but it's there. Toyota hybrids seem to be behind the game on this particular score.
In every other way, the Camry is exactly as it has always been. Except it isn't. Toyota kept all the good things - it's smooth, it's quiet and it rides well. Everyone is comfortable and everything works. I've already mentioned it was stinking hot the week we had it and the Camry's air-conditioning was super-fast cold.
The bit that's different, though, is that, just like the styling, things are better. Camrys past had over-light steering, marshmallows for suspension and as much grip on the road as Kanye West has on reality. This one has body control. The steering feels good. There is actual grip and you feel like you're driving the car rather than just steering it around.
---
Hyundai Sonata
7/10
Given the unchanged engines and suspensions, the Sonata drive experience is largely the same as before. 
Which is no bad thing. It steers and handles better than you'd expect from a car developed primarily for the Korean and US markets, cabin noise is well contained and generally just does a good job.
It lacks the sporting edge of the Mazda6, but it's not hard to imagine most buyers in this segment would probably prefer it that way. The Australian-tuned suspension also does a better job of maintaining comfort over rough roads.
The Premium's new eight-speed auto does a good job, too, and really helps the engine come alive when you put it in Sport mode. 
It'd be really nice to have the Premium's turbo urge in the Active, but its drivetrain is par for the course in its price bracket and more than enough to keep up with traffic and handle the open road. 
Safety
---
Hyundai Sonata
7/10
The previous version of the Sonata was awarded a maximum five-star ANCAP safety rating in 2015, but we're surprised to see that AEB still doesn't appear on either version of the updated model, even as an option. 
Most of the Sonata's main rivals have this key crash avoidance tech fitted standard these days, and it's even available on US-market versions of the Hyundai. 
Hyundai Australia explains that the Korean plant that builds our Sonatas doesn't equip them with AEB for their home market, and the numbers just don't add up for Down Under. 
Aside from this omission, both versions come fitted with all other current status quo features, including front and side airbags, with curtain airbags covering both rows, ABS, as well as traction and stability control. 
The Premium adds driver fatigue alerts, blind-spot detection, lane guidance, lane departure warning, rear cross-traffic alerts and active cruise control.
Ownership
---
Hyundai Sonata
8/10
The Sonata is covered by Hyundai's generous 'iCare' ownership program that includes a five-year/unlimited kilometre warranty, including free roadside assistance for the first 12 months. 
Service intervals differ between the trim levels, with the Premium's turbocharged engine requiring a visit to the mechanic every 12 months or 10,000km, while the Active's simpler drivetrain stretches out to every 12 months or 15,000km.
The Sonata comes with a lifetime capped price servicing program, with the Active's pricing during the warranty capped at $265 (each) for the first three services, a $365 major service, with the final reverting to $265. 
The Premium is not dissimilar, with its first three services capped at $275, then a major service for $355, before dropping back to $275.