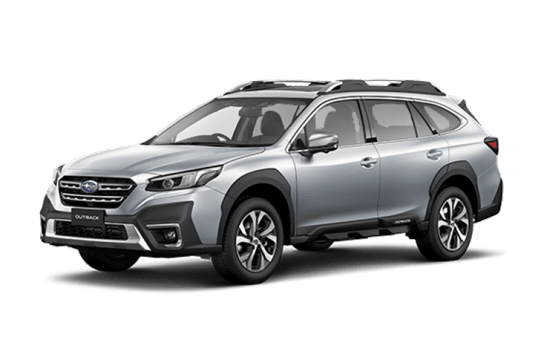 COMPARE
Subaru Outback
VS
Hyundai Tucson
Subaru Outback
Likes
Strong value
Great practicality
Lots of safety tech
Dislikes
No hybrid option
No turbo engine
Not as fun as some rivals
---
Hyundai Tucson
Likes
Interesting design
Nice interior in all grades
Bigger and comfier for passengers
Dislikes
No hybrid or EV tech at all
Halogen headlights on two of three grades
Prices getting up there
Summary
Subaru Outback
It never used to be like this. Families used to choose a station wagon or estate car because that body style was the smartest choice. Maybe not the most desirable choice, but wagons were, and always have been, pragmatic.  
And then SUVs came on the scene. People thought they needed these stylised hatchbacks to sit higher in traffic and live out their "weekend warrior" image. Oh, those "active lifestyle" types. And in recent times, SUVs have become the go-to – accounting for half of all new vehicle sales in 2020.
But the Subaru Outback 2021 is here to stand up to those wannabe SUVs, with its own take on the up-high recipe. Admittedly it's not like the Subaru Outback approach to the SUV formula is new – this is the sixth generation version of the venerable high-riding wagon, but this new model is apparently more SUV than ever. Subaru Australia even calls it a "true blue, mud in its blood all-wheel drive SUV". 
So does it have what it takes to stand out in the crowd? Let's dive a little deeper and find out.
| | |
| --- | --- |
| Safety rating | |
| Engine Type | 2.5L |
| Fuel Type | Regular Unleaded Petrol |
| Fuel Efficiency | 7.3L/100km |
| Seating | 5 seats |
---
Hyundai Tucson
The Hyundai Tucson 2021 range has arrived, and it follows the well-trodden path of its predecessor. Sure it's much more high-tech inside, has more advanced safety technology than ever, and is also roomier and better packaged, too. But has it stuck too close to the traditional formula for an all-new car in 2021?
The new Tucson retains the choice of a couple of petrol engine and a diesel powertrain, and there is no sign of electrification in any form whatsoever - no mild hybrid, no hybrid tech at all, no electric version and no chance of any such car in the near future, either. Hyundai says there are insurmountable barriers to introduce such cars at viable prices.
"Imagine tomorrow's car, today". That's the marketing tagline for this all-new Hyundai Tuscon, but if I think about tomorrow's car, it certainly doesn't have zero electrification as part of its model strategy. 
And the market clearly isn't thinking that way either, with the Toyota RAV4 accounting for more than one-in-four sales in the medium SUV segment (of which, more than 60 per cent are hybrid).
That may not matter to you, and mid-size SUV sales suggest that about 85 per cent of current mid-size SUV customers are buying petrol and diesel models. 
But with new competition coming soon with electrification as part of their arsenals, like the all-new Nissan X-Trail and the new-generation Mitsubishi Outlander, and established rivals like the RAV4 Hybrid and Subaru Forester Hybrid playing alongside challengers such as the MG HS PHEV, has Hyundai really brought us a glimpse of tomorrow with the new Tucson? Or is it more like yesterday's tech in a present-day package?
| | |
| --- | --- |
| Safety rating | |
| Engine Type | 2.0L |
| Fuel Type | Regular Unleaded Petrol |
| Fuel Efficiency | 8.1L/100km |
| Seating | 5 seats |
Verdict
Subaru Outback
7.9/10
The sixth-generation, 2021 Subaru Outback has incrementally improved the large wagon-slash-SUV, with a number of important steps forward including better safety tech, a more powerful engine and smarter cabin. A turbo or hybrid powertrain would sweeten the deal even further.
I don't know that you'd really need anything other than the base model Outback AWD, which seems like a truly great value offering. It'd be our pick of the range.
---
Hyundai Tucson
7.8/10
The Hyundai Tucson cuts a fine figure and has a very interesting interior that is more practical and likeable than the existing model. But there are some elements of the range that don't stack up, like those old-school engines that certainly don't make it feel like "tomorrow's car, today".
Without driving the turbo-petrol and turbo-diesel models it's hard to make a definitive call on the pick of the range, but one thing's for sure - it isn't a Tucson with the 2.0L engine.
We look forward to spending more time in the other Tucson grades, and giving you different perspectives.
Design
Subaru Outback
7/10
It's an all-new car. It doesn't necessarily look like it, and in fact – to my eye – it's not as attractive as the fifth-generation model, which was an expert in being inoffensive, where this model has a few more design-lead changes that might divide opinions.
You won't mistake it for anything other than an Outback, as it has that typical rugged high-riding wagon look that we've come to expect from it. But it's almost like this is a facelift rather than an all-new car.
Like, literally – the features have all been cinched back at the front, and the wheel-arches have been tweaked so they stand more at attention… it literally looks like an age-denying citizen's approach at looking younger. A bit too much Botox? Tell us what you think the comments below.
But there are still smart design highlights, like the roof rails with integrated roof racks that are stowable/deployable in the base and top models, while the mid-spec model has a fixed roof rack system. 
The fact all models have LED lighting all-around is nice, while the 18-inch wheels… well, none of them are to my taste. To me, they just aren't as youthful as some of the other elements of the car are trying to elucidate.
And the rear-end treatment? Well, that's the only spot where you're most likely to confuse it with another car… and that doppelganger would be a Forester.
On the inside there are some really nice design changes, though. Check out the interior pictures below.
---
Hyundai Tucson
9/10
It's larger, more accommodating and more interesting to look at than ever before. The new Tucson is nothing like the old one in terms of its design, and you're either going to love it at first sight, or it's going to grow on you. 
Your neighbours won't confuse it with a RAV4, Forester, X-Trail or Outlander, that's for sure - despite the fact it's closer to those models in size than ever. 
The new Tucson spans 4630mm on a longer 2755mm wheelbase, and it's 1865mm wide and 1665mm tall. 
That represents a sizeable shift compared to the previous model (4480mm long, 2670mm wheelbase, 1850mm wide and 1660mm tall). 
The new-generation Tucson is boldly different in its styling, with some eye-catching lines and interesting angles to it. Are you a fan? Tell us in the comments section!
The front end has a really interesting design, with daytime running lights that seemingly disappear into the wide grille - they're amazingly integrated and really, really interesting to look at. They're dull in Park, but in Drive or Reverse they're brighter. Neat.
It's a real head-turner from a forward-facing perspective, but - as mentioned above - in the two lower grade models you don't get LED headlights unless you option the N Line Pack, and as you can see, the yellow lighting really cheapens the look.
In profile is where you might be amazed by the metalwork, and you mightn't be all that surprised to learn the same man who oversaw the design of this car also penned some of the most iconic, triangulated Lamborghini models. 
You've gotta hand it to Hyundai's steel pressing team, the creases and sharp edges here are spectacular. I just hate to think what could come of them with a few shopping centre car park dings.
Wheel size and design varies by model, 17s on the base car, 18s on the mid-spec Elite, and 19s on the top-spec Highlander - while N Line Pack versions all get identical 19s. 
The back end almost looks like a Mustang (or a Kia Sorento), but with a bold light strip across the tailgate it has its own look. But again, the lack of standard LED lighting on the lower grades isn't awesome. I also don't love the way the Tucson badge sits at an angle, but that's just being nitpicky. 
While it's all sharp lines and edgy bits on the outside, the interior design is almost at odds with the exterior. 
It's soft, with rounded design elements, swooping trim features and an interesting story with the screens offered - the base car gets a smaller media screen, the mid-spec gets the big media screen but still analogue dials, and the top-spec has the full digital look. Is that good enough in 2021? You be the judge.
What's for sure and certain is that the exterior and interior design offer something interesting enough to shake up the segment, while also offering better practicality and convenience for customers. Check out the interior images below.
Practicality
Subaru Outback
9/10
Subaru has taken some pretty big steps when it comes to changing the interior of the Outback, with the most prominent change being front and centre of the cabin – that huge new 11.6-inch touchscreen media system.
It's a really interesting looking piece of technology, and like the existing media screen in the Outback, is crisp, colourful and offers quick response times. It's something that takes a little bit of getting used to – the fan controls are digital, for instance, but there are buttons either side of the screen for temperature control – but once you've spent some time with it, you'd be surprised just how intuitive it all is.
The Apple CarPlay worked a treat, connecting up without hassle. And while it isn't wireless CarPlay, we haven't yet tested a car with that tech that's worked as it should… so, yay for cables!
There are two USB ports below the screen, and two additional charging ports in the back seat centre section as well. That's good, but there's no wireless charging pad at all, which isn't great.
And while the big screen has done away with the multiple screen layout and the huge number of buttons in the old car, the new one still has a number of buttons on the steering wheel, which are easy to learn too. I had some trouble acclimating to the blinker stalk, with the one-touch indicator trigger seemingly being a bit too hard to activate at times. It's a quiet "ticker", too, so there were a few times when I was driving with my indicator on for ages without realising it.
Storage is mostly really well considered in the Outback, with bottle holders and storage sleeves in all four doors, plus a pair of cup holders between the front seats (they are a little large if you prefer a small takeaway coffee), and in the back there's a fold-down centre armrest with cupholders, too.
The front also has a small storage section below the media screen (not quite large enough for a large-format smartphone), plus there's a covered centre console bin, and the dashboard design may have been inspired by the RAV4, as there's a neat little rubberised shelf in front of the passenger where you could put a phone or wallet. 
In terms of space for occupants, taller people will be fine in the front or the rear. I'm 182cm or 6'0" tall, and I managed to find a comfortable driving position, and was able to sit behind it with ample knee room, toe room and head space, too. The width is great, too, with plenty of room across the cabin. Three of me could easily fit side by side, but if you have children you'll be happy to know there are two ISOFIX and three top-tether points for baby seats.
The back seat occupants should be kept happy as there are directional vents in all grades, while the top two specs score rear outboard seat heating, too. Nice.
There are some other nice inclusions for rear seat occupants, including recline adjust for the backrests of the seats, and the seatbelts are set in such a way that they should never get in the way when you lower the back seats down (60:40 split fold, actuated by triggers in the boot area).
Speaking of the boot space, there's plenty. The new Outback offers 522 litres (VDA) or cargo capacity, with is 10L more than before. Plus, as mentioned, the seats fold flat to allow 1267L of luggage capacity. 
Equivalent mid-size SUVs priced close to the Outback can't match it for practicality, and the cabin's look and feel is greatly improved over the previous model. It's a very nice place to spend time.
---
Hyundai Tucson
8/10
The interior of the new Tucson is a massive departure from the existing model, and while it's all swoopy looking inside, a lot of thought has gone into the fit, finish, materials and perceived quality.
This interior treatment with the curvaceous dashboard finish is reminiscent of some luxury brands in its application, with large elongated vent finishes and lots of premium high-quality feeling materials.
In the Highlander model with the digital dashboard (or any grade with the N Line pack), you might think that a screen without any form of cowl to shadow the instruments from the sun could lead to some glare issues – but that didn't seem to be the case during our time in the car. 
The more conventional instrument cluster design found in the base and mid-grade cars is fine, but not quite as 2021.
The media screen is – depending on the model – quite good. The lower grade version runs an 8.0-inch screen that doesn't have sat nav and uses only wireless Apple CarPlay (you cannot use USB-connect for CarPlay), and the screen is a little fidgety. 
I tried for 10 minutes to get my phone (an iPhone XS) to work with it, and even with one of Hyundai's tech guys there, it simply wouldn't connect. My co-driver's iPhone 12 Pro hooked up instantly. Be sure to test your phone in the dealership. 
The screen in that base car does look a little less appealing and less impressive than in the higher grades with the 10.25-inch screen - it has a lower resolution display, but at least there are tuning and volume dials. 
The higher-spec screen has a series of touch-sensitive buttons for volume and tuning (and all other operations) which can be hard to hit on bumpy roads.
Around the infotainment screen - no matter the grade - is a swathe of piano black trim, while the dashboard has neat cloth trim across the top, and the doors mirror that trim finish. 
The seats - cloth in the base car, leather in the higher grades - are comfortable and offer good adjustment.
I'm not a huge fan of the look of the steering wheel, but the controls fall to hand easily enough, with cruise, active safety and volume / tuning adjustments all possible at the driver's fingertips. Maybe the lack of knobs and dials isn't that big an issue, then?
The cabin has very good storage throughout, including large bottle holders with storage caddies in the doors (front and rear), while up front there is a pair of cupholders between the seats, a wireless phone charger storage tray front of the shifter and another small storage section for your wallet and keys. There's also a covered centre console bin and a reasonably sized glove box. 
In the back there are mesh map pockets and a flip down armrest with cupholders in all three grades, plus there are directional air vents for all models, and a pair of USB ports for charging devices (plus two more up front).
The rear seat space is exceptional for adults. I'm 182cm / 6'0" tall, and easily fit behind my own driving position. Legroom is excellent, toe room generous and headroom good, even with the panoramic sunroof in the top-spec model. The width of the cabin is better than the last model, and you can fit three across if you need to.
If your rear seat passengers are smaller/younger, there are two ISOFIX child seat anchor points and three top tether points. And, happily, the rear doors open almost 90 degrees, allowing easy load-in and step-in for occupants of all ages.
The boot space is claimed to be 539L (VDA) which is very good for the class, and we managed to fit the CarsGuide luggage and a folding pram in the cargo zone with a little bit of room to spare. 
Speaking of spare, there is a full-size alloy under the boot floor of every single version of the Tucson, which is a big tick for country and rural buyers.
Those rear seats do fall flat to allow up to 1860L (VDA) of flat storage space. Very accommodating. 
Is there a Hyundai Tucson seven seater? Nope - there's no model with third row seats. They'd probably fit, but there's a Hyundai Santa Fe for that!
Price and features
Subaru Outback
9/10
The Subaru Outback range remains a value-focused option for customers out there who want a lot of car for their money. 
It still starts under forty grand in sixth-generation guise, though prices have gone up somewhat compared to the old model, which Subaru says is justified by additional equipment and safety technology.
All models have the same powertrain, so it's purely gear and goodies that separates the three variants: the entry-level Outback AWD ($39,990), mid-range AWD Sport ($44,490) and top-spec AWD Touring ($47,490). Those prices are MSRP/list pricing, before on-road costs.
Now, here's a rundown of the range.
The base model AWD comes with 18-inch alloy wheels and a full size alloy spare, roof rails with stowable roof rack cross bars, LED headlights, LED foglights, push-button start, keyless entry, electric park brake, rain-sensing wipers, heated and power-folding side mirrors, fabric seat trim, leather steering wheel, paddle-shifters, electric adjustment for the front seats, rear seats with manual recline, and a 60:40 split-fold rear seat with boot release levers.
The AWD entry-level car – and both the variants above – have a new 11.6-inch touchscreen media screen in portrait layout, which incorporates Apple CarPlay and Android Auto smartphone mirroring tech. There are six speakers standard, as well as four USB ports (2x front, 2x rear).
The next model up the range is the AWD Sport, which – like the Forester Sport model – gets a number of aesthetic changes to help split it from its stablemates.
They include model-specific dark 18-inch wheels, black exterior trim changes, fixed roof rails, a power tailgate, water repellent interior trim with green stitching, heated front and outboard rear seats, sports pedals, light-sensing headlights (auto on/off) and it gets sat nav as part of the media screen, too. This grade scores a front view and side view monitor for parking/low speed driving, too.
The top-end AWD Touring has a few luxury-focused extras over the other grades, including an electric sunroof, Nappa leather interior trim, a heated steering wheel, auto dipping passenger side door mirror, memory settings for driver's seat, satin finish door mirrors, silver highlight roof rails (with stowable crossbars), and gloss-finish wheels. 
The interior also upgrades the stereo in this grade to a nine-speaker harman/kardon setup with subwoofer and single CD player. All grades have DAB+ digital radio too.
All grades have an array of safety technology, including a driver monitoring system that will warn you to keep your eyes on the road and monitor for signs of drowsiness, and in the top-spec model includes face recognition that can adjust the seat and side mirrors for you.
All models come with a reversing camera, Subaru's EyeSight forward facing camera system that incorporates AEB, lane keeping, adaptive cruise control and more. There are full details on the safety systems and their operability in the section below.
Things missing from any grade of Outback? It would have been nice to have a wireless phone charger, and there are no traditional parking sensors, either.
Overall though, there's a lot to like across multiple grades, here.
If you're interested in colours (or colors if you prefer), then you might be intrigued to know there are nine colours available. Two can't be had on the AWD Sport grade - Storm Grey Metallic and Crimson Red Pearl – but it can be had in any of the remaining colours, as can the other trim levels: Crystal White Pearl, Magnetite Grey Metallic, Ice Silver Metallic, Crystal Black Silica, Dark Blue Pearl, and the new Autumn Green Metallic and Brilliant Bronze Metallic.
The best news? None of the colour choices will cost you any extra money!
---
Hyundai Tucson
7/10
The Hyundai Tucson has long been one of the value players in the mid-size SUV market, often with drive-away deals done for less than thirty grand.
That's not going to be the case this time around, with prices up across the board, and while there have been a number of additional safety items added, some of the exclusions seemingly make the inclusions and price adjustments look  a little bit questionable.
Here's a price list to help you understand the range - it's a little complicated. Oh, and yes, the base model is known simply as Tucson, with the mid-spec model the Elite and top-end grade being the Highlander.
| | | | |
| --- | --- | --- | --- |
|   | Tucson (MSRP) | Elite (MSRP) | Highlander (MSRP) |
| 2.0 MPi 2WD | $34,500 | $39,000 | $45,000 |
| 1.6 T-GDi AWD |   | $43,000 | $50,000 |
| 2.0 CRDi AWD |   | $45,000 | $52,000 |
As you can see, there's one powertrain for the base model, and three engine options for the mid- and high-grade versions.
Standard equipment for the Tucson grade includes: halogen headlights, LED daytime running lights, 17-inch alloy wheels, a leather steering wheel, 8.0-inch touchscreen media system with wireless Apple CarPlay and Android Auto, four USB ports, tyre pressure monitoring, a 4.2-inch driver info screen, drive mode selector (Eco, Normal and Sport), cloth seat trim, manual adjust front seats, manual air-conditioning, turn key ignition, auto folding door mirrors, and 'premium door and dash trim.' 
The Tucson grade scores a reversing camera, rear parking sensors, and an array of active safety technology that helps justify the price increase - read about that in the safety section below. 
The Elite grade scores plenty of extras including 18-inch alloy wheels, keyless entry, push-button start, leather seat trim, heated front seats, power drivers seat adjust, dual-zone climate control, rain-sensing wipers, rear tinted glass, a larger 10.25-inch touchscreen media system with sat nav - plus a couple of added safety items. But you're still getting halogen headlights on a car approaching $50K on the road. Yikes.
Topping the range for now is the Highlander variant, again available with a choice of three powertrains - but those prices are getting high. 
Features include 19-inch wheels, LED headlights, LED rear lights, LED interior mood lighting, heated and cooled front seats, heated rear seats, a heated steering wheel, a 10.25-inch digital instrument cluster, Bose sound system, power tailgate, a panoramic sunroof, a 360-degree surround view camera, and something called a 'passenger walk-in device', which is a set of electric seat adjustments on the front passenger seat that the driver can control.
Diesel versions also get the 'Remote Start Parking Assist System', which means you can park the car using the key. Watch Richard Berry's review of the Kia Sorento to see how that works. 
I think it's really poor Hyundai is offering halogen lights (they're not very good on dark roads, I tested them!) on a car featuring so much other new tech. And if you hate that as much as me, fear not - there is a way around it.
Buyers can option the N Line pack on all grades, and here's a rundown of the prices with that pack:
| | | | |
| --- | --- | --- | --- |
|   | Tucson w/ N Line Pack (MSRP) | Elite w/ N Line Pack (MSRP) | Highlander w/ N Line Pack (MSRP) |
| 2.0 MPi 2WD | $38,000 | $41,000 | $47,000 |
| 1.6 T-GDi AWD |   | $45,000 | $51,000 |
| 2.0 CRDi AWD |   | $47,000 | $53,000 |
The model grade you apply the pack to will determine the extra equipment you get. And it actually looks like pretty good value for all grades, with the Tucson adding $3500, the Elite adding $2000 and the Highlander $1000. 
The brand reckons 50 per cent of customers will choose the pack - I'm not so sure that'll be the case.
But what you get is worth the money. In the Tucson you add 19-inch alloy wheels, leather and suede seats, a 10.25-inch digital instrument cluster, LED front and rear lights including auto high beam lighting, gloss black grille, N Line skid plate design, N Line badging and the N Line sports body kit.
For the Elite, the changes are identical. For the Highlander, you're switching 19s for 19s, and you already have all the LED lighting, the 10.25-inch driver screen, so it's more a cosmetic upgrade inside and out. But for $1000 it's enticing.
In a hurry to get your new Hyundai Tucson, and after one that's not a 2.0L petrol? There's bad news. The Tucson 1.6T AWD won't arrive until June, while the 2.0D AWD models will be here in the third quarter, along with any models fitted with the N Line Pack.
Colour choices for the Tucson range include: 'Shimmering Silver', 'Amazon Grey' (actually dark green), 'Silky Bronze', 'Deep Sea Blue', 'Crimson Red', 'Titan Grey', 'White Cream' and 'Phantom Black.' Only white is no cost, the rest are $595.
For the Tucson grade the interior is black cloth, while Elite has black leather interior trim. The Highlander can be had with black leather, grey leather, or brown leather trim. 
Changing from black to the other colours adds just $295 to the price. 
Engine & trans
Subaru Outback
7/10
The engine in all Subaru Outback 2021 models is a "90 per cent new" 2.5-litre four-cylinder "boxer" horizontally opposed petrol engine.
The motor produces 138kW of power (at 5800rpm) and 245Nm of torque (from 3400-4600rpm). Those are modest increases – 7 per cent more power and 4.2 per cent more torque – compared with the old Outback. 
It is only available with a "refined" Lineartronic continuously variable transmission (CVT) automatic, but all grades come with paddle-shifters as standard, so you can take matters in to your own hands – Subaru says there's an "eight-speed manual mode".
Towing capacity for the Outback range is 750kg for an unbraked trailer and 2000kg for a braked trailer, with a 200kg down weight for the tow bar. You can option a towbar as a genuine accessory.
Now, the elephant – or elephants – in the Outback are that it doesn't launch with a hybrid powertrain, which means it's falling behind the class leaders (yes, we're talking about the likes of the Toyota RAV4, but even the Forester has a hybrid powertrain option!).
And the old diesel engine has been axed, plus there's no six-cylinder petrol variant as there was in the previous model.
Plus while other markets get a four-cylinder turbo engine (a 2.4L with 194kW and 375Nm), we don't have that option here. So, it's naturally aspirated 4-cyl petrol power, or bust.
---
Hyundai Tucson
7/10
All combustion engines for an all-new car? Seems a bit yesterday to me. Here are the details of what's on offer.
The entry level engine is a 2.0-litre petrol four-cylinder unit (2.0 MPi 2WD), producing 115kW of power (at 6200rpm) and 192Nm of torque (at 4500rpm). 
This multi-point injected motor is new to the Tucson line-up, but replaces the existing 2.0L direct-injection engine, which actually had more power (122kW) and more torque (205Nm). And keep in mind, this new Tucson is larger and heavier than its predecessor.
The 2.0 MPi model is fitted with a standard six-speed automatic transmission, and is front-wheel drive (FWD/2WD).
Stepping up the range of engines sees you arrive at a downsized 1.6-litre turbo-petrol four-cylinder engine, referred to as the 1.6 T-GDi, producing 132kW of power (at 5500rpm) and 265Nm of torque (from 1500-4500rpm). That's just 2.0kW more than the old model.
It still runs a seven-speed (dry) dual-clutch automatic transmission, and it has on-demand all-wheel drive (AWD). 
The top-end 2.0-litre four-cylinder turbo-diesel engine (2.0 CRDi) is a bit of a step up in performance, hence its higher cost. 
Its power output is 137kW (at 4000rpm) and 416Nm (2000-2750rpm). That's 1kW and 16Nm more than before, and the engine is 20kg lighter than before because now it runs an aluminium engine block (was cast iron).
It has a standard-fit eight-speed automatic transmission with on-demand all-wheel drive. Diesels also get a 'Terrain' mode for unsealed road driving.
So, where is the mild-hybrid, hybrid, plug-in hybrid, electric or any form of EV model? Not here, and probably not coming.
Hyundai Australia says local cars come from the plant in South Korea, and importing any of the electrified versions from Europe would be cost prohibitive.
Our test only included time in the 2.0 MPi 2WD. See the driving section for impressions.
Fuel consumption
Subaru Outback
7/10
The official combined cycle fuel consumption figure – that's the claimed fuel economy the brand reckons you should achieve across a mix of driving – is stated at 7.3 litres per 100 kilometres.
That's pretty good, and it's aided by the engine's start-stop technology that even has a readout that tells you how many millilitres of fuel you're saving when it's active. I like that.
In our real world testing we saw a return – at the pump – of 8.8L/100km across highway, urban, back road and traffic jam testing. That's not bad, but in similar driving in a Toyota RAV4 hybrid I've seen economy of about 5.5L/100km.
We assume Subaru Australia will add a hybrid version of the Outback at some point (like it has with the XV Hybrid and Forester Hybrid), but at this point in time, the petrol engine is your only choice.
Fuel tank capacity is 63 litres, and it can take 91RON regular unleaded.
---
Hyundai Tucson
7/10
Fuel consumption figures vary by drivetrain, as you'd expect. But you mightn't expect that one of these new powertrains is actually less fuel efficient than before.
The 2.0 MPi (replacing 2.0 GDi) has official combined cycle fuel consumption of 8.1 litres per 100 kilometres, which is 0.2L/100km higher than its predecessor.
The 1.6 T-GDi AWD model has an official fuel consumption of 7.2L/100km. It used to have an official figure of 7.7L/100km.
The 2.0 CRDi diesel AWD fuel consumption figure is 6.3L/100km. Last time around, the number was 6.4L/100km.
Obviously the fuel economy figures might not be representative of what you see in the real world, but during our test in the Tucson 2.0L models we drove, the figure we saw was 8.2L/100km. Note: a lot of that time was highway and country driving.
On the whole, the fuel consumption is class-adequate, but sets no new benchmarks.
Driving
Subaru Outback
8/10
If you've driven a previous-generation Subaru Outback, you're not going to feel like this is unfamiliar territory.

That's because this version, well, it sticks to the formula. Even if you've driven the new Forester, it might feel pretty familiar.
Much of that comes down to the engine and transmission. The 2.5L four-cylinder boxer is a strong engine, but not a punchy one. It offers good response and smooth power delivery for the most part, and it will push you back in your seat if you plant your foot, but not in the same way a petrol-electric hybrid or a turbocharged four-cylinder might.
And while there is still some Subaru "boxer" rumble from under the bonnet, it's largely a pretty hushed place to be when you're driving it in normal circumstances. If you accelerate hard you'll hear the engine more, and that's down to the behaviour of the CVT automatic.
Some people will hate it because it's a CVT, but Subaru does a pretty good job with these transmissions, and in the Outback it's as inoffensive as they come. And yes, there is a manual mode with paddle shifters if you want to take matters into your own hands, but for the most part, you shouldn't really need to.
The steering is direct and offers good weighting and response, pivoting pretty well in corners while also allowing you to turn the car easily when you're parking. There's not much feel to the steering, but that's not what this car is about, and thankfully the trademark Subaru visibility from the driver's seat means it is easier to park than some other SUVs out there. 
The ride is mostly good, with a supple character that is more about comfort than anything else. It's a little more softly sprung and a touch underdamped than some people might like, meaning it can be a little wobbly or jittery depending on the road, but I think it's the right balance for the intent of the car – a family wagon / SUV that has some potential off-road chops.
It is all-wheel drive after all, and there is Subaru's X-Mode system – with snow/dirt and deep snow/mud modes – that should be helpful if you find yourself off the beaten path. I did some light gravel track driving in the Outback, and found its 213mm ground clearance to be plentiful, while the suspension was pretty well sorted.
---
Hyundai Tucson
7/10
Expecting a big leap forward here? Sadly, that's not the case.
This all-new Tucson hasn't been tuned to Australian tastes. Usually the brand tweaks and adjusts the suspension dampers and springs, as well as the steering tune, to suit our specific local desires. That didn't happen this time around.
Blame COVID-19, but the brand has instead adopted a global tune, developed in the Korean company's Namyang HQ, which has apparently passed rigorous testing Down Under.
Maybe the standards have changed, but this new model doesn't drive "like an Australian Hyundai drives." 
I've driven every single locally-tuned Hyundai product on sale today, and I can tell you the character and competency of this driving experience is different.
It's softer, a bit wobblier, and a bit more conservative. It's not as fun, not as tight and turnable, and feels a lot more targeted towards different tastes than the brand's other interpretations. 
The steering is light and lacks the directness and weighting that most other Hyundais have. It feels a lot less communicative, and just less likeable on the whole. 
Plus it's light and requires quite a bit of twirling at lower speeds, and the turning circle diameter is 11.8m, which is big for this size of SUV.
And the suspension tune might be fine for those who just drive on freeways or urban roads, but country road corners showcased noticeable body roll, and mid-corner bumpy sections made the back end feel skittish. 
There is some pitter-patter over pockmarks, but on the whole, the suspension is fine. It's just that during turning manoeuvres at speed, it doesn't quite offer the level of control or balance we'd like to see. 
We haven't even got to the worst part of the drive yet, which is that 2.0-litre engine.
As mentioned above, the 2.0 MPi 2WD models were the only versions available to test at the launch drive, and if you're in the market for a new Tucson you should wait to drive one of the other versions.
I don't recall the 2.0 GDi in the last model being anywhere near as breathless as this "new" multi-point engine, and indeed, it was at times frustratingly sluggish in its response. 
Up hills or when trying to overtake there was just not enough power and torque to give you the confidence you'd want, and the at-times confused six-speed automatic made things even more annoying, jumping between fourth, fifth and sixth gears in the hope of saving fuel.
You can (almost) get around it by selecting 'Sport' mode, which makes the transmission hold gears, or you can choose manual mode and dictate terms. But even then, it's not like the motor gains 20 horsepower - it just revs harder. 
As I said, if you just do flat-road highway commuting or drive around town at urban speeds, the engine might be fine. But ask anything more than the bare minimum of it, and you won't be rewarded. 
At least (when you're not wringing its neck) the engine is quiet, and there's an excellent level of noise insulation in the cabin for rough country roads, too.
One other observation was that, in the base model car, the rearview mirror (not auto-dimming) is considerably more prone to vibration than in the top-spec version, which is the only grade to get an auto-dimming rearview mirror. It can be more distracting than you'd expect.
It might all sound like bad news. But I need to make it clear this car drives better than some of the elder statesmen in the class. I'd have it over an Outlander or X-Trail, even with the 2.0L engine.
However, Hyundai has forged a path in this market to the point that we've come to expect more of the brand, and that it hasn't really delivered on its potential is what's most disappointing. Maybe the 1.6T and 2.0D models will change that. I look forward to finding out.
Safety
Subaru Outback
9/10
There is no ANCAP crash test safety rating as yet for the 2021 Outback range, but it has a lot of the technology and safety goodies that customers shopping for a family SUV or wagon would expect. 
As standard there is Subaru's EyeSight stereo camera system that reads the road ahead, and it incorporates forward/front autonomous emergency braking (AEB) for vehicles that works between 10km/h and 160km/h. There's also pedestrian AEB (1km/h to 30km/h) and cyclist detection and AEB (60km/h or less), and it has lane keeping technology with emergency lane keep assist that can swerve the car to avoid impacts with cars, people or cyclists (approximately 80km/h or less). Lane departure prevention works from 60km/h to 145km/h.
All grades also get blind spot monitoring with rear cross-traffic alert, adaptive cruise control, a driver monitor camera that watches the driver and warns them if they're not paying attention to the road or starting to get drowsy (the top-spec model's version of this also includes seat and mirror adjustment memory based on your face!), plus there is speed sign recognition, too.
All grades have a reversing camera, while the top two specs have front view and side view cameras, but none have a 360-degree surround view camera. All models also have rear AEB, a system Subaru calls reverse auto braking (RAB) that can halt the car if it detects there's something behind it when you're backing up. It also doubles as reversing sensors for all grades, but none have front parking sensors.
And there are other elements to the safety matrix, including Lead Vehicle Start Alert (the cameras tell you when the car in front has driven off) and lane centring (to keep you in the middle of your lane), both of which operate between 0km/h and 145km/h, and there is adaptive high beam lights on all grades, too.
The airbag count for the Outback is eight, with dual front, front side, driver's knee, passenger centre-front, and full-length curtain coverage.
---
Hyundai Tucson
9/10
At the time of publishing there is no ANCAP crash test safety rating for the new Hyundai Tucson, but in theory it has the right equipment and technology to score the maximum five-star rating. It almost scores a perfect 10/10 here.
Standard is a forward auto emergency braking (AEB) system that operates between 10km/h and 180km/h for cars, and between 10km/h and 85km/h for pedestrians and cyclists. 
There is also a system called 'Junction Turning Assist', which can stop the car from darting through an unsafe gap in traffic. It works between 10km/h and 30km/h, within set parameters.
There is adaptive cruise control that works at all speeds, lane keeping assist (60km/h to 200km/h), and 'Lane Following Assist' that reads the road markings to keep the Tucson centred in its lane (0-150km/h).
All grades also have blind spot monitoring with a system called 'Blind Spot Collision Avoidance', which can apply the brakes above 60km/h to stop you moving into the path of oncoming traffic. Also there is rear cross-traffic alert with auto braking.
The Tucson models all have 'Safe Exit Assist' to warn occupants if they're about to open their door into traffic. There is also a 'Rear Occupant Alert' system to remind you to check the back seat.
The entry grade comes with a reversing camera and rear parking sensors, while the Elite adds front parking sensors. 
The top-spec Highlander adds a surround view monitor (360-degree camera), as well as 'Parking Collision Avoidance Assist', and the 'Blind Spot View Monitor' - a display in the driver info screen that shows you a camera feed of the view behind.
All Tucson models have seven airbags - dual front, front centre, front side, and full-length curtain airbags.
Ownership
Subaru Outback
7/10
Subaru doesn't go beyond expectations in the mainstream class, with a five-year/unlimited kilometre warranty now par for the course.
The brand also has shorter maintenance intervals than some, with services scheduled every 12 months or 12,500km (most are 15,000km intervals).
The costs of maintenance aren't that low, either. After an initial free checkup at one-month, the services cost: $345 (12 months/12,500km); $595 (24 months/25,000km); $351 (36 months/37,500km); $801 (48 months/50,000km); and $358 (60 months/62,500km). That averages out at about $490 per service, which is high. 
If you're worried about budgeting for that cost every year, you can bundle a service plan into your financing – a smart move, if you ask me. There are two options available: a three-year/37,500km plan and a five-year/62,500km plan. Neither saves you money over pay-as-you-go, but these plans also include three years roadside assist and the option of a free loan car when it comes time to service your own Outback. And if you decide to sell, you can pass that service plan on to the next owner.
 Just make sure you don't smash the windscreen – the camera system integrated into the glass means a new windshield is a $3000 part!
---
Hyundai Tucson
8/10
Hyundai has built a very strong reputation in the market, with a competitive warranty cover of five years and unlimited kilometres. It was early to move to that warranty cover, but most mainstream brands are equal to it now. 
There's up to 10 years of roadside assistance included if you service your car with the brand's workshops, and why wouldn't you? 
There's a choice of lifetime capped-price pay as you go servicing, or prepaid servicing plans you can roll into the cost of the car and include in your finance payments, it makes a lot of sense to take advantage of what's on offer if you can. 
The 2.0 MPi 2WD has intervals set at 12 months/15,000km, with an average cover of $319 for the first five years/75,000km.
The 1.6 T-GDi model needs more regular maintenance, every 12 months/10,000km. It costs the same - $319 per year, but remember, that's averaged over 50,000km not 75,000km.
And the diesel version has 12 month/15,000km intervals, averaging out at $375 per visit over the first half-decade.
The prepaid service plans are priced identically to PAYG maintenance, but you can choose from three-, four- or five-year options.