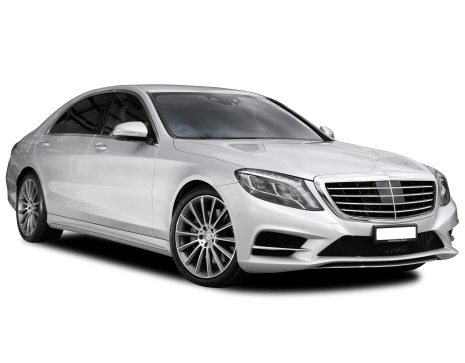 COMPARE
Mercedes-Benz S-Class
VS
Lotus Exige
Mercedes-Benz S-Class
Likes
Fantastic V8 engine
Brilliant interior
Jekyll/Hyde chassis
Dislikes
Price
Very heavy
Service costs
---
Lotus Exige
Likes
Unassisted, unadulterated steering (at speed)
Beautiful balance and stiff chassis
Gearbox
Dislikes
Sheer impracticality
Heavy steering (at low speeds)
Getting in and out of it
Summary
Mercedes-Benz S-Class
Ever since the middle of the 1990s, I've been captivated by the Mercedes-Benz S Class. It used to be known as Sonderklasse - special class - and teenage me certainly thought it was. The one that caught my attention was the W140. A huge, two-tonne beast when that sort of mass was rare, it was loaded with amazingness and owned the road.
Part of its unique appeal was that that it was properly ugly. When it hove into view it was like a battleship entering Sydney Harbour. And it used almost as much fuel, with the V12 on board.
Over the years, genuine style has invaded the S-Class and today I found myself, for the first time, in an unusually pretty pair of S Classes - the S560 and S63 Coupes. And, astonishingly, it's the first time I've ever driven an S-Class. So with all that baggage I've built up over the years, they had a lot to live up to.
| | |
| --- | --- |
| Safety rating | — |
| Engine Type | 4.0L turbo |
| Fuel Type | Premium Unleaded Petrol |
| Fuel Efficiency | 8.5L/100km |
| Seating | 5 seats |
---
Lotus Exige
Driving naked is ill-advised, and possibly illegal, but taking a spin in the Lotus Exige 350 Sport is as close as you'd ever want to get. It's not so much that you feel you've left your clothes at home, but that the car has shed its accoutrements, and indeed its very flesh, leaving you with a kind of skeletal vehicle; just bare bones and muscle.
What this punishingly hard and fiercely focused machine does to your bones and flesh is best described as extreme chiropractry - in particular the stress of ingress and egress - but fortunately it makes up for the moans, bangs and bruises by fizzing your adrenal glands in a big way.
The question is whether the fun is worth the suffering, and the  $138,782.85 price tag.
| | |
| --- | --- |
| Safety rating | — |
| Engine Type | 3.5L |
| Fuel Type | Premium Unleaded Petrol |
| Fuel Efficiency | 10.1L/100km |
| Seating | 2 seats |
Verdict
Mercedes-Benz S-Class
7.3/10
Both of these vast vehicles are phenomenally comfortable - this is the kind of car that Mercedes does so well, and has done for decades. The S Class is rarely a disappointment but it's difficult to believe that such a big, heavy GT car can also dance the way the S63 does.
The S560 is far more weighted to being a GT - supremely comfortable with that active suspension, a growly, refined V8 and a cabin full of gadgets and comfort. The S63 is altogether more aggressive, to look at and to drive. Lopping the roof off both of them adds weight but, like any cruiser, also puts you out in the sun, the breeze and into your surroundings. Plus, in the case of the S63, you get more exhaust noise.
They're two very different cars and not just because of the engine. After all these years admiring it from afar, the S63 has delivered on my teenage expectations - fast, smooth and utterly mad.
Is the S Class still the car that springs to mind when you think ultimate luxury? Or has another brand taken its place? Tell us what you think in the comments below.
---
Lotus Exige
6.5/10
To say the Lotus Exige 350 Sport exists at the very pointy end of motoring is a sharp understatement. It is, in essence, a track car that you're somehow allowed to drive on the road, which means it's hugely compromised in various ways as a vehicle for day-to-day use, yet it's not really fair to criticise it for those failings, because commuting was never its intended purpose.
While it would obviously shine in its natural environment of a race circuit, the fact is you could also enjoy it enormously between track days if you pointed it at a suitably smooth and winding bit of country blacktop.
The performance, handling, steering and stopping are all fantastic, in the right conditions, and you can see how someone might justify it to themselves as a far cheaper version of a ($327,100) Porsche 911 GT3. The difference being that a Porsche doesn't make you fold yourself up like a pocket knife every time you get in.
The Lotus, then, is a car for the extreme enthusiast, only. And possibly for nudists, too.
Would you put up with the Lotus's hard edges for the thrill rides? Tell us what you think in the comments below.
Design
Mercedes-Benz S-Class
7/10
The S Class Coupe is obviously related to the sedan but manages a svelte appearance. Slimmer hipped and with a more Coke-bottle shape, the Coupe - if you squint a bit - has a bit of the classic old pagoda about it. Obviously you can't do pillars that slim anymore, but the glass roof takes away some of the visual weight inside and out. 
The cabriolet's roof is nicely integrated and looks good when it's  up, which isn't always the case.
They all look long, though. It's obvious to see why the cars all run on 20-inch wheels - anything smaller would look hilarious.
The cabin is a fairly sensible re-imagining of the E-Class. The big twin-screen layout of the dash and multimedia system seems a bit more at home here. The chintzy Burmester speakers in the doors let down an otherwise classy cabin, which steers clear of otiose vulgarity in looks and materials.
---
Lotus Exige
8/10
The Lotus philosophy is summed by this slightly absurd mission statement: "Simplify, then add lightness". In the words of the great Barnaby Joyce "you don't have to be Sigmund Freud" to work out that lightness is not something you can 'add', but you get the idea.
Everything about a Lotus is focused on the power-to-weight ratio, and this 350 Sport version takes the Exige to the ultimate degree, weighing in a full 51kg lighter than the S version, at just 1125kg, and with its hefty 3.5-litre supercharged V6 it is capable of lapping the company's Hethel, UK test circuit a full 2.5 seconds faster.
Lap times, rather than road manners, are what this car is all about, and as such there are no creature comforts of any kind.
The Exige is an eye-catching beast, though, looking a bit like Darth Vader's helmet strapped to a skateboard. Everything about it is a statement of intent, and while the interior is as bare as Barnaby's brain, the gear lever, with its exposed workings and shiny silver knob, is a thing of strange beauty.
Practicality
Mercedes-Benz S-Class
6/10
Well look, if you end up in the back of the S Coupe, it's not a riot of space. Obviously it has back seats (the SL doesn't even squeeze a jump seat into its considerable length) but they're for occasional, if luxurious, use.
The boot is a reasonably decent 400 litres, obviously the cabriolet loses a few litres with the roof folded. Front and rear passengers will both enjoy a pair of cupholders and the whopping long doors will each hold a bottle.
---
Lotus Exige
3/10
Both the words 'practical' and 'space' have no place in a road test of this Lotus, so shall we just move on?
Oh, all right. There is no shoulder room to speak of and to change gears you have to fondle your passenger's leg. You're also in danger of breathing into each other's mouths accidentally, you're sitting that close.
Speaking of impractical, the door apertures are so small, and the whole car so low, that getting in or out is about as much fun as attempting to hide in a child's suitcase.
Cupholders? Forget it, nor is there anywhere to put your phone. There are two tiny oddment storage holes just near each well-hidden door handle, and a kind of slidey, slick shelf where a glove box might be, on which it's not safe to leave anything.
Put things on the floor and they will slide under the super low seats and never be seen again.
The Lotus people pointed out a parcel shelf behind the seats, but I think they imagined it, and there is a tiny boot at the rear, behind the engine, which is smaller than some actual boots.
Price and features
Mercedes-Benz S-Class
7/10
One thing hasn't changed in nearly 20 years - the S isn't cheap. Available in coupe and cabriolet, the S560 starts at $314,900 for the former and $336,900 for the latter. Step up to the S63 pair and you'll pay from $370,500 for the coupe and $399,900 for the cab. If you're super keen for something spectacular, the twin-turbo V12-powered S65 is available for between $508,900 and $520,500, and features Swarovski crystals in the headlights, for some reason.
As you can imagine, there's quite a bit to cover, so for both cars I'll stick to the edited highlights. The S560s roll on 20-inch alloys, has a 590-watt 13 speaker sound system, digital TV, auto parking, active cruise control, panoramic glass roof, Nappa leather, active seats and power-closing doors.
It also comes standard with a heating pack that not only heats the seats but the steering wheel and centre console. In the cabriolet you also get the 'Airscarf' neck heater.
Both cars also feature's Mercedes' Magic Body Control with curve function. More of that wacky feature later.
The S63 AMG is a step up in power, price and spec. One notable change from the S560 is the loss of 'Magic Body Control', which is replaced with mere air suspension. The 20-inch alloys are 10-spoke forged units, the brakes higher performance composites with red calipers, while an AMG sports exhaust brings the noise.
Naturally, both are swathed in high-quality leather and feature dual-zone climate control, heated and cooled electric seats that adjust in every direction, deep carpets, keyless entry and start, fully digital dashboards and just about every gadget to which you can point your imagination.
Entertainment and sat nav are via Mercedes' 'Comand' system, which is displayed on a massive 12.3-inch slab of glass at the top of the dashboard. The 13-speaker Burmester-branded system is predictably impressive and with Apple CarPlay and Android Auto, you only have to use the basic software for the radio or various car controls.
---
Lotus Exige
6/10
The question of 'value' is a tricky one when you're looking at a $138,782.85 car that's about as useful in day-to-day life as a matchbox-sized handbag. But you have to consider what people buy a Lotus for, and the answer has absolutely nothing to do with practicality.
A car like this Exige 350 Sport is purely purchased as a toy, a track-day special that you can, in theory, drive to the circuit via public roads. Franky, if I was rich enough to have one I'd still transport it there on the back of a truck.
Relatively speaking, you could have a far more practical and infinitely more comfortable Porsche Cayman for $30K less, but the Lotus is $30K cheaper than the similarly track-focused and brutal ($169,990) KTM X-Bow.
In terms of features, you get four wheels, an engine, a steering wheel, some seats, and that's about it. You can buy a circa 1993 removable-face two-speaker stereo, which you can't really hear over the engine and road noise, for $1199. Oh, and they do throw in air conditioning, which is also noisy.
Our slick-looking metallic black paint was also $1999, the 'full carpets' another $1099 (expensive floor mats, basically), the Alcantara trim pack $4499, cruise control (really?) $299 and the hilarious optional 'Sound Insulation' $1499 (I think they actually forgot to fit it). All up, our press car's price climbed to $157,846, which, I have to say, is no one's idea of good value.
On the plus side, the local Lotus people - Simply Sports Cars - do offer features a buyer would love, like regular Lotus Only Track Days, a chance to take part in the Phillip Island 6 Hour and the Targa High Country event, and various other racy experiences.
Engine & trans
Mercedes-Benz S-Class
8/10
All four coupes and cabriolets ship with Daimler's formidable 4.0-litre twin-turbo V8. The S560 scores 345kW/700Nm to drive the rear wheels through Benz's own nine-speed automatic. With all of that available, the S560 will crack the ton in 4.6 seconds and make a wonderful racket on the way.
Moving on to the S63, the same engine delivers a massive 450kW/900Nm. The run from 0-100km/h is dispatched in just 3.5 seconds and if I thought the S560 made a good noise, the S63 with its standard sports exhaust makes a better one. Again, Mercedes' nine-speeder is along for the ride.
---
Lotus Exige
8/10
In the past, Lotus engineers were satisfied with the power they got from tiny four-cylinder Toyota engines, but this Exige 350 Sport is a Very Serious Car and thus has a relatively whopping 3.5-litre, supercharged V6 shoehorned into its backside, which makes 258kW and 400Nm, and that's enough to fire this tiny machine from 0-100km/h in just 3.9 seconds, although it feels, and sounds, a lot faster.
The six-speed gearbox feels like it's been stolen from an old racing car and is an absolute joy to snick shift at speed.
Fuel consumption
Mercedes-Benz S-Class
7/10
The lower-powered 560 drinks 98RON at the rate of 8.5L/100km for the coupe and 9.9L/100km for the heavier cabriolet.
The S63 ups the ante with 9.9L/100km for the coupe and an identical 9.9L/100km for the cab.
Our launch program contained some...er...spirited driving, which would explain the mid to high-teens fuel figures.
---
Lotus Exige
7/10
Lotus claims a combined fuel economy figure of 10.1L/100km. We don't believe that would be easy to achieve, because the temptation to rev the hell out of it and hear it roar would be too great, and too constant.
Driving
Mercedes-Benz S-Class
8/10
Let's start with the S560. That smooth V8 rumble is all you'll ever hear if you just slot into drive and go for a leisurely spin. The nine-speed automatic continues to be a revelation to me - in the GLC63 it's good and here, once again, it's excellent, finding the right gear for the occasion and riding the fat torque curve. Other nine-speed autos are not very good at all.
The test route for the S560 played to the strengths of the car. It had some lovely winding roads, which brought the trick suspension into focus - the Magic Body Control with curve function is hilarious. While the active suspension works hard at all times to ensure the ride is smooth and drama free, the Curve mode (no, really) actually leans the car into corners.
Those of you who remember the video game Wipeout 2097 will be big fans of Curve mode. As you approach a corner, you turn the wheel and then the car leans into the bend. This isn't active damping reading the road, it's the outside suspension lifting the car and the inside lowering it, so the car feels like it's gliding, like a hovercar. It's wild but oddly calming. Mercedes reckons it's great for those who get car sick. As I didn't have my wife on hand to test this theory - she chucks at the first sign of a corner - I couldn't verify this claim. That will have to wait.
The S63 AMG is a completely different proposition. The air suspension is more than up to the job of helping smother the effects of the car's considerable weight, meaning that no matter what you're up to, the car feels reasonably light on its feet. It never feels small, though, commanding the respect of the driver and plenty of space from other road users.
And boy, do you need some space if you kick the S63 into Sport mode. In true AMG style, the electronic reins relax and the big luxury coupe cheerfully kicks off. The tail will wriggle under an unsympathetic right foot, that signature V8 roar, crackle and hiss filling your ears. The S63 is always the harder-feeling car, but it delivers with a more sporting drive than the S560.
Being the generous soul I am, I volunteered to return the S63 to its home for the evening rather than consign it to the back of a truck. On the back roads I took to reach the highway, it was rock solid - fast, predictable and a lot of fun. Once I found the boring straight bits, it turned into a supremely comfortable cruiser, ticking along in ninth at the legal limit (and being Melbourne, it was very much the legal limit), dispatching overtaking with barely a flex of a toe. 
The active cruise took the stress of keeping away from the State Revenue Office's clutches while being quiet and utterly pleasant.
---
Lotus Exige
8/10
It's rare to find a car that is such an improbable mix of furious fun and infuriating annoyance. The Lotus is rattly, noisy, hugely firm to the point of punishing, with seats that offer encouragement but not support.
It is the opposite of comfortable and so hard to see out of that driving it around town, in any sort of traffic, feels borderline dangerous. There's also the distinct sensation that you're so low and so little that all those people in their SUVs won't see you.
Throw in the fact that it's so painfully, stupidly difficult to get in and out of and it's definitely not the sort of car you take if you're heading to the shops. I got so sick of its hard-edged annoyances at one stage that I became too grumpy to even take people for joy rides in it. I just couldn't be bothered with the hassle, but then an inner-city suburb with high kerbs and even higher speed humps is not the Exige's natural environment.
Making it even more of a challenge around town, at low speeds or in parking situations is the steering, which isn't so much heavy as wilfully obtuse. Doing a three-point turn is the equivalent of 20 minutes of bench pressing your own body weight. At least.
Out on a winding bit of country road, however, the steering becomes one of the best things about the car, because its pure, unassisted weighting feels so alive in your hands. There's a sense of actually wrestling, or finessing it around corners that makes you feel a bit Ayrton Senna.
Indeed, the whole car comes alive, and starts to make some kind of sense, once you're on a smooth, perfect piece of tarmac. It is fast, noisy, thrilling, utterly and overtly involving, stiff of chassis and firm of ride, with brakes capable of pulling you up with indecent haste. It's also, thanks to its low centre of gravity and mid-engined layout, beautifully balanced.
The gearbox is a thrill a minute, as is the engine, particularly once you explore the upper rev ranges, at which point the scenery really does become a scary blur out the ridiculously small windscreen.
Sure, you can't see anything behind you other than the engine, but what a lovely sight that is, and nothing is going to catch you anyway.
It does feel edgy, of course, and sharp, and it's not as easy or refined to drive as some cheaper sports cars; an MX-5 makes for a far more pleasant companion. But this is an extreme Exige, a machine built by and for genuine enthusiasts.
And, above all, for the sort of people who will take it to a race track, which is where it both looks and feels completely at home.
Unfortunately, on public roads, it would be annoying more often than it would be thrilling, but the truly hardcore Lotus aficionados would never admit such a thing.
Safety
Mercedes-Benz S-Class
8/10
---
Lotus Exige
5/10
Unsurprisingly, considering it will sell fewer than 100 cars in Australia, Lotus has not had the Exige ADR crash tested, so there's no star rating. You do get two airbags, passenger and driver, as well as ABS, 'Hydraulic Brake Assist', 'Lotus Dynamic Performance Management', driver-selectable ESP with three modes, cornering brake control and EBD.
Ownership
Mercedes-Benz S-Class
7/10
Mercedes offers a three-year/unlimited-kilometre warranty with roadside assist for the duration.
The company also offers both service plans (where you pay up-front as part of the vehicle purchase) and capped-price servicing on the coupes. Servicing over three years is in the order $2500.
---
Lotus Exige
7/10
Your Lotus comes with a three-year unlimited kilometre warranty and three years of roadside assist. A service costs $295, plus parts.