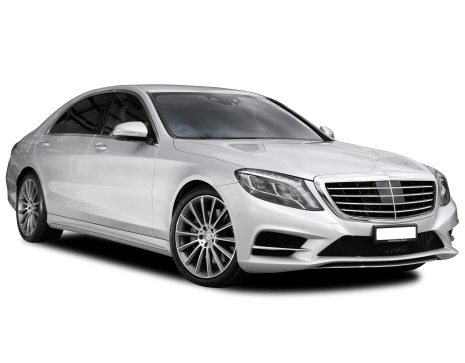 COMPARE
Mercedes-Benz S-Class
VS
BMW 5 Series
Mercedes-Benz S-Class
Likes
S-Class' return to splendour
Stunning high-tech cabin presentation
Outstanding ride and handling capabilities
Dislikes
Price of entry prohibitive for most
3D instrumentation can make you woozy
A tad conservative in design
---
BMW 5 Series
Likes
Engaging dynamics
Top-notch interiors
Clever technology across the range
Dislikes
Price hikes on almost every model
Six-cylinder engine reserved for most expensive models
Apple CarPlay a cost option
Summary
Mercedes-Benz S-Class
It's only in the running for the title of world's best luxury car. No biggie here, then.
Like Rolex and Concorde, S-Class has become a byword for ultimate, and deserved or not, the Mercedes-Benz defines its segment despite the best efforts of the BMW 7 Series, Audi A8, Lexus LS and (sadly now-defunct) Jaguar XJ, as well as pointing the way forward with new technologies that eventually trickle down to more proletarian models.
Replacing the half-million selling W222 unveiled in 2013, the W223 is the latest in a long line since the first W187 Ponton debuted in 1951, and includes the famous 'Finnies' and Stroke-8 models that followed immediately afterwards, but it is the 1972 W116 that really set the template.
Now, seven generations in, the 2021 S-Class is all-new again, with progressive safety and interior features that should help keep it Australia's bestselling full-sized upper-luxury sedan.
| | |
| --- | --- |
| Safety rating | |
| Engine Type | 3.0L turbo |
| Fuel Type | Premium Unleaded Petrol |
| Fuel Efficiency | 8.4L/100km |
| Seating | 5 seats |
---
BMW 5 Series
Andrew Chesterton road tests and reviews the new BMW 5 Series 520d, 530i, 530d and 540i sedans with specs, fuel consumption and verdict at its Australian launch in Victoria.
When we're all living under the cruel rule of our robot overlords, the few remaining human historians will track the genesis of our downfall to the technology explosion that occurred in 2017's new-car market. 
Never before have car companies focused so hard on producing cars that can't just be driven, but that can drive themselves, negotiating corners, unexpected obstacles and changing traffic conditions without ever needing to consult the human actually sitting behind the steering wheel.
And BMW's all-new 5 Series sedan takes yet another a step forward, eliminating the need for said human to even be sitting in the car. Owners can instead move their 5 Series in and out of tight parking spaces simply by pressing a button on their key.
The Active Key function is admittedly a $1,600 cost option, but it proves the techno-focus applied to the seventh-generation of BMW's executive express, which will land in Australian dealerships this month. Every car is also fitted with what the German brand calls its personal co-pilot; a series of nifty cameras and radars that allow the car to be driven completely autonomously for spells of 30 seconds.
But the question is, has all this new technology come at the cost of regular, old-school driver enjoyment?
| | |
| --- | --- |
| Safety rating | |
| Engine Type | 2.0L turbo |
| Fuel Type | Premium Unleaded Petrol |
| Fuel Efficiency | 6.4L/100km |
| Seating | 5 seats |
Verdict
Mercedes-Benz S-Class
8.5/10
Mercedes-Benz set out to restore the S-Class' place amongst the greatest sedans in the world.
In the heavily-optioned, near-$250K-plus S450 as well as the extended S450L at $300K as tested (the sweet spot of the range for now), we reckon the Germans have succeeded, pushing safety, comfort and technology boundaries, in a package that is true to the heritage of the series.
Tax-fuelled sky-high prices will certainly keep the S-Class niche in Australia, but the car is more than good enough to dominate its tiny corner of the upper-large luxury car sphere.
The best new car in the world? We reckon it's highly likely. Mission accomplished, Mercedes.
---
BMW 5 Series
7.9/10
Sleek and attractive in the city,  engaging on a country back road and with plenty of clever technology, the 5 Series sedan ticks all the right boxes as an executive express. If you can stomach the price hike, the six-cylinder 540i is our pick of the bunch.
Would a new 5 Series tempt you away from an E-Class or A6? Tell us what you think in the comments below.
Design
Mercedes-Benz S-Class
7/10
Most Mercedes models have followed the Russian Doll-style cookie-cutter styling theme, and the heavy family look continues with the W223.
Still, the flush door handles do add a touch of Tesla-esque modernity, while the elegant silhouette and clean lines are in keeping with the luxury aspirations. Larger in every dimension compared to the old W222, the S450 is some 71mm-longer in wheelbase (3106mm) than before while the LWB's has stretched out by 51mm (3216mm), benefiting proportions as well as interior packaging.
AMG-branded wheels look sporty but – in the S450 at least – they're perhaps a tad too gangster. A set of flush alloys would give it a more-modern and techier appearance, in our opinion.
Overall, however, the S-Class '7' possesses the prerequisite richness of design. It isn't as bold and mould-breaking as models like the W116 were back in their day, but the styling is still a success.
By the way, the latest S-Class is the first Mercedes to employ the MRA2 longitudinal platform, which is rich in lightweight steels (50 per cent aluminium), is correspondingly stronger than before but also 60kg lighter.
With a drag co-efficiency rating as low as 0.22Cd on some overseas grades, the W223 is one of the most aerodynamic production vehicles in history.
---
BMW 5 Series
8/10
Hardly a revolution, the 5 Series has instead undergone a few nips and tucks. But if it ain't broke and all that. It might not be the most head-turning offering, but the 5 Series sedan remains sleek, powerful and understated, and it is undeniably handsome on the road.
Its 8mm wider, 28mm longer and 2mm taller than the car it replaces, but it's also around 95kg lighter, thanks to its aluminium doors and boot and a clever magnesium frame for the instrument panel that saved another two kilograms. There's some other clever design elements, too. The kidney grille has active air flaps that open when extra cooling is required, closing when it isn't, reducing drag and helping accleration.
Inside, the 5 Series offers a beautifully crafted yet joyously understated cabin, with quality materials joining modern technology in a seamless way.
Practicality
Mercedes-Benz S-Class
10/10
For the beginning of our day with the S-Class, we were chauffeured from home to a mansion in Kew, a blue-chip Melbourne suburb. Our heavily-optioned S450L featured most of the aforementioned extras – including the Business Class Package and Rear Entertainment Package – and the experience was predictably, sumptuously memorable.
Reclining individual rear seats with easy-reach tablets, armrests offering access to all multimedia and available climatised and massaging cushions and backrests... we're no longer in our normal ride, Toto.
Yet, all these trinkets and gizmos are mere add-ons, that can turn a stretched Caprice into a flash hen's night carriage if enough money and glitz is thrown at it.
No, the new S-Class must impress in an altogether less tangible and more philosophical manner, involving all the senses, and not just what we see, hear and touch. It must appeal beyond the superficial. Otherwise, it is not a large Mercedes-Benz luxury sedan in the classic manner.
This is a Herculean task for the Stuttgart designers and engineers. By and large, though, the Three-Pointed Star has succeeded in achieving something special.
In its perception of peerless quality and engineering, the W223 is striving to move forward and look back simultaneously to the glory days of the seminal W126 (1980-1991). This is through meshing traditional virtues like solidity and quality materials while dazzling its passengers with technology that is still friendly enough to want to enhance your experience.
You can sink into the soft lounge seats, watch the world pass by silently outside and never be aware of the road underneath or the engine ahead. Double glazing, exquisite and aromatic fabrics and materials and lush tactile surfaces work their magic inside the car, while an airtight and aero body, solid platform, air suspension and a muted yet muscular powertrain all do their thing underneath. The atmosphere is special and rarefied. That's what an S-Class needs to be and that's what is happening in our $299,000 (as tested) S450L.
The same more-or-less applies up front, as the same trim, leather, wood and technology surrounds the driver and passenger. The spectre of the car that is surely The Car of the Last Decade – Tesla's Model S – is evident in the portrait touchscreen and sparse, almost wallflower dashboard design and layout. No big imposing architectures here.
Yet, while the American upstart actually takes stuff away, the S-Class packs the cabin with subtle features that – like when the planes stopped flying last year and the birdsong subsequently returned – only become obvious once the cabin's design simplicity clears all the white noise for you to be in a better frame of mind to enjoy them.   
Take the haptic interface, for example, as it is perhaps the best we've experienced; the sense of well-being garnered from the cumulative effects of profound seat comfort (the massaging function was never switched off), cocooning micro climate environmental control, orchestral levels of audio entertainment and the theatre of light and vision performed by the two available screens; it is an automotive experience like no other. And the eye-tracking 3D-effect navigation set within the electronic instrumentation. No need for cinematic glasses to get the effect. The driving position itself, by the way, is also first class.
Room to stretch and grow for sure, and in every direction. But room for improvement? You betcha.
Your tester had a headache after a little while staring at that woozy 3D map. The central vents – four at the front, two in the rear – look and feel cheap, leaving us mentally redesigning them; they are frightfully out of place here; the carryover column-stalk auto lever should have been binned in 2005. And, even though the digital instruments have a number of options, none are elegant enough for the S-Class. That's an especially subjective criticism, clearly, but one that – in the context of classic Mercedes luxury sedan contenders – is justified given how timeless the Bruno Sacco era of Daimler design was. Look him up, kids.
Still, after a couple of hours behind the wheel, with our senses reset to calm, it is obvious that the S-Class cabin is a unique and wonderful place – as it should be at a cool quarter-of-a-million dollars.
Job done.
PS At 550 litres (20L more than before), the boot is massive and luxurious enough to sleep in.
---
BMW 5 Series
8/10
This is a full-size sedan, and every seat feels spacious and airy. The sloping, slightly coupe-style roofline does cut into headroom in the back, but human-sized people will have little trouble, even sitting behind a tall driver.
Each trim offers two cupholders in the front, with another two housed in a pull-down divider that seperates the rear seat. And there's two ISOFIX attachment points, one in each window seat in the back. 
The 5 Series' boot opens to rival a surprisingly sizeable storage space, offering 530 litres with the 40:20:40 rear seats in place.
Price and features
Mercedes-Benz S-Class
8/10
Right now, only two S-Class models are available – the S450 from $240,700 plus on-road costs and the 110mm extended-wheelbase S450L (LWB) for another $24,900 on top. Most buyers overwhelmingly opt for the latter.
Despite what the numbers may suggest, both are powered by a 3.0-litre in-line six-cylinder turbo petrol engine, delivering 270kW of power and 500Nm of torque to all four wheels via a nine-speed torque-converter automatic. Greater choices are coming later, including an all-electric version known as the EQS.
Almost every conceivable safety item is standard on the S-Class, including world-first rear-seat airbags located behind the front seats in the LWB model, taking the surround-airbag count to 10.
You'll also find route-based Speed Adaptation (adhering to the posted speed limits), Evasive Steering Assist (a sophisticated form of crash mitigation), adaptive cruise control with active stop/go, Active Lane Change Assist that automatically moves the car into the lane you indicate to), Mercedes' PreSafe crash-preparation tech that primes all the safety systems for impact, electronic stability program that encapsulates all the active driver-assist tech, Active Emergency Stop Assist, Autonomous Emergency Braking front and rear (including for cyclists and pedestrians), Traffic Sign Assist, Parking Package with Active Parking Assist and 360-degree camera and tyre pressure monitors.
On the equipment front there is the latest iteration of Mercedes' MBUX multimedia system with (another) world-first 3D display, complementing an OLED central display, powered closing doors, leather upholstery, air suspension, leather upholstery, velour floor mats, a multi-beam LED headlight system with adaptive high beams, heated and folding exterior mirrors, heat and noise-insulating acoustic glass for front side windows, dark privacy glass for rear windows, sunroof, roller sunblinds for rear windows, metallic paint and 20-inch AMG alloy wheels on runflat tyres.
Want cutting-edge multimedia? There's MBUX II's augmented reality for navigation and fingerprint scanner, as well as a more natural-speech Mercedes-Me Connect voice activation with global search.
Plus, predictive navigation with live traffic, parked vehicle locator, vehicle tracking, emergency call, maintenance management and tele-diagnostics, digital radio, Burmester 3D surround-sound system with 15 speakers and 710W amplifier, remote door locking/unlocking, geofencing, speed-fencing, valet parking, head-up display, Smart Phone integration with Apple CarPlay/Android Auto, wireless charging, ambient lighting, two-zone climate control, poplar wood trim, electric adjustment for front seats, steering column with memory function, climatised front seats, keyless entry/go with flush-fitting door handles offering hands-free access (including for the electric boot),
Besides the 'forward facing' airbag for the rear-seat occupants, the S450L also scores electrically adjustable rear seats with memory and automatic rear climate control.
Key options – and the list is massive – include an $8700 Rear Entertainment Package, that brings rear-multimedia access, rear tablets with wireless headsets and rear-seat wireless smart phone charging, an AMG Line pack with a body kit, different alloys and larger front brakes ($6500), Business Class Package that includes aircraft-style reclining rear seating and tray tables ($14,500), Nappa leather ($5000), augmented-reality HUD ($2900), 21-inch wheels ($2000) and four-wheel steering ($2700). There's also a $14,500 Energising Package with contoured seating, heated-everything and massaging seats.
Please keep in mind our test cars featured many such extras. Tick all the boxes and you can add nearly $100,000 to the price of your S-Class.
So, is the S450 good value? Given some of the breakthrough safety and luxury features it offers, it is unique. Too bad the Federal Government's Luxury Car Tax makes them so much more expensive than they need to be.
---
BMW 5 Series
7/10
BMW's venerable 5 Series is now 45 years old, and this all-new model arrives in four distinct flavours, with a fifth - an incoming M5 performance sedan - still some way off.
For now, though, the range kicks off with the 520d, before stepping up what BMW hopes to be the big seller of the range, the 530i (replacing the outgoing 528i). Next up is biggest diesel, the 530d (replacing the the 535d), before the current range tops out with the petrol-powered 540i (replacing the old 535i).
Be warned though, there's been some pretty serious price increases right across the line up, ranging from $9,145 to a whopping $19,245. In fact, only the 530d has seen its price come down, now $3,755 cheaper than the outgoing 535d. BMW justifies the hikes by pointing to an increase in standard inclusions across the range.
The 520d kicks off from $93,900, and arrives predictably well equipped for your money. Expect 18-inch alloys, leather trim, dual-zone climate control and a 12-speaker stereo. You'll also get a technology overhaul, with a bigger and upgraded Head Up display (it can now read street signs and beam that info onto the screen), a 10.25-inch touchscreen and a wireless (insert link to chi charger story) charging pad.
Step up to the 530i ($108,900) or 530d ($119,900) and you'll add 19-inch alloys, adaptive dampers with dynamic mode (that reads both driver input and navigation data and tweak suspension, gear and steering settings automatically) a 16-speaker Harman Kardon stereo and a crystal-clear 12.3 high-resolution digital display in the driver's binnacle. You'll also find heated front seats, a powered boot and sports seats in the front.
Finally, spring for the 540i ($136,900) and you'll get 20-inch alloys, a sunroof and electric blinds for the rear windows. You'll also find better Nappa leather on the seats, which now also offer a cooling function. Under the skin, you'll get an active anti-roll bar at each axle designed to keep the car from rolling side-to-side on the twisty stuff.
One quirk, however, is the fact that BMW's very cool wireless Apple CarPlay is a cost option on every trim level, and one that will set you back $479.
Engine & trans
Mercedes-Benz S-Class
9/10
Where are the V8s?
Right now, the only W223 you can buy is powered by an all-new 2999cc 3.0-litre in-line direct-injection six-cylinder turbo petrol engine dubbed the M256, complete with double overhead cams, an electric compressor intercooler and assistance from a 48-volt mild hybrid system and integrated starter-generator, adding 16kW and 250Nm to the 270kW of power at 6100rpm and 500Nm of torque from 1600-4500rpm.
The 9G-Tronic torque-converter automatic transmission and 4Matic all-wheel drive system combination is a first for the S-Class in Australia.
Top speed is limited to 250km/h, while the 0-100km/h sprint-time takes just 5.1 seconds in both models. Impressive for a two-tonne-plus luxury limo.
---
BMW 5 Series
8/10
The hunt for efficiency sees all but the most expensive 5 Series models equipped with four-cylinder engines, including the entry-level 520d, which is fitted with a 2.0-litre diesel unit that will produce 140kW at 4,000rpm and 400Nm from 1,750rpm. That's enough to push the cheapest 5 Series to 100km/h in a not particularly inspiring 7.5 seconds, topping out at 235km/h.
The cheapest petrol, the 530i, arrives with a turbocharged 2.0-litre engine good for 185kW at 5,200rpm and 350Nm from 1,450rpm. That will see you clip 100km/h in 6.2 seconds and push on to a limited top speed of 250km/h.
The 530d introduces the first six-cylinder engine, a 3.0-litre unit that will produce 195kW at 4,000rpm and an impressive 620Nm from 2,000rpm. That's enough to knock off the sprint in in 5.7 seconds and offers a top speed limited to 250km/h.
Finally, the top-spec petrol, the 540i, will produce 250kW at 5,500rpm and 450Nm from 1,380rpm from its 3.0-litre turbocharged straight-six engine. Those are healthy numbers, and enough to welcome 100km/h in a sprightly 5.1 seconds before topping out a limited 250km/h.
Every model is paired with an eight-speed torque converter automatic transmission.
Fuel consumption
Mercedes-Benz S-Class
7/10
With the aid of the mild-hybrid system, the S450 returned a combined average of an impressive 8.2 litres per 100km, which translates to 187 grams of carbon dioxide emissions per kilometre. 95 RON premium unleaded (or higher) is recommended. In the urban run it consumes 11.3L/100km (11.5 for S450L), and just 6.4L/100km (6.5 for S450L) in the extra-urban result.
At 76 litres, the fuel tank will allow a combined average range of about 927km between refills.
---
BMW 5 Series
8/10
BMW quotes a combined 4.3 litres per hundred kilometres from the 520d, which will also spit out 114g per kilometre of C02. The 530d lifts that number to 4.7 litres per hundred kilometres (which seems a small price to pay for all that extra torque), with C02 pegged at 124g per kilometre. Both diesels get a slightly smaller tank, at 66 litres.
The 530i will sip a claimed/combined 5.8 litres per hundred kilometres, with C02 emissions a claimed 132g per kilometre, while the big 540i requires 6.7 litres per hundred kilometres, with C02 pegged at 154g per kilometre. Both petrol models get a 68-litre tank and require 95RON fuel.
Driving
Mercedes-Benz S-Class
10/10
In former times, as the Germans say, a '450' on the boot indicated V8 power. In the W116 S-Class era it was one of the world's most evocative badges when 'SEL' was also attached.
As mentioned earlier, though, it's the M256 3.0-litre turbo-petrol with a 48-volt 'mild hybrid' electrical system that's doing the driving, to all four wheels. The real V8 W223 will probably surface later this year or in early 2022 with the S580L flagship. Bring it on.
This is not to say that S450 isn't good enough. With that electrified assistance, the blown straight six is smooth and swift off the line and rapid as the auto seamlessly steps up through all nine gears. Because it's so hushed and refined, it doesn't feel 5.1s to 100 clicks quick, but watching the speedo says otherwise – acceleration is assertive and strong right up way past the legal speed limit.
All that's missing is the burbling soundtrack of a classic Benz bent-eight. Oh well. Outstanding economy is a price we're literally willing to pay in lieu.
Even more impressive is the S450's ability to hustle along mountain roads like an overgrown sports sedan.
Now, for Australia, all S-Classes are fitted standard with an adaptive 'Airmatic' air-suspension set-up, including air springs and self-levelling tech. In Comfort up to 60km/h, the ride height can be raised by 30mm, or lowered by 10mm under the standard 130mm baseline in Sport at any velocity, while in Sport+ it falls another 17mm.
With that in mind, yes, the standard air suspension performs a magnificent job smothering out most surface imperfections around town. Yet its real other party trick is to tighten up the chassis when corners get interesting and Sport mode is selected. Aided by progressively weighted and reassuringly responsive steering, the Mercedes tips into turns with precision and poise, slicing through with virtually no discernible body lean or understeer.
Now, we're not talking a leisurely drive on rural highways here, but Healesville's famous Chum Creek Road, where even a Porsche Cayman would feel like it's had a strenuous dynamic workout. The S-Class can be hurried along with confidence and finesse, displaying outstanding handling and roadholding for a 5.2-metre long limo. And the fact that the ride quality only suffers marginally when the red horns are out is all the more remarkable.
Back in the cut-and-thrust of inner-city peak-hour traffic, the Benz in Comfort mode continued to reveal its driver-orientated yet passenger-focused twin-personalities, zipping in and out of gaps while remaining comfy and composed inside.
Only when parking in tight spots are you truly aware that the W223 is longer than a Mazda CX-9. The optional four-wheel-steering system is claimed to slash the turning circle to A-Class hatchback levels. 10.9 metres is the claim.
The 2021 S-Class never ceases to amaze and delight.
---
BMW 5 Series
8/10
BMW's pre-drive briefing was so technology focused we half expected the black turtle neck and dad jean-wearing ghost of Steve Jobs to emerge from behind a curtain clutching an iPad. Only a minuscule portion was dedicated to the cars' drivetrains, with BMW instead hammering home autonomy functions, technology upgrades and the fact that its car was a preview to "the future".
But once we'd slipped behind the wheel of the all-new 5 Series, it all started to make more sense. Having briefly sampled three models (the 530i, 530d and 540i), we can safely report there's nothing particularly revolutionary about their on-road behaviour. That's not necessarily a bad thing - they do everything you could ask of a car in this bracket. They're mostly smooth and always quiet, the new chassis has done nothing to dampen engagement when you start to ask a little more of it, and it's generally a luxurious experience. But then so was the old car.
But what's new is the technology poured into the 5 Series. Every car gets what BMW is calling its personal co-pilot, for example, which is a set of tricky systems (there's six cameras, five radar sensors and 12 ultrasonic sensors scattered around the car) that work with the active cruise control and allow the car to be driven completely autonomous for 30-second intervals. Now, it's not quite as advanced as some of its competitor's systems - it can't change lanes for example - but if you're out on a country road or on a highway, it will stay within its lane, turn around corners and keep up with the traffic, even if they stop in front of you.
While the cheapest diesel model has historically been the best seller, BMW is hoping the new 530i will prove the most popular this time around. And while you couldn't describe it as fast, the power from its four-cylinder engine is ample for all that will likely be asked of it, and it feels sorted and composed on  more challenging roads. It's a smooth and comfortable ride, too, even with the optional 20-inch alloys fitted, though that's undoubtedly thanks to the adaptive dampers and ever-changing dynamic ride function, both of which are fitted as standard. In fact, we're yet to drive a car without those options fitted, so we're forced to reserve judgement on the as-standard ride quality of the cheaper models.
Be warned though, none in the 5 Series range offer the disconnected and perfectly smooth conveyance you might find in some true luxury offerings, and you'll still know when you're diving into deep pockmarks in the road. But the trade off is a an engaging ride and steering set up that always feels planted, with enough feedback to ensure you feel connected to what's happening beneath the tyres. And that's a trade we're more than willing to make.
Step up to the 540i and things take a much sportier turn. The turbocharged six-cylinder feels right at home in a car this size, with acceleration effortless and freeway overtaking manoeuvres an absolute breeze. And while we didn't find roads quite brutal enough to really test the active anti-roll bars housed at each axle, there's a wonderful and stable flatness to the way the biggest petrol handles corners.
It's not cheap, but thanks to the bigger engine and sorted dynamics, the 540i feels most like a 5 Series probably should.
Safety
Mercedes-Benz S-Class
10/10
The W223 S-Class has not been crash-tested yet by ANCAP or European affiliate EuroNCAP, so does not have a star rating. However, Mercedes-Benz claims it has striven to create one of the safety vehicles on the planet. Who are we to argue?
Almost every conceivable safety item is standard on the S-Class, including world-first rear-seat airbags located behind the front seats in the LWB model, taking the surround-airbag count to 10.
You'll also find route-based Speed Adaptation (adhering to the posted speed limits), Evasive Steering Assist (a sophisticated form of crash mitigation), adaptive cruise control with active stop/go, Active Lane Change Assist that automatically moves the car into the lane you indicate to), Mercedes' PreSafe crash-preparation tech that primes all the safety systems for impact, electronic stability program that encapsulates all the active driver-assist tech, Active Emergency Stop Assist, Autonomous Emergency Braking front and rear (including for cyclists and pedestrians, at speeds from 7km/h to over 200km/h), Traffic Sign Assist, Parking Package with Active Parking Assist and 360-degree camera and tyre pressure monitors.
The Active Lane Keeping Assist works in a speed range of between 60km/h and 250km/h while Active Steer Assist helps the driver follow the lane at speeds of up to 210km/h.
---
BMW 5 Series
9/10
Expect plenty of clever safety gear, with every 5 Series sedan arriving with six airbags (dual front and full-length side airbags, along with head protection bags for front passengers). You'll also find a surround-view reversing camera and parking sensors.
But the high-tech stuff arrives courtesy of active cruise control, cross-traffic alert, lane keep assist and cross-road alerts.
Ownership
Mercedes-Benz S-Class
7/10
Unlike many luxury brands that persist with a sub-par three-year warranty, Mercedes-Benz offers a five-year/unlimited kilometre warranty.
Intervals are every year or 25,000km, with a capped price service plan starting at $800 for the first year, $1200 for the second year and $1400 for the third year, totalling $3400. Alternatively, there is a Service Plan starting at $2700 for the first three years (saving $700 from the normal capped-price service plan), $3600 for four years and $5400 for five years.
---
BMW 5 Series
7/10
The BMW 5 Series is covered by a three year, unlimited-kilometre warranty, and requires condition-based servicing (rather than a pre-defined service interval).
You can also prepay your maintenance costs for five years/80,000kms, with prices ranging from $1,640 for the basic package, and climbing to $4,600 for the all-inclusive option.