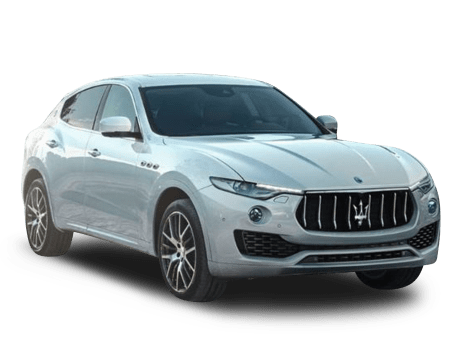 COMPARE
Maserati Levante
VS
Nissan Patrol
Maserati Levante
Likes
More affordable entry into Levante range
Great engine note
Almost identical standard features to the Levante S
Dislikes
GranLusso and GranSport packs are expensive
Limited room in the rear seats
Steering is overly sharp and quick
---
Nissan Patrol
Likes
Effortless performance
Superb ride
Great value
Dislikes
Steering feel (lack of)
Thirst
No AEB
Summary
Maserati Levante
Maserati. What do you reckon that name means to most people? Fast? Loud? Italian? Expensive? SUVs?
Well, maybe not the last one, but it likely will soon. See, with the Levante SUV accounting for half of all Maseratis now sold in Australia, shortly it'll feel like SUVs are all Maserati makes. 
And that may happen even faster with the arrival of the most affordable Levante ever - the new entry-grade, simply called Levante.
So, if this new cheaper Levante isn't expensive (in Maserati terms) does that mean it's not fast, loud or even Italian, now? 
We drove this new, most affordable, Levante at its Australian launch to find out.
| | |
| --- | --- |
| Safety rating | — |
| Engine Type | 3.0L turbo |
| Fuel Type | Diesel |
| Fuel Efficiency | 11.8L/100km |
| Seating | 5 seats |
---
Nissan Patrol
Everyone has a guilty pleasure. A sneaky drive-thru burger, Katy Perry on your iPod, or watching The Golden Girls while dressed as SpongeBob. Okay, so maybe not everyone has that last one.
The urban tank that's currently dominating your screen is mine. It occupies enough real estate to support a medium-density sub-division, weighs a sprightly 2.7 tonnes, and is powered by a 5.6-litre V8 that slurps premium unleaded at an ecologically obscene rate.
But it's soooooo good.
The eight-seat Y62 Nissan Patrol Ti is so clearly built for the 'Murican market (where it's called the Armada) it's a safe bet the human hairpiece has one in the presidential fleet.
A week behind the wheel should have had us sneering, but all we could do was smile.
| | |
| --- | --- |
| Safety rating | |
| Engine Type | 5.6L |
| Fuel Type | Premium Unleaded Petrol |
| Fuel Efficiency | 14.4L/100km |
| Seating | 8 seats |
Verdict
Maserati Levante
7.3/10
The entry-grade Levante is the best choice in the current line-up (Levante, Levante Turbo Diesel and Levante S) because it's almost identical in performance and features to the pricier S. 
I'd give the GranLusso and GranSport packs a miss on this base Levante, but would consider them on the S where they are possibly worth the extra $10,000 rather than the $35K asking price on the entry car.
The Levante does a lot right – the sound, the safety and the exterior styling. But the quality of the interior, with its FCA shared parts, lowers what should be a prestige feel.
And back seat comfort could be better, Maseratis are grand tourers and an SUV from this brand should be able to accommodate at least four adults in superb comfort – something this one can't do.

Given the choice and about $130K would you choose a Porsche Cayenne or a Maserati Levante? Tells us what you think in the comments below.
---
Nissan Patrol
7.4/10
The Nissan Patrol Ti is stress-relief on wheels, designed to help you navigate urban family life in quiet and calm comfort. It's not perfect, using up a reasonable chunk of the planet's resources in its construction, consuming more than its fair share of precious gasoline, and assaulting many people's view of what constitutes good automotive taste. But next time you're sobbing through a YouTube compilation of military homecoming videos, consider the Patrol. Maybe it's time to set that guilty pleasure free?
Is this Patrol too big and beefy, or right-sized for your family needs? Tell us what you think in the comments below.
Design
Maserati Levante
7/10
The Levante looks exactly how a Maserati SUV should, with the long bonnet flanked by curvaceous wheel arches with their vents, leading towards a grille that looks ready to eat up slower cars. The heavily raked windscreen and cab-back profile is also very Maserati, as are haunches that muscle over the rear wheels.
If only its bottom was less Maserati. It's a personal thing, but I find Maserati rear ends lack the drama of their faces and the Levante's tailgate is no different in that it borders on plain.
Inside, the Levante looks to be a premium, well-crafted place, although closer inspection reveals there are certain items which appear to be shared with other brands which, like Maserati, are owned by Fiat Chrysler Automobiles (FCA). 
The window and headlight switches, the ignition button, the air-conditioning controls, even the display screen all can be found in Jeeps and other FCA cars.
There are no functionality issues here, but from a design and style perspective they look a little basic and lack the refinement a buyer may expect from a Maserati.
There's a lack of technological pizazz inside as well. For example, there's no head-up display or large virtual instrument cluster as you'll find in the Levante's competitors.
Despite the Jeep-looking bits the Levante is truly Italian. The chief designer Giovanni Ribotta is Italian and the Levante is made at FCA's Mirafiori plant in Turin.
What are the Levante's dimensions? The Levante is 5.0m long, 2.0m wide and 1.7m tall. So that means space inside is enormous right? Um… let's talk about that in the next section, shall we? 
---
Nissan Patrol
6/10
Roy and HG dubbed rugby league legend (and political enigma) Glenn Lazarus 'The brick with eyes', and it's not a bad take on the current Patrol's mammoth presence.
At more than 5.1-metres long, just under two-metres wide, and close to two-metres tall, this is a substantial beast. You've never seen 18-inch rims look so small.
Subtle bulges around the wheel arches and along the bonnet go some way to softening the large regions of only subtly contoured sheet metal. The front and rear bumpers are neatly integrated into the flow of the body, and the flashy, three-part chrome grille boldly announces the big Nissan's arrival.
The profile is bread-box geometric, with more bright metal finish on the window surrounds, door handles, front guard vents and proudly positioned V8 badges. At the back, the Patrol's upright stance is clear, with more chrome above the licence plate, and oddly intricate LED tail-lights that look like aftermarket specials from Tokyo's Akihabara electronics district.
Vast expanses of high-quality leather cover the faces of the classy and oh-so-comfortable seats, while a mix of gentle curves and arrow-straight borders define the dash and centre console.
But then it's as if 'he of the tiny digits' choppered in and demanded custom touches, like yet more chrome around the console, instruments and key controls, as well as broad bands of high-gloss timber you'd swear was fake, but Nissan says is in fact "high-grade wood" trim.
But aesthetics is always a subjective call, and from a functional point of view the interior layout works beautifully. The switchgear is clean and simple, the multimedia interface is straightforward and intuitive and the ergonomics are thoughtful and considered.
That said, niggles include a steering wheel that just won't come up high enough (or a driver's seat that won't adjust low enough), the lack of a digital speedo read-out, multiple blanked-out switches at the base of the centre stack (not a good look), and an awkward, US-style pedal-operated parking brake. Curse you, middle America.
Practicality
Maserati Levante
7/10
You know the Tardis from Dr Who? The time machine police phone box that is much bigger on the inside than it appears from the outside? The Levante's cabin is a reverse Tardis (a Sidrat?) in that even at five metres long and two metres wide, legroom in the second row is tight and at 191cm tall I can only just sit behind my driving position.
Headroom is also getting tight back there because of the swooping roofline. These aren't major issues, but If you were thinking of using the Levante as a SUV limousine of sorts then the limited room back there just won't be enough to let your taller passengers stretch out comfortably.
Also ruling it out as a chauffeur car in my view is the ride experience in the second row. I'll cover this in the driving section below.
The Levante's cargo capacity is 580 litres (with second row seats up) which is on the small side, and less than the Porsche Cayenne's 770 litre boot space.
Cabin storage is pretty good, with a giant centre console bin up front with two cupholders inside. There are another two cupholders near the shifter and two more in the fold-down armrest in the rear. Door pockets are on the smaller side, however.
---
Nissan Patrol
9/10
Space is something this vehicle has in abundance, and with a wheelbase of close to 3.1 metres, passengers are well taken care of. Actually, five out of eight passengers. But it's likely the third-row seat will be a kid-zone anyway, and if they're not old enough to vote, they're not old enough to complain.
The fortunate pair up front will luxuriate in broad but supportive chairs, with heaps of storage on offer, including a giant central console box (with a nifty two-way lid that provides access for rear seaters), a pair of large cupholders, a generous glove box, and big door pockets with space for bottles. There's also a drop-down sunglass holder in the roof, a 12-volt outlet, as well as USB and auxiliary line-in media sockets.
Second-row accommodation is probably best measured in hectares, but suffice it to say there's plenty of room. With the driver's seat set to this 183cm-tester's position, head and legroom is limo-like, and there's even enough width for three grown-ups.
Roof-mounted air-con vents are controlled by a digital panel in the back of the front centre console, there are specific reading lights, big bottle bins in the doors, and a pair of small-ish cupholders in the folding centre armrest.
Yes, third-row legroom is tight for adults, but access is easy thanks to a simple fold-and-roll function on both sides of the centre-row seat. Once back there, the kids have no less than four bottle/cupholders at their disposal, as well as air vents in the roof. And the third row can slide through 20mm for more legroom or storage space.
Even with the third-row seats upright there's 550 litres of cargo space available. Enough to hold the CarsGuide pram (on its side), or our three-piece hard suitcase set (35, 68 and 105 litres). Plus there's a full-width stowage box under the floor. For reference, a full-size Holden Commodore sedan's boot holds 495 litres.
In this configuration, there are still six cargo tie-down shackles available, with a light and 12-volt outlet also provided. There's also a full-size (alloy) spare wheel.
Fold the third-row forward, and capacity increases to 1490 litres, which is enough to swallow the pram and luggage set, with room to spare.
Flatten both the rear rows and it's like looking down the belly of a C-130 Hercules, with no less than 3170 litres of load space liberated. And if weight is a factor, you have a 734kg capacity to play with.
Worth noting the cargo floor, with seats folded, isn't flat, the ramp angle increasing the closer you get to the front seats, and weirdly, there's no electronic control for the tailgate. You need the top-spec Ti-L version for that.
Price and features
Maserati Levante
7/10
Guessing you want to know just how much more affordable this Levante is compared to the other grades in the range? Okay, the entry-level Levante lists for $125,000, before on-road costs.
That may sound expensive but look at it like this: the entry Levante has the same Maserati-designed and Ferrari-made 3.0-litre twin-turbo petrol V6 as the $179,990 Levante S and an almost identical standard features list. 
So how on this planet is it possible there could be a $55K price difference and yet the cars be almost the same? What's missing?
Horsepower is missing – the base grade Levante may have the same V6 as the Levante S but it doesn't have as much grunt. But we'll get to that in the engine section.
As for the other differences – there aren't many, almost none. The Levante S comes with a sunroof as standard and front seats that adjust to more positions than the Levante, but both grades come with an 8.4-inch touchscreen with Apple CarPlay and Android Auto, sat nav, leather upholstery (the S does get more premium leather), a proximity key and 19-inch alloy wheels.
Those standard features are also identical to those in the Turbo-Diesel which sits above the Levante at $159,990.
Apart from less horsepower, no standard sunroof (as on the S) and upholstery which isn't quite as nice as the S's another downside to the base grade Levante is that optioning the GranLusso and GranSport packs is expensive… really expensive.
The GranLusso adds luxurious touches to the exterior in the form of metallic trim to the roof rails, the window frames and protection plates to the front bumper, while in the cabin thee front seats come in a choice of Ermenegildo Zegna silk upholstery, Pieno Fiore (full-grain) leather or premium Italian hide.
The GranSport toughens up the exterior with a more aggressive body kit with black elements and adds 12-way power adjustable sports seats, brushed-chrome shifting paddles and aluminium-face sports pedals.
The features those packages offer are nice – those silk and leather seats are sumptuous for example, but each pack costs $35,000. That's almost 30 per cent of the list price of the entire vehicle, extra. The same packages on the Levante S costs just $10,000.
While the Levante is the most affordable Levante, and also the cheapest Maserati you can buy, it's more expensive than its Porsche Cayenne (entry V6 petrol) rival which lists for $116,000, while the Range Rover Sport 3.0 SC HSE is $130,000 and the Mercedes-Benz GLE 43 is $135,529.
Is the new entry-grade Levante good value, then? Yes, for a Maserati, if you don't option the packages, and yes compared to most of its rivals.
---
Nissan Patrol
8/10
When it launched here in early 2013, the Y62 Patrol Ti was priced at $92,850, with an entry-level ST-L ($82,200) below, and the flagship Ti-L ($113,900) above it.
This positioning kicked the evergreen four-wheel drive into new territory, given the most expensive version of the previous (Y61) model weighed in at $72,690.
And sure enough, by mid-2015 the market had spoken, and Nissan Australia 'repositioned' the range, culling the base ST-L and lopping a massive $23,400 off the Ti's price, adding some extra fruit to its specification at the same time.
That $69,990 pricing remains in place, substantially undercutting the V8 petrol-powered Toyota LandCruiser VX, which sits at $94,070. But the Toyota steamroller continues to flatten the Patrol in terms of sales.
When you look at the Patrol Ti's standard features list, though, you have to marvel at the power of the LandCruiser brand, because this Nissan is loaded.
Included on the Ti spec sheet is, keyless entry and start, 'leather accented' trim, eight-way power front seats (including height and lumbar adjust), tri-zone climate-control air con (with rear control), cruise control, sat nav with 3D mapping, 'leather accented' steering wheel and shift lever, 8.0-inch colour multimedia touchscreen, 'Around View Monitor' (with reversing camera), six-speaker CD/DVD audio with 9.0GB hard drive and Bluetooth connectivity, glass tilt and slide sunroof, auto headlights, rain-sensing wipers, side steps, and 18-inch alloy wheels.
Not bad at all, but it's worth noting Apple CarPlay and Android Auto are missing in action.
Engine & trans
Maserati Levante
8/10
If you've just read the section above on price and features, you're now probably wondering how much less powerful the Levante is compared to the Levante S.
The Levante has a 3.0-litre twin-turbo petrol V6 and it sounds magnificent. Yup, the entry-grade Levante lets loose that Maserati high-pitched scream when you open the throttle, just like the S. It may sound the same as the S but the Levante's V6 has less horsepower. At 257kW/500Nm, the Levante makes 59kW less in power and 80Nm less in torque.
Is there a noticeable difference? Not much. Acceleration isn't as rapid in the Levante with 0-100km/h coming in six seconds compared to 5.2 seconds in the Levante S.
Shifting gears is an eight-speed ZF-sorced automatic transmission which is super smooth, but a little slow.
---
Nissan Patrol
8/10
Nissan's all-alloy, 32-valve, quad-cam VK-series V8 engine started life 15 years ago, debuting in the third-generation Infiniti Q45 (which never saw the light of day in Australia).
It's since gone on to power a range of other Infiniti and Nissan models, and in this most recent 5.6-litre (VK56VD) iteration, develops 298kW at 5800rpm, and a thumping 560Nm at 4000rpm.
The big V8 features 'VVEL' (Variable Valve Event and Lift) technology (on the intake side) as well as direct injection. And in case you think the torque peak arrives high in the rev range, 90 per cent of that maximum (504Nm) is available from just 1600rpm.
It's matched with a seven-speed automatic transmission featuring sequential manual mode (available via the console shifter only) and 'Adaptive Shift Control' logic.
Drive can be directed to the rear wheels or all four (in high- or low-range) via Nissan's 'All Mode 4x4' system, offering specific off-highway settings for sand, snow, and rock, as well as a rear diff-lock.
Fuel consumption
Maserati Levante
7/10
Even if you were to drive your Levante conservatively Maserati says you can expect it to use at best 11.6L/100km over a combination of urban and open roads, the Levante S is a bit thirstier at an official 11.8L/100km. 
In reality you can expect the twin-turbo petrol V6 to want more – just open road driving was seeing the trip computer report 12.3L/100km, You can bet that'll go up in the city and climb higher if you like to keep raising the Levante's beautiful voice.
---
Nissan Patrol
6/10
Nissan claims 14.5L/100km for the combined (urban/extra urban) cycle, and doesn't even venture into the area of stated CO2 emissions.
Without any injudicious use of the right-hand pedal, over roughly 250km of city, suburban and freeway running we managed to exceed that figure by close to 15 per cent, recording an average of 16.5L/100km.
The other not so good news is the V8 turns up its nose at anything less than premium unleaded, so if you live in a capital city, get ready to shell out around $210 dollars to fill the 140-litre tank with 95RON juice.
Driving
Maserati Levante
8/10
When I reviewed the Levante S at its launch in 2017 I enjoyed its good handling and comfortable ride. But impressed as I was with performance from the engine I felt the car could be quicker.
So how then would a less powerful version of the same car feel? Not much different, actually. The base grade Levante is only 0.8s slower to 100km/h than the S at six seconds. The air suspension is the same as the S's and returns a comfortable and compliant ride, and handling with the dampers in the firm setting is impressive for a two tonne, five-metre long vehicle.
Front brakes in the Levante base grade car are smaller (345 x 32mm) than in the S (380 x 34mm) and the tyres aren't staggered either with 265/50 R19 all around.
The variable-ratio, electrically-assisted power steering is well weighted, but too quick. I found the car turned in too far, too quickly, with regular mid-corner corrections a tiresome necessity.
To me there's no point going for the S based on the assumption that it's going to be a much higher performing car. The Levante and Levante S and are both mild in their power delivery and have better dynamics than an average large SUV.
If you are after a true high-performance Maserati SUV then you might be best off waiting for the Levante GTS coming in 2020 with a 404kW V8.
The base grade Levante V6 sounds just as beautiful as the S's, but there's one place where it isn't very pleasant. The back seat.
At the launch of the Levante S in 2017 I didn't have the chance to ride in the rear seats. This time around I let my co-driver steer for half-an-hour while I sat in the left rear position. 
For starters it's louder back there – the exhaust note is almost too loud to be pleasant. Plus, the seats aren't supportive or comfortable. 
There's also a slightly claustrophobic, cave-like feeling in the second row, largely due to the roof's accentuated slope towards the rear. This, to me, rules it out almost completely as something to ferry guests around in comfort.
---
Nissan Patrol
8/10
Driving the Patrol Ti is like eating a freshly baked marshmallow – soft, sweet, and delightfully indulgent.
It's an effortless, stress-free experience, thanks mainly to the engine's huge reserves of torque, and the independent (double wishbone front and rear) suspension's magical ability to soak up even significant imperfections.
You have to consciously remind yourself this is an old school, body-on-frame design. But the magic bit that transforms the Patrol's ride and handling, is Nissan's 'Hydraulic Body Motion Control' suspension tech.
The system is managed by nitrogen-charged accumulators, with cross-linked piping allowing the transfer of hydraulic fluid between shock absorbers to actively control suspension travel.
In cornering, stiffness is increased to reduce body roll and, in straight running, overall ride quality is enhanced… a lot.
The seven-speed auto is ridiculously smooth, the seats remained comfy and supportive after lengthy stints behind the wheel, and the interior is supremely quiet.
And with all that heft barrelling down the road, big disc brakes (358mm front/350mm rear) with four-piston calipers at the front, consistently pull this sturdy unit up without a hint of drama.
But with the soft sweetness comes a hard truth. The light 'speed-sensitive' steering twirls through roughly 5000 turns lock-to-lock, and produces approximately zero road feel.
Nissan makes no bones about the fact the Patrol is aimed at city types, with its 4WD ability mostly applied to towing. And the Ti is able to haul 750 unbraked kilos, with a healthy 3.5-tonnes in scope if your boat trailer or caravan is braked.
Another standard feature that comes in doubly handy when manoeuvring a substantial vehicle like this is the 'Around View Monitor', combining bird's eye, front, rear, and side views. It's brilliant, and panel beaters should hate it.
While this isn't an off-road test, if you do decide to take the tribe on a Top-End adventure, standard 'Hill Descent Control', 'Hill Start Assist', rear diff-lock, helical LSD, and the All Mode system are ready for action.
For the hardcore off-roaders, ground clearance is 283mm, approach angle is 34.1 degrees and the departure angle is 25.9 degrees.
Safety
---
Nissan Patrol
7/10
Standard active safety tech includes, stability and traction control, ABS, EBD, Brake Assist, 'Cross-Traffic Recognition', and a tyre pressure monitoring system. But no AEB.
If you want higher order features like, 'Blind Spot Warning', 'Blind Spot Intervention', 'Distance Control Assist', 'Forward Collision Warning' and 'Intelligent Cruise Control', they're standard on the ($86,990) VTi-L.
On the passive side of the ledger, there's driver and front passenger head and side airbags, as well as side curtain airbags covering all three rows. 
ISOFIX child restraint anchor points and top tethers are included in the outer second row seat positions, with another tether hook in the third row.
The Patrol has not received a safety star rating from ANCAP or EuroNCAP.
Ownership
Maserati Levante
6/10
The Levante is covered by Maserati's three year/unlimited kilometre warranty. Servicing is recommended at two year or 20,000km intervals. More brands are moving to longer warranties and it would be good to see Maserati offer its buyers longer coverage.
---
Nissan Patrol
7/10
Nissan supports the Patrol with a three year/100,000km warranty, with three years roadside assistance included.
Sure, Nissan has a well-deserved reputation for reliability, but with the likes of Kia upping the game to seven years/unlimited kilometres, surely it's time for a warranty adjustment.
The scheduled service interval is six months or 10,000km, which is a pain when most of the market is at 12 months.
A six year/120,000km 'Service Certainty' program locks in pricing for those 12 services, with a low cost of $375, and a high of $1240 (100,000km), which equates to an average of $608 per visit. You'll also need to factor in $42 for brake fluid every two years/40,000km.