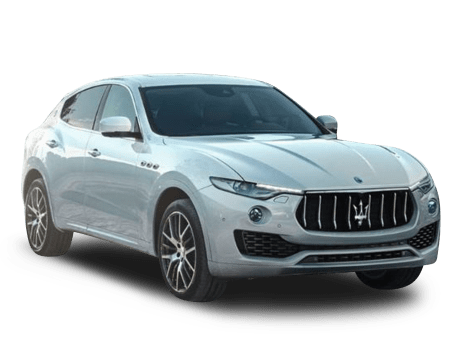 COMPARE
Maserati Levante
VS
Audi SQ5
Maserati Levante
Likes
More affordable entry into Levante range
Great engine note
Almost identical standard features to the Levante S
Dislikes
GranLusso and GranSport packs are expensive
Limited room in the rear seats
Steering is overly sharp and quick
---
Audi SQ5
Likes
Great chassis
Loaded with tech
Petrol engine is smooth and fast
Dislikes
Could look a bit more exciting
Now knocking on $100k
Warranty package starting to look short
Summary
Maserati Levante
Maserati. What do you reckon that name means to most people? Fast? Loud? Italian? Expensive? SUVs?
Well, maybe not the last one, but it likely will soon. See, with the Levante SUV accounting for half of all Maseratis now sold in Australia, shortly it'll feel like SUVs are all Maserati makes. 
And that may happen even faster with the arrival of the most affordable Levante ever - the new entry-grade, simply called Levante.
So, if this new cheaper Levante isn't expensive (in Maserati terms) does that mean it's not fast, loud or even Italian, now? 
We drove this new, most affordable, Levante at its Australian launch to find out.
| | |
| --- | --- |
| Safety rating | — |
| Engine Type | 3.0L turbo |
| Fuel Type | Diesel |
| Fuel Efficiency | 11.8L/100km |
| Seating | 5 seats |
---
Audi SQ5
Audi's SQ5 is one of those marvellous cars that kind of came out of nowhere and instantly defined a genre. Technically, it probably shouldn't have existed. And for a company that is pretty much straight down the line, the decision to launch it as a diesel seemed extra odd. Not that we minded, of course.
The diesel engine was a masterstroke; André the Giant brawny, and with some clever engineering to make it sound like it actually wasn't an oil-burner. But it wasn't just a straight-line screamer - the SQ5 could corner, and it was tremendous fun while doing so.
So this second-generation car had a lot to live up to. But then - heresy of heresies - we found out that, for the moment at least, the SQ5 would be coming with a petrol engine. Without that Herculean torque figure, it's also slightly slower to the 100km/h benchmark.
So has Audi ended our love affair (by that I mean the one between the SQ5 and me)?
| | |
| --- | --- |
| Safety rating | — |
| Engine Type | 3.0L turbo |
| Fuel Type | Premium Unleaded Petrol |
| Fuel Efficiency | 8.7L/100km |
| Seating | 5 seats |
Verdict
Maserati Levante
7.3/10
The entry-grade Levante is the best choice in the current line-up (Levante, Levante Turbo Diesel and Levante S) because it's almost identical in performance and features to the pricier S. 
I'd give the GranLusso and GranSport packs a miss on this base Levante, but would consider them on the S where they are possibly worth the extra $10,000 rather than the $35K asking price on the entry car.
The Levante does a lot right – the sound, the safety and the exterior styling. But the quality of the interior, with its FCA shared parts, lowers what should be a prestige feel.
And back seat comfort could be better, Maseratis are grand tourers and an SUV from this brand should be able to accommodate at least four adults in superb comfort – something this one can't do.

Given the choice and about $130K would you choose a Porsche Cayenne or a Maserati Levante? Tells us what you think in the comments below.
---
Audi SQ5
7.6/10
It's no hot hatch, but it's fast, stylish and plenty enough fun to be considered the ultimate family all-rounder. Unless your kids are freakishly tall or you need to regularly carry wardrobes, it's a great family wagon that can easily deal with the day-to-day stuff, with a comfortable ride and plenty of space.
Some families, like mine, like some genuine performance with their practicality, and the SQ5 is all the car you'll ever need. It may not be the diesel, it may not have that lovely gravelly silliness, but it still looks and feels great, and is full of some of the most advanced tech in a fast SUV today.
Most important, though, it's just as much fun as it ever was.
Is the SQ5 still on your list without the diesel? Or are fast SUVs the work of the devil?
Design
Maserati Levante
7/10
The Levante looks exactly how a Maserati SUV should, with the long bonnet flanked by curvaceous wheel arches with their vents, leading towards a grille that looks ready to eat up slower cars. The heavily raked windscreen and cab-back profile is also very Maserati, as are haunches that muscle over the rear wheels.
If only its bottom was less Maserati. It's a personal thing, but I find Maserati rear ends lack the drama of their faces and the Levante's tailgate is no different in that it borders on plain.
Inside, the Levante looks to be a premium, well-crafted place, although closer inspection reveals there are certain items which appear to be shared with other brands which, like Maserati, are owned by Fiat Chrysler Automobiles (FCA). 
The window and headlight switches, the ignition button, the air-conditioning controls, even the display screen all can be found in Jeeps and other FCA cars.
There are no functionality issues here, but from a design and style perspective they look a little basic and lack the refinement a buyer may expect from a Maserati.
There's a lack of technological pizazz inside as well. For example, there's no head-up display or large virtual instrument cluster as you'll find in the Levante's competitors.
Despite the Jeep-looking bits the Levante is truly Italian. The chief designer Giovanni Ribotta is Italian and the Levante is made at FCA's Mirafiori plant in Turin.
What are the Levante's dimensions? The Levante is 5.0m long, 2.0m wide and 1.7m tall. So that means space inside is enormous right? Um… let's talk about that in the next section, shall we? 
---
Audi SQ5
7/10
The new Q5 is the usual studied restraint from Ingolstadt. No, it's not a striking piece of design, and some find it hard to tell the new car apart from the old one. Move up to the SQ5 and again it's a bit of a sleeper. The 21-inch wheels look brilliant, and the deeper bumpers and skirts, along with the lower ride height, add a bit of aggression, too.
Inside, the Nappa leather is very nice, especially with the detailed stitching and diamond quilting. There's more space in here than there was before, so while still cosy it doesn't feel tight. As with the rest of the Audi range, the new interior lifts the best bits of the A4, which thankfully did not include the weird pin-stripe detail on the console trim. It has gone the only way it should - out.
Practicality
Maserati Levante
7/10
You know the Tardis from Dr Who? The time machine police phone box that is much bigger on the inside than it appears from the outside? The Levante's cabin is a reverse Tardis (a Sidrat?) in that even at five metres long and two metres wide, legroom in the second row is tight and at 191cm tall I can only just sit behind my driving position.
Headroom is also getting tight back there because of the swooping roofline. These aren't major issues, but If you were thinking of using the Levante as a SUV limousine of sorts then the limited room back there just won't be enough to let your taller passengers stretch out comfortably.
Also ruling it out as a chauffeur car in my view is the ride experience in the second row. I'll cover this in the driving section below.
The Levante's cargo capacity is 580 litres (with second row seats up) which is on the small side, and less than the Porsche Cayenne's 770 litre boot space.
Cabin storage is pretty good, with a giant centre console bin up front with two cupholders inside. There are another two cupholders near the shifter and two more in the fold-down armrest in the rear. Door pockets are on the smaller side, however.
---
Audi SQ5
7/10
As before, the SQ5 is comfortable but cosy. Front-seat passengers are, of course, perfectly fine,  and rear-seat dwellers have reasonable head and leg room - our six-foot-two teenager was happy enough back there. Rear-seat passengers can also choose their own climate-control temperature.
Two cupholders are provided front and rear, for a total of four, and the doors each have pockets with bottle holders.
Based as it is on the Q5, boot space is up over the old model by 10 litres, meaning between 550 and 610 litres when the rear seats are in place, and then 1550 litres with the seats folded. Like its cousin the Tiguan, the rear seats slide forward and back.
Price and features
Maserati Levante
7/10
Guessing you want to know just how much more affordable this Levante is compared to the other grades in the range? Okay, the entry-level Levante lists for $125,000, before on-road costs.
That may sound expensive but look at it like this: the entry Levante has the same Maserati-designed and Ferrari-made 3.0-litre twin-turbo petrol V6 as the $179,990 Levante S and an almost identical standard features list. 
So how on this planet is it possible there could be a $55K price difference and yet the cars be almost the same? What's missing?
Horsepower is missing – the base grade Levante may have the same V6 as the Levante S but it doesn't have as much grunt. But we'll get to that in the engine section.
As for the other differences – there aren't many, almost none. The Levante S comes with a sunroof as standard and front seats that adjust to more positions than the Levante, but both grades come with an 8.4-inch touchscreen with Apple CarPlay and Android Auto, sat nav, leather upholstery (the S does get more premium leather), a proximity key and 19-inch alloy wheels.
Those standard features are also identical to those in the Turbo-Diesel which sits above the Levante at $159,990.
Apart from less horsepower, no standard sunroof (as on the S) and upholstery which isn't quite as nice as the S's another downside to the base grade Levante is that optioning the GranLusso and GranSport packs is expensive… really expensive.
The GranLusso adds luxurious touches to the exterior in the form of metallic trim to the roof rails, the window frames and protection plates to the front bumper, while in the cabin thee front seats come in a choice of Ermenegildo Zegna silk upholstery, Pieno Fiore (full-grain) leather or premium Italian hide.
The GranSport toughens up the exterior with a more aggressive body kit with black elements and adds 12-way power adjustable sports seats, brushed-chrome shifting paddles and aluminium-face sports pedals.
The features those packages offer are nice – those silk and leather seats are sumptuous for example, but each pack costs $35,000. That's almost 30 per cent of the list price of the entire vehicle, extra. The same packages on the Levante S costs just $10,000.
While the Levante is the most affordable Levante, and also the cheapest Maserati you can buy, it's more expensive than its Porsche Cayenne (entry V6 petrol) rival which lists for $116,000, while the Range Rover Sport 3.0 SC HSE is $130,000 and the Mercedes-Benz GLE 43 is $135,529.
Is the new entry-grade Levante good value, then? Yes, for a Maserati, if you don't option the packages, and yes compared to most of its rivals.
---
Audi SQ5
7/10
One factoid I really like telling people is that the SQ5 was, for quite some time, the biggest-selling single Q5 model in the country, despite costing upwards of $90,000 on the road.
This new car weighs in at $99,611. Standard are 21-inch alloys, three-zone climate control, a 10-speaker stereo, ambient interior lighting, a comprehensive safety package, reversing camera, around-view cameras, front and rear parking sensors, auto park, keyless entry and start, nappa leather interior, active cruise control, electric heated front seats, sat nav, auto LED headlights, auto wipers, an electric (foot-wavey) tailgate, a wireless hotspot, Audi's 'Virtual Cockpit' digital dash and a space-saver spare.
The media system is Audi's MMI system, which is displayed on the 8.0-inch screen perched on the dash. Controlled by a rotary dial or a touchpad just in front of the dial, it's also got Apple CarPlay and Android Auto as standard. The sound is good and it's even better if you go for the $5600 'Technik package', which adds a 19-speaker Bang & Olufsen system, head-up display and the brilliant Matrix LED headlights, all of which we had on our test car. While $5600 isn't messing about, it's a fair bit of stuff, especially when you consider the Matrix LEDs alone cost half of that on some Audis.
Engine & trans
Maserati Levante
8/10
If you've just read the section above on price and features, you're now probably wondering how much less powerful the Levante is compared to the Levante S.
The Levante has a 3.0-litre twin-turbo petrol V6 and it sounds magnificent. Yup, the entry-grade Levante lets loose that Maserati high-pitched scream when you open the throttle, just like the S. It may sound the same as the S but the Levante's V6 has less horsepower. At 257kW/500Nm, the Levante makes 59kW less in power and 80Nm less in torque.
Is there a noticeable difference? Not much. Acceleration isn't as rapid in the Levante with 0-100km/h coming in six seconds compared to 5.2 seconds in the Levante S.
Shifting gears is an eight-speed ZF-sorced automatic transmission which is super smooth, but a little slow.
---
Audi SQ5
9/10
The diesel donk is out, replaced by Audi's 3.0-litre twin-scroll turbo V6. Power is a hefty 260kW, with 500Nm available from 1370rpm.
The two-tonne-plus (tare) SQ5 streaks from0-100km/h in 5.4 seconds, with power reaching the road via Audi's Quattro system with a mechanical centre diff. Torque is generally apportioned 40/60 front to rear, but can be 85/15 either way when needed. The eight-speed ZF continues on and is, as ever, brilliant.
Fuel consumption
Maserati Levante
7/10
Even if you were to drive your Levante conservatively Maserati says you can expect it to use at best 11.6L/100km over a combination of urban and open roads, the Levante S is a bit thirstier at an official 11.8L/100km. 
In reality you can expect the twin-turbo petrol V6 to want more – just open road driving was seeing the trip computer report 12.3L/100km, You can bet that'll go up in the city and climb higher if you like to keep raising the Levante's beautiful voice.
---
Audi SQ5
7/10
Audi claims a combined cycle of 8.7L/100km. We put the SQ5 to work on mountain passes, the suburbs and long motorway runs, returning 11.7L/100km, which wasn't bad for the amount of fun we had.
Driving
Maserati Levante
8/10
When I reviewed the Levante S at its launch in 2017 I enjoyed its good handling and comfortable ride. But impressed as I was with performance from the engine I felt the car could be quicker.
So how then would a less powerful version of the same car feel? Not much different, actually. The base grade Levante is only 0.8s slower to 100km/h than the S at six seconds. The air suspension is the same as the S's and returns a comfortable and compliant ride, and handling with the dampers in the firm setting is impressive for a two tonne, five-metre long vehicle.
Front brakes in the Levante base grade car are smaller (345 x 32mm) than in the S (380 x 34mm) and the tyres aren't staggered either with 265/50 R19 all around.
The variable-ratio, electrically-assisted power steering is well weighted, but too quick. I found the car turned in too far, too quickly, with regular mid-corner corrections a tiresome necessity.
To me there's no point going for the S based on the assumption that it's going to be a much higher performing car. The Levante and Levante S and are both mild in their power delivery and have better dynamics than an average large SUV.
If you are after a true high-performance Maserati SUV then you might be best off waiting for the Levante GTS coming in 2020 with a 404kW V8.
The base grade Levante V6 sounds just as beautiful as the S's, but there's one place where it isn't very pleasant. The back seat.
At the launch of the Levante S in 2017 I didn't have the chance to ride in the rear seats. This time around I let my co-driver steer for half-an-hour while I sat in the left rear position. 
For starters it's louder back there – the exhaust note is almost too loud to be pleasant. Plus, the seats aren't supportive or comfortable. 
There's also a slightly claustrophobic, cave-like feeling in the second row, largely due to the roof's accentuated slope towards the rear. This, to me, rules it out almost completely as something to ferry guests around in comfort.
---
Audi SQ5
8/10
The old SQ5 wasn't perfect, by any stretch, but goodness gracious was it a barrel of laughs. No car as heavy or as high-riding as the SQ5 had any right to be so much fun, but somehow it was, without the compromise of a super-hard ride or a din from fat tyres.
The numbers are a bit of a compromise; weight is down by around 130kg, but you're also missing 200Nm compared to the old car. The colossal torque figure was a big part of that car's appeal, and I did miss it. However, once I'd got over that, I found something just as fun underneath.
As with the rest of the Q5 range, it's quieter on the cruise and the cabin is once again the best in the business, borrowing much from the A4. With adaptive dampers set in comfort mode, it's comfortable and compliant and road noise is kept to a minimum. I'm not a huge fan of the light steering in this mode, but it's set to be low stress rather than man-handled.
Step up into Dynamic and everything beefs up; the ride stiffens and the car actually drops to lower the centre of gravity. The exhaust opens up and starts popping and farting, too, while the steering weights up and the throttle drops any easygoing slack.
Throwing it down through the bends of some NSW Blue Mountains back roads, this car sparkles. It's tons of fun (literally), with the security of the of the Quattro drivetrain underneath. The exhaust isn't quite enough to make me want to wind the windows down on a cold morning, but it's amusing enough inside given the stereo plumps up the racket a bit.
Despite being down on torque, it still feels very strong in the mid-range. It doesn't quite have the organ-squishing punch of the diesel, but the smoother, more linear delivery feels more conventional, particularly with most of the power heading to the rear wheels.
Safety
---
Audi SQ5
9/10
The SQ5's five-star ANCAP rating (May 2017) comes courtesy of eight airbags, ABS, stability and traction controls, exit warning system (which lets you know if you're about to clobber a cyclist, pedestrian or approaching car), cross-traffic assist (stops you turning across approaching traffic), blind-spot warning, forward collision warning (up to 250km/h), around-view camera and front and rear AEB.
There are three top-tether restraints and two ISOFIX points.
Ownership
Maserati Levante
6/10
The Levante is covered by Maserati's three year/unlimited kilometre warranty. Servicing is recommended at two year or 20,000km intervals. More brands are moving to longer warranties and it would be good to see Maserati offer its buyers longer coverage.
---
Audi SQ5
7/10
Audi offers its three year/unlimited kilometre warranty, which is competitive in the segment, but much cheaper cars (and Lexus, for that matter) offer more. You can pay for a further four years and up to 160,000km on top of the standard warrant. Roadside assistance is yours for the duration of the standard warranty.
Servicing comes every twelve months or 15,000km, and you can purchase a plan to cover the first three years or 45,000km, whichever comes first, for $1870 - which is $280 more than any of the other Q5s.