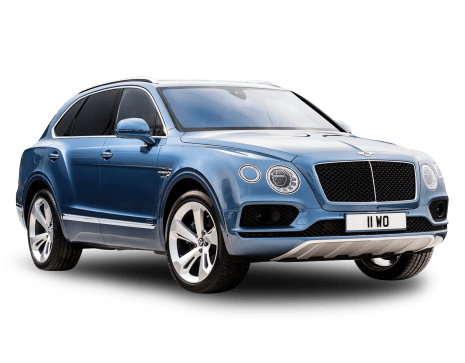 COMPARE
Bentley Bentayga
VS
BMW X4
Bentley Bentayga
Likes
Magnificent twin-turbo petrol V8
Superbly comfortable
Surprisingly dynamic for its size
Dislikes
A little awkward looking
Low on standard advanced safety equipment
Boot is smaller compared to rivals
---
BMW X4
Likes
Fabulous engine
M-spec interior/seats
4WD Sport setting
Dislikes
Confusing combination of style and substance
Expensive
Not pretty
Summary
Bentley Bentayga
When Bentley revealed its Bentayga in 2015 the British brand called it "the fastest, most powerful, most luxurious, and most exclusive SUV in the world."
Those are exciting words, but a lot of things have happened since then. Things such as the Rolls Royce Cullinan, the Lamborghini Urus and the Bentayga V8 - which is the vehicle we're reviewing.
See, that first Bentayga packed a W12 engine, but the SUV we have here was introduced in 2018 with a twin-turbo petrol V8 and a reduced price tag.
So how does this more affordable and less powerful Bentayga stack up to Bentley's lofty ambitions?
Well you've come to the right place, because along with speed, power, luxury and exclusivity I can also talk about the Bentayga V8's other attributes, such as what it's like to park, drop children off at school in, do the shopping in and even go through a 'drive thru' in.
Yes, the Bentley Bentayga V8 came to live with my family for a week and as with any house guest you quickly find out what's great about them… and then there are those times you walk in on them not looking their best.
| | |
| --- | --- |
| Safety rating | — |
| Engine Type | 4.0L turbo |
| Fuel Type | Premium Unleaded Petrol |
| Fuel Efficiency | 11.4L/100km |
| Seating | 5 seats |
---
BMW X4
Launching new cars must be an endlessly repetitive job, and trying to keep over-fed, overly feted and ostentatious motoring journalists entertained would strain the will to live of any human being, or even a house elf. So it's easy to see why the people at BMW tried something different when it came time to launch its new X4 M Competition. 
They were also dealing with a very strange car; not just an M version, but a Competition variant of a mid-size SUV (or SAV, as they prefer) with a kind of quirky coupe roofline that makes it look like it would prefer not be an SUV (or SAV) at all.
While the idea that someone might use this car for any kind of motorsport "Competition" seems as likely as Clive Palmer running for the bus, what it means is that this X4 gets an absolute rocket of an engine and all kinds of go-faster bits.
So, BMW decided to create a place called M Town - "a place where too much is just right", as they put it - where we could experience this car in what you would have to call its unnatural environment.
M Town, in this case, was a giant clay pan hidden in the middle of the South Australian outback, with a rally circuit laid out on it, where we would be invited to drive the X4 M Competition as no one intended.
Cue much hilarity, and a highly unconventional non-road test.
| | |
| --- | --- |
| Safety rating | — |
| Engine Type | 3.0L turbo |
| Fuel Type | Premium Unleaded Petrol |
| Fuel Efficiency | —L/100km |
| Seating | 5 seats |
Verdict
Bentley Bentayga
7.3/10
The Bentayga is Bentley's first attempt at an SUV and the Bentayga V8 is a more recent addition to the line-up that provides an alternative to the W12, hybrid and diesel models.
There's no doubt the Bentayga V8 delivers an exceptionally good driving experience from its power and athleticism to the serene cabin and comfortable ride.
Where the Bentley Bentayga V8 appears to be lacking is in cabin technology which compared to other luxury SUVs is becoming outdated, and in standard advanced safety equipment. We'd expect this to be addressed in future revisions of the SUV.
Does the Bentayga fit the ultra-luxury SUV bill? Tell us what you think in the comments section below.
---
BMW X4
7.6/10
Clearly it is hard to give a verdict on what car generally bought to be driven on public roads 99.9 per cent of the time is like to drive when you've only smashed it around a clay pan like a (very) amateur rally drive.
What we can tell you is that the X4 M Competition is a far more serious, exciting version of the (small) family friendly/cool and trendy young couple mid-size SUV, the basic X4. It also has a very exciting engine, and lots of polished gloss black bits on it and, for some reason, seems slightly more fun than the X3 it is closely twinned with. 
It is not a car that will attract, or makes sense to, everyone, and its high price will scare a lot of sensible people away. But clearly BMW believes there is a niche market of people who will want one, and will pay top dollar for one. There's no doubt Aussie buyers do love an M badge, and they may well warm to this one.
Note: CarsGuide attended this event as a guest of the manufacturer, with travel and meals provided.
Design
Bentley Bentayga
7/10
The Bentayga is unmistakably a Bentley, but I have my doubts whether this first attempt by the British brand to build an SUV has been a design success.
To me, the rear three-quarter view is its best angle with those trademark rear haunches, but front-on reveals an overbite I can't 'unsee'.
The same face works perfectly on a Continental GT coupe, and the Flying Spur and the Mulsanne saloons, but on the taller Bentayga the grille and headlights seem too high.
But then again perhaps I'm the one with bad taste, I mean I think Lamborghini's Urus SUV, which uses the same MLB Evo platform, is a work of art in its design, staying faithful to the sports cars in the family, while acquiring a brave look of its own.
That MLB Evo platform also underpins the Volkswagen Touareg, the Audi Q7 and the Porsche Cayenne.
I also found the interior of the Bentayga V8 disappointing. Not in terms of overall craftsmanship but rather its outdated technology and plain styling.
The 8.0-inch screen is almost identical to the one used in the Volkswagen Golf in 2016. But the Golf received its Mk 7.5 update in 2017 and with it a stunning touchscreen which hasn't made it into the Bentayga yet.
The steering wheel, too, has identical switchgear to the $42K Audi A3 I reviewed two weeks ago and you can add the indicator and wiper stalks into that mix as well.
While the fit and finish of the upholstery was outstanding, there was a lack of interior refinement in some places. For example, the cupholders, had rough and sharp plastic edges, the gear shifter was also plastic and felt flimsy, while the fold-down armrest in the back seats also lacked refinement in the way it was constructed and lowered without damping.
At just over 5.1m long, 2.2m wide (including the wing mirrors) and a little over 1.7m tall the Bentayga is big but it's the same length and width as the Urus, and a bit taller. The Bentayga's wheelbase is only 7.0mm shorter than the Urus's at 2995mm.
The Bentayga isn't the longest of the Bentleys, that's for sure. The Mulsanne is 5.6m end-to- end and the Flying Spur is 5.3m in length. So, the Bentayga V8 is almost 'fun-size' in Bentley terms, even though it's large.
The Bentayga is made in the United Kingdom at Bentley's home (since 1946) in Crewe.
---
BMW X4
7/10
It only seems reasonable to give the X4 M one more point out of 10 for deign than its X3 non-identical twin sister, because at least the designers have had a bit of a go at the rear.
The idea of a coupe SUV has always seemed like something a hunchback came up with so that people wouldn't only stare at him, but it obviously appeals to some people.
And yes, parked next to an X3, this version looks better, with sleeker tail lights and a more stylish rear altogether. The more pronounced swoop of the roofline is also an improvement.
But my argument remains that BMW calls this X4 M Competition "bold and functional", which tells you all you need to know. When a marketing department can't come up with a better term than "functional" when talking about design, for a BMW, it's just not hat exciting to look at. 
In fact, it looks like a shopping trolley with bigger wheels and go-faster stripes.
The non-M X4 is not exciting to look at it, either, it's even more… functional, and this version is delineated as being M special by covering as many things as possible with "black high-gloss bits", so black mirrors, black side gills, black chrome tail pipes, you get the picture.
BMW might have also used the word "tough" to describe this X4, and they did keep talking about how people might track it, which seems as likely as me entering a rocking horse in the Melbourne Cup, but I think they're having a lend of themselves.
The interior feels like a proper M car, though, with the big red, programmable M buttons on the chunky steering wheel particularly eye catching, and a very cool looking gear stick. The M Sport seats also both look and feel fantastic, and the Merino Leather is lovely. 
Practicality
Bentley Bentayga
7/10
The Bentayga V8 may be an SUV, but that doesn't immediately make it a god of practicality. While roomy up front for the driver and co-pilot, the rear seating is not exactly limo-like, although at 191cm tall I can sit with about 100mm of space. Headroom is slightly limited by the edges of the panoramic sunroof for rear riders, too.
Storage in the cabin is adequate with two cupholders and small door pockets in the back, and another two cupholders and larger door pockets in the front. There's also a shallow centre console storage bin and two wells for loose items in front of it.
The Bentayga V8's boot with the rear seats in place has a cargo capacity of 484 litres – that's measured to the cargo cover, but to the roof its 589 litres.
That boot space is still smaller than the Lamborghini Urus's 616 litres and there's much less boot space than the Audi Q7 and Cayenne which both have 770 litres measured to the roof, too.
Making life easier is the load-height lowering system which is operated with a button located in the boot.
The tailgate is powered, but the kick-open function (standard on say an Audi Q5) is an option you'll have to pay for on the Bentayga.
As for power outlets and charging, the Bentayga's falling out-of-date here, too. There is no wireless charger for phones, but there are two USB ports up front and three 12-volt outlets (one in the front and two in the rear row) on-board.
---
BMW X4
7/10
In practicality terms, the X4 loses the gains it made on looks against the X3, because you're obviously getting less headroom in the rear, and slightly less boot space as well.
For a vehicle of its mid-size, the X4 isn't too badly sorted for interior space, however. The rear seats, in particular, are impressive, in terms of knee room at least, although headroom is not fabulous.
I'm 176cm tall, and I could comfortably sit behind my own seating position without my knees even touching the seat in front, and headroom is also excellent, front and rear.
Those sporty front seats do make things feel slightly squeezed in the front, and the width of the headrests effects forward visibility for those in the rear, but they're so great to sit in that you'd put up with that.
The rear seat splits 40:20:40, giving you access to the boot, which is 525 litres in the X4 M with the seats up, because you've chosen the more practical option (the X3 gets 25 litres more).
Drop the rear seats and you've got a useful 1430 litres of loadspace when you're driving two-up, although you'd have 1600 litres if you'd chosen the cheaper X3 M.
There's plenty of space for your phone, on its wireless charging pad, and you also get two cupholders for the front chairs, with another two in the rear armrest.
Price and features
Bentley Bentayga
6/10
That's the question those who can't afford a Bentley Bentayga V8 want to know the answer to, and the one that those who can don't ask.
I'm in the first group, so I can tell you the Bentley Bentayga V8 has a list price of $334,700. Our car had $87,412 in options which we'll take a look at, but all up including the on-road costs, our test car had a price of $454,918.
Standard features inside include leather upholstery in a choice of five colours, 'Dark Fiddleback Eucalyptus' veneer trim, a three-spoke leather clad steering wheel, 'B' foot pedals, Bentley embossed treadplates, an 8.0-inch touchscreen with Apple CarPlay and Android Auto, sat nav, a 10-speaker stereo, CD player, digital radio, four-zone climate control and shifting paddles.
Exterior standard features include 21-inch wheels, black painted brake calipers, air suspension with four height settings, a choice of seven paint colours, gloss black radiator grille, black lower bumper grille, LED headlights and LED tail-lights, twin quad-exhaust and a panoramic sun roof.
Our car was fitted with options galore which is common in vehicles loaned to the media. Car companies often use these cars to showcase available options rather than represent a typical customer specification.
There's the 'Artica White' paint from the bespoke Mulliner range costing $14,536; 'our' car's 22-inch wheels weigh in at $9999, as do the fixed side steps; the tow bar and brake controller (with Audi Q7 badging, see the images) is $6989; body coloured lower bodywork is $2781 and LED puddle lights are $2116.
Then there's the acoustic glazing for $2667, front seats with the 'Comfort Specification' for $7422 and then $8080 for the 'Hot Spur' main hide and 'Beluga' secondary hide leather upholstery, the $3825 piano black veneer trim and if you want the Bentley logo embroidered into the headrests (as per our car) it costs $1387.
Does it represent good value for the price? Not by regular standards, but Bentleys are anything but regular cars, and those that buy them tend not to look at prices.
But, as I do with every car I review (whether it costs $30,000 or $300,000), I ask the manufacturer for a list of options fitted to the test car and the as-tested pricing, and I always include those options and their costs in my review.
---
BMW X4
7/10
It's a tricky thing to evaluate such a weird beard of a car as this in terms of value, because normally when you're being asked to spend $164,900 for a BMW you're getting something that's all sports car, wrapped in sexiness.
In the case of the X4 M Competition, you're getting a mid-size SUV that's not exactly capacious but goes like the clappers, and looks… like a mid-size SUV. And that's a lot of money for one of those.
To be fair, the X4 M has a more coupe-shaped roofline than the X3 version it shares its M Competition badging with, but this is a case of being less unattractive rather than better looking.
And, on the downside, you're paying $7000 more than you would for the ever-so-slightly more practical X3 version, which would be hard to justify even if the X3 M wasn't already very expensive.
What you are getting for the money is an engine that will blow you away, so that's worth a bit. 
The car only comes with the Standard Competition Package in Australia (it's the top option elsewhere), due to the popularity of that kind of thing in our market, apparently.
That gets you the amazing engine plus a standard M Sport Exhaust, connected to four, black-tipped tailpipes, an eight-speed sports automatic, xDrive with 4WD and 4WD Sport modes, and an Active M Differential.
You'll also score "Professional" satellite navigation, Comfort Access, a Panorama sunroof, M Head Up Display, Driving Assistant Plus with semi-autonomous functionality including Active Cruise Control and Parking Assistant Plus, plus Hill Descent Control.
And don't forget 21-inch light alloy wheels, Adaptive LED headlights, ambient interior lighting with six colour options, and alarm system, very sexy M Sport seats (the M logo on the headrests even glows at night when you open the door) with Extended Leather Merino trim, a 16-speaker harman/kardon stereo system, tyre-pressure monitoring, lane-keeping assistant, wireless charging, individual roof rails, rear roller sunblinds and BMW Connected Drive. 
Are there any options you could even want on top of all that? Have you ever seen a BMW offered without them? 
Strangely and uniquely, BMW asks you to pay for Apple CarPlay, which everyone will, at $623, and you can have your seats ($700), or steering wheel ($500) heated for winter mornings. Active seat ventilation is $1600 more, and metallic paint will sock you $2000, or $2350 for Individual Metallic (you can have Alpine White, non-metallic, for free).
Engine & trans
Bentley Bentayga
9/10
The scores I've awarded to the Bentayga V8 so far haven't been impressive, but now we come to the twin-turbo 4.0-litre V8.
Derived from the same unit found in the Audi RS6 this turbo-petrol V8 makes 404kW/770Nm. That's enough grunt to get this 2.4 tonne beast from parked in your garage to 100km/h in 4.5 seconds, provided your driveway is at least 163.04m long, which for some owners would be entirely possible.
That's not as quick as the Urus which can do it in 3.6 seconds, but while the Lamborghini shares the same engine it's tuned to make 478kW/850Nm and that SUV is about 200 kilos lighter.
Shifting gears wonderfully in the Bentayga V8 is an eight-speed automatic which suits the Bentley better with its seamless but not-in-a-huge-hurry gear swaps than the same unit in the Urus.
While there are those who think a W12, as found in the first Bentayga, is more in line with Bentley's ethos, I think this V8 is superb in its power delivery and sounds subtle but magnificent.
The braked towing capacity of the Bentley Bentayga is 3500kg. 
---
BMW X4
9/10
No matter what you think of the X4 M Competition - its looks, its very existence - there's no denying that its engine is something to be very excited about.
The 3.0-litre in-line six with M TwinPower Turbo technology is 90 per cent new, according to BMW, and will soon see action in the new BMW M3 and M4, and it is a rip snorter. The folks at M have thrown everything at it, using 3D printing to make the cylinder head, a forged crankshaft, and two new mono-scroll turbochargers, which are obviously different from the twin-scroll versions in the M5, and lift direct fuel-injection pressure from 200 bar to 350 bar. Apparently they're even better. It also gets an electrically controlled wastegate for maximum efficiency.
The goal was an impressive 500 horsepower, or 375kW in our lingo, and they've achieved it. They've also made magic by combining both traditional BMW free-revvingness and savage turbo torque. With all of its maximum 600Nm available from 2600rpm to 5950rpm, it has the highest torque bandwidth of any BMW engine.
The screaming six can rev all the way to 7200rpm, at which point it sounds truly Wagnerian in its magnificence, and that 375kW peak point arrives at a dizzying 6250rpm.
This really is an engine that wants you to belt the hell out of it, and when you choose its most aggressive modes, and turn the adjustable M exhaust to its noisiest setting, it's a joyful experience.
It's also a weird one, because there's just something so out of place about an engine like this in a car like this - it's like finding out that your mum has secretly been cage fighting - but still, in pure engine terms, it's a cracker.
The ZF eight-speed torque-converter automatic transmission is also silky smooth and seamless, as you'd expect.
Fuel consumption
Bentley Bentayga
7/10
A 4.0-litre twin-turbo petrol V8 pushing a 2.4-tonne SUV loaded up with people and possibly towing a horse float is going to want to be fed fuel – lots of fuel.
And that's even if engine has cylinder deactivation like the one in the Bentayga V8 which can cut out four of the eight when not under load.
Officially, combined fuel consumption for the Bentayga V8 is 11.4L/100km, but after 112km of fuel testing on a combination of motorways, suburban and city roads I measured 21.1L/100km at the petrol pump.
I'm not surprised. For most of that I was in Sport mode or in the traffic, or in both at the same time.
---
BMW X4
8/10
There's no official Australian figure as yet, and we certainly didn't do any testing that would be helpful, so all we can tell you is that the claimed figure is 10.6 litres per 100km. Which would be good, if you could actually achieve it. Good luck with all this temptation on board.
Driving
Bentley Bentayga
9/10
Comfortable and (believe it or not) athletic, sums it up. And the only thing stopping me from throwing in another word such as effortless is the forward visibility, which is what I noticed the moment I steered it out of the dealership and into the traffic.
But first let me give you the comfortable and athletic good news. The Bentayga felt nothing like it looked to drive – my eyes told me it should be more sumo wrestler than ninja to steer but they were wrong.
Despite the hulking dimensions and not insignificant weight, the Bentayga V8 felt surprisingly lithe with great handling for an SUV this size.
That the Urus, which I test drove a few weeks beforehand, also felt athletic seemed less a surprise in that the styling suggested it was agile and quick.
Thing is it shouldn't be a surprise given the Urus and Bentley share the same MLB EVO platform.
Four standard drive modes let me change the character of the Bentayga V8 from 'Comfort' to 'Sport'. There's also a 'B' mode which is a mix of throttle response, suspension and steering setting which Bentley nominates as the best for all-round driving conditions. Or you can 'build-you-own' drive mode in the 'Custom' setting.
Keeping the comfort mode on makes the ride composed and supple. Self-levelling air suspension with continuous damping is standard but flick the dial to Sport and the suspension firms, but not to the point where the ride is compromised.
I spent most of my almost 200 kilometres testing it in Sport mode which did nothing to help fuel economy but made my ears happy with the V8 burble.
Now, about that forward visibility. The design of the Bentayga's nose is the cause of my issue here; specifically the way the wheel guards are stepped down out of view from the bonnet.
All I knew was that I was about 100mm wider that it looked from the driver's seat – I don't like that kind of guess work when piloting half a million dollars down a narrow street or car park. As you'll see in the video I came up with a solution to the issue.   
I'm not going to let that nose get in the way of a poor score, however. Besides owners will get used to it after a while.
Aside from that, the Bentayga was quite easy to parallel park with light steering and good rearward visibility and large wing mirrors, while multi storey shopping centre car parks were also surprisingly fuss free to steering through – this is after all not an overly long large SUV.
There was one 'drive thru' excursion and again I'm happy to report I emerged with hamburgers and without scratches at the other end.
So, I'm happy to throw effortless in there after all and you can add serene – that cabin felt bank vault-like insulated from the outside world. Don't ask me how I know that.
---
BMW X4
8/10
In theory, the X4 M Competition shouldn't be very different to drive at all from the X3 M Competition with which it shares an engine, and just about everything else. At the same time, it would be nice if was more fun to drive, because that would help to justify the fact that it costs $7000 more than the (slightly more practical) X3 version.
The differences are mainly about looks, of course, but those aesthetic changes also make the X4 ever so lightly longer, wider and lower than the X3. 
That really shouldn't make a difference you can feel, yet somehow, every time I switched into the X4 and began another wild, hooting, dusty circuit of the rally course set out for us be foolish on at M Town, I found myself having slightly more fun than I'd been in the X3.
An actual rally driver who was in attendance, mainly to laugh at our ineptitude and because their diet consists largely of dust particles, told me he'd also found the X4 ever so slightly more chuckable, and stable, also.
So perhaps there are two reasons for choosing to spend $7K more on an X4 - the rear end, and the fun, but then again, this is probably only a factor if you attend to take your new BMW on some kind of mad motorsport adventure.
Certainly, in the unreal environment in which we tested these cars, they were hugely fun - overly powerful, playful, sporty in terms of steering feel and cabin ambience - but we will have to wait and see what they're like in the real world.
Reports from overseas have hinted at overly firm ride quality, even in Comfort mode, and other foibles for the new X3 M Competition - like the fact that it doesn't actually feel all that fast, thanks to the 1970kg it's carrying.
What we do know is that the engine is a crackerjack, the (adjustable) steering gives fabulous feedback, and, if you happen to be on a clay pan, it's just the vehicle you need to plaster a huge smile across your face.
I recommend the video footage highly.
One touch of genius that was beautifully highlighted, though, was the combination of the properly sports-car spec M Differential with an M version of xDrive, which allows you to choose between two 4WD modes, normal and 4WD Sport, which "pretty much does become rear-wheel drive", as BMW admitted to us. 
This is such an M move it's hilarious. Force us to make an all-wheel-drive car will you? Ha, we'll put a button on it that turns it back into a proper BMW M car.
On a clay pan, where you can drive almost entirely sideways, sawing at the wheel and using that gorgeous engine to carve beautiful arcs in the Earth via the throttle,4WD Sport is a work of genius. 
In the real world, in this car, it's… still a bit weird. 
The chassis feels super stiff as well, and the big strut braces under the bonnet show you how seriously they've taken that.
There's no denying the how, or the know-how on display here, it's just the why that's hard to get your head around.
Safety
Bentley Bentayga
7/10
The Bentayga V8 has not been assessed by ANCAP testing but being based on the same platform as the five-star rated Audi Q7 I have no reason to suspect the Bentley would perform any differently and not be safe from a structural perspective.
Safety standards have been raised since then, however, and now a car will not be given a five-star ANCAP rating unless it has AEB with pedestrian and cyclist detection.
We're tough on budget cars that don't come standard with AEB and likewise on high-end vehicles, and the Bentley Bentayga V8 doesn't escape here.
AEB is not standard on the Bentayga V8 and if you want other forms of advanced safety equipment such as lane keeping assistance, adaptive cruise control and rear cross traffic alert you'll have to option them across two packages – the 'City Specification' for $12,042 and the 'Touring Specification' which was fitted to our car for $16,402.
The Touring specification adds adaptive cruise, lane keeping assistance, AEB, Night Vision and a head-up display.
For child seats you'll find two ISOFIX points and two top tether anchor points across the second row.
---
BMW X4
8/10
The X4 M Competition has not been crash tested yet but the standard X4 previously received a five-star ANCAP rating. It comes with six airbags - driver, front passenger, head airbags for both rows, side airbags with seat occupancy detection for driver and passenger and side-impact protection for the front seats.
You also get DSC, ABS and DTC and driver-assistance systems including Driving Assistant Plus, Parking Assistant Plus, tyre-pressure monitoring and a speed limiter.
Ownership
Bentley Bentayga
6/10
The Bentayga V8 is covered by Bentley's three-year/unlimited kilometre warranty.
Servicing is recommended at 16,000km/12-month intervals, however, there is currently no capped price service plan.
---
BMW X4
7/10
As is typical for BMW, the maintenance requirements for the X3 M Competition are controlled by a Condition Based Servicing system, which constantly monitors the car, and the way it's being driven, to determine when annual inspections or oil changes are required.
BMW is offering two service-inclusive packages, a five-year/80,000km Basic level for $3685, or the Plus, for $8173, which you should choose "if you drive spiritedly and you go through brakes a fair bit", because it includes brake pads and discs over five years.
BMW seriously seems to think people are going to track this thing. Go figure.