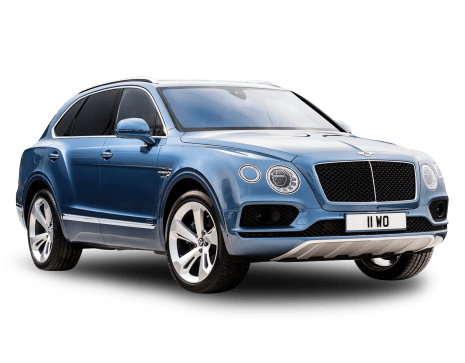 COMPARE
Bentley Bentayga
VS
Tesla Model X
Bentley Bentayga
Likes
Magnificent twin-turbo petrol V8
Superbly comfortable
Surprisingly dynamic for its size
Dislikes
A little awkward looking
Low on standard advanced safety equipment
Boot is smaller compared to rivals
---
Summary
Bentley Bentayga
When Bentley revealed its Bentayga in 2015 the British brand called it "the fastest, most powerful, most luxurious, and most exclusive SUV in the world."
Those are exciting words, but a lot of things have happened since then. Things such as the Rolls Royce Cullinan, the Lamborghini Urus and the Bentayga V8 - which is the vehicle we're reviewing.
See, that first Bentayga packed a W12 engine, but the SUV we have here was introduced in 2018 with a twin-turbo petrol V8 and a reduced price tag.
So how does this more affordable and less powerful Bentayga stack up to Bentley's lofty ambitions?
Well you've come to the right place, because along with speed, power, luxury and exclusivity I can also talk about the Bentayga V8's other attributes, such as what it's like to park, drop children off at school in, do the shopping in and even go through a 'drive thru' in.
Yes, the Bentley Bentayga V8 came to live with my family for a week and as with any house guest you quickly find out what's great about them… and then there are those times you walk in on them not looking their best.
| | |
| --- | --- |
| Safety rating | — |
| Engine Type | 4.0L turbo |
| Fuel Type | Premium Unleaded Petrol |
| Fuel Efficiency | 11.4L/100km |
| Seating | 5 seats |
---
Tesla Model X
Tesla - love the brand, or hate it - has done a lot for the automotive industry. It has made electric cars a talking point, something that competitor companies are finally acting on. 
The Tesla Model S sedan, to me, was the vehicle that put Tesla on the map. But does the Model X - a big SUV with up to seven seats - hit the spot for family buyers? 
I spent a week in the 2018 Tesla Model X 75D, which happens to be the most affordable version of the US company's crossover. Affordable? Well, that's really going to depend on your salary.
| | |
| --- | --- |
| Safety rating | — |
| Engine Type | — |
| Fuel Type | Electric |
| Fuel Efficiency | —L/100km |
| Seating | 5 seats |
Verdict
Bentley Bentayga
7.3/10
The Bentayga is Bentley's first attempt at an SUV and the Bentayga V8 is a more recent addition to the line-up that provides an alternative to the W12, hybrid and diesel models.
There's no doubt the Bentayga V8 delivers an exceptionally good driving experience from its power and athleticism to the serene cabin and comfortable ride.
Where the Bentley Bentayga V8 appears to be lacking is in cabin technology which compared to other luxury SUVs is becoming outdated, and in standard advanced safety equipment. We'd expect this to be addressed in future revisions of the SUV.
Does the Bentayga fit the ultra-luxury SUV bill? Tell us what you think in the comments section below.
---
Tesla Model X
7.9/10
The Tesla Model X in 75D specification offers a lot of technology for buyers who want to dip their well-heeled toe all the way into the electric mobility pool. There are more conservative and compelling options for customers who think plug-in hybrids are the first step, though - and if you're not hellbent on a full EV, then we'd suggest maybe you have a bit of a look at what else is on offer.
Could you live with an electric car? Tell us what you think in the comments section below.
Design
Bentley Bentayga
7/10
The Bentayga is unmistakably a Bentley, but I have my doubts whether this first attempt by the British brand to build an SUV has been a design success.
To me, the rear three-quarter view is its best angle with those trademark rear haunches, but front-on reveals an overbite I can't 'unsee'.
The same face works perfectly on a Continental GT coupe, and the Flying Spur and the Mulsanne saloons, but on the taller Bentayga the grille and headlights seem too high.
But then again perhaps I'm the one with bad taste, I mean I think Lamborghini's Urus SUV, which uses the same MLB Evo platform, is a work of art in its design, staying faithful to the sports cars in the family, while acquiring a brave look of its own.
That MLB Evo platform also underpins the Volkswagen Touareg, the Audi Q7 and the Porsche Cayenne.
I also found the interior of the Bentayga V8 disappointing. Not in terms of overall craftsmanship but rather its outdated technology and plain styling.
The 8.0-inch screen is almost identical to the one used in the Volkswagen Golf in 2016. But the Golf received its Mk 7.5 update in 2017 and with it a stunning touchscreen which hasn't made it into the Bentayga yet.
The steering wheel, too, has identical switchgear to the $42K Audi A3 I reviewed two weeks ago and you can add the indicator and wiper stalks into that mix as well.
While the fit and finish of the upholstery was outstanding, there was a lack of interior refinement in some places. For example, the cupholders, had rough and sharp plastic edges, the gear shifter was also plastic and felt flimsy, while the fold-down armrest in the back seats also lacked refinement in the way it was constructed and lowered without damping.
At just over 5.1m long, 2.2m wide (including the wing mirrors) and a little over 1.7m tall the Bentayga is big but it's the same length and width as the Urus, and a bit taller. The Bentayga's wheelbase is only 7.0mm shorter than the Urus's at 2995mm.
The Bentayga isn't the longest of the Bentleys, that's for sure. The Mulsanne is 5.6m end-to- end and the Flying Spur is 5.3m in length. So, the Bentayga V8 is almost 'fun-size' in Bentley terms, even though it's large.
The Bentayga is made in the United Kingdom at Bentley's home (since 1946) in Crewe.
---
Tesla Model X
I hate it. I think the rear doors are pretentious and silly. I think the roofline looks wrong. And I think it actually looks more like a bloated hatchback than a 'real SUV'.
That's just me, and like everyone I'm entitled to my opinion. I know there are people out there who absolutely love the exterior design of the Model X. If you're one of them, let me know - I have a great optometrist I can refer you to.
Seriously, though - the Falcon Wing rear doors are design overkill. No-one needs back doors that open up like that, and the amount of compromise that has been built into the rest of the vehicle's design because of them is noticeable - I couldn't open the back door on the driver's side of my test vehicle at home because I was apparently parked too close to the bin - the axis angle at the top of the door limited how far the bottom of the door would open. I can't understate how rubbish this would be if your home parking space was tight.
Plus this example (and the few I've seen/sat in prior) had some issues with quality, like mismatched panel gaps around the doors and hatch. Take a look at our photos to see for yourself.
The massive windscreen stretches to above the front occupants' heads, and it's tinted to try and eliminate sunlight overhead - and Tesla has added a mesh shield visor that you can slot in, and although it is welcome, it's flimsy, and would be easy to knock down when you're moving the actual (magnetised) sun visors.
Now, as a piece of design, the glass is great - but other vehicles with big glass have smart solutions integrated into them, like the Citroen Grand C4 Picasso, with its pull-down blinds and proper sunvisors.
I guess it's a bit like an architecturally designed house that's really cool the first time you see it, but really hard to live with. The sunvisors are very thin, and it's difficult to position them to block the sunlight, especially driving in an easterly direction in the morning (as I do) and a westerly direction in the afternoon (yep, that's me). Plus, the visors don't have vanity mirrors - a disaster for makeup artists on the move.
Things I like? The LED headlights and LED daytime running lights are exceptionally good, and the wheels that this model comes with as standard are nice, even if they look a bit dwarfed by the bulk of this slab-sided high-rider. 
And if you've ever wondered why every Tesla Model X has its rear spoiler in the 'up' position at all times, it's because it's a fixed spoiler.
Practicality
Bentley Bentayga
7/10
The Bentayga V8 may be an SUV, but that doesn't immediately make it a god of practicality. While roomy up front for the driver and co-pilot, the rear seating is not exactly limo-like, although at 191cm tall I can sit with about 100mm of space. Headroom is slightly limited by the edges of the panoramic sunroof for rear riders, too.
Storage in the cabin is adequate with two cupholders and small door pockets in the back, and another two cupholders and larger door pockets in the front. There's also a shallow centre console storage bin and two wells for loose items in front of it.
The Bentayga V8's boot with the rear seats in place has a cargo capacity of 484 litres – that's measured to the cargo cover, but to the roof its 589 litres.
That boot space is still smaller than the Lamborghini Urus's 616 litres and there's much less boot space than the Audi Q7 and Cayenne which both have 770 litres measured to the roof, too.
Making life easier is the load-height lowering system which is operated with a button located in the boot.
The tailgate is powered, but the kick-open function (standard on say an Audi Q5) is an option you'll have to pay for on the Bentayga.
As for power outlets and charging, the Bentayga's falling out-of-date here, too. There is no wireless charger for phones, but there are two USB ports up front and three 12-volt outlets (one in the front and two in the rear row) on-board.
---
Tesla Model X
There are good and bad elements to the interior design.
The ingress and egress to the third row is better than some SUVs because the floor is so low - meaning it's easy to step in and out of - but also worse than some SUVs because the shape of the opening is odd.
Space in the third row is better left for children or small adults with limited legroom and headroom, and while there are vents back there the vision for occupants is limited; the seats are low, and if you're little you won't be seeing much.
If the Model X had electric sliding doors rather than the Falcon Wing doors, it would be more practical. If you park in a tight space, a sliding door allows you to still get out, but these doors won't even open all the way if the sensors detect they are unable to. That's annoying, because this is a really wide vehicle, and some parking lots seem to be making spaces smaller and smaller.
Anyway, I'm not going to win the battle of sliding vs gullwing doors here, am I? 
The boot space is good - with seven seats up you can make use of the hidden compartment below the floor, and with five seats in use the cargo capacity is very good, too. Then there's the front trunk - no engine means you get bonus storage, and Tesla claims total cargo capacity for the Model X is 2492 litres for the five-seat version.
You can get a five-seat, six-seat or seven-seat version of the Model X. This vehicle used to have electric sliding and folding second-row seats, but now there's a push-button system, which still uses some form of electrical pulse to unlock the rails below the seats. While it's quicker than electric would have been, it's not as simple as, say, a lever like you'd find in the Mazda CX-9. 
For outboard second-row occupants the space is okay - I set the driver's seat in my position and had enough legroom and headroom to be comfortable in the second row. But anyone in the third row would have been squished. The middle-row middle-seat of our test car was less than impressive, with little head room and not much width available.
Storage is well sorted up front, with two large centre bottle holders, plus bottle holders in the front doors (none in the rear, for obvious reasons) and a pair of cupholders up front. The storage situation is poor for those in the back: there are no cup receptacles at all for the second row, but there are dual USB ports. In the third row there are two cup holders, and all three rows have air vents.
Price and features
Bentley Bentayga
6/10
That's the question those who can't afford a Bentley Bentayga V8 want to know the answer to, and the one that those who can don't ask.
I'm in the first group, so I can tell you the Bentley Bentayga V8 has a list price of $334,700. Our car had $87,412 in options which we'll take a look at, but all up including the on-road costs, our test car had a price of $454,918.
Standard features inside include leather upholstery in a choice of five colours, 'Dark Fiddleback Eucalyptus' veneer trim, a three-spoke leather clad steering wheel, 'B' foot pedals, Bentley embossed treadplates, an 8.0-inch touchscreen with Apple CarPlay and Android Auto, sat nav, a 10-speaker stereo, CD player, digital radio, four-zone climate control and shifting paddles.
Exterior standard features include 21-inch wheels, black painted brake calipers, air suspension with four height settings, a choice of seven paint colours, gloss black radiator grille, black lower bumper grille, LED headlights and LED tail-lights, twin quad-exhaust and a panoramic sun roof.
Our car was fitted with options galore which is common in vehicles loaned to the media. Car companies often use these cars to showcase available options rather than represent a typical customer specification.
There's the 'Artica White' paint from the bespoke Mulliner range costing $14,536; 'our' car's 22-inch wheels weigh in at $9999, as do the fixed side steps; the tow bar and brake controller (with Audi Q7 badging, see the images) is $6989; body coloured lower bodywork is $2781 and LED puddle lights are $2116.
Then there's the acoustic glazing for $2667, front seats with the 'Comfort Specification' for $7422 and then $8080 for the 'Hot Spur' main hide and 'Beluga' secondary hide leather upholstery, the $3825 piano black veneer trim and if you want the Bentley logo embroidered into the headrests (as per our car) it costs $1387.
Does it represent good value for the price? Not by regular standards, but Bentleys are anything but regular cars, and those that buy them tend not to look at prices.
But, as I do with every car I review (whether it costs $30,000 or $300,000), I ask the manufacturer for a list of options fitted to the test car and the as-tested pricing, and I always include those options and their costs in my review.
---
Tesla Model X
How much is a Tesla Model X? It isn't cheap, that's for sure. But this 75D version is currently the lowest cost model in the brand's SUV price range.
The price of the 75D kicks off at $125,000 plus on-road costs, or $142,475 drive away - but where you live will determine the drive-away price, because different states and territories have different stamp-duty implications for electric cars. ACT buyers ($142,475 RRP) get a much better dealer than those  in WA ($151,174 RRP), for instance.
Pricing jumps significantly if you want the more performance-focused 100D, which also gains extra battery range (prices from $173,805 drive away) or the flagship P100D we tested recently (from $247,385). That's right - the Model X we have is more than a hundred grand cheaper than the top model. 
The Model X comes pretty well equipped from the factory, with a 17.0-inch touchscreen media display featuring Google Maps sat nav with realtime traffic updates, Bluetooth phone and audio streaming, digital DAB radio and integrated TuneIn app connectivity. There's no Apple CarPlay or Android Auto, though.
Other standard items include keyless entry and a self-opening (and self-closing) driver's door, an electric tailgate, interior ambient lighting, air suspension with ride height adjustment, auto headlights with auto high-beam lights, LED fog lights, power adjustable and auto-folding heated auto-dimming side mirrors. You get 20-inch wheels as standard, but there's no spare wheel - tyre-pressure monitoring is fitted, and if you get a flat, you'll need to call roadside assist.
There are standard heated seats for every occupant and there's a heated steering wheel, heated windscreen washer nozzles to help defrost if you're heading to the snow, and if you download the app you can adjust the temperature inside the car remotely - cold starts on winter mornings are a thing of the past.
The app also allows you to monitor the vehicle's state of charge, enable someone else to drive your car without the keys present (you just have to input your password in the app), and you can unlock/lock the car and/or open the front or rear trunks, start it, honk the horn, flash the lights, set the speed limit or enable 'valet mode', so those pesky parking attendants don't go using all your juice doing speedy starts.
How many seats in the Tesla Model X? Well, you can have it with five seats as standard, six seats for an additional $8300 (with or without a rear centre console) or seven seats for $4100.
Other options fitted to our vehicle included grey painted 20-inch wheels (as opposed to the silver rims you get on the standard version: $2800), the White Premium interior pack ($4600) and the carbon-fibre upgrade ($350), Deep Blue metallic paint ($2100) and the Enhanced Autopilot system ($6900).
So, in the end, our affordable Model X cost more than $175,000 on the road… ouch. You can get any one of a number of petrol or diesel SUVs from competitor luxury brands for less money, and plenty with plug-in practicality, too.
If you want a luxury plug-in hybrid SUV, consider the Volvo XC90 T8 plug-in hybrid from $122,900, or a Porsche Cayenne e-Hybrid from $135,600, or the Mercedes-Benz GLE500e for $129,500, or the Audi Q7 e-tron from $139,900, or the BMW X5 xDrive40e from $124,990.  
Admittedly, none are full EVs, but the Audi e-tron model is due next year…
You should also be aware of the wait time associated with a Tesla - the vehicles are built to personal specifications, so unless you're buying a second-hand car, or a demo from the company's (small!) stock list, it could mean a wait time of about three months. The Tesla web configurator allows you to get an idea of approximate delivery dates. Some buyers will take that with a grain of salt, though, given customers have waited about two years for their Model 3s.
If you don't want to wear the depreciation, you could consider a used car - there are pre-owned Model X and Model S examples on Tesla's website.
Engine & trans
Bentley Bentayga
9/10
The scores I've awarded to the Bentayga V8 so far haven't been impressive, but now we come to the twin-turbo 4.0-litre V8.
Derived from the same unit found in the Audi RS6 this turbo-petrol V8 makes 404kW/770Nm. That's enough grunt to get this 2.4 tonne beast from parked in your garage to 100km/h in 4.5 seconds, provided your driveway is at least 163.04m long, which for some owners would be entirely possible.
That's not as quick as the Urus which can do it in 3.6 seconds, but while the Lamborghini shares the same engine it's tuned to make 478kW/850Nm and that SUV is about 200 kilos lighter.
Shifting gears wonderfully in the Bentayga V8 is an eight-speed automatic which suits the Bentley better with its seamless but not-in-a-huge-hurry gear swaps than the same unit in the Urus.
While there are those who think a W12, as found in the first Bentayga, is more in line with Bentley's ethos, I think this V8 is superb in its power delivery and sounds subtle but magnificent.
The braked towing capacity of the Bentley Bentayga is 3500kg. 
---
Tesla Model X
Not so much an engine, but a 75kWh battery pack with a claimed 210km/h top speed and a 0-100 claim of 5.2 seconds. The claimed driving range for the Tesla Model X 75D is 417 kilometres. You don't have gears to play with - Tesla's run a single-speed transaxle, but the stalk to control it is sourced from Mercedes-Benz.
Remember, this isn't the 'fast' Model X. But the D in the name signifies that it has Tesla's dual-motor all-wheel drive system, ensuring excellent traction for super-quick acceleration. 
As you might expect, stepping up to the Model X 100D with a 100kWh battery pack and dual motors increases the performance considerably (0-100: 4.9sec; 250km/h top speed), and also adds more electric driving range (565km claimed). 
Go all out on the P100D and apparently your Model X will do 0-100 in 3.1sec, thanks to the addition of Ludicrous Mode, but the battery range drops away slightly (542km). Tesla says it's the quickest SUV in history - and even in 75D guise it's pretty rapid. 
Every Tesla Model X is prepped for towing, too - the towing capacity is rated at 750kg for an un-braked trailer, and 2250kg for a braked trailer. The tare mass for the Model X is 2352 kilograms.
Fuel consumption
Bentley Bentayga
7/10
A 4.0-litre twin-turbo petrol V8 pushing a 2.4-tonne SUV loaded up with people and possibly towing a horse float is going to want to be fed fuel – lots of fuel.
And that's even if engine has cylinder deactivation like the one in the Bentayga V8 which can cut out four of the eight when not under load.
Officially, combined fuel consumption for the Bentayga V8 is 11.4L/100km, but after 112km of fuel testing on a combination of motorways, suburban and city roads I measured 21.1L/100km at the petrol pump.
I'm not surprised. For most of that I was in Sport mode or in the traffic, or in both at the same time.
---
Tesla Model X
None. Well, it consumes electricity, so if you're getting your energy from green sources, you can drive carbon-neutral in the Model X.
As mentioned above, a full charge will get a claimed 417km. On test, we picked the Model X up will a full 'tank', and got it down to 7 per cent remaining over about 400km - so the claim is pretty truthful. 
But yes, I got range anxiety, and yes, I Googled "how long does it take to charge a Tesla Model X?"
The charge time really depends where you do it. If you go to a Supercharger - Tesla's network of high-amperage, big power output (up to 120kW per car) fast-charge stations, you can expect to get to 80 per cent from empty in about 45 minutes, or all the way to full in a bit more than an hour. It used to be free to recharge at Superchargers, then increased demand saw Tesla introduce a pay-per-use fee, but all Tesla owners get 400kWh of credits to use every year.
If you charge at a destination charger like I did, the results are far, far worse. I parked up at the Supercheap Auto Penrith charge point, which is capable of up to 22kW' of power output at just 6 amps, and left the car there for a full business day. It started at 7 per cent, and when I got back, it was at 53 per cent.
These destination chargers make sense if you're going away for the weekend and can leave the car plugged in while you relax at the resort, but you need to know they're not Superchargers. The network of Superchargers is getting bigger and bigger, and theoretically you can drive from Adelaide to Brisbane using them now. 
Every Tesla comes with a wall connector for you to install at home, but there are options for how powerful it can be, and can be "tailored to your home's supply" - be it three-phase or single-phase. On single-phase power, the output can be 16, 20, 24 or 32 amps. According to Tesla's Australian site, 16-amp three-phase power will charge at a rate of about 50km per hour, while at 24-amp you could see 80km per hour added (meaning about five hours to fully charge in this spec).
If you want the specs and figures, our Model X had used 136kWh over the total 507km of its life to date, at an average of 269Wh/km. So, if your energy company bills you $0.22 per kWh, it'll cost you about $30 to do 500km. Not exactly cheap, but you're not buying a Tesla to save money - and if you have a good home solar array setup, you should be able to run your house and your car at no extra cost. 
And Tesla has a deal with AGL so you can charge your car for $1 per day. That means you can theoretically fill it up every evening with energy, and you won't spend more than $365 for a year of driving. 
So, the Model X gets a 10 out of 10 for fuel consumption. But if these ratings included a 'time-consumption' figure, it would be a lot less!
Driving
Bentley Bentayga
9/10
Comfortable and (believe it or not) athletic, sums it up. And the only thing stopping me from throwing in another word such as effortless is the forward visibility, which is what I noticed the moment I steered it out of the dealership and into the traffic.
But first let me give you the comfortable and athletic good news. The Bentayga felt nothing like it looked to drive – my eyes told me it should be more sumo wrestler than ninja to steer but they were wrong.
Despite the hulking dimensions and not insignificant weight, the Bentayga V8 felt surprisingly lithe with great handling for an SUV this size.
That the Urus, which I test drove a few weeks beforehand, also felt athletic seemed less a surprise in that the styling suggested it was agile and quick.
Thing is it shouldn't be a surprise given the Urus and Bentley share the same MLB EVO platform.
Four standard drive modes let me change the character of the Bentayga V8 from 'Comfort' to 'Sport'. There's also a 'B' mode which is a mix of throttle response, suspension and steering setting which Bentley nominates as the best for all-round driving conditions. Or you can 'build-you-own' drive mode in the 'Custom' setting.
Keeping the comfort mode on makes the ride composed and supple. Self-levelling air suspension with continuous damping is standard but flick the dial to Sport and the suspension firms, but not to the point where the ride is compromised.
I spent most of my almost 200 kilometres testing it in Sport mode which did nothing to help fuel economy but made my ears happy with the V8 burble.
Now, about that forward visibility. The design of the Bentayga's nose is the cause of my issue here; specifically the way the wheel guards are stepped down out of view from the bonnet.
All I knew was that I was about 100mm wider that it looked from the driver's seat – I don't like that kind of guess work when piloting half a million dollars down a narrow street or car park. As you'll see in the video I came up with a solution to the issue.   
I'm not going to let that nose get in the way of a poor score, however. Besides owners will get used to it after a while.
Aside from that, the Bentayga was quite easy to parallel park with light steering and good rearward visibility and large wing mirrors, while multi storey shopping centre car parks were also surprisingly fuss free to steering through – this is after all not an overly long large SUV.
There was one 'drive thru' excursion and again I'm happy to report I emerged with hamburgers and without scratches at the other end.
So, I'm happy to throw effortless in there after all and you can add serene – that cabin felt bank vault-like insulated from the outside world. Don't ask me how I know that.
---
Tesla Model X
With two electric motors and a huge bank of lithium-ion batteries to work with, the acceleration of the Model X is impressive. Throttle response is good, and from a standing start you will still impress your friends - even if you don't buy the Ludicrous version.
On-the-move acceleration is good, too, because there's no transmission or turbo lag as you'd find in any of the Model X's natural competitors. It's quick, and even if you're driving it sedately it's nice to know there's power in reserve if you need it.
It is a heavy vehicle, but the weight is mainly down low, with Tesla's skateboard battery platform between the axles making it feel  suctioned to the ground. The 20-inch rims with Michelin rubber (255/45 front, 275/45 rear) offer tremendous grip, and the traction is better than you'd likely find in other, more traditional SUVs.
The air suspension does a decent job of cosseting those in the cabin from the road surface below, provided it's smooth. Some shortcomings are noticeable over sharp edges, such as speed humps, where it can feel a bit stiff-legged, and there's the typical side-to-side wallow you see from airbag suspension.
The electric steering system offers nice accuracy and response, with a linear weighting that means it's easy to turn the wheel, whether you're pushing it through corners or simply trying to park it at the shops.
Some things that could be better? The visibility is the biggest issue, for me. This is a big vehicle, and the rear-view mirror is tiny, as is the vision it offers. If you have people in the third row, there's almost no point even trying to use it.
I used the Enhanced Autopilot system on my commute, and it worked very well, you just need to ensure there's some pressure on the steering wheel. This isn't a full autopilot system, and shouldn't be treated as such: you need to maintain control of the car and be conscious of your surroundings, because it isn't perfect, and if you disobey its commands to 'keep light pressure on the wheel', it will disable for the rest of your drive.
I was surprised there wasn't a surround-view camera system fitted to this car, especially given there are so many driving-system cameras and radars fitted. 
Other concerns? The creaking and groaning of the body and the rubbers as you turn corners, particularly over offset low-speed bends in car parks and the like. This isn't the sort of thing you hear in the established luxury SUVs. 
And of course, if you're getting a Tesla, spend the money and get the best home-charging solution you can. It'll put your mind at ease. Or just move close to a Supercharger.
Safety
Bentley Bentayga
7/10
The Bentayga V8 has not been assessed by ANCAP testing but being based on the same platform as the five-star rated Audi Q7 I have no reason to suspect the Bentley would perform any differently and not be safe from a structural perspective.
Safety standards have been raised since then, however, and now a car will not be given a five-star ANCAP rating unless it has AEB with pedestrian and cyclist detection.
We're tough on budget cars that don't come standard with AEB and likewise on high-end vehicles, and the Bentley Bentayga V8 doesn't escape here.
AEB is not standard on the Bentayga V8 and if you want other forms of advanced safety equipment such as lane keeping assistance, adaptive cruise control and rear cross traffic alert you'll have to option them across two packages – the 'City Specification' for $12,042 and the 'Touring Specification' which was fitted to our car for $16,402.
The Touring specification adds adaptive cruise, lane keeping assistance, AEB, Night Vision and a head-up display.
For child seats you'll find two ISOFIX points and two top tether anchor points across the second row.
---
Tesla Model X
There is no ANCAP or Euro NCAP crash test rating for the Tesla Model X, but the vehicle scored extremely well in NHTSA testing the US, scoring the highest rating in history for any SUV.
The Model X sold in Australia gets an array of safety gear, including a collision-warning system and autonomous emergency braking, a reversing camera and parking sensors front and rear, plus there are airbags for first and second row occupants, but no curtain airbag coverage for those in the rear row.
Models fitted with Enhanced Autopilot (which will be all of them, we reckon) have four cameras and 12 ultrasonic sensors that monitor the road and the vehicle's surroundings. Engaging autopilot means the car works to maintain the vehicle's line in a lane of traffic, it can change lanes at the tap of the indicator stalk (thus letting the car do the blind-spot checking for you), and it can adjust speed to mimic other road users. It slows to a complete stop, and will take off again when things get moving once more. 
In better news for parents, there are ISOFIX child seat anchor points in four of the five rear seats, plus top-tether attachments for all five rear seats - so baby capsules shouldn't be an issue.
Ownership
Bentley Bentayga
6/10
The Bentayga V8 is covered by Bentley's three-year/unlimited kilometre warranty.
Servicing is recommended at 16,000km/12-month intervals, however, there is currently no capped price service plan.
---
Tesla Model X
Tesla offers a strong eight-year/160,000km warranty for the vehicle, and the warranty extends to unlimited kilometres for the drivetrain. 
The company asks owners to service their Model X (or Model S) every 12 months or 20,000km, whichever occurs soonest. And with few moving parts, you'd expect service costs to be pretty low - however, there is no capped-price-servicing plan.
Considering a Tesla? Make sure you check out our Tesla problems page to read up on any issues, faults, common problems and complaints or defects and recalls issued.