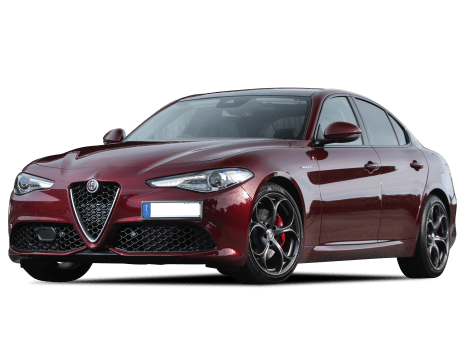 COMPARE
Alfa Romeo Giulia
VS
Audi A8
Alfa Romeo Giulia
Likes
Great tough looks
Fantastic engine
Excellent handling
Dislikes
Road noise filters in cabin
A and B pillars obstruct view
Softer suspension does mean bouncy ride at times.
---
Audi A8
Likes
Unmistakably Audi
Amazing interior design
Groundbreaking safety features
Dislikes
Pricey options
Most of its autonomous tech locked out for Aus
Summary
Alfa Romeo Giulia
You know how in the movie Rocky III Rocky Balboa has become all rich and successful, but unfit and he can't really box to save himself.
Then the young maniac boxer James 'Clubber' Lang (awesomely played by Mr T) challenges him to a fight and his trainer tells him he'll lose, but he fights him anyway, and gets knocked out.
But then he asks for a rematch, and Rocky trains hard and makes a comeback to beat Lang. Well that never happens. If it was the real world Rocky would have been beaten again.
Alfa Romeo is a bit like Rocky. The Italian carmaker used to be unbeatable in speed and looks – it won the first ever Formula One Grand Prix in 1950.
Alfas were drop dead gorgeous too, but then - like Rocky - things started to go downhill. It got successful, unfit and old. Yes, occasionally there were flashes of the genius we once knew, but if a car maker takes enough hits there's every chance it will never get up again. Alfa Romeo had become a joke. It hurts to write that.
But there's a big difference between Rocky and Alfa because a car maker can start afresh, build a fighter with a new body, more powerful fuel-pumping heart, stronger bones and given the right trainer it could become formidable.
Well that's what Alfa hopes. The fighter's name is Giulia. The trainer is Roberto Fedeli. The story goes that the head of Fiat Chrysler Sergio Marchionne could see Alfa was circling the plughole and called in the only person he felt that might just have a chance of being able to reach in and save it before it went down.
That was Ferrari's chief engineer Fedeli. Told to fix it or look for a new job, Fedeli reckoned it was possible, but he needed some money…five billion Euros in fact. Oh, and he'd need a team… of 800 designers and engineers. He wasn't mucking around.
When the Giulia made its world entrance in 2016 the star of the range – the hardcore Giulia Quadrifoglio (or QV for short) stepped into the ring dripping in carbon fibre with an engine that had Ferrari's finger prints all over it and mouthing off about having just set the new lap record at the Nurburgring.
It's mission is to lead Alfa Romeo's comeback… and slay BMW's M3 on the way there.
Now, we recently had the chance to drive the new Giulia Quadrifoglio on a track and it made us so happy you could tell we were grinning even though our helmet. But what is it like to drive on the road? We found out at its Australian launch. How did it handle the real world? Does it have what it takes to beat the M3 and Mercedes-Benz's C63 S? More importantly is it enough to save Alfa Romeo?
| | |
| --- | --- |
| Safety rating | |
| Engine Type | 2.0L turbo |
| Fuel Type | Premium Unleaded Petrol |
| Fuel Efficiency | 6L/100km |
| Seating | 5 seats |
---
Audi A8
In a world where genuine wood trim and nappa leather comes in a Mazda6 for under $50,000, premium brands like Audi have been forced to come up with new hallmarks to underpin their status and asking prices.
This is particularly true at the top end of town, with the latest S-Class and 7 Series featuring tech advances that aren't even legally usable at this point.
The new, fourth-generation Audi A8 is no different, packing hardware capable of autonomous driving well ahead of what is currently allowed on any public roads, along with an array of safety, efficiency and convenience firsts for the brand that cement the model's position at the top of the four-ringed luxury tree.
The current S-Class may measure your vital signs and aim to improve your general well-being, but it won't give you a foot massage. If you tick the right options boxes, the new A8 will.
We were among the first to drive the new A8 at its Australian launch around Sydney last week.
| | |
| --- | --- |
| Safety rating | — |
| Engine Type | 3.0L turbo |
| Fuel Type | Diesel |
| Fuel Efficiency | 5.8L/100km |
| Seating | 5 seats |
Verdict
Alfa Romeo Giulia
8.6/10
Absolutely stunning – both to drive and in looks. This is a monster, but one you can live with safely and practically. Proper rear seats, a proper boot and proper performance. A quality feeling package that feels more than a bit Ferrari but entirely Alfa Romeo. It does everything the M3 can. This looks very much to be a prize fighter that will lead Alfa Romeo's comeback.
Comment call to action: Do you reckon the Giulia Quadrifoglio will make Alfa the next big thing? Let us know what you think in the comments below.
---
Audi A8
7.9/10
The new A8 is a very accomplished machine, and can certainly be optioned up with enough toys to entertain and comfort whether you're riding in the front or back.
It's not possible to say if its better than the S-Class or 7 Series in isolation, but it has a unique design ambience that's unmistakably Audi. If you're a four-ring devotee, you won't be missing out.
Based on this test, the sweet spot of the range is the long-wheelbase 55 TFSI. At this end of the market, it's fair to say the extra $12,000 for the added length and $3000 for the smoothest and most powerful engine are worth it.
Regardless of the bigger wheels, we'd probably spring for the Premium plus package and the Executive package's rear seat with the Entertainment package for all the most impressive toys. This would mean a total list of almost $250k, but it's arguably how Audi intended the new model to be.
Also check out Peter Anderson's video review from the A8's international launch:
Would you consider the new A8 over an S-Class or 7 Series? Tell us what you think in the comments section below.
Design
Alfa Romeo Giulia
9/10
With its long, nostrilled bonnet, high roofline, short tail and almost no overhangs to mention there's more than a sniff of BMW 3 Series going on. That's no bad thing – its intentions are clear.
It's actually smaller than the M3. The dimensions reveal that at 4639mm the Giulia Quadrifoglio is 32mm shorter end to end than the Beemer, but only 4mm narrower at 1873mm in width and just 2mm taller at 1426mm.
The Giulia is light at 1585kg thanks to the driveshaft, roof, bonnet, front splitter, plus the rear spoiler and side skirts being made of carbon fibre. Meanwhile the engine, suspension, brakes doors and wheel arches are all aluminium.
Inside, the cabin swallows you up in stitched leather, there's a dash that that swoops and curves in front you and holds the impressive display screen. Many Alfa cabin traits are there such as the driver-orientated controls which tend to make the front passenger feel like, well just a front passenger.
Under all of this is an entirely new platform called Giorgio – it's scalable like Volkswagen's MQB. This means the Giulia is just one of the cars to be based on it – the Stelvio SUV also uses it and Alfa says there are more to come.
---
Audi A8
8/10
At first glance the new A8's exterior styling may look a tad obvious, with unmistakably Audi design adding a bunch of straight lines to make things look more serious. 
The reality is far more considered, being the first whole design to emerge under Audi Design boss Marc Lichte's stewardship. Previewed by the first Prologue concept in 2014, the result has an elegance that underlines its position as Audi's flagship and is less likely to be confused with an A6 than the S-Class can be with the E-Class.
If you're after the ultimate in design details and lighting performance, you can also opt for $13,200 laser headlights that can double the range of LED headlights to 600m ahead. This option also brings OLED tail-lights with jewel-like filaments less than 1.0mm thick. 
Compared with the third-generation model it replaces, the size of the new A8 is 37mm longer, 13mm taller but 4.0mm narrower, riding on a 6.0mm longer (2998mm) wheelbase. The long wheelbase version is 130mm longer again in wheelbase and overall. 
It rides on the latest MLBevo architecture shared with the A4, A5, A6, A7, Q5 and Q7, along with the Bentley Bentayga, new Porsche Cayenne and VW Touareg, and the upcoming Q8. 
In A8 guise, it combines aluminium, steel, magnesium and CFRP to result in the biggest material variety used in an Audi to date. Kerb weight ranges from 1995kg for the short-wheelbase petrol model to 2020kg for the long-wheelbase version, with the diesel versions adding 55kg respectively.
A 15-spoke, 19-inch wheel design is standard for Australia, but the Premium plus package fitted to all the cars we tested brings a 10-spoke 20-inch design, while the options list includes another three choices of 20-inch wheels. You can also get 21-inch alloys with the optional Sport package.
As you'll see in the interior images, the A8 represents another significant step forward for Audi design, with horizontal themes and numerous traditional controls now hidden beneath touchpads.
Key among these is the deletion of the centre console controller for the multimedia system, which has been replaced by an 8.6-inch secondary touchscreen beneath the 10.1-inch main screen. Apple CarPlay and Android Auto smartphone interfaces are available via USB connection, and the A8 will act as a mobile Wi-Fi hotspot if you sign up for a data plan.
This split layout is less imposing than using one giant screen as in a Tesla, and both give haptic and acoustic feedback to commands to simplify use while driving. All versions also score the excellent 12.3-inch 'Virtual Cockpit' display ahead of the driver. 
All A8s also now get a smartphone-like back seat remote controller, which enables control of temperature settings, seat adjustment, lighting, media functions and window blinds (when optioned) via its 5.7-inch OLED touchscreen.
Another surprise detail is that the interior door handles are now power assisted, which represents the lengths Audi has gone to in reducing control weights.
Practicality
Alfa Romeo Giulia
9/10
I don't normally fit Alfa Romeos because I have Viking ancestry and don't come from a land where the people have short legs and long arms. So as much as I've liked driving Alfas, when I do my legs are cramped and yet I feel too far from the wheel.
Not so in the Giulia, everything feels the right distance away. And the pedals, which in other Alfas are far too close and cause me to constantly hit the brake and accelerator at the same time just because my feet aren't like a ballerina's are a proper distance apart. Not once did I embarrass myself with my 'brakcellator' trick.
Room in the back is excellent – it's a four seater and even at 191cm I can sit behind my own driving position with a good three fingers space between my knees and the seatback.
Boot space is also excellent and matches the M3's 480 litres.
Storage inside is good in some places – such as wide the centre console storage bin, but not so great in others – the door pockets are only enough for small bottle and there only two cupholders – they're in the front.
---
Audi A8
8/10
Choosing the biggest sedan in the line-up isn't just about outdoing your neighbours, it's also fair to expect enough room to stretch out and ponder your stock options. 
Despite the new A8's minor 6.0mm wheelbase growth, the interior dimensions have grown 32mm in length, which has expanded legroom as well as headroom.
Fundamental practicality elements are covered as well, with a cupholder and bottle holder for each outboard passenger, an array of USB and 12-volt charge points and two ISOFIX child seat mounts for the back seat. There's also a Qi wireless phone charger within the centre console. 
Boot space is a useful 505 litres, and while there's no split-fold for the back seat, there is the capacity to bring curtain rods home from Bunnings via the ski port.  There is also a space saver spare wheel beneath the boot floor. 
Price and features
Alfa Romeo Giulia
9/10
The Quadrifoglio is the king of the Giulia range and lists at a right royal $143,900. Sounds like a fair bit of coin, but it undercuts the M3 Competition's $144,615 and C63 S's $155,510.
Standard features are excellent – there's the 8.8-inch display, 14-speaker Harman Kardon 900w sound system, the carbon fibre bonnet, roof, side skirts and rear spoiler and carbon fibre interior trim, leather and Alcantara upholstery, the steering wheel with starter button, quad exhaust tips, aero curtain on the front bumper, active aero splitter, rear diffuser, B-Xenon adaptive headlights with auto-high beam, aluminium pedals and advanced safety equipment which we'll tell you about, too.
---
Audi A8
7/10
The fact that the new A8's entry price has dropped almost $6000 to $192,000 is likely to have less impact than a $19,990 Hyundai i30 special, but Audi's claim that it offers up to $36,000 more value than before may lower a few bifocals. 
Introducing Audi's new naming scheme, which no longer makes reference to engine capacity in preparation for electrification, the diesel base model wears a 50 TDI badge, before moving $3000 north to the petrol 55 TSFI. Either models can be had in long-wheelbase form (signified by a capital L after A8) which will cost you an additional $15,000 respectively.
The $210,000 A8 L 55 TFSI at the top of the price list is more than $42,000 cheaper than the previous V8 diesel 4.2 TDI and a more than $120,000 less than the previous S8 Plus, but a new performance flagship is due to appear in the near future.
Value is rather subjective at this end of the price scale, but by comparison the entry RRP for the new A8 undercuts the base 7 Series by $34,900, the S-Class by $3900, but starts $1871 above the Lexus LS.
Both the A8's 50 and 55 engines come with the same trim levels, but when the standard kit is this lengthy it's more a matter of features not included in the A8, rather than those that are. 
As you might expect, there's an array of options available. These accessories range from the aforementioned wheel choices and laser lighting to $3600 Alcantara headlining, $4500 all-wheel steering, a $5200 night vision system, or $12,100 3D Bang & Olufsen sound system with 23 speakers. 
There are five options packages also, starting with the $6690 'Entertainment package' which brings a six-disc DVD/CD changer (on top of the standard DVD/CD player) and twin tablets for the rear seats which mount to the front seat headrests. 
The nappa leather trim can be expanded to the upper and lower dash and glovebox, door trims, headrests, centre console, steering wheel airbag cover and the backs of the front seats with the 'Full leather package' for an extra $9950. 
If you can't hold out for the sport edition S8, you can almost look the part with the $9950 'Sport package', which brings a more aggressive front and rear bumper, 21-inch wheels, all-wheel steering and expanded 'piano black' interior trim. 
Audi Australia tells us all A8s ordered to date (along with both cars pictured here) have ticked the $11,000 'Premium plus package', which brings 20-inch rims, adaptive windscreen wipers with integrated jets, chrome exterior details, ambient lighting with variable colours, black control buttons, digital TV, electric rear sunblinds, the full leather package mentioned above, interior fragrancing with ionisation technology, rear tinted windows, softer rear headrests and ventilated massage front seats. 
If you've already selected the rear seat entertainment system, you can also choose the $18,500 'Executive package' which brings individual reclining back seats and extended centre console - which also eliminates the centre rear seat - with folding tables, front and rear seat ventilation and massage function, heated armrests all round and a heated steering wheel. It's the Executive package that also brings the heated rear passenger-side footrest and the foot massage USP.
Engine & trans
Alfa Romeo Giulia
10/10
When it comes to six cylinder engines it's hard to beat an inline six – the balance is near perfect, they scream and BMW's delivers its power beautifully.
The Giulia has a V6. It's a 2.9-litre twin turbo that makes more power than the M3's 331kW at 375kW and also more torque at 600Nm.
It is a potent power plant and Alfa won't say it too loudly, but with the same bore and stroke as the V8 in Ferrari California T it's pretty much the same thing only with two cylinders chopped off.
Sending all that grunt to the rear wheels is an eight-speed ZF automatic transmission – I have pictures of this transmission on my fridge – it's in a lot of cars and I am yet to find another road car transmission I like more.
A claimed 0-100km/h time of 3.9 seconds beats the M3 by 0.2 seconds.
---
Audi A8
9/10
You might be surprised to learn there's no V8 in the new A8's arsenal - for now, the S8 could change that - but an even greater sign of the times is the return of a petrol version for the first time since 2013. Efficiency gains are the main reason for the petrol comeback, which is explained in detail under the fuel consumption heading below.
Both the 210kW/600Nm 50 TDI turbo-diesel and 250kW/500Nm 55 TFSI petrol specifications use 3.0-litre turbocharged V6s which may seem to be simply plucked from existing models, but they bring mild hybrid technology to the Audi line-up for the first time. 
Unlike conventional hybrids that use an electric motor to provide horsepower to drive the vehicle, a mild hybrid (or MHEV) enables the combustion engine to be switched off when the vehicle is coasting or braking, or effectively as an extension of a start/stop system which conserves fuel when a car is stationary.
The A8's mild hybrid system is facilitated by the move to a 48 volt electrical system, with a supplementary 10Ah lithium-ion battery mounted in the boot to keep the electrical systems fed for up to 40 seconds with the engine switched off. Audi claims the system has the capacity to save up to 0.7L/100km.
An extra starter motor has been integrated with the alternator to restart the engine more smoothly via a belt, rather than the conventional cog and ring gear used by the dedicated starter motor for cold starts.
Both engine specs deliver their max torque rating from just above idle, with the 50 TDI at 1250rpm and the 55 TSFI at 1370. Claimed 0-100km/h acceleration performance figures are an impressive 5.9s and 5.6s respectively.
Like all recent longitudinal-engined Audis, the new A8 uses a version of ZF's much lauded eight-speed torque converter auto gearbox, and both engines send power to all four wheels via the 'quattro' all-wheel drive system. 
The optional all-wheel steer system can twist the rear wheels by as much as five degrees, reducing the turning circle by around 1.0m at slow speeds. While at higher speeds, the rear wheels move parallel with the fronts by as much as two degrees to improve stability, particularly for rapid lane changes and evasive manoeuvres. 
All new A8 variants carry a maximum braked towing capacity of 2300kg.
Fuel consumption
Alfa Romeo Giulia
7/10
Alfa Romeo says the Giulia Quadrifoglio should drink Premium Unleaded at a combined rate of 8.2L/100km. It should, but it won't if you drive it like we did. Let's just say after 400km and starting with a full tank the fuel light came on.
---
Audi A8
8/10
Gone are the days where full-size luxury sedans got away with devil-may-care fuel consumption, and even though they still spin six cylinders and need to move around two tonnes, the 55 TFSI petrol versions manage an 8.2L/100km official combined figure. This is when using at least 95 RON Premium unleaded of course. 
As you'd expect, the diesel fuel economy is even better with 5.9-6.0 official figures across wheelbases.
With a fuel tank capacity of 72 litres, this suggests a theoretical range between fills of 878km for the petrol models, and between 1200-1220km for the diesels. The A8's spec sheet lists the option of an 82-litre tank if they aren't quite far enough for you.
Driving
Alfa Romeo Giulia
9/10
Starting in the Giulia with the optional carbon-ceramic brakes ($13,000) and the equally optional carbon fibre sports buckets ($7150) we joined Port Macquarie's peak-hour traffic. Those anchors felt 'doughy' first thing in that cool morning and it wouldn't be until they had some serious heat in them that they'd start to come to life. That wouldn't be long because we were heading for the hills where great roads waited. But it gave us a good chance to drive this car in 'normal' conditions.
Straight away that ride felt so comfortable, so soft even that I was worried it affect handling later. I'd just got out of testing a BMW M3 which feel rock hard even on a 'soft' suspension setting. Steering was one-finger light. The dash is high, the window sills are high, the Recaros felt tight.
As we trundled down the main street that V6 gurgled deeply in third gear – that didn't sound like any V6 I'd driven lately. Coming out of a roundabout and a gear change back to second and the V6 stirred louded but kept its throaty roar – this was special. Dabbing the accelerator the nose lifted up. This thing wanted to go. It felt light, 'pointable'. Everything felt light – from the accelerator pedal to the steering and body weight. It was happy to stay on the leash.  Well behaved, patient.
As we left the city behind I clicked the drive mode from 'Natural' into Dynamic and with heat now in the brakes decided to see what $5 billion euros and 800 engineers and designers felt like.
With acceleration so hard each shift upwards felt like a punch in the back. Those turbos are wound up with 35psi of boost it's not until second gear that it rushed it then it's time to for third and fourth. Using those giant paddles it's hard to shift fast enough to keep up.
The only thing more impressive than the acceleration are those ceramic brakes – we're talking 100km/h- 0 in 38.5 metres.
Swapping into a Giulia Quadrifoglio with standard brakes and seats I found stopping power was still impressive – those seats actually more comfortable for me.
As we scrambled through the tightest corners through the bush heading higher and higher it became clear that this was different from the M3. The BMW feels harder, firmer, more planted. But the Quadrifoglio was just as adept but did it in a softer more flowing fashion. It's was agile, changing direction as easily as you could think it.
Also changing direction in the front splitter – it's active meaning it moves up or down depending on when you need the extra down force.
It's more powerful than the M3 and you can feel it – it's wilder, less serious and slightly crazy, but smoother and softer in its suspension – there were times we scuffed the front splitter in dips.
There's road noise – lots of it on the course chip. That is probably the only complaint. That and visibility front and side is hampered by the thickness and placement of the A and B pillars. The indicators are confusing and hard to stop indicating… but these are small things.
At full roar the Quadrifoglio bellows likes it has so much more to give, the M3 screams into battle.
Both are so so good, and do the same job, but differently.
---
Audi A8
8/10
Our test started in the worst of Sydney morning traffic, which presented the chance to put the latest adaptive cruise assist (ACA) system through its paces on a very clogged Eastern Distributor. 
I'm a huge fan of active cruise control systems that guide the vehicle from speed to a stop, but the A8's ability to start moving again is another step beyond. It helps you avoid being 'that guy' who hasn't noticed the traffic moving, and would no doubt work wonders for traffic flow if all cars were so equipped. Given the chance, Audi says this system works all the way from 0-250km/h.  
No matter what your reaction to the A8's exterior, the freshness of the interior design is like no other, and everything you touch feels first class. 
The four-spoke steering wheel has a surprisingly large diameter and is shared with the upcoming A6, but uses thinner spokes than the norm to promote visibility of the virtual cockpit display as the wheel is twirled.
The haptic and acoustic screens make it as easy as we've experienced to handle a touchscreen while driving, but not quite as simple as the previous console controller. 
Front and rear seats are softly padded for comfort rather than support, and unsurprisingly there's ample room in every direction for this 172cm tester, regardless of wheelbase.
All examples of the A8 we drove were optioned with the Premium plus package, which means one inch larger 20-inch alloys. Despite all A8s coming standard with adaptive air suspension, small bumps like cats eyes and expansion joints are more noticeable than you might expect. As is often the case, the standard 19-inch alloy wheels are likely to be the solution.
We drove both engines and wheelbase choices at the A8 launch event, and you need to be paying close attention to hear any extra noise from the diesel. It does make a muted groan under throttle, but likely worth the 300-plus kilometres of extra range if that's what you're after. 
The diesel's smoothness is also no doubt aided by its use of active engine mounts. If you're after outright refinement and performance, the petrol is the one for you but neither feel in any way sluggish. 
Heading through the bends of the Royal National Park and then back over the hills via Macquarie Pass at pace, there was no disguising the fact that the A8 is a big car, and it tends to float unless you select 'Dynamic' from the drive mode selector. Regardless of mode, it's more planted than any luxury SUV.  
Making a bee-line back to Sydney via the Hume, the A8 simply wafted along at 110km/h in near silence. As you'd expect.
Safety
Alfa Romeo Giulia
9/10
The left-hand drive version of the Giulia Quadrifoglio has scored the maximum five-star Euro NCAP rating, which is yet to be recognised by ANCAP. There's so much more than a reversing camera too, with active cruise control, AEB, lane keeping and rear cross traffic warning and auto high beam. 
There's two top tethers and two ISOFIX points in the back seat.
---
Audi A8
8/10
The new A8 is yet to score a rating from ANCAP or Euro NCAP, but comes with a brand-leading array of safety features. 
All versions come with all the airbags, alerts, self parking, lane assist, self driving, front and rear AEB, 360 degree and reversing cameras, parking sensors and traction aids you'd expect. 
The airbag count has been further bolstered by an industry-first centre airbag, which has been designed to prevent head clashes between front seat occupants. This also represents Audi thinking beyond any Euro NCAP or ANCAP criteria.
It also comes with Audi's exit warning system, which warns the driver of passing cars or cyclists but can now delay the door opening in case the driver doesn't see the warning light. 
A front-mounted laser scanner replaces the usual radar system for active cruise control and front AEB, which doubles the range of a radar scanner to 80m and enables both functions to work at speeds up to 250km/h.
This laser scanner is also key to the A8's Level 3 autonomous preparation, but local laws limit its capability to active cruise control with lane assist.
Ownership
Alfa Romeo Giulia
7/10
A three-year/150,000km warranty covers the Giulia Quadrifoglio. Servicing is recommended at 12 month/15,000km intervals and Alfa Romeo has a pre-paid plan available for owners.
---
Audi A8
7/10
Like all Audis, the new A8 is covered by a three year, unlimited kilometre warranty. This is short of the five year-plus periods becoming more common among mainstream brands, but equal to the terms offered by BMW and Mercedes-Benz. Lexus differs by offering a four year, 100,000km plan.
Service intervals and capped price servicing mirror the previous A8, with a 12 month/15,000km schedule, and maintenance costs for the first three services can be wrapped into a package for $1900. 
We had no issues during our test, but any common faults, common problems or reliability issues are likely to appear on our A8 problems page.