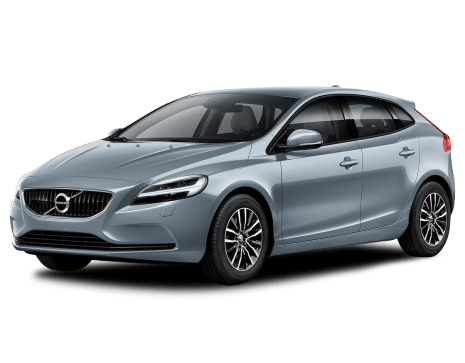 COMPARE
Volvo V40
VS
Hyundai Veloster
Volvo V40
Likes
Great looks
Responsive, torquey engine
Simple to use interior controls
Dislikes
Small boot
Limited rear legroom
No Apple CarPlay
---
Hyundai Veloster
Likes
Unique looks
Grunty 1.6-turbo engine
Great dynamics
Dislikes
Small boot
Only three doors
2.0-litre engine lacks grunt
Summary
Volvo V40
I miss my old phone. Sure, my new phone has a bigger screen and it's smarter and faster, but my previous phone was smaller and easier to use, and now when I go to do a screen shot I accidentally hit the volume button every time. 
What I really want in a phone is a new version of the old one – and I have a feeling people may feel the same way about the 2018 Volvo V40. 
Some time next year the completely new generation V40 is expected to arrive and there will be some things I'll miss about the old one. So, this really is your last chance to buy a new 'old' Volvo V40.
In a last-hurrah review, I road tested the V40 in the Inscription grade with the T4 petrol engine. What's so 'missable' about it? Read on to find out.
| | |
| --- | --- |
| Safety rating | — |
| Engine Type | 2.0L turbo |
| Fuel Type | Premium Unleaded Petrol |
| Fuel Efficiency | 5.6L/100km |
| Seating | 5 seats |
---
Hyundai Veloster
Promise me something. Don't judge a Hyundai Veloster just by its looks, especially this new generation which has just arrived.
There will be some who think this quirky three-door hatch with its cranky-frog appearance is all show and no go, while others will think it must be a hot hatch. It's neither.
So, what is it, then? If anything it could be the perfect compromise car: a coupe with easier access to the back seats than a two-door, a choice of engines, an affordable entry-point, plus good dynamics and a comfortable ride.
I went to the Australian launch of the new Veloster and here's what I found out about this much improved second-generation model.
| | |
| --- | --- |
| Safety rating | — |
| Engine Type | 1.6L turbo |
| Fuel Type | Regular Unleaded Petrol |
| Fuel Efficiency | 7.3L/100km |
| Seating | 4 seats |
Verdict
Volvo V40
7.5/10
I'm going to miss this V40 like I do my old phone, and for many people this hatch really could really be close to perfect: excellent safety equipment, enjoyable to drive, cool prestige styling and some lo-fi buttons and dials that are far easier to use than swiping a screen. This is your last chance to own an old, new V40.
Would you wait for the new V40 to arrive or would you prefer the current version? Tell us what you think in the comments below.
---
Hyundai Veloster
7.6/10
The Veloster might not be the perfect family car with its small boot and three doors, but if you are looking for something different and sporty then the Veloster with its great driving dynamics could be the funnest reason not to buy an SUV like everybody else. 
The Turbo is the sweet spot in the Veloster range for value - the most bang for you buck, plus plenty of great features.
Note: CarsGuide attended this event as a guest of the manufacturer, with travel and meals provided.
Design
Volvo V40
8/10
The V40 has been around forever (well, since 2012) but somehow it still looks great – it's the Nicole Kidman/Rob Lowe of cars.
The thing is Volvo's new-generation vehicles now have a different look, which will be worn by the next V40, and that seriously dates the current car.
Sure, in 2016 this V40 was updated and given 'Thor's Hammer' LED running lights like the new-gen cars, but it's clear the V40 has the old look.
The question is: are you the type of person who would be annoyed if this time next year somebody in the latest 'new-look' V40 pulled up beside you at the lights. If yes, then stop reading now… we'll just wait a moment for you to leave.
Okay, it's just us now. We don't need those shallow people anyway, right? They don't know what they're missing out on – like an interior with lots of buttons. I'm serious the centre console actually has a numerical key pad for making phone calls. There are also lots of dials for the climate control and seat warmers and for the auto parking system.
All of these buttons will be replaced by a sexy, large touchscreen in the new V40, which will make the screen in the current one look like the slot in Ned Kelly's helmet. Wait, don't leave. See, I've road tested the new X60 and I missed just flinging a dial to make the cabin's temperature cooler, instead I had to go into the screen's menu, find the climate functions, and then slide my finger down a little digital ladder until I found 21 degrees. It's a frustrating design and potentially distracting in that it takes your eyes off the road longer than twisting a dial does.
I'll stop the rant. So, yes, the interior of the new V40 will look so sleek and minimalist, decluttered of its buttons and sporting a large vertical screen, but there are functional advantages to keeping it simple.
That said the current V40's cabin is still special and elegant. The Inscription grade brings milled aluminium trim to the centre console and that leather steering wheel. Volvo owners would be aware of that solid, well-built feeling with a high-quality fit and finish.
What are the V40's dimensions? Compared to the Audi A3 Sportback the V40 is 59mm longer at 4369mm end-to-end, 72mm wider at 1857mm across, and 5mm shorter in height at 1420mm.
---
Hyundai Veloster
8/10
Nobody had seen anything quite like the Veloster before the first one arrived in 2012. This ugly-pretty hatch with cranky frog looks made Australia rubber neck.
It arrived just after Hyundai had finished winning over Aussies with small affordable cars with outstanding five-star ANCAP safety scores and it was a case of  'now for something completely different.'
I'm going to put it out there and say the styling was about half-a-decade ahead of the trend because by the time 2017 rolled around brands like Toyota were coming up with pretty similar designs in the form of its C-HR and even more recently Lamborghini's Urus bears more than a passing resemblance to the Hyundai. Where have you ever seen that written before?
This second-generation Veloster has arrived looking a bit more grown up and serious than the pioneering first-gen, with its longer nose and sleeker head and tail-lights, the latter of which now extend through into the tailgate.
And while it's not quite as toy-like in its design as the original it's still fun looking and different with the pumped up wheelarches, central exhaust, a roofline which slopes dramatically down to the oversized rear spoiler and the three-door design – one for the driver, the front passenger and a single entrance to the second row.
Yep, if you didn't realise it then you should know that from the right-hand side the Veloster looks like a two-door coupe, but from the left it appears to be a four-door. Not even Hyundai can give me a reason why, other than it offers the practicality that a two-door coupe can't.  
All Velosters come with 18-inch alloy wheels but each grade's rims come in a different design, while the Turbo and Turbo Premium have blacked-out side skirts and a sporty grille with a red-painted lower air-intake.
Each grade of Veloster comes with a different interior package with a black and blue colour scheme with cloth material in the entry-level car; while the Turbo's cabin is black with red highlights using cloth and leather; and the Turbo premium is similar but with leather upholstery.
That said, there's way too much hard plastic used on all grades, from the dash to the door sills and that brings the feeling of quality down even if the fit and finish of the cabin is excellent.
At 4240mm long, 1800mm across, and 1399mm tall the Veloster is about 100mm shorter in length than an i30, a little bit wider and not quite as tall, giving it a low and planted stance.
Colours include 'Red Ignite', 'Yellow Thunder Bolt', 'Chalk White', 'Dark Knight', 'Tangerine Comet', 'Phantom Black' and 'Lake Silver'. Frankly a frog-looking car should come in green, but that isn't offered, neither is blue, grey or purple.
Practicality
Volvo V40
6/10
Umm, next question. Okay, the V40 is not very practical. Those small rear doors don't open wide, making entry and exit potentially difficult for older or less limber folks.
Legroom in the back is limited – although at 191cm I can just sit behind my driving position and headroom is getting tight, too – but still there's just enough room for me.
The V40's cargo capacity is 335 litres and that's smaller than the A3 Sportback's boot space (380 litres) and the BMW 1 Series's luggage capacity (360 litres). The aperture of the boot itself is also small.
There's even a practicality issue with the driver's doorway – that windscreen is so slanted that the A-pillars either side of it are hard to dodge for taller people when trying to get in, but especially when climbing out.
---
Hyundai Veloster
6/10
It's not. Well not very practical anyway, not in the same way a Hyundai i30 is or even a Kona SUV is.
Let's go straight to the obvious one – the three doors. A door for the driver, one for the front passenger and another on the kerb-side of the car for entry into the two seats in the second row.
Yes, it's quirky and different, but it's frustrating for the those who need to climb in from the left-hand side and scoot across a hard plastic tray and cupholders in the centre to sit behind the driver.
To be fair, the aperture of the entry has been widened by 58mm, improving entry and egress and headroom in the second row has been increased, too.
At 191cm tall I can just sit behind my driving position while my hair is brushing the ceiling. Not a place I'd like to be a on a long trip, that's for sure.
Hyundai argues that the third door provides practicality that a two door doesn't have, which is true, but that's like making a T-shirt with one long sleeve and a short one just in case it's colder than you thought outside. No, it isn't… but I can't think of a better analogy right now.
Did you notice that the front doors are different lengths? The driver's door is long because the B-Pillar on that side is positioned further rearwards than the other side while the passenger door is short. This causes a few issues – the driver's door is heavy and if you park next to somebody you might have trouble opening it far enough for you to clamber out.
Cargo capacity of the boot is 303 litres, which is about 60 litres less than the Kona's. That isn't terrible but check to see if your pram will fit if you have small kids.
Actually, the Veloster is not the best choice for a family car – you need an i30 or Tucson.
But if you don't have kids and will only occasionally ferry people around in the back, then the Veloster is far more suitable.
Cabin storage is good with two cupholders in the back, and two up front, along with slim door pockets up front, a large centre console storage bin under the centre armrest and a big hidey hole in front of the shifter.
As for power outlets you'll find a 12-volt along with two USB ports up front – a media connection and charging-only one.
Price and features
Volvo V40
8/10
The Volvo V40 in the mid-range Inscription grade with the T4 engine lists for $43,990. When I road tested it for the first time five years ago (in 2013) it was $45,990, and it's a better car now than it was then, with more standard features.
The list includes a 7.0-inch touchscreen with reversing camera, sat nav, eight-speaker sound system with CD/DVD player, digital radio, and internet connectivity – but no Apple CarPlay or Android Auto. 
Also standard are front and rear parking sensors, an auto parking system, plus power adjustable driver and front passenger seats. There's also leather upholstery, leather-trimmed steering wheel, dual-zone climate control, 17-inch 'Sarpas' alloy wheels and proximity key entry.
The safety equipment list is impressive, too – you can read all about what's looking after you in the safety section below.
If you wanted a model comparison, then also look at the BMW 1 Series 18i M-Sport for $43,890 or the Audi A3 Sportback 2.0TFSI for $46,400 or Mercedes-Benz A200 for $44,300.
Also, don't forget that because the current V40 is due to be replaced, dealers will be keen to move their stock to make way for the new one and that means you should be able to get yourself a bargain.
---
Hyundai Veloster
8/10
There are three grades in the Veloster range with the entry-point simply called Veloster, which lists for $29,490 with a manual gearbox and $31,790 for the automatic transmission.
Above this is the Turbo, which lists for $35,490 for the manual (add $3K for a dual-clutch auto) and at the top of the range is the Turbo Premium for $38,990 in manual guise and, that's right, three grand extra for the dual-clutch.
The standard equipment list is impressive. Well, it is for the Turbo and Premium, but the entry-grade Veloster still comes with a good safety suite (read about that below) and features such as LED daytime running lights, a 7.0-inch screen with Apple CarPlay and Android Auto, single-zone climate control, sports front seats, leather-clad steering wheel, 18-inch alloy wheels with Michelin Pilot Sport 3 tyres and switchable drive modes if you go for the auto transmission.
The Turbo is the sweet spot in the Veloster range for value coming standard with an 8.0-inch screen with Apple CarPlay and Android Auto, eight-speaker Infinity sound system, proximity unlocking, LED headlights, sat nav, digital performance gauges, digital radio and Michelin Pilot Sport 4 tyres.
The Turbo Premium has all of the Turbo's features but adds leather upholstery, heated and ventilated seats, power adjustable driver's seat, head-up display, heated steering wheel, sunroof, and wireless charging for your smartphone. Plus, this grade gives you the option of the two-tone effect with the black roof for $1000. Premium paint on all grades costs $595.
Engine & trans
Volvo V40
8/10
The V40 line-up has three petrol engines to pick from and the T4 sits right in the middle between the most powerful T5 and the least grunty T3. A 2.0-litre four-cylinder turbo-petrol engine the T4 makes 140kW/300Nm and delivers it through a smooth six-speed automatic.
That engine is up there with my favourite things about the V40 Inscription. The power figure isn't huge but 300Nm of torque provides decent shove. A 0-100km/h time of 6.9 seconds isn't at all slow.
---
Hyundai Veloster
7/10
There are two engines in the Veloster range: a 110kW/180Nm 2.0-litre naturally aspirated petrol four cylinder in the entry-grade car; and the 150kW/265Nm 1.6-litre turbo-petrol four in the Turbo and Turbo Premium.
Both engines can be had with a six-speed manual, while the 2.0-litre is also available with a six-speed automatic and the 1.6-litre is offered with a seven-speed dual-clutch auto.
For me, the best combination is the turbo engine with the manual gearbox. For more on what the Veloster is like to drive, skip on down to that section below.
Fuel consumption
Volvo V40
7/10
Volvo says the V40 should use 5.6L/100km of premium unleaded fuel over a combination of open and urban roads.
If you're only going to stick to urban areas you'll see higher usage – our trip computer was reporting an average of 14.9L/100km on a regular peak hour commute, but motorways drop the figure to about 8.0L/100km.
---
Hyundai Veloster
8/10
Hyundai says that after a combination of open and urban road driving the 2.0-litre petrol engine with the six-speed manual will use 7.0L/100km, while the six-speed auto will need 7.1L/100km.
In my test drive of the automatic the trip computer was telling me it was using an average of 7.1L/100km but that was mainly country roads.
As for the turbo engine Hyundai says consumption will be 7.3L/100km with the manual gearbox and 6.9L/100km with the dual-clutch. My testing of the DCT car saw the trip computer report 6.8L/100km after motorways and then getting lost in Brisbane's CBD during peak hour. Not bad at all.
Driving
Volvo V40
7/10
That grunty 2.0-litre engine teamed with that smooth six-speed transmission goes a long way to making the V40 Inscription T4 an enjoyable car to drive.
Good handling and a fairly comfortable ride complete a prestige and easy-to-drive package that's only really let down by heavy steering and slightly noisy suspension. That heavily sloped windscreen does present some visibility issues, but it's not a deal breaker.
---
Hyundai Veloster
8/10
I kicked things off in the base grade Veloster with its 2.0-litre four-cylinder engine and six-speed automatic, then upgraded to the Turbo Premium with the 1.6-turbo and dual-clutch auto, before piloting the mid-range Turbo with the six-speed manual gearbox. It was enough for me to see straight away which I'd want in my driveway.
And 'yeah-nah', it wasn't the base grade Veloster. Not for me, anyway. The frankly superb (for the money) suspension is let down by an engine which can't offer the performance a car this well set-up deserves.
Still, you get the look, great handling, outstanding steering and a comfortable and composed ride for less money than the rest. So, if 'extra sporty' driving doesn't matter to you, then you will still love the way the entry Veloster feels to pilot.
If you have a little more to spend my recommendation is the middle-of-the-range Turbo with the six-speed manual. This is the bang for your buck winner with that 1.6-litre turbo making 150kW/265Nm at a pretty darn good price.
You'll find the same engine in the Hyundai i30 N-Line, but the Veloster Turbo with a manual gearbox is 1270kg - 45kg lighter than the i30, giving it a better power-to-weight ratio.
The lightness and all that torque rushing in from 1500rpm, combined with quick and natural steering makes the Veloster Turbo feel so pointable, changing direction almost as quickly as you can think it.
The manual gearbox just ups the engagement factor, with a light clutch pedal and easy 'flick of the wrist' shifts.
If you're going to be commuting in traffic daily then you'd probably be happier with the dual-clutch auto, which reduces the driver-car connection but has its own benefits over the manual.
First, the DCT can shift faster than any human, and second when it moves to a higher gear the burbling exhaust note lets out satisfying deep burps.
The official 0-100km/h acceleration time for the Turbo cars is 7.1sec for the DCT auto, and 7.7sec for the manual.
All Velosters have the same suspension tune and it's much improved over the previous model. MacPherson struts underpin the front while suspension in the back has been swapped from a torsion beam to multi-link set-up which has improved high-speed and cornering stability, while giving the Veloster a comfortable and composed ride.
Hyundai has done a top job in designing the driving position, too, with a low hip point, supportive seats and plenty of elbow room.
You might be wondering what visibility is like in a car with a mini-tank turret and it's nowhere near as bad as you might think.
Hyundai has moved the A-pillars back to improve the view, but they are still a bit in the way while looking rearward, your sight obstructed by the chunky C-Pillar and small windows. But use your mirrors and the reversing camera when parking and you'll be fine. 
That brings us to looking at how practical something like the Veloster is…
Safety
Volvo V40
9/10
First tested in 2012, the V40 the achieved one of the highest-ever scores awarded by EuroNCAP and saw ANCAP give it the maximum five-star rating in Australia. Back then the V40 came standard with advanced safety equipment only making it onto cars these days such as AEB, it also had the world's first pedestrian airbag, which inflates to protect people from hitting the A-pillars and windscreen.
The 2017 update added blind-spot warning as standard on the Inscription grade. A $1300 option package brings Lane Departure Warning, Lane Keeping Aid, Active High Beam Control, Forward Collision Warning and Road Sign Information. A $3000 package brings adaptive cruise control, collision warning with full auto braking, plus pedestrian and cyclist detection.
ABS, EBD, traction and stability control are of course there to step in should you need it, too. You'll find three top tether and two ISOFIX points in the second row for child seats. A space-saver spare is under the boot floor.
---
Hyundai Veloster
8/10
This new-gen Hyundai Veloster hasn't been given an ANCAP assessment yet, but it's likely the rating could be split between a four-star score for the entry grade and a five-star for the Turbo and Turbo premium.
This is because the entry car has AEB but it's not the pedestrian detecting type which is found on the top two grades and is necessary for a five-star score.
That said, all Velosters have lane keeping assistance, while the Turbo and Turbo Premium add blind spot warning and rear cross traffic alert.
All Velosters have rear parking sensors, but none have front ones.
The LED headlights on the Turbo and Turbo premium are excellent. Keep this in mind if you're thinking of the base grade and you live in a country area – its full beam headlights are nowhere near as good.
For child seats you'll find two ISOFIX mounts and two top tether anchor points in the second row.
Ownership
---
Hyundai Veloster
8/10
The new Veloster is covered by Hyundai's five-year/unlimited kilometre warranty. Servicing is recommended every 15,000km or 12 months for the base grade Veloster and costs $279 for the first two visits followed by $365 for the next then $459 and $279 for the fifth.
The Turbo and Turbo Premium need servicing every 10,000km or 12 months and you'll pay $299 for the first three visits then $375 and then $299 for the fifth.