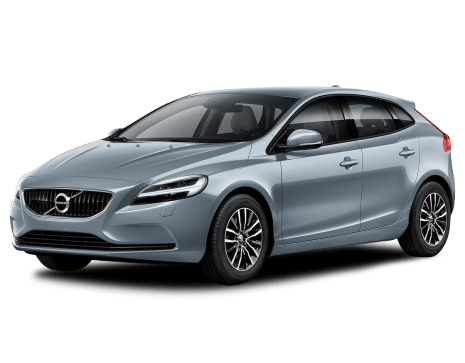 COMPARE
Volvo V40
VS
Toyota Corolla
Volvo V40
Likes
Great looks
Responsive, torquey engine
Simple to use interior controls
Dislikes
Small boot
Limited rear legroom
No Apple CarPlay
---
Summary
Volvo V40
I miss my old phone. Sure, my new phone has a bigger screen and it's smarter and faster, but my previous phone was smaller and easier to use, and now when I go to do a screen shot I accidentally hit the volume button every time. 
What I really want in a phone is a new version of the old one – and I have a feeling people may feel the same way about the 2018 Volvo V40. 
Some time next year the completely new generation V40 is expected to arrive and there will be some things I'll miss about the old one. So, this really is your last chance to buy a new 'old' Volvo V40.
In a last-hurrah review, I road tested the V40 in the Inscription grade with the T4 petrol engine. What's so 'missable' about it? Read on to find out.
| | |
| --- | --- |
| Safety rating | — |
| Engine Type | 2.0L turbo |
| Fuel Type | Premium Unleaded Petrol |
| Fuel Efficiency | 5.6L/100km |
| Seating | 5 seats |
---
Toyota Corolla
The last time I drove a Toyota Corolla hybrid was a couple of years ago when I tested on by one by taking it 400km north from Sydney to a meeting of old cars with giant petrol engines, otherwise knows as a hot rod run, a pilgrimage to worship at the shortened exhaust of the combustion engine.
The good news is that nobody torched the Corolla hybrid during the night of revelry, and the other good news is that I found it to be an impressive car.
That was the previous generation Corolla hybrid, now the new-gen one is here and, while I didn't take it on a hot rod run this time, I put it through another test – the day-to-day living challenge of pre-school drop offs and shopping, parking, commuting… I even used it to carry a 2.5m tall tree. So, is the new Corolla Hybrid just as impressive as the old one?
The grade I tested was the Ascent Sport. What does that mean? Read on to find out.
| | |
| --- | --- |
| Safety rating | |
| Engine Type | 1.8L |
| Fuel Type | Regular Unleaded Petrol |
| Fuel Efficiency | 4.2L/100km |
| Seating | 5 seats |
Verdict
Volvo V40
7.5/10
I'm going to miss this V40 like I do my old phone, and for many people this hatch really could really be close to perfect: excellent safety equipment, enjoyable to drive, cool prestige styling and some lo-fi buttons and dials that are far easier to use than swiping a screen. This is your last chance to own an old, new V40.
Would you wait for the new V40 to arrive or would you prefer the current version? Tell us what you think in the comments below.
---
Toyota Corolla
7.6/10
I'm never going to stop worshipping the combustion engine and I'll keep going to hot rod runs in my big, old V8-powered beast, but to me, if you're going to buy a Corolla why wouldn't you choose the hybrid? It's more fuel efficient than a regular petrol variant and offers a better city driving experience, by being able to run silently and smoothly as an EV at low speeds with decent off-the-mark shove when you need it. As for hybrid rivals – there are none right now, but even if there were, Toyota's perfection of hybrid tech over the past two decades means it would likely be better than the competition. 
Would you choose the petrol or hybrid version of the Corolla Ascent Sport? Tell us what you think in the comments below.
Design
Volvo V40
8/10
The V40 has been around forever (well, since 2012) but somehow it still looks great – it's the Nicole Kidman/Rob Lowe of cars.
The thing is Volvo's new-generation vehicles now have a different look, which will be worn by the next V40, and that seriously dates the current car.
Sure, in 2016 this V40 was updated and given 'Thor's Hammer' LED running lights like the new-gen cars, but it's clear the V40 has the old look.
The question is: are you the type of person who would be annoyed if this time next year somebody in the latest 'new-look' V40 pulled up beside you at the lights. If yes, then stop reading now… we'll just wait a moment for you to leave.
Okay, it's just us now. We don't need those shallow people anyway, right? They don't know what they're missing out on – like an interior with lots of buttons. I'm serious the centre console actually has a numerical key pad for making phone calls. There are also lots of dials for the climate control and seat warmers and for the auto parking system.
All of these buttons will be replaced by a sexy, large touchscreen in the new V40, which will make the screen in the current one look like the slot in Ned Kelly's helmet. Wait, don't leave. See, I've road tested the new X60 and I missed just flinging a dial to make the cabin's temperature cooler, instead I had to go into the screen's menu, find the climate functions, and then slide my finger down a little digital ladder until I found 21 degrees. It's a frustrating design and potentially distracting in that it takes your eyes off the road longer than twisting a dial does.
I'll stop the rant. So, yes, the interior of the new V40 will look so sleek and minimalist, decluttered of its buttons and sporting a large vertical screen, but there are functional advantages to keeping it simple.
That said the current V40's cabin is still special and elegant. The Inscription grade brings milled aluminium trim to the centre console and that leather steering wheel. Volvo owners would be aware of that solid, well-built feeling with a high-quality fit and finish.
What are the V40's dimensions? Compared to the Audi A3 Sportback the V40 is 59mm longer at 4369mm end-to-end, 72mm wider at 1857mm across, and 5mm shorter in height at 1420mm.
---
Toyota Corolla
There's a lot of love for the Corolla, particularly older versions of the species (just ask our editor Mal, he rescues rusty ones out of paddocks), but the previous model was never really widely adored for its looks and was beginning to age compared to new and improved rivals. Enter this new-generation Corolla, which looks sexier and more modern.
I'm especially taken by the tail lights, which are far more appealing than the previous model's egg-splat design. The same goes for the new headlight design and that large grille.
It's a completely different Corolla to the last one, but has kept the same pointy nose at the front and the bulbous bum.
The only indication that the hybrid isn't a petrol variant is the Toyota badge with the blue halo aura effect and, of course, the word 'Hybrid' on the tailgate.
The interior is also modern feeling with a large, cleanly designed dashboard with that touchscreen sitting prominently atop it, like a billboard. I have to admit, though, the Ascent Sport's interior lacked a bit of wow-factor, with its hard surfaces and too much use of piano-black plastic. I know Toyota can do cool interiors – just look at the C-HR, so it's a bit disappointing that the Ascent Hybrid's cabin isn't more interesting.
In terms of dimensions, the Corolla Ascent Sport Hybrid is 4375mm long, 1790mm wide and 1435mm tall. The small size made it easy to park in the tiny spots left outside my house by the time I get home, and easy to pilot in narrow laneways and city traffic.  
Practicality
Volvo V40
6/10
Umm, next question. Okay, the V40 is not very practical. Those small rear doors don't open wide, making entry and exit potentially difficult for older or less limber folks.
Legroom in the back is limited – although at 191cm I can just sit behind my driving position and headroom is getting tight, too – but still there's just enough room for me.
The V40's cargo capacity is 335 litres and that's smaller than the A3 Sportback's boot space (380 litres) and the BMW 1 Series's luggage capacity (360 litres). The aperture of the boot itself is also small.
There's even a practicality issue with the driver's doorway – that windscreen is so slanted that the A-pillars either side of it are hard to dodge for taller people when trying to get in, but especially when climbing out.
---
Toyota Corolla
I was afraid you'd ask me that question because the answer is: not very. The legroom in the back seat is tight, so much so that at 191cm tall I can't fit behind my driving position. I'm tall, but even our more normal-sized reviewers found the rear legroom to be limited.
My four-year-old is only three feet tall and he remarked that "Mummy's seat is squashing my feet". That was when he was in his car seat and my wife was sitting next to me.  She had to move her seat almost until her knees touched the dash so that his feet weren't squashing.
Also a bit disappointing is the boot space – 217 litres of cargo capacity if you have a space-saver spare wheel and 333 litres if you go with the tyre-repair kit. That's too small for our CarsGuide pram, so if you're thinking of a Corolla as your next family hatch, then I'd take your pram/golf clubs/drum kit and test out the space before handing over your money.
Cabin storage isn't bad, with two cupholders up front and two in the back, along with bottle holders in the doors. The centre-console bin offers good storage and there's a small tray in the second row big enough for a wallet.
As for USB ports, there's a lonely looking one under the dash.
If it's any consolation, I used the Corolla to transport a 2.5m tall tree that arrived at CarsGuide HQ for me after I ordered it online. My other two choices were a Mitsubishi Triton ute and a Ford Mustang and, as it turned out, the hybrid hatch was better suited to the job, as you can see in the images. So there you have it: the Corolla is more practical in some ways than a ute or a Mustang.
Price and features
Volvo V40
8/10
The Volvo V40 in the mid-range Inscription grade with the T4 engine lists for $43,990. When I road tested it for the first time five years ago (in 2013) it was $45,990, and it's a better car now than it was then, with more standard features.
The list includes a 7.0-inch touchscreen with reversing camera, sat nav, eight-speaker sound system with CD/DVD player, digital radio, and internet connectivity – but no Apple CarPlay or Android Auto. 
Also standard are front and rear parking sensors, an auto parking system, plus power adjustable driver and front passenger seats. There's also leather upholstery, leather-trimmed steering wheel, dual-zone climate control, 17-inch 'Sarpas' alloy wheels and proximity key entry.
The safety equipment list is impressive, too – you can read all about what's looking after you in the safety section below.
If you wanted a model comparison, then also look at the BMW 1 Series 18i M-Sport for $43,890 or the Audi A3 Sportback 2.0TFSI for $46,400 or Mercedes-Benz A200 for $44,300.
Also, don't forget that because the current V40 is due to be replaced, dealers will be keen to move their stock to make way for the new one and that means you should be able to get yourself a bargain.
---
Toyota Corolla
The Ascent Sport is the entry grade into the Corolla range and the hybrid version is $1500 more than the petrol-engined  variant at $25,870.
What other hybrids are there on the market for this price? Not many. The Mazda3, Hyundai i30 and Kia Cerato are the top three rivals to the Corolla and none of those come with a hybrid powertrain.
There is the Hyundai Ioniq, which is larger and a damned good thing, but the most affordable one costs way more, at $33,990.  The closest car to the Corolla Hybrid isn't really a competitor but more of a sibling rival, in the form of the Toyota Prius C, which was being offered at a driveaway price of $27,596 at the time I wrote this.
The rest of the hybrids available to us in Australia right now are either prestige cars or SUVs. So, while the Corolla is far from a hatchback unicorn, the hybrid version really is unique.
Standard features on the Ascent Sport Hybrid for the most part mirror those on the petrol version. The list includes LED head- and tail lights, LED running lights, heated and power door mirrors, an eight-inch touch screen with reversing camera, six-speaker stereo, Bluetooth connectivity, dual-zone climate control and some cool advanced safety tech, which you can read about below.
As far as standard features go, Toyota hasn't been super generous and you're made to step up to the SX if you want sat nav and the wireless-charging pad, while you need to climb higher into the top-grade ZR if you want to swap the cloth seats for leather.
One of the bonuses of buying the hybrid version of the Ascent Sport is getting dual-zone climate – the petrol version only has single zone air conditioning.
Still, at $26K the value equation is impressive.
Engine & trans
Volvo V40
8/10
The V40 line-up has three petrol engines to pick from and the T4 sits right in the middle between the most powerful T5 and the least grunty T3. A 2.0-litre four-cylinder turbo-petrol engine the T4 makes 140kW/300Nm and delivers it through a smooth six-speed automatic.
That engine is up there with my favourite things about the V40 Inscription. The power figure isn't huge but 300Nm of torque provides decent shove. A 0-100km/h time of 6.9 seconds isn't at all slow.
---
Toyota Corolla
So, you're thinking of a petrol-electric hybrid, eh? Well you've come to the right review because Toyota has been producing hybrid cars on a huge scale longer than anybody, which has given the company decades to refine and develop the tech.
The Ascent Sport Hybrid doesn't plug into a power point. Toyota doesn't currently sell any plug-in hybrids in Australia. Nope, this one builds the charge back up in its batteries from the energy captured when you brake.
Those nickel-metal hydride (Ni-MH) batteries are in the back of the car and under the bonnet you'll find an a 72kW/142Nm 1.8-litre four-cylinder petrol engine and a 53kW/162Nm electric motor. The engine and motor take turns and also work together to drive the front wheels, and the transition between one power source and another is smoother than any other hybrid I've driven.
The transmission is a CVT, which is an automatic and, while I'm not a fan of them in petrol variants, because they cause the engine to rev without much in the way of shove to go with it, in a hybrid the extra torque from the motor means acceleration is pretty good.
Fuel consumption
Volvo V40
7/10
Volvo says the V40 should use 5.6L/100km of premium unleaded fuel over a combination of open and urban roads.
If you're only going to stick to urban areas you'll see higher usage – our trip computer was reporting an average of 14.9L/100km on a regular peak hour commute, but motorways drop the figure to about 8.0L/100km.
---
Toyota Corolla
This is what it's all about right? Well, sort of. Hybrids of this kind don't achieve fuel economy as good as, say, a plug-in hybrid and while Toyota claims the Ascent Sport Hybrid should only use 4.2L/100km after a combination of open and urban roads, after mainly city testing I measured 7.7L/100km when I filled up at the petrol station. It takes 91 RON, by the way.
That fuel economy is still good, considering our testing of the regular petrol variant saw it use 9.0L/100km.
Driving
Volvo V40
7/10
That grunty 2.0-litre engine teamed with that smooth six-speed transmission goes a long way to making the V40 Inscription T4 an enjoyable car to drive.
Good handling and a fairly comfortable ride complete a prestige and easy-to-drive package that's only really let down by heavy steering and slightly noisy suspension. That heavily sloped windscreen does present some visibility issues, but it's not a deal breaker.
---
Toyota Corolla
Welcome to the driving bit, which will make even more sense if you read the section above, which explains how the hybrid system isn't alien technology, but rather a petrol engine and an electric motor engaged in a constant dance to provide drive to the front wheels.
That engine-motor combination works superbly and more seamlessly than any other hybrid I've driven. I even like the CVT transmission, which is something I thought I'd never write, because when this type of automatic is in a petrol variant it provides a lucklustre feel to the acceleration. It's not the case here, thanks to the help of the motor, which adds instant torque and good off-the line shove.
Combine this with great steering, good handling, a comfortable ride and a very quiet cabin, and you have a hatch that's enjoyable to drive. I'm not going to say outstanding (it's not quite an 8 out of 10) because the Mazda3 is also impressive to drive and so are the Hyundai i30 and Kia Cerato. But the Corolla Ascent Hybrid is right up there with them.
Safety
Volvo V40
9/10
First tested in 2012, the V40 the achieved one of the highest-ever scores awarded by EuroNCAP and saw ANCAP give it the maximum five-star rating in Australia. Back then the V40 came standard with advanced safety equipment only making it onto cars these days such as AEB, it also had the world's first pedestrian airbag, which inflates to protect people from hitting the A-pillars and windscreen.
The 2017 update added blind-spot warning as standard on the Inscription grade. A $1300 option package brings Lane Departure Warning, Lane Keeping Aid, Active High Beam Control, Forward Collision Warning and Road Sign Information. A $3000 package brings adaptive cruise control, collision warning with full auto braking, plus pedestrian and cyclist detection.
ABS, EBD, traction and stability control are of course there to step in should you need it, too. You'll find three top tether and two ISOFIX points in the second row for child seats. A space-saver spare is under the boot floor.
---
Toyota Corolla
The Corolla Ascent Sport Hybrid scored the maximum five-star ANCAP rating when it was tested in 2018. Coming standard are AEB with pedestrian and cyclist detection, adaptive cruise control and lane-keeping assistance, speed-sign recognition and auto high beam headlights.
There are also seven airbags and for child seats you'll find three top-tether points and two ISOFIX mounts across the second row.  
Ownership
---
Toyota Corolla
The Corolla Ascent Sport Hybrid is covered by a five-year/unlimited kilometre warranty and a five-year capped-price servicing plan. Servicing is recommended every 12 months or 15,000km and you can expect to pay $175 for each of the first four services.