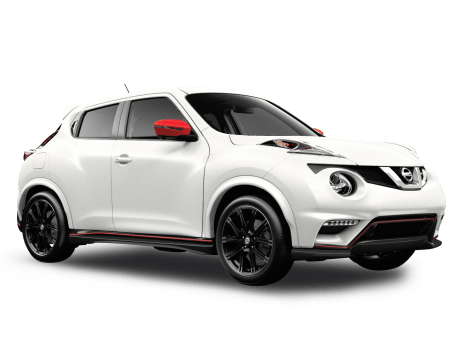 COMPARE
Nissan Juke
VS
Suzuki Jimny
Nissan Juke
Likes
Whopping 140kW engine
Still looks edgy
Plush seats
Dislikes
Expensive
Truly tiny boot
Questionable design choices
---
Suzuki Jimny
Likes
All fundamentals for the perfect off-roader
Looks which celebrate past without compromise
Price and equipment levels
Dislikes
Shame about that 3 star safety
Cargo space with back seats up
Bouncy ride will deter urban users
Summary
Nissan Juke
Updated:
Not much has changed since we originally reviewed the current Nissan Juke Ti-S in November of 2018, with pricing and spec remaining the same.
There has been some news on the Juke's much-anticipated replacement, with an official reveal date of September 3, 2019.
Not much can be told about the new Juke yet, as it has only been spied under camouflage, but it is known to be larger than this current model, as the new car has been photographed alongside the current one. 
It will also share roughly the same design theme and styling pillars, while bringing it up-to-date with Nissan's current line-up. Take a look at current versions of the larger US-market Murano for clues as to what it could look like.
It is also known that it will share a platform with the recently-revealed Renault Captur, paving the way for low-capacity turbocharged engines and even the possibility of hybrid tech in the Juke's next iteration.
As originally published September 3, 2018:
The Nissan Juke is straight-up bizarre.
Back in 2011, it was ahead of the small SUV curve, using the now-common trope of lifting up a small hatchback, giving it a slightly different body and calling it an 'SUV'.
But the Juke didn't arrive locally until late 2013, the hatchback in question is the now-dead-in-Australia Nissan Micra, and despite that initial lead on its main competitors, the Micra-based Juke is hardly ahead on sales.
Despite that, Nissan is powering on with the Juke formula, while refining equipment levels, offering new style options and even introducing an even more performance-focused Nismo variant.
So, in a now-very-crowded small SUV segment are the Juke's differences enough to set it apart? I spent a week reviewing the second-from-the-top Ti-S all-wheel drive (AWD) turbo to find out.
| | |
| --- | --- |
| Safety rating | — |
| Engine Type | 1.6L turbo |
| Fuel Type | Premium Unleaded Petrol |
| Fuel Efficiency | 6.5L/100km |
| Seating | 5 seats |
---
Suzuki Jimny
When Sylvester Stallone started making more Rocky sequels a decade and a half after the shark-jumping Rocky V, nobody was really surprised. I mean, he was yet to match the Police Academy franchise, and it's hard not to love watching him run up those steps.
But when Suzuki whipped the covers off an all-new Jimny last year, I was shocked and amazed, and stoked.
Somehow, they'd managed to convince the beancounters to allow the development of a ladder chassis and solid axles at both ends combo that's universally accepted as the perfect formula for a proper off-roader. It represents a double whammy by pairing it with cute-but-tough looks and just the right level of retro touches.
Perhaps it was because they'd save all their pennies during the previous model's full two-decade lifespan? The other point to remember is that Suzuki was recently crowned the world's most profitable car manufacturer. 
Yes, new tiny SUVs are popping up everywhere from all sorts of brands, but most are heavily city focused and don't even have all-wheel drive, let alone a low-range transfer case, solid axles and off-road clearance that'll make proper Hummers take notice.
The new Jimny does, which will ultimately limit its appeal among urban baby SUV set, but loyal fans of the past half-century of legendary Suzuki baby off roaders are still rejoicing. The little Zook is back!
Its on-paper charisma is such that it's the only new car reveal that's caused the entire CarsGuide editorial team to gather around one monitor to gawk at the initial pics. Forget the mid-engined exotics, Suzuki has trumped them all with a little funbox that you can get for about the price of a new Corolla!
Perhaps it could convert a few CX-3 buyers? The new Jimny finally arrives in Australian showrooms this weekend, but we've already put it through its paces in Melbourne to see if it lives up to the hype.
| | |
| --- | --- |
| Safety rating | — |
| Engine Type | 1.3L |
| Fuel Type | Regular Unleaded Petrol |
| Fuel Efficiency | 7.3L/100km |
| Seating | 4 seats |
Verdict
Nissan Juke
6.4/10
The Juke is nothing if not different, but it is hampered in Australia's fastest-growing segment with a tall asking price, dated features, sub-par warranty and questionable design choices.
Credit where credit is due: it was one of the first in the wave of small SUVs dominating the market and it has a ripper little turbo engine, but most competitors feel a lot less… elderly.
Does the Juke's wild styling set it apart for you, or would you rather look at more recent entries in the small SUV market? Tell us what you think in the comments below.
---
Suzuki Jimny
8/10
The new Jimny seems to have everything going for it in its intended function as a nimble off roader, and didn't disappoint me at all.
I look forward to seeing its true colours as an around-town conveyance, but you simply can't expect it to play the role of city hatchback any better than it does. 
The new Jimny has a loveable character that's rarely seen in new cars these days, and the fact that it looks simply adorable is a pretty cool bonus.
Note: CarsGuide attended this event as a guest of the manufacturer, with travel and meals provided. 
Will you be queuing up for a new Jimny? Tell us what you think in the comments section below.
Design
Nissan Juke
7/10
I'm not sure how the Juke was designed, but it seems to me that a product guy described a 370Z to an engineer, then only gave them Nissan Micra parts to execute their vision.
To say the Juke is unique is an understatement. Up front there's a lot to take in, including three layers of lighting - 370Z-style DRLs perched on the bonnet, almost Beetle-esque headlights embedded in the grille, and little fog lights nestled below.
Then there's the mess of angles dominating the lower bumper and windscreen, plus the curves just about everywhere else.
Up the back the mish-mash continues, with more echoes of the 370Z in the rear light fittings, a Micra-like boot and an expensive-looking curved rear window.
The side-profile exacerbates the almost comically-exaggerated wheel arches.
It seems the Juke is not afraid to target a niche audience that wants to be seen. Our test car was fitted with a 'myJUKE personalisation pack' which consisted of the 'Energy Orange' highlights on the wheels, bumpers and wing-mirrors you can see in the pictures. 
The pack adds $800 to the price, alongside our car's premium 'Platinum' paint ($500) for an as-tested MSRP of $34,790.
Inside the Juke, it all looks a little dated. There's an abundance of large, nasty plastic panels, made all the more obvious through the orange highlights strewn throughout. 
It seems at odds with the nice, comfortable leather seats, and great little leather-bound steering wheel.
For some reason there are two screens embedded in the centre of the dash. The main 5.8-inch screen isn't the worst I've used, but the design is lagging behind the standard set by brands like Volkswagen and Hyundai. The built in nav is satisfactory, but I was wishing for Apple CarPlay to remove the sub-par interface.
The second screen, embedded between two dials, controls the air-conditioning and driving modes. The buttons surrounding it change depending on which mode you turn the screen to.
It's neat, if a little unnecessary. The screen can show everything from a boost gauge in 'Sport' mode, to fuel efficiency graphs in the 'Eco' setting. But sadly, both screens were frequently subject to glare on sunny days.
Our test car had excessive panel gaps where the front doors connect to the A-pillar, as well as around the boot lid and bonnet. Inside, there were trim pieces that didn't quite meet up, or flexed a bit too far when pushed on. 
There was also a rattle emanating from the boot during my test. Despite attempts to take all the boot pieces out and put them back carefully, I could not find the source. 
The Juke is built in the UK. Go figure.
---
Suzuki Jimny
9/10
Even though it's an all-new body (hardtop-only for now), the new Jimny somehow manages to look older than the ancient (but still adorable) car it replaces. 
Gone are the subtle curves and flush surfaces, in favour of straight lines and a chiselled overall appearance. The side and rear views are clear nods to the SJ Sierra of the '80s and '90s, while the nose carries references to all three previous generations. 
All glass bar the windscreen is dead flat, and even the windscreen's curve is only slight. In 2019!
Unlike every other retro-styled model we can think of (unless you include the ND MX-5), the Jimny manages to retain its diminutive proportions. In fact, it's 30mm shorter than the model it replaces, but does grow 45mm wider and 20mm taller.
Take note Mini, but the key reason for the Jimny's discipline is that the 660cc version available in Japan (with shorter bumpers and no wheel arch extensions) is designed to fit within the size-governed Kei class. Thank you Kei class.  For the record, the Australian Jimny's key dimensions are 3645mm long, 1645mm wide, 1725mm tall, on a wheelbase of just 2250mm.
Unlike every other small SUV in production today, the new Jimny retains a properly rugged ladder chassis with solid axles at either end suspended by coil springs, and a dual range transfer case. It's the same layout as with the last Jimny, but a new and improved design that's 1.5 times stronger torsionally than before and exactly what you want for proper off roading, even if it'll be somewhat compromised around town.
The body has expanded use of zinc coating for rust resistance, and is now mounted to the chassis in eight places. 
The suspension design is still three-link front and rear, but the axle housings have been strengthened.
The front disc brakes retain the classic top-mounted caliper design, but we were surprised to see that drums are the still the order of business at the rear.
Despite this strengthening and swathe of extra features, kerb weight is still just 1075kg for the manual and just 15kg more for the auto. The lightest Mazda CX-3 is a full 118kg heavier, and doesn't have a second diff, transfer case or ladder chassis. 
Both versions of the Jimny have a GVM of just 1435kg though, so you'll want to travel light with four passengers aboard. If you all weigh 90kg, you'll have to be nude with no luggage. 
Other important measures include an extra 10mm of ground clearance to now total 210mm, while other clearance figures are improved to 37 degrees on approach, 28 degrees of ramp-over and a full 49 degrees on departure.
Suzuki doesn't quote a maximum wading depth, so best stick to the tyre height rule of thumb, which in the standard Jimny's case is around 200mm.
The interior is just as carefully crafted as the exterior, with little retro details like the gauge font and surround, plus the big Jesus handle for the passenger looking very familiar to anyone who's lived with an SJ Sierra or Holden Drover (as I have). 
The materials are also scratch and dirt resistant, but still comfortable to the touch and seem like really good quality.
Practicality
Nissan Juke
6/10
The Juke's over-commitment to styling compromises its practicality, which is especially true for our AWD Ti-S.
The multi-link rear suspension hampers available boot space by bringing the boot floor up to almost level with the rear hatch opening. 
On offer is just 207 litres, which makes the CX-3's already small 264 litres look huge. 
You could fit maybe two duffle bags stacked on top of one another in the space, but any hard cases larger than carry-on size is asking for trouble.
With the seats down, it's a better story, as the space is, if nothing else, level.
Expect small hatchback amounts of space in the rear. Back-seaters don't get any air conditioning vents, but there's a small bucket-shaped area for storage on the back of the front centre console. 
There's not much else back there in terms of amenities, although the plush leather seats continue, and headroom was not as limited as my 182cm self expected. Two ISOFIX child seat mounting points are present on the outer two seats.
Up front there are decent cupholders in the centre console and bottle holders in the doors, although nothing that'll hold anything bigger than a 600ml bottle.
Aside from that there are precious few stowage spaces for items in the cockpit. There's a strange rubberised pad underneath the air conditioning controls. It barely fit my phone, and the lack of sidewalls made it hardly suitable for loose objects. I'm not really sure what it was for.
There's also a massive glove box that seems to go forever under the dash.
---
Suzuki Jimny
8/10
Also familiar to anyone who's driven any of the previous three generations will be the driving position. 
The close proximity of the windscreen base, dash and upright steering wheel is pure Zook, and the latter is unfortunately still not reach adjustable although it does tilt.
Based on a quick askaround at the Jimny's launch, the dimensions in the front are still comfortable for those over six foot (I'm just 172cm or 5"6) in the front. 
The back seat is still really only for occasional use and limited to two positions, but is more comfortable than ever and it's also pretty easy to access via the sliding front seats and the front doors. As with the previous generation, the rear windows are fixed.
There's two cupholders in the centre console but no bottle holders like we're accustomed to seeing in the doors. A single USB and 12V power point pass muster up the front, but there's also a handy second 12V point in the cargo area.
Ultimately, you can only expect to fit so much into such a tiny car. And that's not much behind the back seats when they're up, with just 85-litres VDA of boot space on offer and the back seat headrests almost touching the tailgate glass. 
Still, that's enough for a couple of small backpacks, and the 50:50 split-fold expands this to 377-litres VDA (53 litres more than before) to the base of the windows, or a full 830-litres VDA when loaded to the roof. That should be heaps of room for camping gear for the two remaining passengers, but I'd strongly recommend fitting a cargo barrier if you plan to use all the space.
Returning after being absent from the previous generation (which used roof rails) is the full perimeter roof gutter, which is ideal for fitting a roof rack.
One baby Suzuki 4x4 trademark that's as useful as ever is the full-size spare wheel mounted to the tailgate. It's always accessible regardless of how much of a load you're carrying and will allow you to continue on your way at full speed and capability. In the new Jimny's case, it looks like the designers have been careful to allow a much larger tyre to fit back there if you choose to upgrade to chunkier all-terrain tyres.
Price and features
Nissan Juke
6/10
There's no two ways about this – the Juke Ti-S is very expensive. In its segment, the $33,490 (before on-road costs) asking price is enough to make the Mazda CX-3 look cheap, and that's saying something. Hell, you can get a really very good mid-size SUV for that price. 
Not a great start for an SUV that has remained largely unchanged while fresh competitors continue to pop up all around it.
Given the Juke's diminutive dimensions, its main competition is the Mazda CX-3 sTouring (petrol, AWD) at $31,790, Renault Captur Intens (petrol, FWD) at $28,990 and maybe the Toyota C-HR Koba (petrol, AWD) at $35,290.
The Koba, and a lot other small SUVs are arguably a size-up from the Juke, but price-wise it's hard to pitch it against something closer to its size like the Suzuki Ignis GLX which is far, far cheaper at $18,990.
As you can see, the Juke hardly fits in to the current small SUV landscape… but do you at least get good equipment for the price?
Yes and no. 
The Ti-S gets some nice features, like the surprisingly plush heated leather seats, push-start ignition, 360 degree surround-view reversing camera, LED DRLs, auto-folding wing-mirrors, rain-sensing wipers and a particular boon for the Ti-S – multi-link rear suspension.
It also gets some okay features, like the 5.8-inch multimedia touchscreen which has DAB+ support and built-in nav, xenon headlights (not halogen, but also not LED), single-zone climate control, 17-inch alloy wheels, and a tyre pressure monitoring system.
Then there's the bad. No Apple CarPlay or Android Auto, no electrically-adjustable seats, no digital dashboard, no head-up display and, while some modern safety features arrive at this price, there are some major omissions.
As a value proposition then, the Juke is lacking for its tall list price.
---
Suzuki Jimny
9/10
The surprises continue with the specs and pricing, with arguably every modern must-have you wouldn't expect it to have on the list. Apple CarPlay and Android Auto? Check. Auto emergency braking? Check. It's even got climate control air conditioning, GPS navigation system, a reversing camera and ISOFIX child seat mounts so your babies can be mounted securely during adventures.
There's only one trim level for the Australian Jimny range, and other highlights include a multimedia screen that measures a useful seven inches, leather steering wheel, LED headlights with auto high beams, tinted windows,15-inch alloy wheels and the requisite keyless entry, Bluetooth, cruise control and power front side windows and mirrors. It's worth noting that the sound system only has two speakers though.
Suzuki has kept Australian pricing under wraps until just now, and we're pleased to tell you the manual version arrives with an RRP of $23,990 (before on-road costs), and the automatic version rounds off the price list for the usual $2000 more at $25,990.
Yes, these are $3000 more than the previous model when it bowed out last year, but the new one is a two-decade newer design and packs so many comforts and conveniences it missed out on before. 
One less than ideal surprise though is the $500 surcharge for any colour other than white. This is despite all Jimny colours aside from the blue and beige being non-metallic, but not that hard to justify if you're after the Kinetic Yellow hero colour. Other options include Brisk Blue Metallic, Chiffon Ivory Metallic (beige), Jungle Green, and Medium Grey.
 
The yellow, blue and beige are also available with the roof coated in Bluish Black Pearl for a net option price of $1250.
If you're teetering on giving in to temptation, Suzuki tells us Australian Jimny allocation will be limited to just 1100 units in 2019, 320 of which were already pre-ordered before launch. Suzuki Australia boss Michael Pochota warns that he can imagine a waiting list of up to a year in the near future, similar to what's already the case in several overseas markets.
Engine & trans
Nissan Juke
7/10
The Juke stands out here, too. It's powered by a 140kW/240Nm 1.6-litre turbocharged petrol engine. That's plenty of power. Peak torque arrives reasonably early, too, and lasts throughout the rev range from 1600–5600rpm.
It stands up well to competitors like the CX-3 with its 110kW 2.0-litre petrol engine, and the sub-90kW turbocharged engines in both the Renault Captur and Toyota C-HR.
The Ti-S can be had with a manual if you opt for the front-wheel drive (FWD) version, AWD ones like the one we tested here can only be had as a Continuously Variable Transmission (CVT) auto.
The AWD set-up has torque vectoring and is an opt-in system activated by a button to the right of the steering wheel. Our Juke spent most of the week as a FWD.
---
Suzuki Jimny
8/10
The new Jimny's drivetrain specifications may seem a bit 'meh' at first sight, with no turbo or more than five ratios in the manual and four in the auto. 
But when you're delicately teetering between rock ledges, simple controls are best. 
The K15B 1.5-litre petrol engine is a new design with twin cams and variable valve timing, and is effectively a 1.5-litre non-turbo version of the 1.4 motor we currently see in the S-Cross and Swift Sport. 
Engine specs and size are a step up from the 1.3-litre M13A engine from the model prior, and outputs are improved by 12.5kW (yep) and 20Nm to now total 75kW and 130Nm. The former is reached at 6000rpm, while the latter is at a reasonable for a non-turbo 4000rpm.
The five-speed manual gearbox is a rare sight these days, but when the going gets rough, it's really convenient to simply find reverse on the diagonally opposite gate tio first, without having to lift or push the stick like you do with most six-speeders. We didn't get to try the Jimny at highway speeds though, so it may not be perfect for all circumstances. 
Likewise with the torque converter four-speed automatic transmission, which is even rarer than a five-speed manual in 2019. It could prove a compromise on the highway. 
The new Jimny retains selectable 4x4, but the new system has been branded ALLGRIP PRO. You can now shift between 2H (4x2), 4H (4x4) and 4L (4x4 low range) with just the transfer case lever, eliminating the dash buttons used to engage the front differential in the past. 
ALLGRIP PRO includes a brake-based traction control system which can direct power to each corner as needed.
Fuel consumption
Nissan Juke
6/10
Nissan claims the Juke Ti-S will consume 6.5L/100km of (minimum) 95 RON premium unleaded petrol. Over my week of mixed freeway and urban traffic usage it returned 10.0L/100km. A solid miss.
I'm not entirely sure why this number was so high given I only activated the AWD system for a few short expeditions on the weekend. Most competitors claim less than 7.0L/100km and I've found a reasonable number to expect is 8.0-ish, so 10.0 was a let-down.
---
Suzuki Jimny
8/10
Official combined fuel consumption figures are a reasonable 6.4L/100km for the manual and 6.9L/100km for the auto (15.63 or 14.49km/L), but bear in mind this is based on using cheaper Regular 91RON unleaded petrol. These official figures tend to be more realistic with non-turbocharged engines also.
The fuel tank capacity may only be 40 litres, but the above figures suggest a theoretical range of around 579-625km depending on transmission. 
Driving
Nissan Juke
7/10
In a way, the Juke lives up to its sporty looks. The 140kW engine is, without a doubt, one of the most powerful in the segment, and to be completely honest, the CVT was fine, if a little uninspiring.
Once you've dispatched the small amount of lag, the little turbo engine surges into the power-band, where the steering wheel will simply be torn out of your hands thanks to 'torque-steer' in FWD mode. 
AWD mode is decidedly more stable, but makes the Juke feel significantly heavier. I don't doubt it will increase fuel usage if you remain in this mode.
The suspension is stiff. Perhaps harsher than it needs to be. While this didn't result in too much discomfort, thanks to the plush seats, it combined with the large alloy wheels to create a lot of road noise. It also revealed some less than impressive rattles and creaks in the cabin.
My test car had a consistent rattle emanating from the boot, which despite my investigations (I took the cargo cover, boot floor and spare out, and carefully placed them all back in their properly secured position), I couldn't find the source of, and turning it into corners or over inclines caused creaks from the B- and C-pillars.
The steering was also somewhat inconsistent and ambiguous. Nissan says the Juke has 'speed sensitive power steering' although, at speeds of 70-90km/h it lacked feel and feedback. I wasn't really confident I could feel where the front wheels were at any given moment. 
Aside from the steering issue, the Juke felt okay in the corners, likely due to the multi-link rear suspension. Pushing it any harder than conservative speeds introduced a bit too much tilt to make it truly 'fun', however.
---
Suzuki Jimny
8/10
If you're looking at the Jimny and you don't have any plan to take it off-road, you're missing the point. 
Aside from its skinny and relatively smooth 195-section highway-terrain standard tyres (rather than off-road tyres), this car has been optimised for slow-speed obstacle climbing, with no concessions for comfort or highway dynamics. 
So don't expect it to handle or ride like a Swift. And it doesn't, with even our very brief road drive reminding me of the fore/aft pitch that's inherent with such a tall body and short wheelbase. 
The same applies with bodyroll, as the suspension tune is clearly tailored for off-road articulation rather than high-speed stability. 
It is clear that the new model is so much more refined than the Jimny it replaces, but as you'd expect with a solid front axle, the steering does lack feel. 
We didn't expect the 75kW engine to feel spritely, but it certainly offers enough performance to keep up with traffic, and is probably a useful demerit point protection measure.
We'll wait for a longer road drive to judge the new Jimny properly, but make sure you also do before committing to buy. You might find the drive experience characterful rather than compromised, and I have a feeling I could put up with it. Particularly given it only makes its strengths stronger.
Enough of the everyday driver warning message. All of Suzuki's prescribed drive route at the launch was off road at the Melbourne 4×4 Training and Proving Ground. 
This facility has everything you need to put a vehicle through its paces, but I don't feel the chosen activities truly demonstrated the Jimny's nimbleness and outright rock-hopping capability.
It's clear the fundamentals are in place though, and it's a lot of fun tossing around such a little machine off road.
The suspension has impressive compliance for such a light vehicle, and the gearing seems to match the engine very well during low range driving.
The thick steering wheel is wrapped in grippy soft leather, which makes it nice to hang onto through the rough stuff. 
But probably most surprisingly for such a light, cheap car, the body didn't creak or rattle all day long. This little jigger is very well screwed together.
Safety
Nissan Juke
6/10
At this price, the Juke scores some significant safety additions over the rest of the range. On the active front the Ti-S scores Lane Departure Warning (LDW) and Blind Spot Monitoring (BSM) as well as the aforementioned 360-degree parking camera and standard reversing camera. 
These are also paired with something that Nissan calls 'Moving Object Detection' which seems to be equivalent to rear cross traffic alert, only it works around the front of the car as well.
Missing is the all-important AEB. This feature is becoming standard (or at least an affordable option) on most competitors. While FWD versions of the Juke carry maximum five-star ANCAP safety ratings, this rating was from 2011 and not to the most recent and stringent testing process.
The Juke benefits from the regular electronic stability enhancements as well as six airbags.
---
Suzuki Jimny
7/10
Don't get too carried away with the new Jimny's surprise inclusion of AEB, lane departure warning, weaving alert, ISOFIX child seat mounts or its suite of six airbags that include curtain airbags that extend to cover the back seats. 
Both EuroNCAP and ANCAP (based on 2018 criteria) have both landed the new Jimny with a three star safety rating, with the two stars being lost mainly due to a lack of occupant protection in a collision, rather than any lack of features. 
Like the new Wrangler, it's pretty hard to build a car that's properly rugged and ultra safe at the same time, particularly when you're trying to protect normal sized humans within a tiny body like the Jimny's. You do need to consider this fact before signing on the dotted line. 
Ownership
Nissan Juke
6/10
Nissan is one of the few remaining mainstream manufacturers still offering a distance-limited three-year warranty. The major competitors – Mazda, Hyundai and Honda are offering five-year/unlimited kilometre promises.
The Juke requires servicing once a year or 12,000km. Nissan has a scheduled servicing plan that covers the Juke for up to 12 years, with the cost changing every year. It averages out to a not particularly cheap $378.58 a year if you were to carry out the whole plan.
---
Suzuki Jimny
7/10
Like all Suzukis, the new Jimny is covered by a five-year, 140,000km warranty, which pretty much aligns with the new standard for mainstream automotive brands. Suzuki's five year term is conditional upon following the service shedule with authorised Suzuki dealers though, with a three year, 100,000km plan applying otherwise. 
Service intervals are still a brief six months or 10,000km also, but capped price servicing is offered for the duration of the warranty. 
This totals a reasonable service cost of $2452 over the first 10 services or 100,000km, which is $298 cheaper than the model it replaces. 
Those six month intervals are half the industry norm, but this potential inconvenience and cost is offset by the fact that Suzuki's warranty now includes roadside servicing for the full five years - up from three.
Like all Suzukis, we wouldn't expect much in the way of reliability issues or common faults, but if anything does crop up in the long term, you'll likely find it on our problems page.