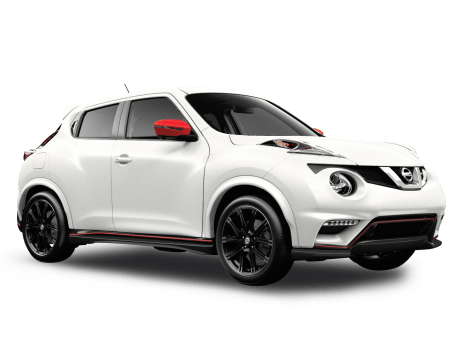 COMPARE
Nissan Juke
VS
MG ZS
Nissan Juke
Likes
Whopping 140kW engine
Still looks edgy
Plush seats
Dislikes
Expensive
Truly tiny boot
Questionable design choices
---
MG ZS
Likes
Looks good
First impressions of interior are good...
Good value
Dislikes
Four-star ANCAP
No AEB
Drives poorly
Summary
Nissan Juke
Updated:
Not much has changed since we originally reviewed the current Nissan Juke Ti-S in November of 2018, with pricing and spec remaining the same.
There has been some news on the Juke's much-anticipated replacement, with an official reveal date of September 3, 2019.
Not much can be told about the new Juke yet, as it has only been spied under camouflage, but it is known to be larger than this current model, as the new car has been photographed alongside the current one. 
It will also share roughly the same design theme and styling pillars, while bringing it up-to-date with Nissan's current line-up. Take a look at current versions of the larger US-market Murano for clues as to what it could look like.
It is also known that it will share a platform with the recently-revealed Renault Captur, paving the way for low-capacity turbocharged engines and even the possibility of hybrid tech in the Juke's next iteration.
As originally published September 3, 2018:
The Nissan Juke is straight-up bizarre.
Back in 2011, it was ahead of the small SUV curve, using the now-common trope of lifting up a small hatchback, giving it a slightly different body and calling it an 'SUV'.
But the Juke didn't arrive locally until late 2013, the hatchback in question is the now-dead-in-Australia Nissan Micra, and despite that initial lead on its main competitors, the Micra-based Juke is hardly ahead on sales.
Despite that, Nissan is powering on with the Juke formula, while refining equipment levels, offering new style options and even introducing an even more performance-focused Nismo variant.
So, in a now-very-crowded small SUV segment are the Juke's differences enough to set it apart? I spent a week reviewing the second-from-the-top Ti-S all-wheel drive (AWD) turbo to find out.
| | |
| --- | --- |
| Safety rating | — |
| Engine Type | 1.6L turbo |
| Fuel Type | Premium Unleaded Petrol |
| Fuel Efficiency | 6.5L/100km |
| Seating | 5 seats |
---
MG ZS
Update:
We first published this story on 5 April 2018, and since then we have requested press loan cars to update our coverage - but to no avail.
However, there have been changes to the ZS range, and here's what you need to know.
The brand has since revised its range line-up to kick off with the entry-level Excite (replacing the Soul trim) which retains the same 1.5-litre four-cylinder petrol engine with a four-speed automatic. This version is priced at $22,990 drive-away. 
A new mid-range variant has been added, called the Excite Plus, which gets the more high-tech 1.0-litre turbocharged three-cylinder petrol engine with a six-speed automatic. It costs $24,990 drive-away.
 The range-topping variant remains the Essence, and it still has the same drivetrain as before (the 1.0L turbo three-pot with six-speed auto). It is $26,990 drive-away, and has seen the addition of built-in sat nav as part of the 2019 range update.
There have been no additions made to the safety equipment, and the MG ZS still has a four-star ANCAP crash test rating. No changes have been made to the way it drives, either.
As originally published, 5 April 2018:
If ever there was a brand that has evolved to a point of being beyond recognition, MG could be it.
The British brand - Morris Garages - is now owned by a Chinese mega-company called SAIC Motor Corporation Limited, a business that managed almost seven million sales in 2017. 
Where does MG fit into the portfolio? Well it's a small player, by market standards, with 'just' 134,000 sales… which, if it sold that many in Australia, would make it the second-best selling brand here, behind only Toyota.
But I digress, because it's not so much about how many cars the company is selling, but the sort of cars being sold, that's the real talking point. Take this, the all-new MG ZS small SUV. 
A while ago an SUV with an MG badge would have been the stuff of daydreams. But this is, in fact, the second SUV from the maker, slotting below the larger and more expensive MG GS.
If you have a good memory, you may remember that another MG wearing the ZS badge has been sold in Australia before… that was the remarkably unremarkable MG Rover ZS mid-sized sedan, and it didn't sell in big numbers. In fact, only 31 units of the ZS sedan were sold - this more desirable small SUV is set to smash that.
As the starting point in the MG SUV range, it certainly stands out as quite a looker. But is there more to it than cosmetic charm?
| | |
| --- | --- |
| Safety rating | |
| Engine Type | 1.0L turbo |
| Fuel Type | Regular Unleaded Petrol |
| Fuel Efficiency | 6.7L/100km |
| Seating | 5 seats |
Verdict
Nissan Juke
6.4/10
The Juke is nothing if not different, but it is hampered in Australia's fastest-growing segment with a tall asking price, dated features, sub-par warranty and questionable design choices.
Credit where credit is due: it was one of the first in the wave of small SUVs dominating the market and it has a ripper little turbo engine, but most competitors feel a lot less… elderly.
Does the Juke's wild styling set it apart for you, or would you rather look at more recent entries in the small SUV market? Tell us what you think in the comments below.
---
MG ZS
6/10
If you're the sort of person who wants a nice looking small SUV that doesn't cost too much and is more practical than some of its competitors, the MG ZS might be an option for you. 
But there are many better alternatives, so it's pretty hard to justify, especially with its unfortunate road manners and lack of safety equipment. The brand may have evolved, but the vehicles require some further development before they're good enough to compete against mainstream players.
Do you care about how your car drives, or is appearance more important? Let us know in the comments section below.
Design
Nissan Juke
7/10
I'm not sure how the Juke was designed, but it seems to me that a product guy described a 370Z to an engineer, then only gave them Nissan Micra parts to execute their vision.
To say the Juke is unique is an understatement. Up front there's a lot to take in, including three layers of lighting - 370Z-style DRLs perched on the bonnet, almost Beetle-esque headlights embedded in the grille, and little fog lights nestled below.
Then there's the mess of angles dominating the lower bumper and windscreen, plus the curves just about everywhere else.
Up the back the mish-mash continues, with more echoes of the 370Z in the rear light fittings, a Micra-like boot and an expensive-looking curved rear window.
The side-profile exacerbates the almost comically-exaggerated wheel arches.
It seems the Juke is not afraid to target a niche audience that wants to be seen. Our test car was fitted with a 'myJUKE personalisation pack' which consisted of the 'Energy Orange' highlights on the wheels, bumpers and wing-mirrors you can see in the pictures. 
The pack adds $800 to the price, alongside our car's premium 'Platinum' paint ($500) for an as-tested MSRP of $34,790.
Inside the Juke, it all looks a little dated. There's an abundance of large, nasty plastic panels, made all the more obvious through the orange highlights strewn throughout. 
It seems at odds with the nice, comfortable leather seats, and great little leather-bound steering wheel.
For some reason there are two screens embedded in the centre of the dash. The main 5.8-inch screen isn't the worst I've used, but the design is lagging behind the standard set by brands like Volkswagen and Hyundai. The built in nav is satisfactory, but I was wishing for Apple CarPlay to remove the sub-par interface.
The second screen, embedded between two dials, controls the air-conditioning and driving modes. The buttons surrounding it change depending on which mode you turn the screen to.
It's neat, if a little unnecessary. The screen can show everything from a boost gauge in 'Sport' mode, to fuel efficiency graphs in the 'Eco' setting. But sadly, both screens were frequently subject to glare on sunny days.
Our test car had excessive panel gaps where the front doors connect to the A-pillar, as well as around the boot lid and bonnet. Inside, there were trim pieces that didn't quite meet up, or flexed a bit too far when pushed on. 
There was also a rattle emanating from the boot during my test. Despite attempts to take all the boot pieces out and put them back carefully, I could not find the source. 
The Juke is built in the UK. Go figure.
---
MG ZS
7/10
I think it's one of the best looking small SUVs on the market. Do you agree with me? 
There are bits of it that could be better; the 17-inch wheels appear too small, because there's a decent amount of bulk above the wheelarches front and back. They could be a size bigger, and also considerably wider: the tyres fitted are just 215mm across - a set of 18s with 235mm rubber would definitely fill the arches more.
But other than that, it's a nice looking vehicle.
I mean, you could confuse it for something from Mazda's stable. There's no doubt about that. The LED daytime running lights may well have been stolen straight from Mazda's design department in Hiroshima, it's that unmistakable. MG, however, being so obviously British (by way of China) labels the DRLs as 'London Eye'.
There are other elements that aren't so much direct reinterpretations as generally good design cues: the wide grille, sculpted bumper, angular glasshouse, and slimline tail-lights combine to give it a conventionally attractive look.
The interior offers good perceived quality - meaning that when you look at it for the first time, you're pretty impressed by what you see. But there are some actual quality questions raised, as you'll read in the next section. 
Practicality
Nissan Juke
6/10
The Juke's over-commitment to styling compromises its practicality, which is especially true for our AWD Ti-S.
The multi-link rear suspension hampers available boot space by bringing the boot floor up to almost level with the rear hatch opening. 
On offer is just 207 litres, which makes the CX-3's already small 264 litres look huge. 
You could fit maybe two duffle bags stacked on top of one another in the space, but any hard cases larger than carry-on size is asking for trouble.
With the seats down, it's a better story, as the space is, if nothing else, level.
Expect small hatchback amounts of space in the rear. Back-seaters don't get any air conditioning vents, but there's a small bucket-shaped area for storage on the back of the front centre console. 
There's not much else back there in terms of amenities, although the plush leather seats continue, and headroom was not as limited as my 182cm self expected. Two ISOFIX child seat mounting points are present on the outer two seats.
Up front there are decent cupholders in the centre console and bottle holders in the doors, although nothing that'll hold anything bigger than a 600ml bottle.
Aside from that there are precious few stowage spaces for items in the cockpit. There's a strange rubberised pad underneath the air conditioning controls. It barely fit my phone, and the lack of sidewalls made it hardly suitable for loose objects. I'm not really sure what it was for.
There's also a massive glove box that seems to go forever under the dash.
---
MG ZS
6/10
As mentioned, you don't feel as though you're sitting in a 'cheap' SUV when you first slide into the cabin of the ZS, but the closer you look - or, perhaps more correctly, the more you use the car - the more you realise it isn't at the same standard of quality as most competitors.
Little things, like the fact the door grab moves in your hand when you go to close the door (that's the opposite of reassuring), and the USB port in our test car moved when I tried to insert my phone's cable into it - not the panel at the front, but the actual bit behind it. It's also really hard for anyone with normal-human-sized hands to slot the USB cable in.
But when you do, it connects up to the 8.0-inch touchscreen media system and will mirror your phone through Apple CarPlay, if you have an iPhone. There's no Android Auto.
You'll need to use your iPhone for sat nav or maps, because the built-in system doesn't have it. It's a bright and colourful screen to run AM/FM radio or your Bluetooth connected smartphone, though, and there's a six-speaker sound system - apparently with Yamaha 3D sound. It didn't offer anything mind-blowing in terms of an audio experience, however.
The seats are comfortable, offering a decent driving position, but there's no reach adjustment to the steering, only height adjustment - that's really annoying if you have long legs but short arms. And while you get a digital driver info display, there's no digital speedometer.
There's no covered centre storage between the front seats (bad) but there are two cupholders and the front door pockets are big enough for bottles (good).
The back seat lacks any form of cupholders (bad), and there's no fold down armrest, either (bad). And while there are rear door pockets, they're too small to fit a bottle (bad). At least it has twin map pockets (good).
And the other (good) thing about the back seat is the amount of passenger space. With the driver's seat set for my 183cm frame, I was easily able to sit behind with enough legroom to keep me comfortable for a while.
Headroom is good, too, even with the very large glass roof in this spec of the ZS. The sunroof isn't just for show, the front part opens up, too. But on the downside, there are no rear lights, which makes it really hard to see what you're doing at nighttime. 
If your passengers are smaller, there are dual ISOFIX child-seat anchor points and three top-tether attachments.
The boot of the MG ZS is decent, with 359 litres of cargo capacity to the cargo cover when the rear seats are in place, or 1166L with the 60/40 back seats folded down (measured to the window line) - though they don't fold flat. The boot itself is deep, but the load lip is a touch higher than some others - and the VW-like boot badge opener is a nice piece of copycatsmanship, too. I guess it's okay because the brands both have two letters.
Those cargo space figures are good for the class. The best seller in the segment, the Mazda CX-3, has just 264L with the seats up (1174L seats down). 
The MG ZS is one of the larger small SUVs out there, spanning 4314mm long, 1809mm wide and 1611mm tall. Ground clearance is 164mm. 
Price and features
Nissan Juke
6/10
There's no two ways about this – the Juke Ti-S is very expensive. In its segment, the $33,490 (before on-road costs) asking price is enough to make the Mazda CX-3 look cheap, and that's saying something. Hell, you can get a really very good mid-size SUV for that price. 
Not a great start for an SUV that has remained largely unchanged while fresh competitors continue to pop up all around it.
Given the Juke's diminutive dimensions, its main competition is the Mazda CX-3 sTouring (petrol, AWD) at $31,790, Renault Captur Intens (petrol, FWD) at $28,990 and maybe the Toyota C-HR Koba (petrol, AWD) at $35,290.
The Koba, and a lot other small SUVs are arguably a size-up from the Juke, but price-wise it's hard to pitch it against something closer to its size like the Suzuki Ignis GLX which is far, far cheaper at $18,990.
As you can see, the Juke hardly fits in to the current small SUV landscape… but do you at least get good equipment for the price?
Yes and no. 
The Ti-S gets some nice features, like the surprisingly plush heated leather seats, push-start ignition, 360 degree surround-view reversing camera, LED DRLs, auto-folding wing-mirrors, rain-sensing wipers and a particular boon for the Ti-S – multi-link rear suspension.
It also gets some okay features, like the 5.8-inch multimedia touchscreen which has DAB+ support and built-in nav, xenon headlights (not halogen, but also not LED), single-zone climate control, 17-inch alloy wheels, and a tyre pressure monitoring system.
Then there's the bad. No Apple CarPlay or Android Auto, no electrically-adjustable seats, no digital dashboard, no head-up display and, while some modern safety features arrive at this price, there are some major omissions.
As a value proposition then, the Juke is lacking for its tall list price.
---
MG ZS
8/10
The MG ZS range has two models to choose from - both of which are competitively priced in order to gain some traction in the tough-fought small SUV market.
There's the entry-level ZS Soul model, which lists at $20,990 plus on-road costs. 
Standard equipment for the ZS Soul includes an 8.0-inch touchscreen media system with Apple CarPlay as standard, as well as Bluetooth phone and audio streaming, USB connectivity, a reversing camera, rear parking sensors (with a centimetre distance measurement display, which is very nice), and 17-inch alloy wheels.
Leather trim, a leather steering wheel and leather gear selector are standard, too, as well as auto headlights, front fog-lights and there are roof rails (perfect to fit roof racks to).
The next model up the range is the one you see in the images here - it's the Essence, which lists at $23,990 plus on-road costs.
The Essence adds desirable bits like a 'Stargazer' panoramic glass roof with sunshade, and keyless entry with push-button start.
If you're shopping in this segment, some other options you could consider at this sub-$25k price point include the Mazda CX-3, Suzuki Vitara, Honda HR-V, Hyundai Kona, Ford EcoSport, Holden Trax, Mitsubishi ASX or Renault Captur. You're spoilt for choice, in other words, though none have niceties like leather trim and a big sunroof at this price point.
You'll have to check out the safety section for the main omissions from the MG ZS range. 
Engine & trans
Nissan Juke
7/10
The Juke stands out here, too. It's powered by a 140kW/240Nm 1.6-litre turbocharged petrol engine. That's plenty of power. Peak torque arrives reasonably early, too, and lasts throughout the rev range from 1600–5600rpm.
It stands up well to competitors like the CX-3 with its 110kW 2.0-litre petrol engine, and the sub-90kW turbocharged engines in both the Renault Captur and Toyota C-HR.
The Ti-S can be had with a manual if you opt for the front-wheel drive (FWD) version, AWD ones like the one we tested here can only be had as a Continuously Variable Transmission (CVT) auto.
The AWD set-up has torque vectoring and is an opt-in system activated by a button to the right of the steering wheel. Our Juke spent most of the week as a FWD.
---
MG ZS
6/10
The MG ZS is available with two different drivetrains.
The entry-level Soul model comes with a 1.5-litre non-turbocharged four-cylinder petrol engine with 84kW of power (at 6000rpm) and 150Nm of torque (at 4500rpm). It has a four-speed auto and is front-wheel drive.
The high-spec Essence model we had is powered by a 1.0-litre three-cylinder turbocharged petrol engine with a little less power, 82kW (at 5200rpm), but a touch more torque, with 160Nm (from 1800-4700rpm). 
Those outputs are close to what's expected in the scheme of small SUVs: the Ford EcoSport, probably the most direct rival to the ZS in terms of size, has a 1.0-litre three-cylinder turbo with 92kW and 170Nm in the top two specs, or an entry-grade 1.5-litre three-cylinder non-turbo with 90KW and 150Nm. Another three-pot competitor is the Peugeot 2008, which has a 1.2-litre turbo engine in all models, and zesty outputs of 81kW and 205Nm. 
In operation, the drivetrain leaves a bit to be desired. Read the driving section below for more.
Fuel consumption
Nissan Juke
6/10
Nissan claims the Juke Ti-S will consume 6.5L/100km of (minimum) 95 RON premium unleaded petrol. Over my week of mixed freeway and urban traffic usage it returned 10.0L/100km. A solid miss.
I'm not entirely sure why this number was so high given I only activated the AWD system for a few short expeditions on the weekend. Most competitors claim less than 7.0L/100km and I've found a reasonable number to expect is 8.0-ish, so 10.0 was a let-down.
---
MG ZS
6/10
Claimed fuel consumption for the entry-level model is rated at 7.1 litres per 100 kilometres, which is thirsty for the segment.
The turbo version we had is a little better on paper, with a claim of 6.7L/100km. If you're interested, Peugeot claims 4.8L/100km for its 2008 models - but Ford claims 6.9L/100km for its turbo three-cylinder EcoSports.
After our time testing the MG ZS we saw a return of 8.0L/100km, which is not terrific for a car of this size.
Both versions of the MG ZS require 95RON premium unleaded fuel, adding cost at the pump. 
Driving
Nissan Juke
7/10
In a way, the Juke lives up to its sporty looks. The 140kW engine is, without a doubt, one of the most powerful in the segment, and to be completely honest, the CVT was fine, if a little uninspiring.
Once you've dispatched the small amount of lag, the little turbo engine surges into the power-band, where the steering wheel will simply be torn out of your hands thanks to 'torque-steer' in FWD mode. 
AWD mode is decidedly more stable, but makes the Juke feel significantly heavier. I don't doubt it will increase fuel usage if you remain in this mode.
The suspension is stiff. Perhaps harsher than it needs to be. While this didn't result in too much discomfort, thanks to the plush seats, it combined with the large alloy wheels to create a lot of road noise. It also revealed some less than impressive rattles and creaks in the cabin.
My test car had a consistent rattle emanating from the boot, which despite my investigations (I took the cargo cover, boot floor and spare out, and carefully placed them all back in their properly secured position), I couldn't find the source of, and turning it into corners or over inclines caused creaks from the B- and C-pillars.
The steering was also somewhat inconsistent and ambiguous. Nissan says the Juke has 'speed sensitive power steering' although, at speeds of 70-90km/h it lacked feel and feedback. I wasn't really confident I could feel where the front wheels were at any given moment. 
Aside from the steering issue, the Juke felt okay in the corners, likely due to the multi-link rear suspension. Pushing it any harder than conservative speeds introduced a bit too much tilt to make it truly 'fun', however.
---
MG ZS
4/10
There was so much promise to this car, but driving it was the least enjoyable thing about it.
If you don't care about how a car drives, you might be able to overlook the criticisms I'm about to level at the MG. But it's my job to tell you how it stacks up in the segment, and I'm comfortably suggesting it's in the bottom three in terms of road manners, drivetrain capability, and refinement. Remember, this is a segment with about 20 vehicles in it, and I've driven all of them.
Let's start with, er, starting the engine. The push-button system works fine, but the engine on my test vehicle hummed and shook itself to life while also letting out quite a noise (it's a bit alarming when you're standing outside the car). I know, three-cylinder engines aren't the most loveable sounds to all ears, and they're prone to vibration, but the lack of refinement from this vehicle is notable.
Then, when I reversed out of my driveway on a 12-degree-Celsius morning (so, not extremely cold), the engine acted in a way that I could only describe as dangerously sluggish. There was very little progress on offer for a good 10-15 seconds after I drove off. If you live on a busy street, then you really ought to prepare yourself.
Once things are warm you'll notice the engine is actually relatively hushed from in the cabin, but it also really likes to rev. 
From a standstill it will take a blink or two before the turbocharger gets huffing, and then it'll happily rev out to 5500rpm - and that's not even when you're wringing its neck, just when you're driving it normally. 
In fact, the transmission does a reasonable job of changing gears to make the most of the outputs of the engine, despite the drivetrain's apparent preference to hold on to first gear like a kid with a candy cane. 
I found the brake pedal to be squishy underfoot, not overly reassuring in its action, with sub-par response on offer from its disc brakes. 
Plus the underdone braking is exacerbated by the softness of the suspension - the body isn't as controlled as most other vehicles in the segment, meaning it can wobble and shift its weight in an ungainly way. Its softly set chassis (MacPherson style front suspension, torsion beam rear suspension) can make for stumbles over bumpy sections of road, and you can feel the springs and dampers compress so much at high speeds that there's a 'bottoming out' sensation.
The steering doesn't do it any favours, either: it's as aloof as Tom Cruise's real personality - very hard to judge at high and low speeds, with odd weighting and inconsistency to the way it reacts. The tyres are too narrow to fully explore its handling capability - not that you'd really want to.
Safety
Nissan Juke
6/10
At this price, the Juke scores some significant safety additions over the rest of the range. On the active front the Ti-S scores Lane Departure Warning (LDW) and Blind Spot Monitoring (BSM) as well as the aforementioned 360-degree parking camera and standard reversing camera. 
These are also paired with something that Nissan calls 'Moving Object Detection' which seems to be equivalent to rear cross traffic alert, only it works around the front of the car as well.
Missing is the all-important AEB. This feature is becoming standard (or at least an affordable option) on most competitors. While FWD versions of the Juke carry maximum five-star ANCAP safety ratings, this rating was from 2011 and not to the most recent and stringent testing process.
The Juke benefits from the regular electronic stability enhancements as well as six airbags.
---
MG ZS
4/10
The MG ZS was submitted for an ANCAP crash-test score in 2017, and it managed four stars. According to the crash testers, the ZS exhibited "sub-par" performance in the head-on crash test. That's not good enough, really, and it's below the standard set by the larger MG GS, which was the first Chinese vehicle to score five stars locally.
The ZS comes with an array of safety kit that we appreciate, though, like six airbags (dual front, front side, full-length curtain), a reversing camera, rear parking sensors, a torque-vectoring by braking system (that helps in corners).
But further emphasising the safety score we've given it, the ZS isn't available with auto emergency braking (AEB), even as an option, and there's no lane-keeping assist or other smart tech like blind-spot monitoring or rear cross-traffic alert, either.
Where is the MG ZS built? Not the UK, as the Morris Garages badge may lead you to believe. Nah, it's built in China - and a low crash test rating, plus a low standard of safety kit, does little to push the case for Chinese-built models in Australia.
It's a fail on the safety front, then.
Ownership
Nissan Juke
6/10
Nissan is one of the few remaining mainstream manufacturers still offering a distance-limited three-year warranty. The major competitors – Mazda, Hyundai and Honda are offering five-year/unlimited kilometre promises.
The Juke requires servicing once a year or 12,000km. Nissan has a scheduled servicing plan that covers the Juke for up to 12 years, with the cost changing every year. It averages out to a not particularly cheap $378.58 a year if you were to carry out the whole plan.
---
MG ZS
7/10
There's one thing that can be said of MG's effort in Australia - they're giving it a go when it comes to ownership. 
The company backs the SUV models in its range with a seven-year/unlimited kilometre warranty and the same cover for roadside assistance. That's as good as you'll get at Kia, straight off the bat.
Actually finding an MG dealership might be the next big challenge. There are just a dozen showrooms for the company at the time of writing, which means getting it serviced could be a pain if you're away on holidays or if you move house. 
And all the good work of the warranty is undone by very short service intervals - it needs maintenance every six months or 10,000km, whichever occurs first.