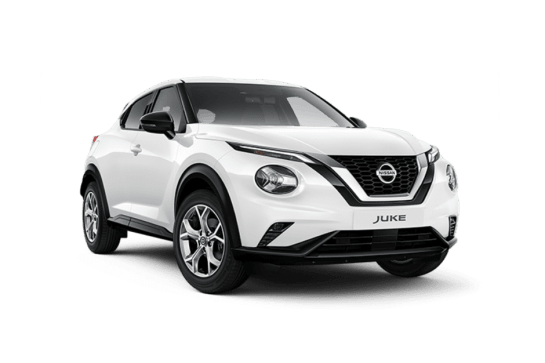 COMPARE
Nissan Juke
VS
LDV D90
Nissan Juke
Likes
Bold new look
High spec and safety
Now actually practical!
Dislikes
Fiddly dual-clutch auto
Ride can be crashy
Annoying lane departure feature
---
LDV D90
Likes
Makes more sense as a diesel
People-mover practicality
Affordable
Dislikes
Terrible software
Cheap interior
A bit unwieldy to drive
Summary
Nissan Juke
The original Nissan Juke was the wrong car at the right time.
A small SUV before the trend really kicked off, the Juke which arrived in 2013 was controversially styled, tiny on the inside, and powered by a wacky range of confusing and occasionally infuriating drivetrains.
It was very… Japanese. Not something which always gels well with Australia's populace.
Enter the new Nissan Juke. This car is critically important to Nissan, because it heralds a crucial new era for the brand, one where it actually shares much of its product development with its alliance partners, Renault and Mitsubishi, but also one which could be make-or-break for the brand.
As such, the new Juke is quite the opposite of its predecessor – a truly global car built for the widest possible audience, designed to appeal to the diverse tastes of Australia, Europe, and Japan. Can it really do all those things and be a stronger competitor in this critical small SUV market segment? I excitedly took the keys to a mid-spec ST-L for a week to find out.
| | |
| --- | --- |
| Safety rating | |
| Engine Type | 1.0L turbo |
| Fuel Type | Premium Unleaded Petrol |
| Fuel Efficiency | 5.8L/100km |
| Seating | 5 seats |
---
LDV D90
It's pretty hard to miss the LDV D90.
Mainly because it is gigantic; it's one of the biggest SUVs you can buy. In fact, I'd say what's drawn you to this review is maybe you've seen one of these behemoths trucking past, and you're wondering what the LDV badge is all about and how this relatively unknown SUV stands up against popular rivals and other notable newcomers.
To get one confusing thing out of the way, LDV once stood for Leyland DAF Vans, a now-defunct British company which has been brought back to life by none other than China's SAIC Motor – yes, the same one which also resurrected MG.
So, is this MG big brother worth looking into? We took the recently released diesel version of the D90 on test for a week to seek some answers…
| | |
| --- | --- |
| Safety rating | |
| Engine Type | 2.0L turbo |
| Fuel Type | Diesel |
| Fuel Efficiency | 9.1L/100km |
| Seating | 7 seats |
Verdict
Nissan Juke
7.5/10
Forget everything you know about the Nissan Juke. The new one is a different beast entirely. It's more globally appealing and ready to take on now-established opponents in the emerging small coupe SUV segment.
Despite some flaws, the Juke is now a fantastic, great looking, and practical little SUV.
The lack of hybrid and all-wheel drive will still make Toyota's C-HR a tough opponent though, so watch this space for more on how these two compare.
---
LDV D90
7.1/10
Looking for a cheap, powerful diesel SUV with huge cabin space and a humane third row for adults? The D90 is a really sound offering, especially considering the price of entry for this top-spec diesel which should resonate with Aussies a bit better than the petrol version.
It has plenty of issues that could be ironed out, but they're all so small and not sale-breaking it's almost annoying how much better the D90 could be with just a little work. Rivals should be looking over their shoulder for what comes next.
Design
Nissan Juke
The new Juke looks fantastic. Better in the metal than it ever looks in pictures, the referential-but-futuristic front fascia is a sight to behold with its unorthodox lighting and abundance of striking lines.
Other angles of this car grab the eye too, with the dramatic descending roofline finished nicely with a contrast black spoiler, leading to the sculpted rear, which is much more subtly treated than its bulbous front. There is no doubt – in terms of this car's design, dimensions, and highlights – that it is out to get the C-HR and its youthful target audience.
Still, although it has such a head-turning futuristic look, all the elements which made the previous Juke eye-catching are still there. Things like the giant concept-car-esque wheels, feature fog lights, raised bonnet, and convex windscreen are all still present and ready to win over any fans of the last-generation car.
Inside has a cool vibe with bucket-style front seats clad in comfy padded trim (a Nissan strong point), and a funky dash with lots of contouring. There's no lack of attitude with the awesome round air vents, and there are plenty of references to the Juke's predecessor with the raised plastic-clad centre console.
Thankfully, comfort hasn't been forgotten in the pursuit of design, with soft claddings working their way down the door trims to your elbow, and a top box finished in padded leather, too. Pride of place in the dash is the new multimedia screen in today's tablet-style with ergonomic controls and the slick, fast software bringing it all together.
It's great the Juke can maintain its funky design signatures while bringing the technology and look of 2020 to fans and newcomers alike.
---
LDV D90
6/10
Some colleagues I've spoken to like the way the D90 looks. To me, it looks like someone gene-spliced a Hyundai Tucson with a SsangYong Rexton in a lab, then grew it in a stew of peptides and this was the result.
What can't really be communicated in images is how truly massive the D90 is. At over five metres long, two metres wide and almost two metres tall, the D90 is certifiably huge. Given that's the case then, it's admittedly almost admirable that only the side profile makes this thing look a little goofy.
I think LDV has done a pretty good job on the front, and the rear is simple but well resolved for a vehicle that rides on a ladder chassis (just take a look at the Pajero Sport for how ladder-chassis rear designs can get… controversial…).
The wheels, garnishes, and LED headlights are all tastefully applied. It's not ugly… just confronting… size-wise.
Inside shares some familiar characteristics with sister-brand MG. Look from a distance and it's all quite nice, get in too close and you'll see where the corners have been cut.
The first thing I don't like about the interior is the materials. Apart from the wheel they are all pretty cheap and nasty. It's a sea of hollow plastics and mixed trims. The faux-wood pattern, which is clearly just a print on a plastic resin is particularly gnarly. Reminds me of some Japanese cars from 20 years ago. It might work for the Chinese audience, but that's not where the market is in Australia.
On the other hand, you could say "well, what do you expect at this price?" and that is true. Everything is here and works, just don't expect the D90 to be playing alongside the established players when it comes to fit, finish, or material quality.
The huge screen works to finish the dash, but that darned software is so ugly you'll wish it didn't. At least all the major touch-points are ergonomically accessible.
Practicality
Nissan Juke
I know the previous Nissan Juke was a practicality disaster, with a small claustrophobic cabin, tiny boot and sub-par ergonomics. Thankfully, this time around the global focus has helped Nissan design the Juke to be a much better companion.
Up front feels much more spacious than its predecessor, with more light entering the cabin, a lower seating position (relative to the shape of the car), and generally much more room for your arms and legs. The positioning is also fully adjustable with a telescopic steering column and more room for adjustability when it comes to seating.
It's not all good news though. Front passengers still don't have heaps of storage to work with, the Juke offering only the standard set of centre cupholders, a tiny binnacle under the climate controls barely suitable for a wallet or phone, as well as a truly tiny glovebox, tiny centre console box, and small bottle-holders in the doors.
There's also no advanced connectivity in the Juke – no wireless Apple CarPlay, wireless phone-charging, or USB-C to be found in the cabin. In fact, the Juke only has a single USB port for front passengers, and at the ST-L grade, the addition of a second USB port for rear passengers.
On the topic of rear passengers, the Juke has improved out of sight when it comes to usability for more than just front-seaters. There's far more headroom, legroom and arm-room than before. Even I fit pretty comfortably behind my own seating position, and the seat trim now matches the front. I'm not going to pretend it isn't a little claustrophobic still, with the descending roofline evident and abundance of dark trim closing it in a little. Such complaints are standard fare in this particular corner of the market, however, and the point is the Juke has gone from being no good for four adults to more than competitive with the C-HR.
Boot space is again a very good story. The previous Juke had embarrassing city-car levels of space. But now with a whopping 422 litres (VDA – seats up, 1305L seats down) on offer it's a real winner. It's on par, if not bigger than some SUVs in the segment above.
---
LDV D90
9/10
The D90 is as massive on the inside as it is on the outside. I'm talking better space than a minivan, and nothing says that more than the humane third row. At 182cm tall, I not only fit in the rearmost two seats, but I can do so in as much comfort as any other row. It's staggering. There's actual airspace for my knees and head back there.
The second row is massive and on rails too, so you can extend the amount of room available to third-rowers – and there's so much room in the second row, you'll have space even with the seats moved forward.
My only criticism here is that the giant rear door is far enough forward to make clambering into the third row a little tricky. Once you're there though there are really no complaints.
The boot is even usable with the third row deployed, with a claimed 343L of space. That should be hatchback-sized, but the measurement is a little deceptive as the space is tall but shallow, meaning it will only allow you to place smaller bags (a few, if you can stack them) with the remaining space.
The boot is otherwise cavernous with a wild 1350L available with the third row stowed flat, or 2382L with the second row stowed. In this configuration, with the front passenger seat slid forward to its furthest position, I was even able to get a 2.4-metre-long benchtop in the back. Truly impressive.
Without buying an actual commercial van then, this could be the cheapest way into such room, especially in a 4x4 bi-turbo diesel SUV. No arguing with that.
Second-row occupants get their own climate control module, USB ports and even a full-sized household power outlet, with more legroom than you could possibly need. My only complaint was that the seat trim seemed a little flat and cheap.
Front occupants get large cupholders in the centre console, a deep armrest box (with no connectivity in it, just a randomly placed DPF cycle switch), pockets in the doors, and an awkward binnacle under the climate controls that houses the single available USB port. My phone didn't fit in there.
No complaints about leg and headroom in the front either, though, with plenty of adjustability to boot. The driver's seat offers a commanding view of the road, although it can be a little unsettling to be so far off the ground in corners… more on that in the driving section.
Price and features
Nissan Juke
It's clear immediately the Juke is no longer overpriced and undercooked, meaning serious competitive business in an emerging coupe small SUV segment alongside the Toyota C-HR and Mazda CX-30.
Our ST-L wears an MSRP of $33,940 and comes packed with massive concept-car style 19-inch alloys, an 8.0-inch multimedia screen with Apple CarPlay, Android Auto, built-in navigation, and voice recognition, LED head, tail, and fog lights, single-zone climate control, heated front seats with leather accents, leather-trimmed wheel and gear-knob, a 7.0-inch driver display in the instrument cluster, ambient lighting, 360-degree parking camera, electric parking brake, and an extra two drive modes over lower-spec cars.
A very good set of equipment even without mentioning the excellent safety suite, and at this point I must go out of my way to say: finally Nissan's multimedia suite exceeds expectations, being fast, good looking, and easy to use! This one will be critical for winning the youth vote, and one which some competitors are yet to master.
The overall spec also bodes well for the Juke, keeping in mind you would have paid the same for a high-spec version of the previous car, which didn't have anywhere near this level of equipment and space. At this ST-L level it is also brilliantly priced between the entry level and top-spec Toyota C-HR, which it most resembles. You'll pay a little more for an equivalent-spec CX-30 though (G20 Touring - $34,990).
In terms of the other Juke variants, you can get most of the important equipment on a lower spec ST or ST+, but the ST-L here is where it really starts to get impressive. On that alone I'd probably say this one is the pick of the range.
---
LDV D90
8/10
On paper, the seven-seat D90 is immediately quite appealing. At $47,990, it is literally a lot of car for the money. This latest iteration, the bi-turbo diesel, is only available in Executive trim at this price, but you can pinch pennies further by choosing one of the lesser petrol turbo variants.
Regardless, and much like its MG sister brand, LDV is good at making sure that essential spec boxes are ticked.
This includes screens galore as is popular in the Chinese market, including a massive 12-inch multimedia screen and 8.0-inch digital dash.
A screen is only as good as the software that runs on it though, and let me tell you, the D90's software is not good. A quick flick through the weirdly small menu reveals barebones functionality, terrible resolution and response time, as well as possibly the worst execution of Apple CarPlay I've ever seen.
I mean, it doesn't even use all of that screen real estate! Not only that, but in a recent overhaul to CarPlay, Apple released software to utilise wider displays – so the car's own software must simply be incapable of supporting it. Inputs also proved laggy, and I had to repeat myself on multiple occasions to get any use out of Siri. Unlike every other car I've used, the software in the D90 wouldn't return to the radio after you hang up or stop talking to Siri. Frustrating.
I'd rather have a far smaller display that actually worked well. The semi-digital dash was functional, although barely did anything that a small dot-matrix display isn't capable of and had one screen which for my entire week said 'loading'. I'm still not sure what it was meant to do…
At least it supports Apple CarPlay at all, which is more than could have been said for segment hero, the Toyota LandCruiser.
The D90 does tick some necessary items that are quite good. LED headlights are standard, as are leather seats with eight-way power adjust for the driver, a heated multi-function steering wheel, 19-inch alloy wheels (which still somehow look small on this huge thing), three-zone climate control, eight-speaker audio system, electric tailgate, keyless entry with push-start ignition, a reversing camera, front and rear parking sensors, tyre-pressure monitoring, as well as a fairly substantial safety suite which we'll explore later in this review.
Great on paper then, the bi-turbo diesel engine is a boon, as is the fact that the D90 rides on a ladder chassis with an electronically-controlled low-range terrain mode for the transmission, too.
You'd expect to pay more – even from Korean and Japanese rivals for this much specification. No matter which way you cut it, the D90 is good value.
Engine & trans
Nissan Juke
The Juke comes with a single new powerplant. A 1.0-litre three cylinder turbocharged unit, which produces a so-so sounding 84kW/180Nm, about on par with its C-HR rival.
There's a little more to the story though, much of which is brought about by the Nissan's seven-speed dual clutch automatic transmission which grants it both good and bad characteristics. More on that in the driving section.
You can't have the Juke as a hybrid like its Toyota rival, and there's no option for all-wheel drive either.
 
---
LDV D90
7/10
The D90 was initially offered in Australia with a 2.0-litre turbo petrol four-cylinder, but this 2.0-litre bi-turbo diesel makes much more sense, both for towing and long-distance touring.
It's a four-cylinder offering a healthy 160kW/480Nm. You'll note that's pretty close to Ford's similar 2.0-litre bi-turbo diesel, which is currently offered in the Everest…
The diesel also gets its own transmission, an eight-speed torque converter automatic with computer-controlled 'Terrain Selection 4WD'.
This gives the D90 diesel a max towing capacity of 3100kg braked (or 750kg unbraked) with a max payload of 730kg.
Fuel consumption
Nissan Juke
The sticker most cars will wear claims the Juke will consume 5.8L/100km on the combined cycle. Pretty good compared to rivals.
Our (mostly urban) test returned a computer-reported figure of 7.2L/100km, which is a fair bit more than the claim, but not outrageous for the segment.
Annoyingly, larger naturally aspirated 2.0-litre engines mated to CVTs or torque converter autos can produce figures not much more than that, which leads us to the real reason the Juke needs all of its whiz-bang dual-clutch transmission and stop-start system – emissions.
If all the tiny turbocharged engine and dual-clutch automatic was sounding very European it's because the Juke uses it to get under the EU's strict emissions protocols in order to give it economies of scale across a global market.
---
LDV D90
6/10
The D90 diesel is said to consume 9.1L/100km of diesel on the combined cycle, but ours didn't score near that with a figure of 12.9L/100km after a week of what I'd consider "combined" testing.
The D90 a big unit, so that number doesn't seem outrageous, it's just nowhere near the claim… All D90s have 75-litre fuel tanks.
Driving
Nissan Juke
Well, the Juke is much better than its predecessor in every way. Let's get that out of the way immediately. Sadly though, the whiz-bang new drivetrain presents some annoying issues which stop it from being truly excellent.
While the new three-cylinder turbo sounds like it's about on par with the C-HR's disappointing 1.2-litre engine, it's far from it. Like a lot of three-cylinder engines, it's a little bit exciting with lots of gruff mechanical noises and the peak torque arriving with a massive punch at 2400rpm that makes you question what you read on the spec sheet.
Power then, is not the issue. No, this car's fundamental problem is its seven-speed dual-clutch transmission. I hear some of you say, "at least it's not a CVT" and that's true. It's quite the opposite. While a CVT is typically dull and lifeless, this dual-clutch has, let's say, a bit too much life.
It's busy, at times incoherent when it comes to selecting the correct ratio, and spends a lot of time between, or out of, gears at low speeds.
This means a lot of lurching between first, second, and third gears off-the line and moments of frustration exacerbated by turbo-lag where pushing the pedal further will simply mean you'll be punished a full second later with a dollop of wheelspin.
This is all quite frustrating because once you're up at cruising speeds above 60km/h there are no problems at all. This experience is reminiscent of the early days of Volkswagen dual-clutch automatics, and it's perhaps telling how some VW Group products are now reverting to more traditional torque converter automatics on some of their lower-torque engines.
The rest of the drive experience is very good, mind you, with the Juke's ride now being well balanced across the front and rear, making it far more fun and definitely more confident than its predecessor in the corners.
While it deals with smaller corrugations and coarse-chip surfaces reasonably well it is on the firm side, a characteristic which conspires with the giant wheels to make for an occasionally harsh and crashy experience over more abrupt bumps.
Dimensionally, the Juke is quite perfect for city-slickers. It's in that Goldilocks zone between too-small-to-be-practical and too big to fit in spaces marked "small car only". As always a 360-degree parking suite and (unlike the previous car) good visibility tips the odds in your favour when it comes to running into ill-placed shopping trolleys or bollards.
 
---
LDV D90
6/10
The D90 is easier to drive than it looks… to a degree…
It lacks some polish of its more established rivals, which results in a drive experience that isn't bad, but occasionally frustrating.
The ride somehow manages to be soft and harsh at the same time. It undulates over larger bumps, while transmitting the worst parts of smaller, sharper ones to the cabin. It speaks to a lack of calibration between the suspension and dampers.
That having been said, the D90 masks its ladder chassis underpinnings well, with little of that typical body-on-frame jiggle that some rivals still struggle with.
The drivetrain is good, but a little unruly. As you'd imagine from the figures, there's more than enough power on tap, but the transmission tends to have a mind of its own.
It will occasionally lurch between gears, pick the wrong gear, and off-the-line will sometimes be delayed before shunting the D90's bulk forward with a sudden mountain of torque. It doesn't sound particularly good either, with the diesel surging through the rev range with industrial crudeness.
By the time the D90 has reached cruising speed though, there's really not much to complain about, with the D90 milling along with plenty of power in reserve for overtaking. The view of the road is commanding, but you really feel the D90's high centre of gravity in the corners and under heavy braking. The physics of such a large object are undeniable.
I have to say, LDV has done a fantastic job of the D90's steering, with a quick, light feel that betrays the SUV's size. It manages to stray on the right side of lightness though, not being so disconnected that you lose a feeling of where the wheels are pointing. No mean feat in something this shape.
Overall then, the D90 isn't bad to drive and has some genuinely great characteristics, it just also has a litany of small issues that get in the way of it being truly competitive with segment leaders.
Safety
Nissan Juke
Nissan's big technology jump has been more than just in the cabin, with every Juke sporting a formidable actve safety suite.
By the time you get to the ST-L spec, this includes auto emergency braking (up to freeway speed and includes pedestrians and cyclists) with forward collision warning, lane departure warning with lane keep assist, blind spot monitoring, rear cross traffic alert, adaptive cruise control, and traffic sign recognition.
Lane departure warning was off when I picked my car up – and I soon found out why. The Juke's version of the technology vibrates the steering wheel (with alarming vigour) whenever you commit even the thought crime of straying from the very centre of your lane. It became annoying so quickly I had turned it back off within an hour of using it.
Unsurprisingly with all the included tech, the new Juke has hit the Australian market wearing a maximum five-star ANCAP safety rating. It's regular suite of items includes six airbags, as well as the expected electronic brake, stability, and traction controls.
There are also dual ISOFIX and three top-tether child seat mounting points across the rear row.
---
LDV D90
8/10
The LDV D90 carries a maximum five-star ANCAP safety rating as of 2017, and has a fairly comprehensive active safety suite.
Included on the diesel is auto emergency braking (AEB) with front collision warning, lane-departure warning, blind-spot monitoring, driver-attention alert, traffic-sign recognition, and adaptive cruise control.
Not bad for the price, and nice that there's nothing optional. Expected items include electronic traction, stability, and brake controls, as well as six airbags.
The curtain airbags do extend to the third row, and there's the bonus of a reversing camera and a tyre-pressure-monitoring system.
There is a full-size steel spare under the boot floor, and the D90 also gets dual ISOFIX and three top-tether child-seat mounting points.
Ownership
Nissan Juke
Nissan offers the Juke with the standard expected of Japanese manufacturers – a five-year and unlimited kilometre warranty promise.
The Juke needs to be serviced once a year or every 20,000km whichever occurs first, and the first six years are capped at between $287 and $477 for a yearly average cost of $382.67. Not bad – especially given its complex Euro-style drivetrain.
---
LDV D90
7/10
LDV covers the D90 with a five-year/130,000km warranty, which is not bad… but falls behind sister brand MG, which offers seven years/unlimited kilometres. At the very least it would be nice to have the unlimited kilometre promise.
Roadside assist is included for the duration of that warranty, but there's no capped price servicing offered through LDV. The brand gave us indicative pricing of $513.74, $667.15, and $652.64 for the first three annual services. An initial six-monthly 5000km checkup is free.
All D90s need to be serviced once every 12 months or 15,000km, whichever occurs first.