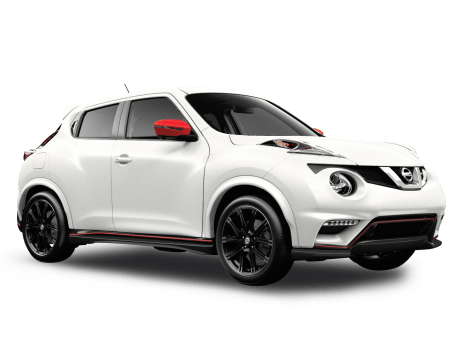 COMPARE
Nissan Juke
VS
Fiat 500X
Nissan Juke
Likes
Whopping 140kW engine
Still looks edgy
Plush seats
Dislikes
Expensive
Truly tiny boot
Questionable design choices
---
Fiat 500X
Likes
Fun looks
Good interior
Great safety package
Dislikes
Iffy transmission
Oddball ride
Slow
Summary
Nissan Juke
Updated:
Not much has changed since we originally reviewed the current Nissan Juke Ti-S in November of 2018, with pricing and spec remaining the same.
There has been some news on the Juke's much-anticipated replacement, with an official reveal date of September 3, 2019.
Not much can be told about the new Juke yet, as it has only been spied under camouflage, but it is known to be larger than this current model, as the new car has been photographed alongside the current one. 
It will also share roughly the same design theme and styling pillars, while bringing it up-to-date with Nissan's current line-up. Take a look at current versions of the larger US-market Murano for clues as to what it could look like.
It is also known that it will share a platform with the recently-revealed Renault Captur, paving the way for low-capacity turbocharged engines and even the possibility of hybrid tech in the Juke's next iteration.
As originally published September 3, 2018:
The Nissan Juke is straight-up bizarre.
Back in 2011, it was ahead of the small SUV curve, using the now-common trope of lifting up a small hatchback, giving it a slightly different body and calling it an 'SUV'.
But the Juke didn't arrive locally until late 2013, the hatchback in question is the now-dead-in-Australia Nissan Micra, and despite that initial lead on its main competitors, the Micra-based Juke is hardly ahead on sales.
Despite that, Nissan is powering on with the Juke formula, while refining equipment levels, offering new style options and even introducing an even more performance-focused Nismo variant.
So, in a now-very-crowded small SUV segment are the Juke's differences enough to set it apart? I spent a week reviewing the second-from-the-top Ti-S all-wheel drive (AWD) turbo to find out.
| | |
| --- | --- |
| Safety rating | — |
| Engine Type | 1.6L turbo |
| Fuel Type | Premium Unleaded Petrol |
| Fuel Efficiency | 6.5L/100km |
| Seating | 5 seats |
---
Fiat 500X
Fiat's indomitable 500 is one of the great survivors - not even VW's recently deceased New Beetle could keep riding the nostalgia wave, partly because it made itself just that little bit out-of-touch by not being a car anyone can buy. The 500 avoided that, particularly in its home market, and is still going strong.
Fiat added the 500X compact SUV a few years ago and at first I thought it was a daft idea. It's a polarising car, partly because some people complain it's capitalising on the 500's history. Well, duh. It's worked out well for Mini, so why not?
I've driven one every year for the last couple so I was keen to see what's up and whether it's still one of the weirdest cars on the road.
| | |
| --- | --- |
| Safety rating | |
| Engine Type | 1.4L turbo |
| Fuel Type | Premium Unleaded Petrol |
| Fuel Efficiency | 5.7L/100km |
| Seating | 5 seats |
Verdict
Nissan Juke
6.4/10
The Juke is nothing if not different, but it is hampered in Australia's fastest-growing segment with a tall asking price, dated features, sub-par warranty and questionable design choices.
Credit where credit is due: it was one of the first in the wave of small SUVs dominating the market and it has a ripper little turbo engine, but most competitors feel a lot less… elderly.
Does the Juke's wild styling set it apart for you, or would you rather look at more recent entries in the small SUV market? Tell us what you think in the comments below.
---
Fiat 500X
6.8/10
The 500X is a fun-looking alternative to the various options available from everyone else and is - overall - better to drive than its Renegade twin. 
It packs a very good safety package which you can't ignore but does lose points on the warranty and servicing regime. But it's also built to take four adults in comfort, which not every car in the segment can boast.
Would you choose the Fiat 500X over one its better-known competitors? Tell us in the comments section below.
Design
Nissan Juke
7/10
I'm not sure how the Juke was designed, but it seems to me that a product guy described a 370Z to an engineer, then only gave them Nissan Micra parts to execute their vision.
To say the Juke is unique is an understatement. Up front there's a lot to take in, including three layers of lighting - 370Z-style DRLs perched on the bonnet, almost Beetle-esque headlights embedded in the grille, and little fog lights nestled below.
Then there's the mess of angles dominating the lower bumper and windscreen, plus the curves just about everywhere else.
Up the back the mish-mash continues, with more echoes of the 370Z in the rear light fittings, a Micra-like boot and an expensive-looking curved rear window.
The side-profile exacerbates the almost comically-exaggerated wheel arches.
It seems the Juke is not afraid to target a niche audience that wants to be seen. Our test car was fitted with a 'myJUKE personalisation pack' which consisted of the 'Energy Orange' highlights on the wheels, bumpers and wing-mirrors you can see in the pictures. 
The pack adds $800 to the price, alongside our car's premium 'Platinum' paint ($500) for an as-tested MSRP of $34,790.
Inside the Juke, it all looks a little dated. There's an abundance of large, nasty plastic panels, made all the more obvious through the orange highlights strewn throughout. 
It seems at odds with the nice, comfortable leather seats, and great little leather-bound steering wheel.
For some reason there are two screens embedded in the centre of the dash. The main 5.8-inch screen isn't the worst I've used, but the design is lagging behind the standard set by brands like Volkswagen and Hyundai. The built in nav is satisfactory, but I was wishing for Apple CarPlay to remove the sub-par interface.
The second screen, embedded between two dials, controls the air-conditioning and driving modes. The buttons surrounding it change depending on which mode you turn the screen to.
It's neat, if a little unnecessary. The screen can show everything from a boost gauge in 'Sport' mode, to fuel efficiency graphs in the 'Eco' setting. But sadly, both screens were frequently subject to glare on sunny days.
Our test car had excessive panel gaps where the front doors connect to the A-pillar, as well as around the boot lid and bonnet. Inside, there were trim pieces that didn't quite meet up, or flexed a bit too far when pushed on. 
There was also a rattle emanating from the boot during my test. Despite attempts to take all the boot pieces out and put them back carefully, I could not find the source. 
The Juke is built in the UK. Go figure.
---
Fiat 500X
7/10
Look, I like the 500X, but I know why people don't. It's clearly a 500X in the way a Mini Countryman is a Mini. It looks like a 500, but get closer and you see the difference. It's chubby like a $10 weekend market Bhudda statue and has great big googly eyes like Mr Magoo. I find this endearing, my wife does not. The looks aren't the only thing she doesn't like.
The cabin is a bit more restrained and I quite like the band of colour stretching across the dash. The 500X is meant to be a bit more grown up than the 500, so there's a proper dash, more sensible design choices but it still has the big buttons, perfect for the meaty fingers of people who won't be buying this car.
Practicality
Nissan Juke
6/10
The Juke's over-commitment to styling compromises its practicality, which is especially true for our AWD Ti-S.
The multi-link rear suspension hampers available boot space by bringing the boot floor up to almost level with the rear hatch opening. 
On offer is just 207 litres, which makes the CX-3's already small 264 litres look huge. 
You could fit maybe two duffle bags stacked on top of one another in the space, but any hard cases larger than carry-on size is asking for trouble.
With the seats down, it's a better story, as the space is, if nothing else, level.
Expect small hatchback amounts of space in the rear. Back-seaters don't get any air conditioning vents, but there's a small bucket-shaped area for storage on the back of the front centre console. 
There's not much else back there in terms of amenities, although the plush leather seats continue, and headroom was not as limited as my 182cm self expected. Two ISOFIX child seat mounting points are present on the outer two seats.
Up front there are decent cupholders in the centre console and bottle holders in the doors, although nothing that'll hold anything bigger than a 600ml bottle.
Aside from that there are precious few stowage spaces for items in the cockpit. There's a strange rubberised pad underneath the air conditioning controls. It barely fit my phone, and the lack of sidewalls made it hardly suitable for loose objects. I'm not really sure what it was for.
There's also a massive glove box that seems to go forever under the dash.
---
Fiat 500X
7/10
At just 4.25 metres, the 500X isn't big, but makes the most of what it's got. The boot impresses at 350 litres and with the seats down, I think you could reasonably expect to triple that figure, though Fiat doesn't have an official number that I can find. For added Italian feel, you can tip the passenger seat forward to get really long things in, like a Billy bookshelf flat pack from Ikea.
Rear seat passengers sit high and upright meaning leg and kneeroom are maximised and with that tall roof, you won't scrape your head. 
The doors each have a small bottle holder for a total of four and Fiat has got serious about cupholders - the 500X now has four.
Price and features
Nissan Juke
6/10
There's no two ways about this – the Juke Ti-S is very expensive. In its segment, the $33,490 (before on-road costs) asking price is enough to make the Mazda CX-3 look cheap, and that's saying something. Hell, you can get a really very good mid-size SUV for that price. 
Not a great start for an SUV that has remained largely unchanged while fresh competitors continue to pop up all around it.
Given the Juke's diminutive dimensions, its main competition is the Mazda CX-3 sTouring (petrol, AWD) at $31,790, Renault Captur Intens (petrol, FWD) at $28,990 and maybe the Toyota C-HR Koba (petrol, AWD) at $35,290.
The Koba, and a lot other small SUVs are arguably a size-up from the Juke, but price-wise it's hard to pitch it against something closer to its size like the Suzuki Ignis GLX which is far, far cheaper at $18,990.
As you can see, the Juke hardly fits in to the current small SUV landscape… but do you at least get good equipment for the price?
Yes and no. 
The Ti-S gets some nice features, like the surprisingly plush heated leather seats, push-start ignition, 360 degree surround-view reversing camera, LED DRLs, auto-folding wing-mirrors, rain-sensing wipers and a particular boon for the Ti-S – multi-link rear suspension.
It also gets some okay features, like the 5.8-inch multimedia touchscreen which has DAB+ support and built-in nav, xenon headlights (not halogen, but also not LED), single-zone climate control, 17-inch alloy wheels, and a tyre pressure monitoring system.
Then there's the bad. No Apple CarPlay or Android Auto, no electrically-adjustable seats, no digital dashboard, no head-up display and, while some modern safety features arrive at this price, there are some major omissions.
As a value proposition then, the Juke is lacking for its tall list price.
---
Fiat 500X
7/10
I drove the Pop Star, which is the second of the now-two model "regular" range, the other being the, er, Pop. I drove a Special Edition in 2018 and it's not clear if it is Special as there's also an Amalfi Special edition. Anyway.
The $30,990 (plus on-road costs) Pop Star has 17-inch alloys, six-speaker Beats-branded stereo, dual-zone climate control, reversing camera, keyless entry and start, active cruise control, sat nav, auto headlights and wipers, leather shifter and steering wheel and a space-saver spare.
The Beats-branded stereo speakers are supplied with noise from FCA's UConnect on a 7.0-inch touchscreen. The same system is in a Maserati, don't you know. Offering Apple CarPlay and Android Auto, UConnect loses points by shrinking the Apple interface into a lurid red frame. Android Auto properly fills the screen, for some reason which is ironic given Apple owns the Beats brand.
Engine & trans
Nissan Juke
7/10
The Juke stands out here, too. It's powered by a 140kW/240Nm 1.6-litre turbocharged petrol engine. That's plenty of power. Peak torque arrives reasonably early, too, and lasts throughout the rev range from 1600–5600rpm.
It stands up well to competitors like the CX-3 with its 110kW 2.0-litre petrol engine, and the sub-90kW turbocharged engines in both the Renault Captur and Toyota C-HR.
The Ti-S can be had with a manual if you opt for the front-wheel drive (FWD) version, AWD ones like the one we tested here can only be had as a Continuously Variable Transmission (CVT) auto.
The AWD set-up has torque vectoring and is an opt-in system activated by a button to the right of the steering wheel. Our Juke spent most of the week as a FWD.
---
Fiat 500X
7/10
Fiat's rather excellent 1.4-litre turbo MultiAir does duty under the stubby bonnet, making 103kW and 230Nm. Rather less excellent is the six-speed dual-clutch automatic transmission, which sends power through the front wheels only.
It's rated to tow a 1200kg braked trailer and 600kg unbraked.
Fuel consumption
Nissan Juke
6/10
Nissan claims the Juke Ti-S will consume 6.5L/100km of (minimum) 95 RON premium unleaded petrol. Over my week of mixed freeway and urban traffic usage it returned 10.0L/100km. A solid miss.
I'm not entirely sure why this number was so high given I only activated the AWD system for a few short expeditions on the weekend. Most competitors claim less than 7.0L/100km and I've found a reasonable number to expect is 8.0-ish, so 10.0 was a let-down.
---
Fiat 500X
6/10
Fiat rather optimistically suggest you'll get a combined cycle figure of 5.7L/100km but try as I might, I couldn't do better than 11.2L/100km. What's worse, it demands 98RON fuel, so it's not the cheapest car to run. This figure us consistent with past weeks in the 500X and no, I wasn't thrashing it.
Driving
Nissan Juke
7/10
In a way, the Juke lives up to its sporty looks. The 140kW engine is, without a doubt, one of the most powerful in the segment, and to be completely honest, the CVT was fine, if a little uninspiring.
Once you've dispatched the small amount of lag, the little turbo engine surges into the power-band, where the steering wheel will simply be torn out of your hands thanks to 'torque-steer' in FWD mode. 
AWD mode is decidedly more stable, but makes the Juke feel significantly heavier. I don't doubt it will increase fuel usage if you remain in this mode.
The suspension is stiff. Perhaps harsher than it needs to be. While this didn't result in too much discomfort, thanks to the plush seats, it combined with the large alloy wheels to create a lot of road noise. It also revealed some less than impressive rattles and creaks in the cabin.
My test car had a consistent rattle emanating from the boot, which despite my investigations (I took the cargo cover, boot floor and spare out, and carefully placed them all back in their properly secured position), I couldn't find the source of, and turning it into corners or over inclines caused creaks from the B- and C-pillars.
The steering was also somewhat inconsistent and ambiguous. Nissan says the Juke has 'speed sensitive power steering' although, at speeds of 70-90km/h it lacked feel and feedback. I wasn't really confident I could feel where the front wheels were at any given moment. 
Aside from the steering issue, the Juke felt okay in the corners, likely due to the multi-link rear suspension. Pushing it any harder than conservative speeds introduced a bit too much tilt to make it truly 'fun', however.
---
Fiat 500X
6/10
Again, I shouldn't like the 500X but I really don't mind it. It's flawed, which might be why.
The dual-clutch transmission is dumber than a box of loose cogs, lurching from start and looking the other way when you expect it to shift. We know the engine is a good one and I think part of the reason it's so thirsty is the confused way the transmission goes about its business. I'd love to drive a manual to see what it's like.
The 500X initially feels worse than its Jeep Renegade sibling-under-the-skin, which is quite an achievement. Part of that is to do with the ride, which is very choppy below 60km/h. The first 500X I drove wallowed about but this one is a bit tauter, which would be good if you weren't punished with this bounciness.
The seats themselves comfortable and the interior is a good place to hang out. It's reasonably quiet, too, which is at odds with the old-school silliness of its conduct. It feels like Labrador let out of after day kept inside.
And that's where the car I shouldn't like is a car I do like - I really like that it feels like you're on Roman cobblestones, the type that make your knees hurt when you walk on them for a day. The steering wheel is too fat and is at a weird angle, but you kind of square up to it and drive the car like your life depends on it. You have to take it by the scruff, correct the shifts with the paddles and show it who's boss.
Obviously, that's not for everyone. If you drive it really gently, it's a very different experience, but that means going slowly everywhere, which is no fun at all and not at all Italian.
Safety
Nissan Juke
6/10
At this price, the Juke scores some significant safety additions over the rest of the range. On the active front the Ti-S scores Lane Departure Warning (LDW) and Blind Spot Monitoring (BSM) as well as the aforementioned 360-degree parking camera and standard reversing camera. 
These are also paired with something that Nissan calls 'Moving Object Detection' which seems to be equivalent to rear cross traffic alert, only it works around the front of the car as well.
Missing is the all-important AEB. This feature is becoming standard (or at least an affordable option) on most competitors. While FWD versions of the Juke carry maximum five-star ANCAP safety ratings, this rating was from 2011 and not to the most recent and stringent testing process.
The Juke benefits from the regular electronic stability enhancements as well as six airbags.
---
Fiat 500X
8/10
Out of the box, you get seven airbags, ABS, stability and traction controls, forward collision warning, high and low speed AEB, active cruise control, rollover stability, lane departure warning, lane keep assist, blind spot sensor and rear cross traffic alert. That's not bad for a $30,000 car full stop, let alone a Fiat.
There are two ISOFIX points and three top-tether anchors for baby seats. 
The 500X scored a five-star ANCAP rating in December 2016.
Ownership
Nissan Juke
6/10
Nissan is one of the few remaining mainstream manufacturers still offering a distance-limited three-year warranty. The major competitors – Mazda, Hyundai and Honda are offering five-year/unlimited kilometre promises.
The Juke requires servicing once a year or 12,000km. Nissan has a scheduled servicing plan that covers the Juke for up to 12 years, with the cost changing every year. It averages out to a not particularly cheap $378.58 a year if you were to carry out the whole plan.
---