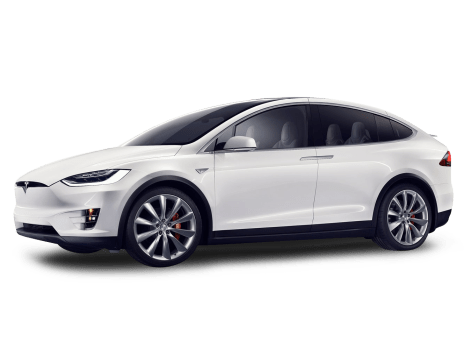 COMPARE
Tesla Model X
VS
Nissan Patrol
Tesla Model X
Likes
Brutal acceleration
Excellent handling
Falcon Wing doors
Dislikes
Auto doors can be slow to open and close
Body styling is a little plain
Expensive options
---
Nissan Patrol
Likes
Effortless performance
Superb ride
Great value
Dislikes
Steering feel (lack of)
Thirst
No AEB
Summary
Tesla Model X
Richard Berry road tests and reviews the Tesla Model X SUV, with specs, energy consumption and verdict at its Australian launch in Victoria.
At some point Tesla need to come clean... and admit they're aliens. That they're the first fleet of colonists belonging to a super advanced civilisation from another planet.
How else are their vehicles so fast? How else can they travel so far on electricity alone and then be charged so quickly? And how is it they've mastered fully autonomous technology while other car companies are just dabbling with experimental self-driving tech?
Wake up people, Elon Musk isn't Tesla's CEO he's General Eeeekbleeeergh from Centauri 1. Come on, his really bad human mask is a dead giveaway.
Okay, maybe not. But we were mighty impressed with the Model S when we reviewed it and now the Model X large SUV has arrived in Australia. Like the Model S the Model X is completely electric, and with a best 0-100km/h claim of 3.1s that doesn't just make it the fastest accelerating SUV around, it's actually one of the quickest cars on the planet.
So does this new gift from our alien overlords live up to the hype? Maybe it's quick to 100km/h but does it handle like a block of cheese at the first corner? Is it a practical SUV? Does it tow? And what made me want to throw up? We found out by piloting the angriest one in the range - the P100D.
| | |
| --- | --- |
| Safety rating | — |
| Engine Type | — |
| Fuel Type | Electric |
| Fuel Efficiency | —L/100km |
| Seating | 5 seats |
---
Nissan Patrol
Everyone has a guilty pleasure. A sneaky drive-thru burger, Katy Perry on your iPod, or watching The Golden Girls while dressed as SpongeBob. Okay, so maybe not everyone has that last one.
The urban tank that's currently dominating your screen is mine. It occupies enough real estate to support a medium-density sub-division, weighs a sprightly 2.7 tonnes, and is powered by a 5.6-litre V8 that slurps premium unleaded at an ecologically obscene rate.
But it's soooooo good.
The eight-seat Y62 Nissan Patrol Ti is so clearly built for the 'Murican market (where it's called the Armada) it's a safe bet the human hairpiece has one in the presidential fleet.
A week behind the wheel should have had us sneering, but all we could do was smile.
| | |
| --- | --- |
| Safety rating | |
| Engine Type | 5.6L |
| Fuel Type | Premium Unleaded Petrol |
| Fuel Efficiency | 14.4L/100km |
| Seating | 8 seats |
Verdict
Tesla Model X
8.6/10
Hugely impressive all round – from its brutal acceleration to its practicality. It's expensive when optioned to the hilt, but this is a special car. I miss the noise of petrol engines, though and the drama which goes with it. Alien technology, then? Nope, more likely the future of human travel. Just make sure you have the stomach for it.
Would you pick a Model X over an X6 or GLE Coupe? Tell us what you think in the comments below.
---
Nissan Patrol
7.4/10
The Nissan Patrol Ti is stress-relief on wheels, designed to help you navigate urban family life in quiet and calm comfort. It's not perfect, using up a reasonable chunk of the planet's resources in its construction, consuming more than its fair share of precious gasoline, and assaulting many people's view of what constitutes good automotive taste. But next time you're sobbing through a YouTube compilation of military homecoming videos, consider the Patrol. Maybe it's time to set that guilty pleasure free?
Is this Patrol too big and beefy, or right-sized for your family needs? Tell us what you think in the comments below.
Design
Tesla Model X
8/10
I'm pretty sure the designer who came up with the shape for the Model X was sitting at his computer and looked down at the mouse in his hand and said: "That's it! Now where are we having lunch?"
With coupe styling similar to BMW's X6 and Mercedes-Benz's GLE Coupe and with short overhangs like them too, the Model X is one sleek hunk of SUV. Actually at the time of writing the Model X is officially the most aerodynamic SUV on earth with a drag coefficient of 0.24, that makes it 0.01 slipperier than the Audi Q8 SUV Concept.
The Q8 will come as a fully electric SUV like the Model X, but the Benz GLE Coupe and BMW X6 run are powered by diesel and petrol only. The closest electric equivalent is the GLE 500e and the X5 xDrive 40e, but these are plug-in hybrids that still use petrol. The Model X is far closer in shape, size and spirit to the GLE Coupe and X6 - it's just that their electric versions haven't been born yet.
The Model X is just short of drop-dead gorgeous, just short because there are some elements which while they may make aerodynamic sense aren't that aesthetically pleasing. Sure electric cars don't need a grille, but its face is a bit plain without a mouth. The way the rear of the car ends abruptly like it's been sawn off reminds me of the Toyota Prius's bottom.
What makes it possible to overlook these not-so-pretty points are stunning design features such as the massive swept back windscreen, the wheel arches filled with giant 22-inch rims and those upward opening Falcon Wing doors.
That slippery shape also hides just how enormous the Model X is but the dimensions don't. At 5037mm end to end the Model X is 137mm longer than the Benz GLE Coupe and 128mm more than the BMW X6. The width with mirrors folded out is 2271mm which is 142mm wider than the GLE Coupe and 101mm  more than the X6. But at 1680mm the Model X isn't as tall as them – the GLE coupe is 1709mm and the X6 is 1702mm.
Ground clearance ranges from 137-211mm, which is not bad for an SUV.
It may be an SUV but the Model X has all the Tesla hallmarks – from that window profile to the featureless face. The same goes for the cabin with its giant display, beautiful high-quality materials and stylish design.
---
Nissan Patrol
6/10
Roy and HG dubbed rugby league legend (and political enigma) Glenn Lazarus 'The brick with eyes', and it's not a bad take on the current Patrol's mammoth presence.
At more than 5.1-metres long, just under two-metres wide, and close to two-metres tall, this is a substantial beast. You've never seen 18-inch rims look so small.
Subtle bulges around the wheel arches and along the bonnet go some way to softening the large regions of only subtly contoured sheet metal. The front and rear bumpers are neatly integrated into the flow of the body, and the flashy, three-part chrome grille boldly announces the big Nissan's arrival.
The profile is bread-box geometric, with more bright metal finish on the window surrounds, door handles, front guard vents and proudly positioned V8 badges. At the back, the Patrol's upright stance is clear, with more chrome above the licence plate, and oddly intricate LED tail-lights that look like aftermarket specials from Tokyo's Akihabara electronics district.
Vast expanses of high-quality leather cover the faces of the classy and oh-so-comfortable seats, while a mix of gentle curves and arrow-straight borders define the dash and centre console.
But then it's as if 'he of the tiny digits' choppered in and demanded custom touches, like yet more chrome around the console, instruments and key controls, as well as broad bands of high-gloss timber you'd swear was fake, but Nissan says is in fact "high-grade wood" trim.
But aesthetics is always a subjective call, and from a functional point of view the interior layout works beautifully. The switchgear is clean and simple, the multimedia interface is straightforward and intuitive and the ergonomics are thoughtful and considered.
That said, niggles include a steering wheel that just won't come up high enough (or a driver's seat that won't adjust low enough), the lack of a digital speedo read-out, multiple blanked-out switches at the base of the centre stack (not a good look), and an awkward, US-style pedal-operated parking brake. Curse you, middle America.
Practicality
Tesla Model X
8/10
Yes it's fast and electric but if you take the utility out of an SUV you're left with just a sports vehicle, right? So the Model X needs to be practical – and it is.
There are five seats as standard, but you can option six or seven seat layouts. The GLE coupe, the X6, even the Q8 (when it finally arrives) only have room for five. All are individual buckets seats in the Model X – two in the front, three in the second row and two more in the third in the case of the seven seater.
Now the real test. I'm 191cm tall, so apart from being refused entry onto some amusement park rides sitting behind my own driving position can be a challenge in various cars. In the Model X I fit but with about a thumb nail's gap – which is fine. Headroom is good because of the recessed windows in the Falcon Wing doors' which become the roof when closed.
The P100D we drove was optioned with seven seats. Back in the third row headroom is limited because of the roofline. Legroom is adjustable because the second row seat can slide forward but I couldn't sit behind myself. The third row really is for kids or Danny DeVito – entry though is excellent thanks to that sliding second row.
Storage is good with six cup holders (two in each row of seats), medium sized bottle holders in the front doors (the back doors don't because, gravity), a large centre console bin, and a glovebox.
There's no engine under the bonnet and so it becomes a front boot (a froot?). The combined luggage capacity of the froot and the back boot (with the third row folded) is 2180 litres.
All doors open automatically – the front ones and the rear Falcon wings. They are a bit slow and forcing them only makes them grind their motors angrily. They're a great party trick but if you're getting in and out frequently – as I was when doing the photo shoot, they become a hassle.
The Falcon doors are clever, though, in that they can open in just 30cm of space either side of the vehicle.
---
Nissan Patrol
9/10
Space is something this vehicle has in abundance, and with a wheelbase of close to 3.1 metres, passengers are well taken care of. Actually, five out of eight passengers. But it's likely the third-row seat will be a kid-zone anyway, and if they're not old enough to vote, they're not old enough to complain.
The fortunate pair up front will luxuriate in broad but supportive chairs, with heaps of storage on offer, including a giant central console box (with a nifty two-way lid that provides access for rear seaters), a pair of large cupholders, a generous glove box, and big door pockets with space for bottles. There's also a drop-down sunglass holder in the roof, a 12-volt outlet, as well as USB and auxiliary line-in media sockets.
Second-row accommodation is probably best measured in hectares, but suffice it to say there's plenty of room. With the driver's seat set to this 183cm-tester's position, head and legroom is limo-like, and there's even enough width for three grown-ups.
Roof-mounted air-con vents are controlled by a digital panel in the back of the front centre console, there are specific reading lights, big bottle bins in the doors, and a pair of small-ish cupholders in the folding centre armrest.
Yes, third-row legroom is tight for adults, but access is easy thanks to a simple fold-and-roll function on both sides of the centre-row seat. Once back there, the kids have no less than four bottle/cupholders at their disposal, as well as air vents in the roof. And the third row can slide through 20mm for more legroom or storage space.
Even with the third-row seats upright there's 550 litres of cargo space available. Enough to hold the CarsGuide pram (on its side), or our three-piece hard suitcase set (35, 68 and 105 litres). Plus there's a full-width stowage box under the floor. For reference, a full-size Holden Commodore sedan's boot holds 495 litres.
In this configuration, there are still six cargo tie-down shackles available, with a light and 12-volt outlet also provided. There's also a full-size (alloy) spare wheel.
Fold the third-row forward, and capacity increases to 1490 litres, which is enough to swallow the pram and luggage set, with room to spare.
Flatten both the rear rows and it's like looking down the belly of a C-130 Hercules, with no less than 3170 litres of load space liberated. And if weight is a factor, you have a 734kg capacity to play with.
Worth noting the cargo floor, with seats folded, isn't flat, the ramp angle increasing the closer you get to the front seats, and weirdly, there's no electronic control for the tailgate. You need the top-spec Ti-L version for that.
Price and features
Tesla Model X
9/10
The P100D is the king of Model Xs (the P stands for Performance, the D for Dual motors) and has a list price of $271,987. Under this is the $194,039 100D, then below that is the 90D for $187,671 and then the line-up's 75D entry variant for $166,488.
Yes the P100D we drove is $100K more than the entry car, but you do get some sweet standard features.  Things like the Ludicrous Speed Upgrade which drops the 0-100km/h time from 5.0 seconds to 3.1 seconds. There's the higher capacity battery for increased range and performance, plus the rear spoiler with three height settings. The Falcon wing doors are standard, too.
Other standard features found on each variant include the 17-inch touch screen, nine-speaker sound system with Bluetooth connectivity and front and rear parking sensors. Not counting the reversing camera the Model X also comes equipped with seven other cameras – these are for the Enhanced Autopilot self-driving option ($7500) which is currently being developed but will be rolled out soon according to Tesla.
Standard as a five seater, a six seat option costs $4500 and seven seats will need you to part with $6000.
Our test vehicle was also fitted with the optional Towing Package – yup you can tow with the Model X. It's braked towing capacity is 2500kg.
Our test car with all of its options was pushing the $300K mark.
---
Nissan Patrol
8/10
When it launched here in early 2013, the Y62 Patrol Ti was priced at $92,850, with an entry-level ST-L ($82,200) below, and the flagship Ti-L ($113,900) above it.
This positioning kicked the evergreen four-wheel drive into new territory, given the most expensive version of the previous (Y61) model weighed in at $72,690.
And sure enough, by mid-2015 the market had spoken, and Nissan Australia 'repositioned' the range, culling the base ST-L and lopping a massive $23,400 off the Ti's price, adding some extra fruit to its specification at the same time.
That $69,990 pricing remains in place, substantially undercutting the V8 petrol-powered Toyota LandCruiser VX, which sits at $94,070. But the Toyota steamroller continues to flatten the Patrol in terms of sales.
When you look at the Patrol Ti's standard features list, though, you have to marvel at the power of the LandCruiser brand, because this Nissan is loaded.
Included on the Ti spec sheet is, keyless entry and start, 'leather accented' trim, eight-way power front seats (including height and lumbar adjust), tri-zone climate-control air con (with rear control), cruise control, sat nav with 3D mapping, 'leather accented' steering wheel and shift lever, 8.0-inch colour multimedia touchscreen, 'Around View Monitor' (with reversing camera), six-speaker CD/DVD audio with 9.0GB hard drive and Bluetooth connectivity, glass tilt and slide sunroof, auto headlights, rain-sensing wipers, side steps, and 18-inch alloy wheels.
Not bad at all, but it's worth noting Apple CarPlay and Android Auto are missing in action.
Engine & trans
Tesla Model X
9/10
The Model X is all wheel drive. The P100D has a 193kW/330Nm at the front axle and a 375kW/600Nm at the rear; the rest of the variants just have the 193kW/330Nm motor front and rear.
There is no transmission in the traditional sense, just a single fixed ratio (1:8.28) gear. That means smooth, strong instantaneous oomph.
---
Nissan Patrol
8/10
Nissan's all-alloy, 32-valve, quad-cam VK-series V8 engine started life 15 years ago, debuting in the third-generation Infiniti Q45 (which never saw the light of day in Australia).
It's since gone on to power a range of other Infiniti and Nissan models, and in this most recent 5.6-litre (VK56VD) iteration, develops 298kW at 5800rpm, and a thumping 560Nm at 4000rpm.
The big V8 features 'VVEL' (Variable Valve Event and Lift) technology (on the intake side) as well as direct injection. And in case you think the torque peak arrives high in the rev range, 90 per cent of that maximum (504Nm) is available from just 1600rpm.
It's matched with a seven-speed automatic transmission featuring sequential manual mode (available via the console shifter only) and 'Adaptive Shift Control' logic.
Drive can be directed to the rear wheels or all four (in high- or low-range) via Nissan's 'All Mode 4x4' system, offering specific off-highway settings for sand, snow, and rock, as well as a rear diff-lock.
Fuel consumption
Tesla Model X
9/10
The P100D has a 100kWh battery pack which is stored under the floor. The NEDC official range for the P100d is 542km, but in reality Tesla says that your range on a full charge is about 100k less than that.
The 100D also has the 100kWh battery, but with a range of 656km NEDC. Following on from that is the 90D with a 90kWh (489km) and the 75D with the 75kWh battery (417km).
Charging through one of Tesla's Supercharger stations will put 270km into the battery in 20 minutes, while the wall unit which comes free (you have to pay to install it) will top it up at 40km per hour. There's also a charging cable which will plug straight into your power point at home – it's a lot slower at about 10-15km per hour but fine as a last resort.
---
Nissan Patrol
6/10
Nissan claims 14.5L/100km for the combined (urban/extra urban) cycle, and doesn't even venture into the area of stated CO2 emissions.
Without any injudicious use of the right-hand pedal, over roughly 250km of city, suburban and freeway running we managed to exceed that figure by close to 15 per cent, recording an average of 16.5L/100km.
The other not so good news is the V8 turns up its nose at anything less than premium unleaded, so if you live in a capital city, get ready to shell out around $210 dollars to fill the 140-litre tank with 95RON juice.
Driving
Tesla Model X
9/10
I've had a couple of brushes with car sickness in the past, but never as a driver – until now. So full-on is the Model X P100Ds acceleration and my need to drive every car like it's a rally stage that I managed to make myself a little bit... ahem queasy.
It's not so much car sick, as train sick because piloting the Model X is like driving a high speed train – you've got that instantaneous sledgehammer acceleration, you're seated fairly high and the view from the cockpit with the giant windscreen (the largest in production) is cinematic. The bonnet is short and dips away so much so that the base of the windscreen appears to be the front of the car. Combine this with almost total silence and the only indication that you're travelling at warp speed is what feels like a punch in the guts and the landscape rushing towards you.
It's almost totally silent because there is a faraway hum of electric motors and I also picked up a bit of wind noise that seemed to come from around the rear doors. Apart from that the cabin is so well insulated there was next to no road noise.
How did it handle when it came to the first corner? Gobsmackingly well. The course wasn't an easy one either. Tesla had chosen the Black Spur – one of the best driving roads in Victoria that twists its way from Healesville to Marysville. I've driven it in everything from hot hatches to family sedans, but the Model X would be up there in proper sports car territory.
With the batteries running along the floor there's a low centre of mass and that goes a long way to reducing body roll and the air suspension not only gives the SUV a comfortable ride but great handling too.
Steering is on the heavier side, but it's quick and accurate.
Braking is almost not needed. As soon as you lift off the accelerator regenerative braking washes off speed quickly.
The driver's seat felt a bit tight around my legs - blame my height – but comfortable across my back - a bit on the firmer side through – some would say supportive.
While forward visibility is unrivalled, the small back window is hard to see through – the reversing camera is excellent, however.
The drive was only a short one, but in my 50km blast I used an average of 329Wh/km. The car wasn't fully charged when I set out and the gauge told me it had about 230km 'in the tank'. Upon returning there was just 138km left – but I was driving hard enough for me to make myself sick.
---
Nissan Patrol
8/10
Driving the Patrol Ti is like eating a freshly baked marshmallow – soft, sweet, and delightfully indulgent.
It's an effortless, stress-free experience, thanks mainly to the engine's huge reserves of torque, and the independent (double wishbone front and rear) suspension's magical ability to soak up even significant imperfections.
You have to consciously remind yourself this is an old school, body-on-frame design. But the magic bit that transforms the Patrol's ride and handling, is Nissan's 'Hydraulic Body Motion Control' suspension tech.
The system is managed by nitrogen-charged accumulators, with cross-linked piping allowing the transfer of hydraulic fluid between shock absorbers to actively control suspension travel.
In cornering, stiffness is increased to reduce body roll and, in straight running, overall ride quality is enhanced… a lot.
The seven-speed auto is ridiculously smooth, the seats remained comfy and supportive after lengthy stints behind the wheel, and the interior is supremely quiet.
And with all that heft barrelling down the road, big disc brakes (358mm front/350mm rear) with four-piston calipers at the front, consistently pull this sturdy unit up without a hint of drama.
But with the soft sweetness comes a hard truth. The light 'speed-sensitive' steering twirls through roughly 5000 turns lock-to-lock, and produces approximately zero road feel.
Nissan makes no bones about the fact the Patrol is aimed at city types, with its 4WD ability mostly applied to towing. And the Ti is able to haul 750 unbraked kilos, with a healthy 3.5-tonnes in scope if your boat trailer or caravan is braked.
Another standard feature that comes in doubly handy when manoeuvring a substantial vehicle like this is the 'Around View Monitor', combining bird's eye, front, rear, and side views. It's brilliant, and panel beaters should hate it.
While this isn't an off-road test, if you do decide to take the tribe on a Top-End adventure, standard 'Hill Descent Control', 'Hill Start Assist', rear diff-lock, helical LSD, and the All Mode system are ready for action.
For the hardcore off-roaders, ground clearance is 283mm, approach angle is 34.1 degrees and the departure angle is 25.9 degrees.
Safety
Tesla Model X
9/10
The Model X does not yet have an ANCAP rating, but all the signs are there that it is likely to easily score the maximum five stars. There's 12 airbags, AEB and when once the Enhanced Autopliot software is ready for download it will be fully autonomous, meaning it will drive you to where ever you need to go without you having to steer it – but check the regulations in your area before you get carried away with this, okay?
There were ISOFIX mounts and top tether points in all five of the back seats in our test car.
---
Nissan Patrol
7/10
Standard active safety tech includes, stability and traction control, ABS, EBD, Brake Assist, 'Cross-Traffic Recognition', and a tyre pressure monitoring system. But no AEB.
If you want higher order features like, 'Blind Spot Warning', 'Blind Spot Intervention', 'Distance Control Assist', 'Forward Collision Warning' and 'Intelligent Cruise Control', they're standard on the ($86,990) VTi-L.
On the passive side of the ledger, there's driver and front passenger head and side airbags, as well as side curtain airbags covering all three rows. 
ISOFIX child restraint anchor points and top tethers are included in the outer second row seat positions, with another tether hook in the third row.
The Patrol has not received a safety star rating from ANCAP or EuroNCAP.
Ownership
Tesla Model X
8/10
The Model X is covered by a four year/80,000km warranty, while the battery and drive unit has an eight year infinite kilometre warranty.
---
Nissan Patrol
7/10
Nissan supports the Patrol with a three year/100,000km warranty, with three years roadside assistance included.
Sure, Nissan has a well-deserved reputation for reliability, but with the likes of Kia upping the game to seven years/unlimited kilometres, surely it's time for a warranty adjustment.
The scheduled service interval is six months or 10,000km, which is a pain when most of the market is at 12 months.
A six year/120,000km 'Service Certainty' program locks in pricing for those 12 services, with a low cost of $375, and a high of $1240 (100,000km), which equates to an average of $608 per visit. You'll also need to factor in $42 for brake fluid every two years/40,000km.