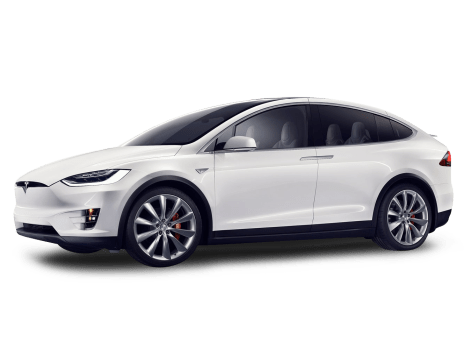 COMPARE
Tesla Model X
VS
Audi Q7
Tesla Model X
Likes
Brutal acceleration
Excellent handling
Falcon Wing doors
Dislikes
Auto doors can be slow to open and close
Body styling is a little plain
Expensive options
---
Audi Q7
Likes
Cabin is super practical
Proper third-row seats
Strong diesel engine
Dislikes
A little expensive compared to rivals
Updated model due soon
Not exciting to drive
Summary
Tesla Model X
Richard Berry road tests and reviews the Tesla Model X SUV, with specs, energy consumption and verdict at its Australian launch in Victoria.
At some point Tesla need to come clean... and admit they're aliens. That they're the first fleet of colonists belonging to a super advanced civilisation from another planet.
How else are their vehicles so fast? How else can they travel so far on electricity alone and then be charged so quickly? And how is it they've mastered fully autonomous technology while other car companies are just dabbling with experimental self-driving tech?
Wake up people, Elon Musk isn't Tesla's CEO he's General Eeeekbleeeergh from Centauri 1. Come on, his really bad human mask is a dead giveaway.
Okay, maybe not. But we were mighty impressed with the Model S when we reviewed it and now the Model X large SUV has arrived in Australia. Like the Model S the Model X is completely electric, and with a best 0-100km/h claim of 3.1s that doesn't just make it the fastest accelerating SUV around, it's actually one of the quickest cars on the planet.
So does this new gift from our alien overlords live up to the hype? Maybe it's quick to 100km/h but does it handle like a block of cheese at the first corner? Is it a practical SUV? Does it tow? And what made me want to throw up? We found out by piloting the angriest one in the range - the P100D.
| | |
| --- | --- |
| Safety rating | — |
| Engine Type | — |
| Fuel Type | Electric |
| Fuel Efficiency | —L/100km |
| Seating | 5 seats |
---
Audi Q7
The Audi Q7 disappeared from sale for a while. You mightn't have noticed it, but the brand certainly did, with sales slumping over a 12-month period because the regular Q7 models were unavailable to purchase.
The company pulled all of its non-SQ7 variants from sale in October 2018, and they only arrived back on sale locally in August 2019. That meant a sales slide of about 40 per cent. And what a time to have a slide, too…
There have been new versions of the BMW X5, Mercedes-Benz GLE, Lexus RX and VW Touareg all released in the past year or so, and that has rubbed a bit of salt into the sales wound for the Audi Q7. Not even the all-new Audi Q8 has helped out that much in terms of sales.
The reason for the stop-sale was because of emissions. Or, more correctly, emissions management. The AdBlue system required an overhaul because it didn't meet requirements, and that lead Audi Australia to remove the Q7 from sale for the best part of a year. If you're not sure what AdBlue is, it's a urea-based solution that breaks down harmful nitrous-oxide exhaust gas into nitrogen and oxygen. 
Audi Australia has moved to correct the sales slide now, with the Q7 45 TDI and 50 TDI models back in the line-up. These versions have been reintroduced before a facelifted model arrives in the first half of 2020, but we thought we'd see how this version stacks up.
| | |
| --- | --- |
| Safety rating | |
| Engine Type | 3.0L turbo |
| Fuel Type | Diesel |
| Fuel Efficiency | 5.9L/100km |
| Seating | 7 seats |
Verdict
Tesla Model X
8.6/10
Hugely impressive all round – from its brutal acceleration to its practicality. It's expensive when optioned to the hilt, but this is a special car. I miss the noise of petrol engines, though and the drama which goes with it. Alien technology, then? Nope, more likely the future of human travel. Just make sure you have the stomach for it.
Would you pick a Model X over an X6 or GLE Coupe? Tell us what you think in the comments below.
---
Audi Q7
7.6/10
The current version of the Audi Q7 proves to still be a comfortable and practical luxury SUV for those who value space and versatility. 
The heavily updated version coming mid-2020 will no doubt be even better and potentially offer significant spec and safety upgrades, but buyers after a good deal could find attractive prices on the pre-facelift model up until the newer-look version arrives - and they could do a lot worse than to go for it.
Design
Tesla Model X
8/10
I'm pretty sure the designer who came up with the shape for the Model X was sitting at his computer and looked down at the mouse in his hand and said: "That's it! Now where are we having lunch?"
With coupe styling similar to BMW's X6 and Mercedes-Benz's GLE Coupe and with short overhangs like them too, the Model X is one sleek hunk of SUV. Actually at the time of writing the Model X is officially the most aerodynamic SUV on earth with a drag coefficient of 0.24, that makes it 0.01 slipperier than the Audi Q8 SUV Concept.
The Q8 will come as a fully electric SUV like the Model X, but the Benz GLE Coupe and BMW X6 run are powered by diesel and petrol only. The closest electric equivalent is the GLE 500e and the X5 xDrive 40e, but these are plug-in hybrids that still use petrol. The Model X is far closer in shape, size and spirit to the GLE Coupe and X6 - it's just that their electric versions haven't been born yet.
The Model X is just short of drop-dead gorgeous, just short because there are some elements which while they may make aerodynamic sense aren't that aesthetically pleasing. Sure electric cars don't need a grille, but its face is a bit plain without a mouth. The way the rear of the car ends abruptly like it's been sawn off reminds me of the Toyota Prius's bottom.
What makes it possible to overlook these not-so-pretty points are stunning design features such as the massive swept back windscreen, the wheel arches filled with giant 22-inch rims and those upward opening Falcon Wing doors.
That slippery shape also hides just how enormous the Model X is but the dimensions don't. At 5037mm end to end the Model X is 137mm longer than the Benz GLE Coupe and 128mm more than the BMW X6. The width with mirrors folded out is 2271mm which is 142mm wider than the GLE Coupe and 101mm  more than the X6. But at 1680mm the Model X isn't as tall as them – the GLE coupe is 1709mm and the X6 is 1702mm.
Ground clearance ranges from 137-211mm, which is not bad for an SUV.
It may be an SUV but the Model X has all the Tesla hallmarks – from that window profile to the featureless face. The same goes for the cabin with its giant display, beautiful high-quality materials and stylish design.
---
Audi Q7
7/10
The Audi Q7 first went on sale in this shape in 2015, so the design isn't exactly fresh. In fact, there's a heavily facelifted model coming in the second quarter of 2020, and it looks a lot more modern and aggressive, with a few harder edges and more off-road inspiration to its look.
But the current one has aged well, with nice lines running front to rear, and the seemingly ever-present S line sporty styling bits to help it have some appeal compared with newer, flashier rivals. This 50 TDI version stepped up to a 20-inch wheel instead of 19s, too.  
Its a pretty big thing - dimensions are 5052mm long (on a 2994mm wheelbase), 1968mm wide and 1741mm high - but it carries off its size well. One mum I spoke with said "it doesn't look big enough to be a seven seater"… How very deceptive, because it's one of the roomier sever-seat SUVs on the market.
Practicality
Tesla Model X
8/10
Yes it's fast and electric but if you take the utility out of an SUV you're left with just a sports vehicle, right? So the Model X needs to be practical – and it is.
There are five seats as standard, but you can option six or seven seat layouts. The GLE coupe, the X6, even the Q8 (when it finally arrives) only have room for five. All are individual buckets seats in the Model X – two in the front, three in the second row and two more in the third in the case of the seven seater.
Now the real test. I'm 191cm tall, so apart from being refused entry onto some amusement park rides sitting behind my own driving position can be a challenge in various cars. In the Model X I fit but with about a thumb nail's gap – which is fine. Headroom is good because of the recessed windows in the Falcon Wing doors' which become the roof when closed.
The P100D we drove was optioned with seven seats. Back in the third row headroom is limited because of the roofline. Legroom is adjustable because the second row seat can slide forward but I couldn't sit behind myself. The third row really is for kids or Danny DeVito – entry though is excellent thanks to that sliding second row.
Storage is good with six cup holders (two in each row of seats), medium sized bottle holders in the front doors (the back doors don't because, gravity), a large centre console bin, and a glovebox.
There's no engine under the bonnet and so it becomes a front boot (a froot?). The combined luggage capacity of the froot and the back boot (with the third row folded) is 2180 litres.
All doors open automatically – the front ones and the rear Falcon wings. They are a bit slow and forcing them only makes them grind their motors angrily. They're a great party trick but if you're getting in and out frequently – as I was when doing the photo shoot, they become a hassle.
The Falcon doors are clever, though, in that they can open in just 30cm of space either side of the vehicle.
---
Audi Q7
9/10
You won't be disappointed if you're buying an Audi Q7 for its practicality. 
It has one of the roomiest seven-seat SUV cabins in this part of the market. Sure, if you go up to a BMW X7 or Mercedes GLS you'll have a little more room available to you, but in terms of packaging smarts, the Q7 is a bit of a genius. 
All Q7 models have electric folding third row seats, which take about ten times longer to raise and lower than conventional pull-tab or handle-operated rear seats, but the room in the rearmost row is excellent. 
The second row features 40:20:40 split folding seats with individual sliders, meaning you can tailor the space in the second and third row to suit the size of the occupants you're carrying. At 182cm I was able to comfortably sit in the third row behind Richard Berry (191cm), with a little bit of second-row slide adjustment. We both had enough head, knee and toe space to be comfortable.
The boot is still big enough with seven seats up that it will fit a pram or two suitcases (if you're into the figures, there's 295 litres of space in this configuration), while if you lower the third row and run the Q7 as a five-seater, there's enough room for a full set of luggage, plus a pram, plus even more (total: 770L). 
And the great thing about the Q7 - an element plenty of its rivals can't match - is that there are so many child seat anchor points! It has five ISOFIX child seat anchor points and top tether points, meaning it's possible to fit a child seat or baby seat in any of the rear seats. Yep, you could theoretically fit five child seats in here. It might a hassle in practice, but it's possible.
There are nice comfort and convenience features as well, with plenty of cup holders and bottle holders through the cabin, and air vents to all three rows. There's even quad-zone air-conditioning to allow different temperatures in different parts of the car. 
Up front the Q7 feels pleasant. It doesn't have the same 'wow-factor' as the GLE, nor as clinical as a Touareg. But there's a nice amount of usable storage space, and the design of the dashboard is nice, even if that pop-up media screen looks a bit dated, especially the sat nav graphics.
The system itself is decent, though the lack of touchscreen capability means phone mirroring tech like CarPlay and Android Auto largely hampered. You have to use the rotary dial to control the screen, which isn't the way it was designed to be used. If you can overlook that, or if you just prefer to use the in-built media system, then it's fine. 
Price and features
Tesla Model X
9/10
The P100D is the king of Model Xs (the P stands for Performance, the D for Dual motors) and has a list price of $271,987. Under this is the $194,039 100D, then below that is the 90D for $187,671 and then the line-up's 75D entry variant for $166,488.
Yes the P100D we drove is $100K more than the entry car, but you do get some sweet standard features.  Things like the Ludicrous Speed Upgrade which drops the 0-100km/h time from 5.0 seconds to 3.1 seconds. There's the higher capacity battery for increased range and performance, plus the rear spoiler with three height settings. The Falcon wing doors are standard, too.
Other standard features found on each variant include the 17-inch touch screen, nine-speaker sound system with Bluetooth connectivity and front and rear parking sensors. Not counting the reversing camera the Model X also comes equipped with seven other cameras – these are for the Enhanced Autopilot self-driving option ($7500) which is currently being developed but will be rolled out soon according to Tesla.
Standard as a five seater, a six seat option costs $4500 and seven seats will need you to part with $6000.
Our test vehicle was also fitted with the optional Towing Package – yup you can tow with the Model X. It's braked towing capacity is 2500kg.
Our test car with all of its options was pushing the $300K mark.
---
Audi Q7
7/10
The Q7 line-up starts with the 45 TDI at $102,990 plus on-road costs, while this 50 TDI version is listed at $111,950 plus on-roads.
That puts the Q7 in an interesting spot compared to some rivals. The five-seat-only VW Touareg - which shares a lot with this Audi - is considerably more affordable, starting from $79,490. The BMW X5 range starts at $99,900, and the Mercedes-Benz GLE line-up kicks off at $99,900. 
So it's not the most affordable SUV in this space. But here's what you get for your money. 
The standard equipment list consists of 20-inch wheels, tyre pressure monitoring, a tyre repair kit (no spare), and the standard lighting system is xenon with LED daytime running lights and LED rear lights. It has auto headlights and wipers.
Media is covered with a retractable 8.3-inch media screen with touchpad and rotary dial controller, Apple CarPlay and Android Auto, Bluetooth phone and audio streaming, DAB digital radio, a 10-speaker sound system and wireless smartphone charging. The system also has the new Audi Connect system (requires a data SIM) and sat nav with available updates. 
There's 'Cricket' leather seat trim, electric front seat adjustment with memory settings for the driver, heated front seats, quad-zone climate control, an auto-dimming rear-view mirror, smart key and push-button start, smart boot opening with electric tailgate, and Audi's Virtual Cockpit 12.3-inch fully digital instrument display for the driver.
There's a surround view camera and a semi-autonomous self parking system fitted for ease of use, but as for the rest of the safety gear fitted, see the safety section below. 
Our car was fitted with an array of packages, including the Assistance Package (adaptive cruise control, traffic jam assist, active lane keeping - $3850), the S line Style Package 4 (LED headlights and dynamic LED tail-lights, privacy glass, S line exterior styling and 21-inch wheels - $4600), the Comfort Package (ambient lighting, electric steering column adjust, rear window sunblinds, brushed aluminium inlays - $3650), as well as adaptive air suspension ($4690), a panoramic sunroof ($3990), gloss black interior finishes ($1600) and metallic paint ($2250). 
All told, our Q7 had an as-tested price of $136,850. Did it feel worth that much? Not quite.
Colour options include blue, grey, beige, silver and brown - all of which are optional metallic options - and there's also two no-cost option paint finishes, which are black or white.
Engine & trans
Tesla Model X
9/10
The Model X is all wheel drive. The P100D has a 193kW/330Nm at the front axle and a 375kW/600Nm at the rear; the rest of the variants just have the 193kW/330Nm motor front and rear.
There is no transmission in the traditional sense, just a single fixed ratio (1:8.28) gear. That means smooth, strong instantaneous oomph.
---
Audi Q7
8/10
The Q7 50 TDI model we've got is the top-spec in the standard Q7 line-up. It shares the same 3.0-litre turbo-diesel V6 engine with the lower-grade 45 TDI, but the 50 TDI has the higher-output engine tune.
This model produces 200kW of power (at 3250-4250rpm) and 600Nm of torque (from 1500-3000rpm). It uses an eight-speed automatic transmission and permanent quattro all-wheel drive. Audi claims the 0-100km/h time for this model is just 6.5 seconds. That's quick! 
If you don't think you need that, the 45 TDI would likely be perfectly fine. It still has 160kW and 500Nm, an eight-speed auto with AWD, and a 0-100 time of 7.3 seconds.
Both Q7 grades are rated to tow a 750kg un-braked trail or a 3500kg braked trailer. The gross vehicle mass (GVM) is 2940kg, and the gross combination mass (GCM) is 6440kg.
Fuel consumption
Tesla Model X
9/10
The P100D has a 100kWh battery pack which is stored under the floor. The NEDC official range for the P100d is 542km, but in reality Tesla says that your range on a full charge is about 100k less than that.
The 100D also has the 100kWh battery, but with a range of 656km NEDC. Following on from that is the 90D with a 90kWh (489km) and the 75D with the 75kWh battery (417km).
Charging through one of Tesla's Supercharger stations will put 270km into the battery in 20 minutes, while the wall unit which comes free (you have to pay to install it) will top it up at 40km per hour. There's also a charging cable which will plug straight into your power point at home – it's a lot slower at about 10-15km per hour but fine as a last resort.
---
Audi Q7
8/10
Claimed fuel consumption for the 50 TDI is just 6.1 litres per 100 kilometres. That seems preposterous given this big luxury seven seater weighs 2135kg.
The real-world fuel consumption I saw when I took the figures at the pump was 9.9L/100km. Note - I wasn't hauling seven people around for my test, which included highway, urban and back road driving. Your fuel economy will suffer if you fill all seven seats. 
But still, less than ten litres per hundred is a good real-world return. 
As mentioned, this model also has an AdBlue tank to help combat harmful exhaust emissions. The tank capacity is 24 litres, which is theoretically enough to last about 14,500km before it needs refilling. Interestingly, the pre-pay service packs for the Q7 include AdBlue top-ups, which is a nice convenience for owners.
Driving
Tesla Model X
9/10
I've had a couple of brushes with car sickness in the past, but never as a driver – until now. So full-on is the Model X P100Ds acceleration and my need to drive every car like it's a rally stage that I managed to make myself a little bit... ahem queasy.
It's not so much car sick, as train sick because piloting the Model X is like driving a high speed train – you've got that instantaneous sledgehammer acceleration, you're seated fairly high and the view from the cockpit with the giant windscreen (the largest in production) is cinematic. The bonnet is short and dips away so much so that the base of the windscreen appears to be the front of the car. Combine this with almost total silence and the only indication that you're travelling at warp speed is what feels like a punch in the guts and the landscape rushing towards you.
It's almost totally silent because there is a faraway hum of electric motors and I also picked up a bit of wind noise that seemed to come from around the rear doors. Apart from that the cabin is so well insulated there was next to no road noise.
How did it handle when it came to the first corner? Gobsmackingly well. The course wasn't an easy one either. Tesla had chosen the Black Spur – one of the best driving roads in Victoria that twists its way from Healesville to Marysville. I've driven it in everything from hot hatches to family sedans, but the Model X would be up there in proper sports car territory.
With the batteries running along the floor there's a low centre of mass and that goes a long way to reducing body roll and the air suspension not only gives the SUV a comfortable ride but great handling too.
Steering is on the heavier side, but it's quick and accurate.
Braking is almost not needed. As soon as you lift off the accelerator regenerative braking washes off speed quickly.
The driver's seat felt a bit tight around my legs - blame my height – but comfortable across my back - a bit on the firmer side through – some would say supportive.
While forward visibility is unrivalled, the small back window is hard to see through – the reversing camera is excellent, however.
The drive was only a short one, but in my 50km blast I used an average of 329Wh/km. The car wasn't fully charged when I set out and the gauge told me it had about 230km 'in the tank'. Upon returning there was just 138km left – but I was driving hard enough for me to make myself sick.
---
Audi Q7
7/10
The Audi Q7 is a comfortable seven-seater. Is it amazing to drive? No. Is it fun? Not really. But does it hit the target for what most people buying this type of car will want? Yeah, it does, mostly.
The air suspension allows for a soft and cushy ride for the most part, though the 21-inch wheels do pick up the sharper edges in the road surface. At highway pace, in either the Comfort or Auto drive mode, the ride is really quite good, while at lower speeds over speed humps it does a fine job, though it's not exceptionally smooth.
The body control is not quite as good as a Touareg or X5, but better than a Lexus RX or Mercedes GLE. It doesn't wobble too around much despite being tall and heavy, but nor is it super flat through corners if you're pushing harder than most parents would.
The steering is light and easy to judge in most situations but can be a little too heavy at lower speeds - like when you're negotiating multi-storey car parks. Its responsive enough at pace, just not as inspiring or enthralling as some rivals. 
The engine is the strongest part of the Q7's equation. The 3.0-litre V6 has a nice, healthy wad of pulling power in the mid-range, despite a little bit of lag below 2000rpm. There's effortless grunt for overtaking moves, and it easily has enough power in reserve to get you moving. 
The transmission is hard to fault, too, proving smart, smooth shifting and during my time in the car it never made a wrong move. 
But it is refined and quiet, without too much diesel clatter, not a lot of wind noise and a hushed amount of tyre rumble, too.
Safety
Tesla Model X
9/10
The Model X does not yet have an ANCAP rating, but all the signs are there that it is likely to easily score the maximum five stars. There's 12 airbags, AEB and when once the Enhanced Autopliot software is ready for download it will be fully autonomous, meaning it will drive you to where ever you need to go without you having to steer it – but check the regulations in your area before you get carried away with this, okay?
There were ISOFIX mounts and top tether points in all five of the back seats in our test car.
---
Audi Q7
8/10
The Audi Q7 was crash-tested in 2015 and was awarded the maximum five-star ANCAP score as a result. 
The Q7 line-up has 'Audi pre-sense city' with autonomous emergency braking (AEB) and pedestrian detection (but not cyclist detection, which is required to obtain five stars under 2019 criteria), blind spot monitoring, rear cross-traffic alert with acoustic warning and brake jolt when "critical". There's no standard-fit radar cruise control. There are dual front, front side and full-length curtain airbags fitted. 
There's also Audi's 'Exit Warning System' that can detect cars and cyclists and warn occupants, plus all models have hill descent control.
As mentioned, the 50 TDI gets a surround view camera, and all models have parking sensors front and rear, plus a semi-automated parking system. 
The updated model due mid-2020 is expected to increase the safety gear levels even further.
Ownership
Tesla Model X
8/10
The Model X is covered by a four year/80,000km warranty, while the battery and drive unit has an eight year infinite kilometre warranty.
---
Audi Q7
7/10
Audi's ownership plans saw a boost in 2019, with new pre-pay service plan options rolled out. There is the choice of a three-year plan for the Q7, which is priced at $2310, or five-year cover that'll set you back $3120. Servicing is due every 12 months/15,000km, and you'll be covered for oil change, filters, brake fluid, AdBlue, remote batteries and more. 
Audi offers a three-year/unlimited kilometre warranty plan, which is equal to its German peers but behind the likes of Lexus (four-year/100,000km) and Genesis (five-year/unlimited km).
Audi backs its models with a three-year roadside assist plan as part of its warranty cover, as well as three years of map updates for the sat nav.
At the time of writing, eligible Q7 models are being sold with a nice little value enhancement - a five-year/75,000km servicing plan included at no cost, as well as five years of roadside assist. 
Got concerns about issues, problems, faults, recalls or other common complaints? Check out our Audi Q7 problems page.