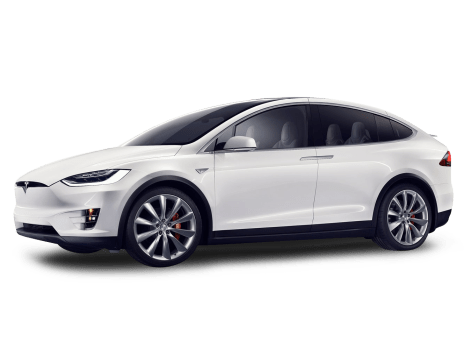 COMPARE
Tesla Model X
VS
Mercedes-Benz GLE-Class
Tesla Model X
Likes
Brutal acceleration
Excellent handling
Falcon Wing doors
Dislikes
Auto doors can be slow to open and close
Body styling is a little plain
Expensive options
---
Mercedes-Benz GLE-Class
Likes
In-line six engine
Grand interior
High-tech features
Dislikes
Visibility
Size
Three-year warranty
Summary
Tesla Model X
Richard Berry road tests and reviews the Tesla Model X SUV, with specs, energy consumption and verdict at its Australian launch in Victoria.
At some point Tesla need to come clean... and admit they're aliens. That they're the first fleet of colonists belonging to a super advanced civilisation from another planet.
How else are their vehicles so fast? How else can they travel so far on electricity alone and then be charged so quickly? And how is it they've mastered fully autonomous technology while other car companies are just dabbling with experimental self-driving tech?
Wake up people, Elon Musk isn't Tesla's CEO he's General Eeeekbleeeergh from Centauri 1. Come on, his really bad human mask is a dead giveaway.
Okay, maybe not. But we were mighty impressed with the Model S when we reviewed it and now the Model X large SUV has arrived in Australia. Like the Model S the Model X is completely electric, and with a best 0-100km/h claim of 3.1s that doesn't just make it the fastest accelerating SUV around, it's actually one of the quickest cars on the planet.
So does this new gift from our alien overlords live up to the hype? Maybe it's quick to 100km/h but does it handle like a block of cheese at the first corner? Is it a practical SUV? Does it tow? And what made me want to throw up? We found out by piloting the angriest one in the range - the P100D.
| | |
| --- | --- |
| Safety rating | — |
| Engine Type | — |
| Fuel Type | Electric |
| Fuel Efficiency | —L/100km |
| Seating | 5 seats |
---
Mercedes-Benz GLE-Class
Not so long ago, even the idea of 'coupe SUV' would have been considered just a little bit silly.
But not anymore. This almost contradictory bodystyle is well and truly here to stay, as evidenced by the expanding catalog of available models pouring out of premium automakers.
Benz tells us, for example, that coupe versions make up some 25 per cent of its GLE sales in Australia.
Which brings us to this car – the second-generation GLE coupe. We were sent to its international launch to find out what's new, what's changed, and what Benz has in store for the Australian market, come its arrival in Q3 of 2020. Read on to find out what we discovered.
| | |
| --- | --- |
| Safety rating | |
| Engine Type | 2.0L turbo |
| Fuel Type | Diesel |
| Fuel Efficiency | 6.9L/100km |
| Seating | 5 seats |
Verdict
Tesla Model X
8.6/10
Hugely impressive all round – from its brutal acceleration to its practicality. It's expensive when optioned to the hilt, but this is a special car. I miss the noise of petrol engines, though and the drama which goes with it. Alien technology, then? Nope, more likely the future of human travel. Just make sure you have the stomach for it.
Would you pick a Model X over an X6 or GLE Coupe? Tell us what you think in the comments below.
---
Mercedes-Benz GLE-Class
7.6/10
Whether you like Coupe SUVs or not is an entirely subjective matter, but there's no denying the GLE 53 is a tech and spec showcase – some of the best Mercedes has to offer. If you can get past its relatively enormous dimensions and naturally compromised visibility – it's even a hoot to drive.
The significant proportion of GLE consumers who are picking one of these over the regular version will be pleased with its many improvements. We'll know more about how its price and specification lines up against primary rivals closer to its Australian launch date, so stay tuned.
Note: CarsGuide attended this event as a guest of the manufacturer, with travel and meals provided.
Design
Tesla Model X
8/10
I'm pretty sure the designer who came up with the shape for the Model X was sitting at his computer and looked down at the mouse in his hand and said: "That's it! Now where are we having lunch?"
With coupe styling similar to BMW's X6 and Mercedes-Benz's GLE Coupe and with short overhangs like them too, the Model X is one sleek hunk of SUV. Actually at the time of writing the Model X is officially the most aerodynamic SUV on earth with a drag coefficient of 0.24, that makes it 0.01 slipperier than the Audi Q8 SUV Concept.
The Q8 will come as a fully electric SUV like the Model X, but the Benz GLE Coupe and BMW X6 run are powered by diesel and petrol only. The closest electric equivalent is the GLE 500e and the X5 xDrive 40e, but these are plug-in hybrids that still use petrol. The Model X is far closer in shape, size and spirit to the GLE Coupe and X6 - it's just that their electric versions haven't been born yet.
The Model X is just short of drop-dead gorgeous, just short because there are some elements which while they may make aerodynamic sense aren't that aesthetically pleasing. Sure electric cars don't need a grille, but its face is a bit plain without a mouth. The way the rear of the car ends abruptly like it's been sawn off reminds me of the Toyota Prius's bottom.
What makes it possible to overlook these not-so-pretty points are stunning design features such as the massive swept back windscreen, the wheel arches filled with giant 22-inch rims and those upward opening Falcon Wing doors.
That slippery shape also hides just how enormous the Model X is but the dimensions don't. At 5037mm end to end the Model X is 137mm longer than the Benz GLE Coupe and 128mm more than the BMW X6. The width with mirrors folded out is 2271mm which is 142mm wider than the GLE Coupe and 101mm  more than the X6. But at 1680mm the Model X isn't as tall as them – the GLE coupe is 1709mm and the X6 is 1702mm.
Ground clearance ranges from 137-211mm, which is not bad for an SUV.
It may be an SUV but the Model X has all the Tesla hallmarks – from that window profile to the featureless face. The same goes for the cabin with its giant display, beautiful high-quality materials and stylish design.
---
Mercedes-Benz GLE-Class
8/10
The GLE Coupe has improved so much in its looks it's easy to see when it came to the second-generation GLE underpinnings, Benz had it planned from the beginning.
It looks mean, especially the 53 with its giant toothy grille. The stance is low and wide for an SUV, and I'm especially a fan of the much more resolved rear end.
It's less bulbous and frumpy, more slick and menacing, rounded out nicely by the flick of a lip spoiler jutting out the rear.
You might think proportionally, the very idea of a coupe SUV is silly, and there's no denying that, but then, you and I might not be the target audience.
That audience is someone looking for an avant-garde take on what a sports car actually looks like. They will be pleased – I'd say its even more resolved than BMW's X Coupes and a little less science-fiction than Audi's Q8. The incoming Coupe version of the Porsche Cayenne will be a real challenger.
The presence the GLE Coupe exudes extends to the inside, where there's plenty of Mercedes wow factor. Level what you might at the brand's use of silver fittings and flat dual-screen set-up, there's no denying Benz offers an interior entirely unlike its competition.
The GLE has one of the best of the recent Benz interiors, too. I love the way the big dual-screen set-up is framed in a 'leather'-clad bay of vents.
I also like the real wood trim on our test car which runs across the dash and flows into the doors, and of course the wholly unnecessary vent-overload (becoming a Benz signature) pride of place in the centre of the dash.
It's complemented by the tape-deck style silver switches for the climate controls which protrudes underneath.
The materials are great, with Artico trim running down the centre console, and across each doorcard. Almost every surface you'll reasonably come into contact with is soft, and the commitment to real metals and wood is admirable.
Other highlights include the comfortable seats (with heating which extends into the armrests!) and AMG wheel which is flashy and aggressive, well suited to such a gratuitous vehicle.
Practicality
Tesla Model X
8/10
Yes it's fast and electric but if you take the utility out of an SUV you're left with just a sports vehicle, right? So the Model X needs to be practical – and it is.
There are five seats as standard, but you can option six or seven seat layouts. The GLE coupe, the X6, even the Q8 (when it finally arrives) only have room for five. All are individual buckets seats in the Model X – two in the front, three in the second row and two more in the third in the case of the seven seater.
Now the real test. I'm 191cm tall, so apart from being refused entry onto some amusement park rides sitting behind my own driving position can be a challenge in various cars. In the Model X I fit but with about a thumb nail's gap – which is fine. Headroom is good because of the recessed windows in the Falcon Wing doors' which become the roof when closed.
The P100D we drove was optioned with seven seats. Back in the third row headroom is limited because of the roofline. Legroom is adjustable because the second row seat can slide forward but I couldn't sit behind myself. The third row really is for kids or Danny DeVito – entry though is excellent thanks to that sliding second row.
Storage is good with six cup holders (two in each row of seats), medium sized bottle holders in the front doors (the back doors don't because, gravity), a large centre console bin, and a glovebox.
There's no engine under the bonnet and so it becomes a front boot (a froot?). The combined luggage capacity of the froot and the back boot (with the third row folded) is 2180 litres.
All doors open automatically – the front ones and the rear Falcon wings. They are a bit slow and forcing them only makes them grind their motors angrily. They're a great party trick but if you're getting in and out frequently – as I was when doing the photo shoot, they become a hassle.
The Falcon doors are clever, though, in that they can open in just 30cm of space either side of the vehicle.
---
Mercedes-Benz GLE-Class
7/10
Naturally, the entire idea of shaving a solid bit of roof off of an SUV is going to compromise the amount of 'practicality' you get from such a large footprint.
Those compromises are not only there, but they are quite obvious. The sheer height of the GLE makes peering over the edge of the bonnet difficult for parking, and the sloped roofline causes the A-pillar to eat quite a bit of your field of vision.
As you might imagine, it's genuinely difficult to see much out of the back of the GLE Coupe. I caught myself continually adjusting the rear vision mirror – as though somehow it would grant me more vision out of the letterbox rear window.
While front passengers get away with plenty of room, rear passengers are a little harder done by. This is again, largely due to the roof pillar, which eats into headroom and gives the cabin a claustrophobic feel.
Thankfully, legroom is fantastic (largely due to that massive GLE platform), the trim is all just as good as it is in the front seats, and the back of the centre console gets its own set of climate controls, adjustable air vents and USB-C power outlets.
I'd hardly say there's an abundance of bottle holders for occupants, but there are a few. They aren't big or packaged in ideal locations, but you'll be able to get away with four 300ml containers in the front and four in the rear.
The boot has been re-worked from the GLE Coupe's predecessor, there's five extra litres on tap, for a total of 655 litres (VDA) – so it's far from useless, but still down significantly from the full size GLE which has a massive 825L of space.
Benz has made the boot more useful, too, lowering the sill by 60mm for easier access.
Price and features
Tesla Model X
9/10
The P100D is the king of Model Xs (the P stands for Performance, the D for Dual motors) and has a list price of $271,987. Under this is the $194,039 100D, then below that is the 90D for $187,671 and then the line-up's 75D entry variant for $166,488.
Yes the P100D we drove is $100K more than the entry car, but you do get some sweet standard features.  Things like the Ludicrous Speed Upgrade which drops the 0-100km/h time from 5.0 seconds to 3.1 seconds. There's the higher capacity battery for increased range and performance, plus the rear spoiler with three height settings. The Falcon wing doors are standard, too.
Other standard features found on each variant include the 17-inch touch screen, nine-speaker sound system with Bluetooth connectivity and front and rear parking sensors. Not counting the reversing camera the Model X also comes equipped with seven other cameras – these are for the Enhanced Autopilot self-driving option ($7500) which is currently being developed but will be rolled out soon according to Tesla.
Standard as a five seater, a six seat option costs $4500 and seven seats will need you to part with $6000.
Our test vehicle was also fitted with the optional Towing Package – yup you can tow with the Model X. It's braked towing capacity is 2500kg.
Our test car with all of its options was pushing the $300K mark.
---
Mercedes-Benz GLE-Class
7/10
There's no dancing around the fact that the GLE Coupe is a niche, gratuitous product, targeted at a well-off consumer.
We don't know what the pricing will be for the Australian range yet – and we won't for a few months. But what we do know is Mercedes-Benz will only bring two highly specified variants to our market for the launch.
Those two will be the AMG-tuned GLE 53 which we were able to test at the launch, and a slightly lesser specified GLE 450.
Expect tall pricing, north of the wagon bodied GLE 450 ($111,341) for the 450 Coupe and outgoing GLE 43 Coupe ($145,829) for the GLE 53 Coupe.
The GLE Coupe will go into battle against the new BMW X6 (from $121,900) and Porsche Cayenne (from $116,600) and Audi Q8 ($128,900)
Standard features, as with the rest of the second-generation GLE range will be pretty good. We don't know exactly what Australian-specified vehicles will get, but the GLE 53 as tested in Europe came with an extensive list of items.
You can expect all variants to get 20- to 22-inch alloys, electric tailgates, LED headlights, and Benz' signature 'Artico' faux leather interior trim. The 53 also had a swish fully RGB adjustable interior ambient lighting suite and real wood in the dash. Very nice.
All GLE Coupes will have the impressive MBUX (I'm told it's said "em bee you ex", not "em bucks") digital dash and multimedia suite, consisting of two 12.3-inch screens, one a digital dash, the other a multimedia screen.
The flashy setup also supports Apple CarPlay and Android auto as well as the usual connectivity via Bluetooth and packs several USB C outlets alongside Aux and USB 2.0. Our test 53 had a head-up display, too.
Mercedes' built-in assistant (summoned by uttering 'Hey Mercedes') has perhaps the best native voice recognition on the market in terms of its accuracy and what it can do.
You can do things like adjust air conditioning, open the sunroof shade (oh yes, the GLE comes with a panoramic sunroof, too), and even find your specific music tracks via internet radio.
Then there's the built in nav suite which is also one of the better ones on the market, featuring some very cool innovations.
The system will switch to the forward-facing camera when approaching an intersection and show you where to exit using augmented reality. Neat.
The 53's system is also uniquely adjustable with AMG-specific themes and modes for the dash cluster, setting it apart from the lesser GLE 450 when it arrives.
It's safe to assume there will be an extensive options list, including the 'E-Active Body Control' system (a $13,000 option on the wagon version) which uses cameras to detect road quality and optimize the air suspension system to suit. It also leans into corners. We're keen to test it when it becomes available on the GLE 450.
Engine & trans
Tesla Model X
9/10
The Model X is all wheel drive. The P100D has a 193kW/330Nm at the front axle and a 375kW/600Nm at the rear; the rest of the variants just have the 193kW/330Nm motor front and rear.
There is no transmission in the traditional sense, just a single fixed ratio (1:8.28) gear. That means smooth, strong instantaneous oomph.
---
Mercedes-Benz GLE-Class
8/10
Australia will only get one engine in the GLE Coupe – a 3.0-litre 48-volt mild-hybrid in-line six-cylinder twin-turbo petrol.
There will be two states of tune. The 450 will be able to make use of 270kW/500Nm, while the AMG-spec GLE 53 we were able to drive at the launch has more power still (thanks to extra hybrid augmentation on the turbo) for a total of 320kW/520Nm.
For a quick comparison, the single-variant Q8 produces 250kW/500Nm from a twin-turbo V6, while the equivalent X6 – the M40i packs a 3.0-litre twin-turbo in-line six to make 250kW/450Nm.
The GLE 53 has a nine-speed auto transmission which is specially tuned by AMG to go with the expanded list of available drive modes. All Australian GLE Coupes will be all-wheel drive via a permanently active '4Matic+' system.
Fuel consumption
Tesla Model X
9/10
The P100D has a 100kWh battery pack which is stored under the floor. The NEDC official range for the P100d is 542km, but in reality Tesla says that your range on a full charge is about 100k less than that.
The 100D also has the 100kWh battery, but with a range of 656km NEDC. Following on from that is the 90D with a 90kWh (489km) and the 75D with the 75kWh battery (417km).
Charging through one of Tesla's Supercharger stations will put 270km into the battery in 20 minutes, while the wall unit which comes free (you have to pay to install it) will top it up at 40km per hour. There's also a charging cable which will plug straight into your power point at home – it's a lot slower at about 10-15km per hour but fine as a last resort.
---
Mercedes-Benz GLE-Class
8/10
The claimed combined cycle fuel consumption figure for the GLE 53 Coupe is 9.3L/100km, and while that's not bad for something this heavy – keep in mind it's an NEDC figure and not the widely-used WLTP figure so it could be a bit different by the time the GLE Coupe launches here.
Regardless, the fuel consumption is helped along by the abundance of ratios in the transmission and 48-volt mild-hybrid additions which help to remove inefficiencies from the drivetrain.
Our sweet but brief drive route in the Austrian Alps was not a fair reflection of fuel consumption, so we don't have a real-world figure for you yet.
Expect the GLE 53 to require premium 98 RON unleaded petrol to fill its 65-litre fuel tank.
Driving
Tesla Model X
9/10
I've had a couple of brushes with car sickness in the past, but never as a driver – until now. So full-on is the Model X P100Ds acceleration and my need to drive every car like it's a rally stage that I managed to make myself a little bit... ahem queasy.
It's not so much car sick, as train sick because piloting the Model X is like driving a high speed train – you've got that instantaneous sledgehammer acceleration, you're seated fairly high and the view from the cockpit with the giant windscreen (the largest in production) is cinematic. The bonnet is short and dips away so much so that the base of the windscreen appears to be the front of the car. Combine this with almost total silence and the only indication that you're travelling at warp speed is what feels like a punch in the guts and the landscape rushing towards you.
It's almost totally silent because there is a faraway hum of electric motors and I also picked up a bit of wind noise that seemed to come from around the rear doors. Apart from that the cabin is so well insulated there was next to no road noise.
How did it handle when it came to the first corner? Gobsmackingly well. The course wasn't an easy one either. Tesla had chosen the Black Spur – one of the best driving roads in Victoria that twists its way from Healesville to Marysville. I've driven it in everything from hot hatches to family sedans, but the Model X would be up there in proper sports car territory.
With the batteries running along the floor there's a low centre of mass and that goes a long way to reducing body roll and the air suspension not only gives the SUV a comfortable ride but great handling too.
Steering is on the heavier side, but it's quick and accurate.
Braking is almost not needed. As soon as you lift off the accelerator regenerative braking washes off speed quickly.
The driver's seat felt a bit tight around my legs - blame my height – but comfortable across my back - a bit on the firmer side through – some would say supportive.
While forward visibility is unrivalled, the small back window is hard to see through – the reversing camera is excellent, however.
The drive was only a short one, but in my 50km blast I used an average of 329Wh/km. The car wasn't fully charged when I set out and the gauge told me it had about 230km 'in the tank'. Upon returning there was just 138km left – but I was driving hard enough for me to make myself sick.
---
Mercedes-Benz GLE-Class
8/10
The resurgence of the in-line six engine is a glorious thing, and it makes the GLE 53 quite a fun, if chunky, unit to drive.
Acceleration is urgent thanks to the pre-spooled first-stage turbo, and the transmission flicks through the gears like there's nothing to it.
It's perhaps not as 'smart' on the downshifts as competitor transmissions from Audi or Porsche, although Mercedes was keen to point out this will get better over time as the car's computer 'learns' your driving characteristics.
Thankfully though, unless you're in 'Eco' mode, the GLE 53 does a great job of letting you ride each gear out, giving you that signature in-line six sensation of an entire revolution range of relatively even torque distribution – a characteristic which Mercedes has gone to pains to perfect on a turbocharged engine.
This has the result of letting you bask in the sound for precious extra seconds.
While not as furious as preceding V8s – it is distinct. It's refined and rich, although more subdued than you might have come to expect from vehicles wearing the Affalterbach badge.
I'm a fan. It's an engine befitting a more refined sports machine than a garish statement.
The AMG suspension tune was great, too, keeping the massive Coupe truly under control in the corners, while soaking up bumps (which we'll admit, there were few of on Austria's immaculate roads).
It was interesting to read colleague Matt Campbell found the standard suspension less than impressive on the regular SUV-shaped variants, so we'll see what the more basic set-up on the 450 is like at the Coupe's launch.
I have no complaints about the steering, which proved to be responsive, smooth and accurate, while not erring too far on the heavy side, even in 'Sport' or 'Sport+' mode.
My main complaints lie with outward visibility and the sheer size of the GLE's body. There were some nerve-wracking moments piloting it at speed around narrow streets with tall snow embankments encroaching.
And no matter how much I adjusted my seat and mirrors, the view out the back was particularly compromised.
Safety
Tesla Model X
9/10
The Model X does not yet have an ANCAP rating, but all the signs are there that it is likely to easily score the maximum five stars. There's 12 airbags, AEB and when once the Enhanced Autopliot software is ready for download it will be fully autonomous, meaning it will drive you to where ever you need to go without you having to steer it – but check the regulations in your area before you get carried away with this, okay?
There were ISOFIX mounts and top tether points in all five of the back seats in our test car.
---
Mercedes-Benz GLE-Class
8/10
We don't know exactly how Australian cars will be specified yet, but expect the two GLE Coupes to come with flagship active features like high-speed auto emergency braking (AEB), lane departure warning with lane keep assist, blind spot monitoring, rear and front cross traffic alert, adaptive cruise control, 360 degree parking sensors and cameras, fully auto LED headlights, semi-autonomous parking, and driver attention alert.
The GLE has nine airbags and dual ISOFIX child seat mounting points in the outer rear seats.
Regular wagon bodied GLE class vehicles have maximum five-star ANCAP safety ratings as of 2019, and we'll update you when we hear more about the Coupe variants.
Ownership
Tesla Model X
8/10
The Model X is covered by a four year/80,000km warranty, while the battery and drive unit has an eight year infinite kilometre warranty.
---
Mercedes-Benz GLE-Class
7/10
Mercedes continues with its three-year/unlimited kilometre warranty which is frustratingly standard across European premium car manufacturers in Australia– particularly its primary competitors, Audi and BMW. We doubt this will change any time soon.
Like VW Group competitors, though, Mercedes is now bundling in service costs in packages which can be tacked on to finance. The GLE requires servicing once a year or every 15,000km – we'll update you on the cost of the packages closer to the Coupe's local launch.