Mazda CX-5 2.2-litre Skyactiv 2012 review
If you're contemplating a compact SUV purchase, it could be well worthwhile to keep your powder dry and wait for the Mazda CX-5 with Skyactiv. Skyactiv is essentially an optimisation program adopted by Mazda to make its vehicles use less fuel, feel better to drive, offer the highest levels of safety and perform well.
Rather than go all out with radical new technology, Mazda paid careful attention to the simple stuff for Skyactiv. It's their answer to Bluemotion from VW, Efficient Dynamics from BMW, BlueEfficiency from Benz and other similar programs from most leading carmakers.
Technology
Mazda's work on its powertrains sees direct fuel injection, variable valve timing and a high (for a petrol engine) 14:1 compression ratio on the petrol 2.0-litre four and twin turbo charging, variable valve lift and a low 14:1 compression ration on the 2.2-litre turbodiesel.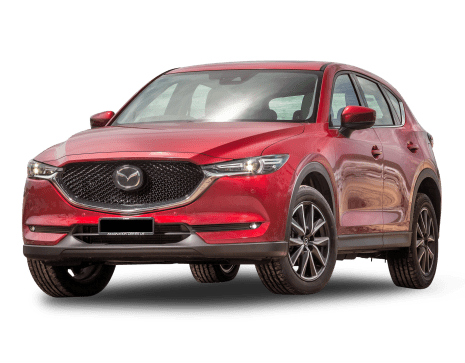 Explore the 2012 Mazda CX-5 range
Internal engine friction has been reduced and the diesel's exhaust particle filter is the only "after treatment" required for it to achieve an imprerssive Euro 6 emissions rating. The six-speed transmissions have been reduced in size and weight, altered for efficiency with a wider lock-up range on the auto and quicker shifts.
The manual gains an MX5-like shift change and gearing accurately calibrated for each engine. Other efficiency changes have been made to the steering and chassis components.
Skyactiv will be progressively introduced in Mazda vehicles and ushers in a few firsts for the company including the six-speed automatic transmission and a twin-turbo diesel engine. It will be applied to four cylinder engines only in capacities from 1.3-2.5 litres.
Mazda sees its motoring future using conventional reciprocating petrol and diesel engines in a quest to cut fuel consumption (and emissions) across the entire Mazda range rests with Skyactiv. This will be achieved with little or no impact on affordability. A new Kodo design language comes with the CX-5's Skyactiv technology making the vehicle one of the most important from Mazda for a decade. While donning its "green" cap with Skyactiv, Mazda hasn't turned its back on a core strength of the brand – driving pleasure.
The CX-5 has been engineered to compete with Europe's best compact SUVs and was benchmarked against the likes of Volkswagen Tiguan and X3 BMW. Engine stop/start called i-Stop makes an appearance on CX-5 in both automatic and manual, petrol and diesel models. It's partly responsible for the significant 15-20 per cent fuel economy reduction in CX-5 when compared with CX7. Weight reductions of up to 200kg have been made through better design and a reduction in physical size of powertrain components.
The CX-5 itself is externally slightly smaller than the CX7. All wheel or front wheel drive is available with the diesel and petrol engines as is automatic and manual transmission. A number of specification levels will be offered as yet undetermined. Pricing should be close to the CX7.
Driving
The CX-5 is an excellent drive in all variants but particularly the diesel in manual or auto. It is unusual in that the engine delivers strong performance right up to 5200rpm where other turbodiesel sign off at around 4000. It's super smooth and quiet and is infact nearly impossible to differentiate from the petrol engine in this area.
The European spec' cars we drove (similar to what we'll get) had excellent handling and ride qualities coupled with sporty steering and braking feel. If it was our decision, we'd get exactly this spec in Australia.
Design
Though "disguised" for our drive, the CX-5 exhibits striking form with a family Mazda look to its face and sharp crease lines running along the side. The headlights have a predatory bird look and front screen is steeply raked. It has real presence on the road.
Inside is along a similar modern and functional vein – with plenty of current Mazda equipment. The dash itself is a pleasing shape and there's plenty of room inside for five with a decent load space down the back.
Safety
Though possibly not on the books for Aussie consumption, CX-5 ushers in availability of blind spot warning, lane departure warning and a version of emergency braking to prevent rear end collisions. The vehicle will get a five star crash rating.
Verdict
Big tick for the CX-5. Better than the CX-7 on all scores. It's the right size and has distinctive and attractive lines. The 2.0-litre petrol engine has adequate torque but could do with a bit more. We'd buy the diesel in manual or auto every day. Perhaps Mazda should forget the petrol model for Australia, the diesel is that good.
Pricing guides
$16,990
Based on 359 cars listed for sale in the last 6 months
Range and Specs
| Vehicle | Specs | Price* | |
| --- | --- | --- | --- |
| Grand Tourer (4x4) | 2.0L, ULP, 6 SP AUTO | $12,200 – 17,600 | 2012 Mazda CX-5 2012 Grand Tourer (4x4) Pricing and Specs |
| Maxx (4x2) | 2.0L, ULP, 6 SP AUTO | $9,400 – 14,190 | 2012 Mazda CX-5 2012 Maxx (4x2) Pricing and Specs |
| Maxx (4x4) | 2.0L, ULP, 6 SP AUTO | $10,500 – 15,400 | 2012 Mazda CX-5 2012 Maxx (4x4) Pricing and Specs |
| Maxx Sport (4x2) | 2.0L, ULP, 6 SP AUTO | $9,900 – 14,850 | 2012 Mazda CX-5 2012 Maxx Sport (4x2) Pricing and Specs |
Pricing Guide
$10,990
Lowest price, based on 357 car listings in the last 6 months
View cars for sale
Similar Cars
Toyota RAV4

Hyundai Tucson

Volkswagen Tiguan

Mazda CX-3