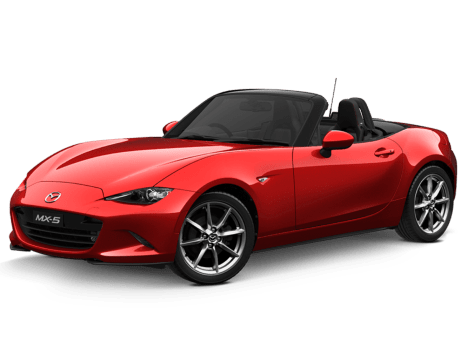 COMPARE
Mazda MX-5
VS
Audi A3
Mazda MX-5
Likes
Design
Fun factor
Legendary status
Dislikes
Tiny boot
No CarPlay (it's coming)
Slightly firm ride
---
Audi A3
Likes
Sedan styling looks superb
Quattro all-wheel drive on highest grade
AEB on all grades
Dislikes
Plain standard interior
Limited rear legroom
Low on standard features
Summary
Mazda MX-5
Buying a car for fun, rather than just transport, is an unimaginable luxury for most of us, because most vehicles that are genuinely joyous - the kind that make you smile like a four-year-old in a bath full of gelato - are almost unobtainably expensive.
And that's what makes Mazda's MX-5, a car quite accurately described by the company's spokes folk as the "icon" of the brand, so special. Because it is hugely fun, and it is far more of a toy than a tool, and yet, with a price starting at just $34,190, it's the kind of dream car that's actually within touching distance of reality.
Mazda has just unveiled yet another facelift for the venerable roadster (and retractable hardtop) as part of its goal of "continually seeking new ways to make it even more thrilling and satisfying to drive".
It has aimed to kick this goal by redesigning the cupholders, giving it black wheels instead of silver ones and, for the first time, offering a steering wheel with telescopic adjustment (people have only been wanting that since its first version, back in 1989). There's also a new reversing camera tucked into its taut behind.
Rather more importantly, the 2.0-litre engine has also been given a proper going over and now creates more power, more torque, and revs higher, for an even better aural experience. Which sounds pretty fabulous. Prices are up $750 across the range to pay for all that, which sounds like a reasonable deal. Let's find out.
| | |
| --- | --- |
| Safety rating | |
| Engine Type | 2.0L |
| Fuel Type | Premium Unleaded Petrol |
| Fuel Efficiency | 7.2L/100km |
| Seating | 2 seats |
---
Audi A3
Audi's A3 is one of the most affordable ways into this prestige German brand. But like some amusement park mirror maze you'll find with so many A3 variations there are numerous, seemingly identical ways into the model. 
Which one do you choose? There's a sedan, a hatch, and a convertible with four different engines, not to mention front- or all-wheel drive.
 
That's why this range review is here – to guide you through the A3 hall of mirrors, and identify the right model for you.
| | |
| --- | --- |
| Safety rating | |
| Engine Type | 2.0L turbo |
| Fuel Type | Premium Unleaded Petrol |
| Fuel Efficiency | 5.8L/100km |
| Seating | 5 seats |
Verdict
Mazda MX-5
8.1/10
This latest face lift for the fabulous Mazda MX-5 may not be revolutionary, and indeed some if it is just fiddling at the edges, but the improved safety, rear-view camera and nice black wheels may impress a few buyers, while the extra zest and reviness from the engine will most certainly attract fans of this car's core ingredient - fun motoring.
Do you dream of having an MX-5 in your garage, just for sunny days, tell us in the comments section below.
---
Audi A3
7.5/10
The Audi A3 is now five years into this current generation and it's beginning to show its age in terms of tech and styling in the cabin, despite updates adding new equipment. It's expensive compared to most small cars but is spot-on for a prestige vehicle. 
The Sedan is, in my view, the best looking small sedan on the planet and offers the biggest boot space in the A3 range. The Sportback, however, is arguably more practical, with better legroom, headroom and cargo carrying ability (with the rear seats down). The Cabriolet has the same perfect proportions as the sedan, but like all good convertibles doesn't make practicality a priority. 
The sweet spot of the range would have to be the Sportback 2.0 TFSI quattro S Line with its $50,000 list price making it the most affordable but most 'specced up' A3 in the entire range.
You have $50,000. Do you buy an entry-grade Audi A3 Cabriolet, a 2.0 TFSI Sport Sedan or a Volkswagen Golf R? Tell us what you think in the comments below.
Design
Mazda MX-5
9/10
Changes to the look of the MX-5 would best be described as singular, because there is only one - a swap from silver wheels to metallic black ones, in a bid to "emphasise the car's visual impact".
Even the base model roadster gets the new black look, albeit 15-inch versions, while the RF gets 17-inch alloys. the range-topping GT, strangely, gets 17-inch silver wheels.
Other than that, the looks of the MX-5 remain the same, and that's a very good thing, because this is, far and away, the angriest and sexiest looking version of the classic two-seater ever to roll out of the Hiroshima factory.
Apparently there are people who find the latest look too sharp, too Japanese and too anime, and would prefer a look to the rounded, happy-puppy looks of old. But those people are simply wrong. This is a fantastic looking vehicle, no matter which colour wheels it has.
When it comes to paint colours the same six remain on offer - 'Soul Red Crystal Metallic', 'Machine Grey Metallic', 'Snow' aka 'White Pearl Mica', 'Ceramic Mica', 'Eternal Blue Mica' and 'Jet Black Mica'. So no green, yellow, orange or gold. Soul Red is clearly the choice here.
There is a body kit available as part of the optional Kuroi sports pack ($4220), which also includes a rear diffuser. Roof racks are not an option. Floor mats will also cost you $166.23 extra. Ouch.
---
Audi A3
8/10
The A3 comes in three body styles: a five-door hatch, which Audi calls the Sportback; the four-door Sedan, and a two-door convertible which it refers to as the Cabriolet. It may not surprise you to learn they're all different sizes, too.
The Sportback doesn't look like the shortest of the three but at 4313mm end-to-end it's 145mm shy of the Sedan and 110mm shorter than the Cabriolet. But those exterior dimensions don't tell the whole story on interior space. So, which one is more practical? We'll get to that.
But first, the looks. The Sportback has a wagon-like appearance with its large (for a hatch) rear quarter windows. If you think it looks longer than a regular hatchback, you're right: a Volkswagen Golf is 50mm shorter even though it shares the same platform as the A3.
However, unlike the Golf, there's something about the Sportback's proportions which doesn't seem balanced.
Then there's the A3 sedan. Now this is a perfectly proportioned car. Looking like a miniature version of the A8 limo, the A3 is one of the only tiny sedans on the planet that looks fantastic.
The Cabriolet is based on the Sedan, and it too looks beautifully proportioned. Soft tops, when they're up, never do much for a car's profile. Be it a Bentley or an A3, they always look better down. When the roof is down the A3 appears lower, sleeker, and tougher.
While all A3's have the same grille and headlight design the rear treatment of the Sedan and Cabriolet is more refined with their blade-like tail-lights and boot lid lip, than the Sportback, even if it does have a roof-top spoiler.
Interiors are identical across each A3 grade, the cabin benefiting from excellent fit and finish and the use of high-quality materials. But if you like bling-tastic cockpits, maybe you should be looking at a Benz A-Class because even the fanciest A3 money can buy, the RS3, comes with a small display screen and a rather low-key interior design. 
As for rivals, the new A-Class (which I've just reviewed) is a glitzy competitor in hatch form, with a soon-to-arrive sedan going head-to-head with the little Audi as well.
Or there's BMW's 1 Series hatch and 2 Series Coupe. The 1 Series hatch is seriously ugly, the 2 Series is stunning and looks fast standing still.
Practicality
Mazda MX-5
7/10
Once again, the changes inside the MX-5 are not huge, but one of them - the addition of telescopic adjustment for the steering column - will be very welcome to fans who have long wondered why they couldn't be just that bit more comfortable at the wheel.
This Mazda already had a fantastic, low-slung driving position that made you feel like part of the car, but it's even better now that you can have the wheel exactly where you want it.
There's also been a slight tweak to the design of the sun visors, for better coverage, and the gaps between the detachable cupholders - of which there are two - have been optimised to allow easier attachment and removal. They've also been made more rigid, "to suppress wobble", because no one likes a wobbly drink, particularly around fast bends.
In yet another example of paying attention to every detail, the levers you use to adjust the seats have also been made slightly thicker and more rigid, just so they feel better.
In terms of practicality, of course, it's not really a key selling point of any MX-5, nor has it ever been. There's limited oddment storage behind the gear lever and a tiny kind of lunch box behind your left shoulder, and a very small glove box as well, with no room for bottles, or anything else, in the doors.
There's not a lot of room, generally, in the MX-5's tight and glove-like cabin, but that's just the way it's supposed to feel. Small and perfectly snug.
The boot is deep-ish, but narrow, and it's overnight bags only in its 130-litre space (boot capacity in the RF is an even smaller 127 litres).
While shoulder and elbow room are limited, headroom is quite good, even in the hard-topped RF version.
---
Audi A3
7/10
The Sportback and Sedan have five seats, while the Cabriolet has four. Leg and headroom in the back row for all body styles is limited. The Sportback will give you the most rear legroom, while the sedan has a few millimetres more space for your knees than the Cabriolet. 
At 191cm tall I can sit behind my driving position in the Sportback with a pinkie finger's space, while my knees brush the seatback in the Sedan, and the Cabriolet won't accommodate my long legs back there at all.
  
Rear headroom in the Sportback isn't bad with enough room for my big head to clear the ceiling thanks to that tall(-ish) flat roofline while the sedan is a tighter fit but I just make it under. The Cabriolet's low fabric roof means only small adults or kids will be able to sit up straight back there – unless the top is down and then you have literally unlimited headroom.
Boot space varies obviously depending on the body style. The Sedan has biggest cargo capacity with 425 litres, the Sportback offers up 340 litres, but fold those rear seats down and you have 1180 litres at your disposal, plus a bigger aperture to fit stuff in. The Cabriolet's folding roof eats into the boot space, but you're still left with 320 litres even when it's down.
The folding roof is automatic and can be raised or lowered at up to 50km/h, but it's slow - I've timed it and it takes about 20 seconds to open or shut.
Storage throughout the cabin is limited, too. There are two cupholders up front in all cars, while the Cabriolet is the only A3 to have two cupholders in the back (they're between the rear seats). If you want cupholders in the rear of the Sedan and Sportback you'll have to option the $450 fold-down armrest which houses them.
All grades above the 1.0 TFSI come with storage nets in the seatback and front passenger footwell, 12-volt sockets in the rear centre console and boot, plus cargo nets back there, too. There's a USB jack in the centre console of all A3s.
Price and features
Mazda MX-5
8/10
Prices have risen $750 across the entire range for this new update to the MX-5, but Mazda Australia claims that's more than made up for by the extra new safety kit, plus the reversing camera, the new wheels and, in the case of the 2.0-litre models that 95 per cent of people will buy, more power, torque and revs on offer.
The base model Roadster, at a very temping $34,190, will still appeal to some purists who hate the idea of big, heavy roofs (70 per cent of buyers will go for the RF) and big, powerful engines.
Standard kit at that level includes that new reversing camera, 16-inch alloy wheels (now black metallic for extra visual menace), a cloth soft top, LED headlamps, power mirrors, rain-sensing wipers, climate-control air (but who needs that, with a convertible!), black cloth seats, a 7.0-inch touchscreen with 'MZD Connect', an audio system with six speakers and DAB+ (but no CD player), Bluetooth streaming, internet radio integration, satellite navigation, 'Smart City Brake Support', or AEB, in both forward and reverse, 'Traffic Sign Recognition', 'Driver Attention Alert' and reverse parking sensors and blind-spot monitoring.
Step up through the trim levels to the GT Roadster with the 2.0L and you're quickly over $40K at $41,960 (add another $2000 for the auto, if you must), and you'll score 17-inch alloys, adaptive LEDs headlights and DRLs, black or tan leather on your seats, which are now heated, a 'Premium' Bose stereo with nine speakers, 'Advanced keyless entry' and lane-departure warning.
Apple CarPlay and Android Auto gadgets are not available yet, but a dealer-fit fix is expected very soon, at some extra cost.
If you want the folding hard-top RF version, and most people do, then the basic spec will set you back $39,400, the GT $45,960 or the RF GT with the optional black roof $46,960.
It's still a lot of car, or at least a lot of fun in a little car for the money, but you'd have to consider whether you'd could be just as happy in a car that's almost as more fun but has five doors and a decent boot, like VW's Golf GTI.
What price, though, a roof-down drive on a summer evening? On its day, the Mazda makes a compelling argument against buying a Porsche Boxster. Which is high praise indeed.
---
Audi A3
7/10
The A3 isn't great value for a small car, generally speaking, because while you are getting a high-quality prestige vehicle, it doesn't come with a mountain of equipment that you might find on a more affordable little hatch or sedan.
 
Look at it this way: take $40 into a fish and chip shop and you'll walk out with your arms full of food, take the same amount into a Michelin-starred restaurant and you'll be lucky to get an entrée. Same with buying a prestige car – and the A3 really is a starter on the Audi menu.
 
Coming standard on the entry-grade $36,200 1.0 TFSI Sportback are xenon headlights with LED running lights, cloth upholstery, dual-zone climate control, a 7.0-inch touchscreen with sat nav, reversing camera, multimedia system with voice control, eight-speaker stereo, Bluetooth connectivity, CD player, front and rear parking sensors, rear view camera and 16-inch alloy wheels.
Only the Sportback comes in this 1.0 TFSI grade. The rest of the body styles start with the 1.4 TFSI ($40,300 for the Sportback; $41,900 for Sedan; $49,400 for Cabriolet) which comes with the 1.0 TFSI's equipment but swaps the cloth seats for leather upholstery and adds paddles shifters, aluminium-look interior elements and 17-inch alloy wheels.
Stepping up to the 2.0 TFSI Sport ($46,400 for Sportback; $48,000 for Sedan; $55,500 for the Cabriolet) adds leather sports front seats, aluminium door sills, Apple CarPlay and Android Auto, and 17-inch alloys with a different design.
The 2.0 TFSI quattro S line ($50,000 for the Sportback; $51,600 for Sedan and $59,100 for the Cabriolet) brings in lowered sports suspension, 18-inch alloys and LED headlights.
Each grade also attains more safety equipment, which we'll cover further on.
I've also reviewed Mercedes-Benz's new A200, which is a good model comparison for the A3. At a list price of $48,200 the 1.3-litre four-cylinder A200 is pricier than the 1.4 TFSI, but offers better value than the A3 2.0TFSI with more equipment, including two 10.25-inch display screens.
As for paint colours, only 'Brilliant Black' and 'Ibis White' won't cost you a cent more. Optional colours include 'Cosmos Blue', 'Tango Red' and 'Monsoon Grey'.
Engine & trans
Mazda MX-5
8/10
So, let's start with the engine that almost no one - other than rusted-on purists apparently - will opt for; the 1.5-litre engine lurking in the base-model roadster, which is still seen as "the ultimate expression of the MX-5", by the marque's hardcore, old-school fans.
Small tweaks to this engine - which will make up just 5 per cent of total sales - have seen power rise by a single kilowatt to 97kW, and torque bumped from 150Nm to 152Nm.
The bigger and more exciting changes have been made to the 2.0-litre engine, which is the only choice you have anyway if you're opting for the RF - which 70 per cent of buyers will - but in the case of both engines the control units have been revised to give a feeling of more direct acceleration, a sensation further exacerbated by tweaks to both the automatic and manual transmissions to offer quicker response times, and less "jerk" during acceleration.
Yes, you can have your MX-5 with a six-speed automatic transmission, and a shocking 43 per cent of buyers are tipped to make that choice, even though it is the wrong one. The six-speed manual goes with this car the way tomato sauce goes with a pie, or soy sauce with sushi.
Revisions to the 2.0-litre power plant, including the use of a new, dual-mass flywheel, have increased power significantly from 118kW to 135kW, while the redline has also soared to 7500rpm from 6800rpm. Overall torque is up from 200Nm to 205Nm.
The engineers claim to have a delivered a sensation of "urgent, limitless acceleration", with linear responses all the way up to that new rev ceiling. Against the stop watch, that means a 0-100km/h time for the 2.0 of 6.5 seconds in the Roadster or 6.8 in the RF, against 8.3 seconds for the 1.5-litre Roadster.
Mazda says there's also more torque available across the whole rev range, while tweaks to the exhaust system, including a new inner silencer structure, also provide a more resonant, exciting sound to go with the extra power and revs.
The engine uses a timing chain rather than a timing belt. Oil capacity is 4.1 litres.
---
Audi A3
7/10
Now on to the engines. Yes, I'm doing this in what may seem a strange order, but trust me, it's to guide you safely through the A3 range without anybody getting lost. We don't leave anybody behind here, not on my watch.
The grades indicate the engines in the A3 line-up – the higher the grade, the more powerful the engine. So, the range starts with the 1.0 TFSI which has a 85kW/200Nm 1.0-litre three-cylinder engine, and steps up to the 1.4 TFSI which has a 110kW/250Nm 1.4-litre four-cylinder with cylinder on demand (COD) letting it run on two cylinders when not under load). Both are front-wheel drive (FWD) cars.
Next rung up is the 2.0 TFSI Sport and that has a 2.0-litre four making 140kW/320Nm with drive going to the front wheels. The top of the range is the 2.0 TFSI quattro S line which has the same engine but is all-wheel drive (AWD).
Those are all turbo-petrol engines – yes, no diesels and no manual gearbox option either. All have a seven-speed dual-clutch automatics shifting the gears. 
If you're after something more hardcore in the same package, there are two halo 'models' that sit above the A3 range: the S3 with a 213kW/380Nm 2.0-litre turbo-petrol four and the RS3 with its 2.5-litre five-cylinder turbo-petrol making 294kW/480Nm. 
Given they are almost stand-alone models, the S3 and RS3 aren't included in this review, but you can read about them separately by clicking those links.
Fuel consumption
Mazda MX-5
8/10
Fuel economy for the little 1.5-litre engine is 6.2 litres per 100km for the manual or 6.4L/100km for the auto, while the 2.0-litre version - which is naturally aspirated rather than turbocharged or supercharged and thus wonderfully old-school, returns 6.8 and 7.0L/100km respectively in the roadster, rising to 6.9 and 7.2 in the RF.
All of these figures reflect an ideal world, rather than the real one, where you will regularly push it all the way through the rev range in several gears and get nowhere near those numbers.
---
Audi A3
8/10
Fuel usage depends on the engine and body style, with weights varying across the range. The most fuel-efficient engine is the 1.0-litre which is only offered on the Sportback, and Audi says over a combination of urban and open roads you should see it use 4.8L/100km.
 
The 1.4 TFSI Sportback uses 5.0L/100km, while the Sedan uses 4.9L/100km, but the heavier Cabriolet drinks more at 5.1L/100km.
My most recent A3 test car was a 1.4 TFSI Sportback and the trip computer reported 7.6L/100km over a mix of city and country kays - not bad.
The 2.0 TFSI Sport Sportback uses 5.9L/100km, the Sedan needs 5.8L/100km, the Cabriolet a bit more at 6.0L/100km.
The 2.0 TFSI quattro S Line Sportback uses 6.2L/100km, while the Sedan will go through 6.1L/100km and the Cabriolet again is highest with 6.4L/100km.
That raises the question of how much more does the Cabriolet weigh? About 170kg more than the Sedan and  Sportback thanks to the extra reinforcement needed to strengthen the body to compensate for the rigidity it loses by not having a fixed metal roof.
Driving
Mazda MX-5
9/10
Almost every time you drive an MX-5, of any generation, you find yourself doing a little glee face. There's something innocent, old-school and almost childish about how much fun they are.
The magic is in the simplest of set-ups - light weight, rear-wheel drive, short wheelbase, sharp steering, slick gearbox - and it's one that has only gotten better over the years with the addition of better technology. And, vitally, more power.
Every time you drive one, however, it's hard not to wonder how much more enjoyable it could be with just a few more herbs under the bonnet. The current iteration of the car, with its sharp, sleek lines and mean, take-me-seriously face, has been offered with a 2.0-litre engine for a while now, and it did make the MX-5 feel more potent than ever before… and yet you had to wonder if there was still a bit more lurking under the bonnet, waiting to be unleashed.
And now, finally and wonderfully, it has been. The upgraded version of the power plant produces more of its 205Nm of torque (up 5Nm) throughout the rev range, which now stretches all the way to 7500pm (up from 6800rpm), and power has taken a serious step up from 118kW to 135kW.
It's still not a huge number, but in a car that weighs just 1035kg (1087kg for the RF), it's enough to produce more than just the sprightly performance we've come to expect from this zippy Mazda.
The power now on tap means you can really up your pace if you want to, and go-to-jail speeds are now most assuredly an option for the keen/crazy driver.
What has always made the MX-5 one of the great sports cars, however, is that it's so much fun to drive even at lower, legal speeds, and that remains the case here. The way the car corners, the connection it seems to have to your core, through your hips and via your finger tips, remains as visceral and vital as ever.
It is telling that the engineers made no changes at all to the chassis or handling of this version, because they realised it was damn close to perfect already.
This MX-5, then, is just as much of a huge hoot as the one it replaces, it's just that it's now faster, and perhaps even a tiny bit louder, than before, and that is a very good thing.
---
Audi A3
8/10
I've driven all A3 variants from the 1.0 TFSI to the 2.0 TFSI quattro S Line, plus the S3 and RS3, but most recently I tested the 1.4 TFSI Sportback, which I'll focus on here.
Our car was fitted with two optional packages – the 'Style Package' which adds LED headlights, 18-inch alloys and sports suspension, and the 'Technik Package' which brings a virtual instrument cluster, an 8.3-inch display and sports steering wheel.
Those larger 18-inch alloys wearing low profile 225/40 Hankook Ventus S1 Evo2 tyres look great, but like thin-soled shoes you'll feel every imperfection on the road giving a harsher texture to the ride, plus they can be noisy on course-chip bitumen. 
I'd stick to the standard 16-inch wheels. Sure, they don't look as racy, but the ride from those, on 55 profile tyres, is a lot more cushioned.
Despite that grittier feel from the tyres the sports suspension is excellent and manages to soften bigger bumps well. Handling is good too, thanks to that suspension keeping the body well controlled.
Good visibility, steering that's light but offers decent feel, and a comfortable seating position make the A4 pleasant to pilot,  but not hugely engaging. If you're after more of a driver's car, the S3 and RS3 will deliver – trust me.
Acceleration isn't bad from the 1.4-litre, with 0-100km/h claimed to be 8.2 seconds. That dual-clutch transmission is a quick shifter and smooth even in bumper-to-bumper traffic, but only if you turn off the stop-start engine system (jerky and hard to tolerate). 
I'm also not a fan of the way the stop-start system switches the engine off as you coast to a stop at traffic lights and intersections. For me, that borders on a safety issue, particularly when needing to turn on an amber only to find you momentarily lack steering or power.
As mentioned in the engine/transmission section, the 1.4 TFSI Sportback is a FWD car. Put it on a steep hill, as I did on our test incline, and even in dry conditions it'll lose traction under hard acceleration. Traction control reins the slippage in, but AWD 'quattro' cars won't struggle for traction in the same circumstances. 
Safety
Mazda MX-5
8/10
The standard safety offering is another area that's had the facelifting magic applied to it for this upgrade, with more 'i-ACTIVSENSE' technologies now coming as standard across the range, and, finally, a 'Rear Monitor', or reversing camera, now standard, tucked away in the centre of the rear bumper.
New safety features include 'Smart City Brake Support', or AEB,  forward only on the base but also in reverse on GT and above, 'Traffic Sign Recognition', 'Driver Attention Alert' (GT spec only) and reverse parking sensors. Blind-spot monitoring was already included.
If all that fails you'll be protected by four airbags, two each for driver and passenger. The MX-5 received a five-star ANCAP rating when it was most recently tested, back in 2016.
---
Audi A3
8/10
The A3 has a maximum five-star ANCAP rating from its 2013 crash test, which applies to the Sportback, Sedan and Cabriolet.
While the Sedan and Sportback have seven airbags, the Cabriolet has just five, missing out on the head-level curtain bags.
The amount of advanced safety equipment increases as you step up through the grades, but AEB is standard across the range. Lane keeping assistance, blind spot warning and rear cross traffic alert becomes standard from the 2.0 TFSI Sport upwards, while the lower grades can attain these with the optional $1500 'Assistance Package'.
For child seats there are two ISOFIX mounts and two top tether anchor points across the back seats in the Sedan, Sportback and Cabriolet.
Ownership
Mazda MX-5
8/10
As well as being good value you can bet this car will have good resale value. Check out our problems pages to see if there any automatic transmission, clutch or engine problems, faults or issues.
The warranty is now five years/unlimited km, which is pretty good for a sports car, but you will have to service it every year/10,000km. The first service is $304, the second $347, then back to $304 for the third and fifth. You get the picture.
---