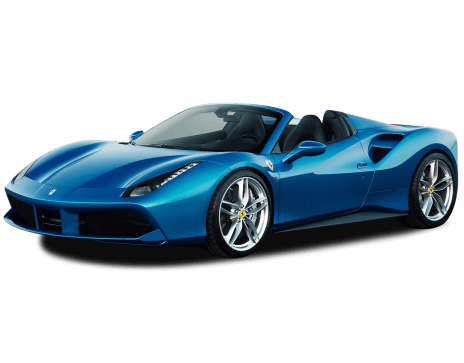 COMPARE
Ferrari 488
VS
Lotus Exige
Ferrari 488
Likes
Monstrous torque
Incredible dynamics
Quality (in every sense of the word)
Dislikes
Breathtaking option prices
Some shake on rough surfaces
Atmo engine noise MIA
---
Lotus Exige
Likes
Unassisted, unadulterated steering (at speed)
Beautiful balance and stiff chassis
Gearbox
Dislikes
Sheer impracticality
Heavy steering (at low speeds)
Getting in and out of it
Summary
Ferrari 488
James Cleary road tests and reviews the new Ferrari 488 Spider with specs, fuel consumption and verdict.
It's almost inevitable. Tell someone you're a motoring journo and the first question will be, 'So, what's the best car you've ever driven?' 
Without getting into an esoteric analysis of what the word 'best' actually means in this context, it's clear people want you to nominate your favourite. The fastest, the fanciest, the car you've enjoyed the most; the one that's delivered a clearly superior experience.
And if I enter the room of mirrors (where you can always take a good hard look at yourself) the answer is clear. From the thousands of cars I've had the privilege of sliding my backside into, the best so far is Ferrari's 458 Italia, an impossibly pure combination of dynamic brilliance, fierce acceleration, howling soundtrack and flawless beauty.
So, the opportunity to steer the open-roof Spider version of its successor, the 488, is a significant one. By rights, the best should be about to get better. But does it?
| | |
| --- | --- |
| Safety rating | — |
| Engine Type | 3.9L |
| Fuel Type | Premium Unleaded Petrol |
| Fuel Efficiency | 11.4L/100km |
| Seating | 2 seats |
---
Lotus Exige
Driving naked is ill-advised, and possibly illegal, but taking a spin in the Lotus Exige 350 Sport is as close as you'd ever want to get. It's not so much that you feel you've left your clothes at home, but that the car has shed its accoutrements, and indeed its very flesh, leaving you with a kind of skeletal vehicle; just bare bones and muscle.
What this punishingly hard and fiercely focused machine does to your bones and flesh is best described as extreme chiropractry - in particular the stress of ingress and egress - but fortunately it makes up for the moans, bangs and bruises by fizzing your adrenal glands in a big way.
The question is whether the fun is worth the suffering, and the  $138,782.85 price tag.
| | |
| --- | --- |
| Safety rating | — |
| Engine Type | 3.5L |
| Fuel Type | Premium Unleaded Petrol |
| Fuel Efficiency | 10.1L/100km |
| Seating | 2 seats |
Verdict
Ferrari 488
9/10
The Ferrari 488 Spider is a brilliant machine. It's properly supercar fast, in a straight line and around corners. It looks stunning, and attention to design detail, engineering refinement and overall quality oozes from its every pore.
Is it the best car I've ever driven? Close, but not quite. Others may disagree, but for what it's worth, I think the Ferrari 458 Italia, in all its high-revving, naturally aspirated glory is still the sweetest ride of all.
Is this open-top Italian stallion your dream machine? Tell us what you think in the comments below.
---
Lotus Exige
6.5/10
To say the Lotus Exige 350 Sport exists at the very pointy end of motoring is a sharp understatement. It is, in essence, a track car that you're somehow allowed to drive on the road, which means it's hugely compromised in various ways as a vehicle for day-to-day use, yet it's not really fair to criticise it for those failings, because commuting was never its intended purpose.
While it would obviously shine in its natural environment of a race circuit, the fact is you could also enjoy it enormously between track days if you pointed it at a suitably smooth and winding bit of country blacktop.
The performance, handling, steering and stopping are all fantastic, in the right conditions, and you can see how someone might justify it to themselves as a far cheaper version of a ($327,100) Porsche 911 GT3. The difference being that a Porsche doesn't make you fold yourself up like a pocket knife every time you get in.
The Lotus, then, is a car for the extreme enthusiast, only. And possibly for nudists, too.
Would you put up with the Lotus's hard edges for the thrill rides? Tell us what you think in the comments below.
Design
Ferrari 488
10/10
Launched in 2015, the 488 is the fourth mid-engine V8 Ferrari based on the aluminium space-frame architecture unveiled with the 360 Modena back in 1999, and unlike its Pininfarina-penned predecessors, was designed in-house at the Ferrari Styling Centre, under the direction of Flavio Manzoni.
The key focus this time around was aero performance, including the additional breathing and cooling needs of the 488's 3.9-litre twin-turbo V8 (relative to the 458's 4.5-litre naturally aspirated unit); hence the car's most obvious visual identifiers - substantial air intakes in each flank.
Measuring 4568mm nose-to-tail, and 1952mm across, the 488 Spider is marginally longer (+41mm) and wider (+15mm) than its 458 equivalent. That said, it's exactly the same height at just 1211mm tall, and the 2650mm wheelbase is unchanged.
Ferrari is a past master when it comes to sneaky concealment of spectacular aero trickery, and the 488 Spider is no exception.
Upper elements of its F1-inspired double front spoiler direct air to the two radiators, while the larger lower section subtly pulls flow under the car where carefully tuned 'vortex generators' and a yawning rear diffuser (incorporating computer-controlled, variable flaps) dial up downforce without a significant drag penalty.
The 'blown' rear spoiler manages air from intakes at the base of the rear screen, its specific geometry allowing a more pronounced (concave) profile for the main surface to increase upward deflection and maximise downforce without the need for an oversize or raised wing.
Those side intakes are divided by a central, horizontal flap, with air from the upper section directed to exits over the tail, pushing the low-pressure wake directly behind the car further back to again reduce drag. Air flowing into the lower section is sent to the turbo engine's air-to-air intercoolers to optimise intake charge. All brilliantly efficient and tastefully incognito.
Putting the engine in the centre of the car and fitting only two seats doesn't just pay off dynamically, it delivers the perfect platform for visual balance, and Ferrari has done a superb job of evolving its 'junior supercar' with a nod to the line's heritage and an eye on extending its reach.
The tension across its multiple curved and contoured surfaces is beautifully managed, and the Spider's crouching stance screams power and single-minded purpose.
Inside, while the passenger might be enjoying the ride, the design is all about simplicity and focus for the person with the steering wheel in their hands. 
To that end, the slightly angular wheel houses a host of controls and displays including a very red start button, driving mode 'Manettino' dial, within-thumb's-reach buttons for indicators, lights, wipers and 'bumpy road' (more on that later), as well as sequential max rpm warning lights across the top of the rim.
The steering wheel, dash, doors and console are (optionally) carbon-rich, with the familiar buttons for Auto, Reverse and Launch Control, now housed in a dramatic arching structure between the seats.
The compact instrument binnacle is dominated by a central rev-counter with digital speedo inside it. Readout screens for on-board info across audio, nav, vehicle settings, and other functions sit either side. The seats are grippy, lightweight, hand-crafted works of art, and the overall feeling inside the cockpit is an amazing mix of cool functionality and special event anticipation.
---
Lotus Exige
8/10
The Lotus philosophy is summed by this slightly absurd mission statement: "Simplify, then add lightness". In the words of the great Barnaby Joyce "you don't have to be Sigmund Freud" to work out that lightness is not something you can 'add', but you get the idea.
Everything about a Lotus is focused on the power-to-weight ratio, and this 350 Sport version takes the Exige to the ultimate degree, weighing in a full 51kg lighter than the S version, at just 1125kg, and with its hefty 3.5-litre supercharged V6 it is capable of lapping the company's Hethel, UK test circuit a full 2.5 seconds faster.
Lap times, rather than road manners, are what this car is all about, and as such there are no creature comforts of any kind.
The Exige is an eye-catching beast, though, looking a bit like Darth Vader's helmet strapped to a skateboard. Everything about it is a statement of intent, and while the interior is as bare as Barnaby's brain, the gear lever, with its exposed workings and shiny silver knob, is a thing of strange beauty.
Practicality
Ferrari 488
8/10
Okay, so how do you approach practicality in a car that's so obviously not engaged with the concept?
Best to say there's cursory consideration in terms of cabin storage, with a modest glovebox, small pockets in the doors, and a pair of piccolo-sized cupholders in the console. There's also a net and some general oddments space along the bulkhead behind the seats. 
But the saving grace is a generous, rectangular boot in the nose, offering 230 litres of easy-to-access load space.
Another attribute fitting broadly under the heading of practicality is the retractable hardtop which smoothly unfolds/retracts in just 14 seconds and operates at speeds up to 40km/h.
---
Lotus Exige
3/10
Both the words 'practical' and 'space' have no place in a road test of this Lotus, so shall we just move on?
Oh, all right. There is no shoulder room to speak of and to change gears you have to fondle your passenger's leg. You're also in danger of breathing into each other's mouths accidentally, you're sitting that close.
Speaking of impractical, the door apertures are so small, and the whole car so low, that getting in or out is about as much fun as attempting to hide in a child's suitcase.
Cupholders? Forget it, nor is there anywhere to put your phone. There are two tiny oddment storage holes just near each well-hidden door handle, and a kind of slidey, slick shelf where a glove box might be, on which it's not safe to leave anything.
Put things on the floor and they will slide under the super low seats and never be seen again.
The Lotus people pointed out a parcel shelf behind the seats, but I think they imagined it, and there is a tiny boot at the rear, behind the engine, which is smaller than some actual boots.
Price and features
Ferrari 488
9/10
Let's get the big number out of the way. The Ferrari 488 Spider costs $526,888 before on-road costs.
Included in that not inconsequential figure is the 'E-Diff3' electronically-controlled differential, 'F1-Trac' traction control, ASR & CST, ABS, an anti-theft system, carbon-ceramic brakes, Magnaride shock absorbers, dual-zone climate control, racy leather seats, bi-xenon headlights with LED running lights and indicators, keyless start, Harman multimedia (including 12-speaker, 1280-watt JBL audio), 20-inch alloy rims, tyre pressure and temperature monitoring, and… a car cover.
But that's just the starting point. Any self-respecting Ferrari owner will need to put a personal stamp on their new toy and the prancing horse is happy to oblige.
If you want an exterior colour to match your favourite polo pony's eyes, no problem, the Ferrari Tailor-Made program will do whatever it takes. But even the standard options list (if that makes sense) offers more than enough scope to make an already spectacular four-wheel statement even more distinctive.
Our test car featured six new Mazda3's worth of extras. That's just under $130k, with the highlights being more than 25 grand in exterior carbon-fibre, $22k for the special, two layer, iridescent effect 'Blue Corsa' paint, over $10k for chrome painted forged rims, and $6790 for Apple CarPlay (standard on the Hyundai Accent).
But you've got to remember an inverse logic applies here. While some may see $3000 for cavallino rampante shields on the front wings as somewhat pricey, to a proud Ferrari owner they're badges of honour. In the yacht club carpark, showing off their latest acquisition, you can script the satisfied boast - 'That's right. Two grand. Just for the floor mats!'
---
Lotus Exige
6/10
The question of 'value' is a tricky one when you're looking at a $138,782.85 car that's about as useful in day-to-day life as a matchbox-sized handbag. But you have to consider what people buy a Lotus for, and the answer has absolutely nothing to do with practicality.
A car like this Exige 350 Sport is purely purchased as a toy, a track-day special that you can, in theory, drive to the circuit via public roads. Franky, if I was rich enough to have one I'd still transport it there on the back of a truck.
Relatively speaking, you could have a far more practical and infinitely more comfortable Porsche Cayman for $30K less, but the Lotus is $30K cheaper than the similarly track-focused and brutal ($169,990) KTM X-Bow.
In terms of features, you get four wheels, an engine, a steering wheel, some seats, and that's about it. You can buy a circa 1993 removable-face two-speaker stereo, which you can't really hear over the engine and road noise, for $1199. Oh, and they do throw in air conditioning, which is also noisy.
Our slick-looking metallic black paint was also $1999, the 'full carpets' another $1099 (expensive floor mats, basically), the Alcantara trim pack $4499, cruise control (really?) $299 and the hilarious optional 'Sound Insulation' $1499 (I think they actually forgot to fit it). All up, our press car's price climbed to $157,846, which, I have to say, is no one's idea of good value.
On the plus side, the local Lotus people - Simply Sports Cars - do offer features a buyer would love, like regular Lotus Only Track Days, a chance to take part in the Phillip Island 6 Hour and the Targa High Country event, and various other racy experiences.
Engine & trans
Ferrari 488
10/10
The 488 Spider is powered by an all-alloy, mid-mounted 3.9-litre, twin-turbo V8, featuring variable valve timing and dry sump lubrication. Claimed outputs are 492kW at 80000rpm and 760Nm at a usefully low 3000rpm. Transmission is a seven-speed 'F1' dual clutch driving the rear wheels only.
---
Lotus Exige
8/10
In the past, Lotus engineers were satisfied with the power they got from tiny four-cylinder Toyota engines, but this Exige 350 Sport is a Very Serious Car and thus has a relatively whopping 3.5-litre, supercharged V6 shoehorned into its backside, which makes 258kW and 400Nm, and that's enough to fire this tiny machine from 0-100km/h in just 3.9 seconds, although it feels, and sounds, a lot faster.
The six-speed gearbox feels like it's been stolen from an old racing car and is an absolute joy to snick shift at speed.
Fuel consumption
Ferrari 488
8/10
Ferrari claims the 488 GTS will consume 11.4L/100km for the combined (ADR 81/02 - urban, extra-urban) cycle, emitting 260g/km of CO2 in the process. Not bad for such a monumental engine. You'll need 78 litres of premium unleaded to fill the tank.
---
Lotus Exige
7/10
Lotus claims a combined fuel economy figure of 10.1L/100km. We don't believe that would be easy to achieve, because the temptation to rev the hell out of it and hear it roar would be too great, and too constant.
Driving
Ferrari 488
10/10
We had the rare opportunity of driving the 488 Spider on road and track with Ferrari Australasia handing us the keys for a rural run from Sydney to Bathurst, followed by some private bonding time on the roads around town, then a batch of unrestricted hot laps on the Mount Panorama circuit in the lead up to this year's 12 Hour race (which the scuderia won in emphatic style with the 488 GT3).
On the freeway, cruising at 110km/h with roof open, the 488 Spider is civilised and comfortable. In fact, Ferrari claims normal conversation at speeds over 200km/h isn't a problem. Top tip (no pun intended) is to keep the side glass and small electric rear window raised to minimise turbulence. With the roof up, the 488 Spider is every bit as quiet and refined at the fixed roof GTB.
Even with the multi-mode Manettino in its regular 'Sport' setting and the seven-speed 'F1' dual-clutch gearbox in auto, all it takes is a gentle crank of the right ankle to despatch pesky road users with the temerity to impede the 488's progress.
On the quiet, open and twisting roads around the outskirts of Bathurst we may have flicked the switch to 'Race', slipped the gearbox into manual and given the 488 Spider a nudge. In some sweeping corners on Mount Panorama we might have even tested Einstein's theory that matter bends the fabric of space and time. In short, we were able to get a good feel for the car's dynamic abilities, and they are monumental.
Relative to the 458, power is up a lazy 17 per cent (492 v 418kW), and turbo-fed torque leaps a staggering 41 per cent (760 v 540Nm), while kerb weight is trimmed by 10kg (1525 v 1535kg).
The result is 0-100km/h in 3.0 seconds (-0.4sec), 0-400m in 10.5 (-0.9sec), and a maximum velocity of 325km/h (+5km/h).
If you must know, given fuel efficiency and emissions performance was the key driver behind Ferrari's move to a turbo powerplant, all this is balanced by claimed 11.4L/100km combined economy (down from 11.8 for the 458).
A full blown launch in this car is like lighting the wick on an Atlas rocket, with a seemingly never-ending surge of thrust pinning your back to the seat, and each pull of the column-mounted carbon gear paddle delivering a seamless and near instantaneous shift. Ferrari claims the 488'seven-speed 'box shifts up 30 per cent quicker, and down 40 per cent faster than the 458's.
The lofty summit of the twin turbo's torque mountain arrives at just 3000rpm, and once you're up there it's a table top rather than a peak, with more than 700Nm still on call at close to 7000rpm.
Maximum power arrives at 8000 (perilously close to the V8's 8200rpm rev ceiling), and the delivery of all this brute force is impressively refined and linear. To improve throttle response, the compact turbos incorporate ball-bearing-mounted shafts (rather than the more common sleeve bearing type), while the compressor wheels are made from TiAl, a low-density titanium-aluminium alloy. As a result, turbo lag simply isn't in the 488's vocabulary.
And what about the sound? On its way to 9000rpm the 458 Italia atmo V8's rising fortissimo howl is one of the world's greatest mechanical symphonies.
Maranello's exhaust engineers allegedly spent years fine-tuning the 488's aural output, developing equal length tubes in the manifold to optimise harmonics before gas flow reaches the turbos, to get as close as possible to the high-pitch wail of a naturally aspirated Ferrari V8. 
All we can say is the 488's sound is amazing, immediately turning heads on contact... but it ain't no 458.
Using the 488 Spider's incredible dynamic ability to translate forward momentum into lateral g's is one of life great pleasures.
Supporting the double wishbone front and multi-link rear suspension set-up is a host of high-tech widgets including the tricky E-Diff3, F1-Trac (stability control), High-Performance ABS with Ferrari Pre-Fill, FrS SCM-E (magnetorheological shock absorbers), and SSC (side-slip control).
Combine that with the active aero quietly turning the car into a four-wheel suction cup, plus ultra-high performance Pirelli P Zero rubber, and you have amazing grip (the front end especially, is incredible), perfect balance and stunning corner speed.
Our Mount Panorama blat confirmed the 488 Spider remains poised and throttle steerable through corners and curves at ludicrous speeds.
Chasing gears into the top of the 'box up mountain straight made the lights on the upper rim of the steering wheel look like a fireworks display. The Spider transmitted its every move across the top of the circuit through the lightweight seat, and the very fast blast into The Chase at the bottom of Conrod Straight was other-worldly. Set the car up on entry, keep squeezing the throttle, grease in just a fraction of steering lock, and it just blazes through like a high-speed hovercraft, at 250km/h-plus.
More time back outside Bathurst confirms feel from the electro-hydraulic rack and pinion steering is brilliant in the real world, although we did notice the column and wheel shaking in our hands over bumpy backroads.
The quick fix there is a flick of the 'bumpy road' button on the steering wheel. First seen on the 430 Scuderia (after then Ferrari F1 hero Michael Schumacher pushed for its development), the system de-links the shock absorbers from the Manettino setting, providing extra suspension compliance without sacrificing engine and transmission response. Brilliant.
Stopping power comes courtesy of a 'Brembo Extreme Design' system derived from the LaFerrari hypercar, which means standard carbon-ceramic rotors (398mm front, 360mm rear) clamped by massive calipers - six piston front, four piston rear (our car's were black, for $2700, thank you). After multiple stops from warp speed to walking pace on the circuit they remained firm, progressive, and hugely effective.
---
Lotus Exige
8/10
It's rare to find a car that is such an improbable mix of furious fun and infuriating annoyance. The Lotus is rattly, noisy, hugely firm to the point of punishing, with seats that offer encouragement but not support.
It is the opposite of comfortable and so hard to see out of that driving it around town, in any sort of traffic, feels borderline dangerous. There's also the distinct sensation that you're so low and so little that all those people in their SUVs won't see you.
Throw in the fact that it's so painfully, stupidly difficult to get in and out of and it's definitely not the sort of car you take if you're heading to the shops. I got so sick of its hard-edged annoyances at one stage that I became too grumpy to even take people for joy rides in it. I just couldn't be bothered with the hassle, but then an inner-city suburb with high kerbs and even higher speed humps is not the Exige's natural environment.
Making it even more of a challenge around town, at low speeds or in parking situations is the steering, which isn't so much heavy as wilfully obtuse. Doing a three-point turn is the equivalent of 20 minutes of bench pressing your own body weight. At least.
Out on a winding bit of country road, however, the steering becomes one of the best things about the car, because its pure, unassisted weighting feels so alive in your hands. There's a sense of actually wrestling, or finessing it around corners that makes you feel a bit Ayrton Senna.
Indeed, the whole car comes alive, and starts to make some kind of sense, once you're on a smooth, perfect piece of tarmac. It is fast, noisy, thrilling, utterly and overtly involving, stiff of chassis and firm of ride, with brakes capable of pulling you up with indecent haste. It's also, thanks to its low centre of gravity and mid-engined layout, beautifully balanced.
The gearbox is a thrill a minute, as is the engine, particularly once you explore the upper rev ranges, at which point the scenery really does become a scary blur out the ridiculously small windscreen.
Sure, you can't see anything behind you other than the engine, but what a lovely sight that is, and nothing is going to catch you anyway.
It does feel edgy, of course, and sharp, and it's not as easy or refined to drive as some cheaper sports cars; an MX-5 makes for a far more pleasant companion. But this is an extreme Exige, a machine built by and for genuine enthusiasts.
And, above all, for the sort of people who will take it to a race track, which is where it both looks and feels completely at home.
Unfortunately, on public roads, it would be annoying more often than it would be thrilling, but the truly hardcore Lotus aficionados would never admit such a thing.
Safety
Ferrari 488
8/10
In terms of active safety the various driver aids mentioned above do their part to avoid a crash, and if the worst comes to worst dual front and side airbags are in place.
The 488 Spider has not been rated for safety performance by ANCAP.
---
Lotus Exige
5/10
Unsurprisingly, considering it will sell fewer than 100 cars in Australia, Lotus has not had the Exige ADR crash tested, so there's no star rating. You do get two airbags, passenger and driver, as well as ABS, 'Hydraulic Brake Assist', 'Lotus Dynamic Performance Management', driver-selectable ESP with three modes, cornering brake control and EBD.
Ownership
Ferrari 488
9/10
The Ferrari 488 Spider is covered by a three year/unlimited km warranty, and purchase of any new Ferrari via the authorized Australian dealer network includes complimentary scheduled maintenance, through the 'Ferrari Genuine Maintenance' program for the first seven years of the vehicle's life.
Recommended maintenance intervals are 20,000km or 12 months (the latter with no km restrictions).
Genuine Maintenance attaches to the individual vehicle, and extends to any subsequent owner within the seven years. It covers labour, original parts, engine oil and brake fluid.
---
Lotus Exige
7/10
Your Lotus comes with a three-year unlimited kilometre warranty and three years of roadside assist. A service costs $295, plus parts.