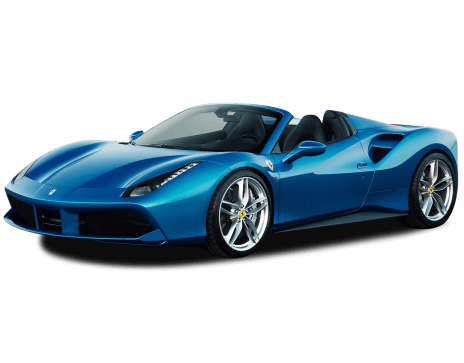 COMPARE
Ferrari 488
VS
Chevrolet Camaro
Ferrari 488
Likes
Monstrous torque
Incredible dynamics
Quality (in every sense of the word)
Dislikes
Breathtaking option prices
Some shake on rough surfaces
Atmo engine noise MIA
---
Chevrolet Camaro
Likes
Looks like a real-life Hot Wheels
Sounds sensational
Fun to drive
Dislikes
Boot opening is small
Expensive compared to Mustang
No AEB
Summary
Ferrari 488
James Cleary road tests and reviews the new Ferrari 488 Spider with specs, fuel consumption and verdict.
It's almost inevitable. Tell someone you're a motoring journo and the first question will be, 'So, what's the best car you've ever driven?' 
Without getting into an esoteric analysis of what the word 'best' actually means in this context, it's clear people want you to nominate your favourite. The fastest, the fanciest, the car you've enjoyed the most; the one that's delivered a clearly superior experience.
And if I enter the room of mirrors (where you can always take a good hard look at yourself) the answer is clear. From the thousands of cars I've had the privilege of sliding my backside into, the best so far is Ferrari's 458 Italia, an impossibly pure combination of dynamic brilliance, fierce acceleration, howling soundtrack and flawless beauty.
So, the opportunity to steer the open-roof Spider version of its successor, the 488, is a significant one. By rights, the best should be about to get better. But does it?
| | |
| --- | --- |
| Safety rating | — |
| Engine Type | 3.9L |
| Fuel Type | Premium Unleaded Petrol |
| Fuel Efficiency | 11.4L/100km |
| Seating | 2 seats |
---
Chevrolet Camaro
Nobody really needs to drink beer and absolutely nobody needs to go skydiving. You don't need tattoos nor to eat ice cream, nor put art on their walls, and absolutely nobody needs to play Stairway to Heaven, badly, on guitar. Likewise, nobody needs to buy a Chevrolet Camaro.
And there's your answer if anybody has a go at you for arriving home in this big American muscle car, because if we only did things we needed to do, I'm pretty sure we wouldn't be having as much fun.
The Chevrolet Camaro has been the Ford Mustang's recurring nightmare since 1966, and this latest, sixth generation of the Chevy icon is available to continue the fight here in Australia, thanks to some re-engineering from HSV.
The SS badge is also legendary and was emblazoned on our test car, although it's really a 2SS, and we'll get to what that means below.
As you're about to see, there are many good reasons to buy the Camaro SS and a few that might make you reconsider, but think about this – within the next two decades it's entirely possible a car like the Camaro, with its 6.2-litre V8, may be banned because of emission regulations. Outlawed. You also never know how much longer HSV will continue to sell it in Australia. Maybe that's reason enough to get one? Before it's too late.
| | |
| --- | --- |
| Safety rating | — |
| Engine Type | 6.2L |
| Fuel Type | Premium Unleaded Petrol |
| Fuel Efficiency | —L/100km |
| Seating | 4 seats |
Verdict
Ferrari 488
9/10
The Ferrari 488 Spider is a brilliant machine. It's properly supercar fast, in a straight line and around corners. It looks stunning, and attention to design detail, engineering refinement and overall quality oozes from its every pore.
Is it the best car I've ever driven? Close, but not quite. Others may disagree, but for what it's worth, I think the Ferrari 458 Italia, in all its high-revving, naturally aspirated glory is still the sweetest ride of all.
Is this open-top Italian stallion your dream machine? Tell us what you think in the comments below.
---
Chevrolet Camaro
7.4/10
The Camaro 2SS is a real-life Hot Wheels car. This beast looks amazing, sounds incredible and is not overpowered, making it usable as a daily driver.
Now about that score. The Camaro 2SS lost big marks for not having AEB, lost more marks for the short warranty and no capped-price servicing and also some for its price, because compared to the Mustang it's expensive. It's also impractical (space and storage could be better) and uncomfortable to drive at times, but this is a muscle car, and a great one at that. It's not for everybody, but  truly perfect for some.
Ford Mustang or Chevrolet Camaro? Which would you pick? Tell us what you think in the comments below.
Design
Ferrari 488
10/10
Launched in 2015, the 488 is the fourth mid-engine V8 Ferrari based on the aluminium space-frame architecture unveiled with the 360 Modena back in 1999, and unlike its Pininfarina-penned predecessors, was designed in-house at the Ferrari Styling Centre, under the direction of Flavio Manzoni.
The key focus this time around was aero performance, including the additional breathing and cooling needs of the 488's 3.9-litre twin-turbo V8 (relative to the 458's 4.5-litre naturally aspirated unit); hence the car's most obvious visual identifiers - substantial air intakes in each flank.
Measuring 4568mm nose-to-tail, and 1952mm across, the 488 Spider is marginally longer (+41mm) and wider (+15mm) than its 458 equivalent. That said, it's exactly the same height at just 1211mm tall, and the 2650mm wheelbase is unchanged.
Ferrari is a past master when it comes to sneaky concealment of spectacular aero trickery, and the 488 Spider is no exception.
Upper elements of its F1-inspired double front spoiler direct air to the two radiators, while the larger lower section subtly pulls flow under the car where carefully tuned 'vortex generators' and a yawning rear diffuser (incorporating computer-controlled, variable flaps) dial up downforce without a significant drag penalty.
The 'blown' rear spoiler manages air from intakes at the base of the rear screen, its specific geometry allowing a more pronounced (concave) profile for the main surface to increase upward deflection and maximise downforce without the need for an oversize or raised wing.
Those side intakes are divided by a central, horizontal flap, with air from the upper section directed to exits over the tail, pushing the low-pressure wake directly behind the car further back to again reduce drag. Air flowing into the lower section is sent to the turbo engine's air-to-air intercoolers to optimise intake charge. All brilliantly efficient and tastefully incognito.
Putting the engine in the centre of the car and fitting only two seats doesn't just pay off dynamically, it delivers the perfect platform for visual balance, and Ferrari has done a superb job of evolving its 'junior supercar' with a nod to the line's heritage and an eye on extending its reach.
The tension across its multiple curved and contoured surfaces is beautifully managed, and the Spider's crouching stance screams power and single-minded purpose.
Inside, while the passenger might be enjoying the ride, the design is all about simplicity and focus for the person with the steering wheel in their hands. 
To that end, the slightly angular wheel houses a host of controls and displays including a very red start button, driving mode 'Manettino' dial, within-thumb's-reach buttons for indicators, lights, wipers and 'bumpy road' (more on that later), as well as sequential max rpm warning lights across the top of the rim.
The steering wheel, dash, doors and console are (optionally) carbon-rich, with the familiar buttons for Auto, Reverse and Launch Control, now housed in a dramatic arching structure between the seats.
The compact instrument binnacle is dominated by a central rev-counter with digital speedo inside it. Readout screens for on-board info across audio, nav, vehicle settings, and other functions sit either side. The seats are grippy, lightweight, hand-crafted works of art, and the overall feeling inside the cockpit is an amazing mix of cool functionality and special event anticipation.
---
Chevrolet Camaro
9/10
As was the case with Ford's Mustang, something seemed to go bizarrely weird in the styling of the Camaro in the early 2000s, but by 2005 the arrival of the fifth generation saw a design that re-imagined the original (and I reckon the best) 1967 Camaro. Now this sixth-generation car is a sharper resolution of that, yet not without causing a bit of controversy.
Along with styling changes, such as redesigned LED headlights and taillights, the front fascia was also given a tweak, which involved repositioning the Chevy 'bow-tie' badge from the upper grille to the black-painted cross bar that separates the top and bottom sections. The reaction from fans was enough for Chevrolet to quickly redesign the front and move the badge back.
Our test car was the version with the 'unpopular' face, but I reckon it gets away with the look, thanks to the body colour being black, which means your eye isn't drawn to that cross bar.
Here's some pub ammo for you – Chevy calls the 'bow tie' on this Camaro a 'Flow Tie' because its hollow construction means air can pass through it to the radiator.
Big on the outside but small inside, the Camaro's dimensions show it to be 4784mm long, 1897mm wide (not including mirrors) and 1349mm tall.
Ford's Mustang is elegant, but Chevy's Camaro is more macho. Big haunches, long bonnet, flared guards, nostrils. This is one mean-looking monster. Those high sides and 'chopped' roof design may also make you assume the cabin is more cockpit than lounge room.
That assumption would be right and in the practicality section further down I'll tell you just how cozy the interior is, but for now we're just talking about looks.
I'm not sure what David Hasselhoff's apartment looks like, but at a guess I reckon it would have a hell of a lot in common with the interior design of the Camaro 2SS's cabin.
Soft, black leather seats with SS badging, giant metal air vents, door handles that look like chrome exhaust tips and a display screen that is oddly tilted towards the floor.
There's also an ambient LED lighting system that lets you choose from 1980s-neon colour palettes, the likes of which we haven't seen since Ken Done's outstanding depiction of a Koala family sitting down to a barbecue lunch.
I'm not knocking it, I love it, and even though the guys in the office thought it would be hilarious to set the lighting to hot pink, I kept it that way because it looks awesome.
Practicality
Ferrari 488
8/10
Okay, so how do you approach practicality in a car that's so obviously not engaged with the concept?
Best to say there's cursory consideration in terms of cabin storage, with a modest glovebox, small pockets in the doors, and a pair of piccolo-sized cupholders in the console. There's also a net and some general oddments space along the bulkhead behind the seats. 
But the saving grace is a generous, rectangular boot in the nose, offering 230 litres of easy-to-access load space.
Another attribute fitting broadly under the heading of practicality is the retractable hardtop which smoothly unfolds/retracts in just 14 seconds and operates at speeds up to 40km/h.
---
Chevrolet Camaro
7/10
The Camaro 2SS's cabin is cozy for me at 191cm tall, but even with a similarly proportioned photographer riding shotgun it wasn't too cramped. Believe it or not, we were able to carry all his equipment and lights, plus batteries for our night shoot (have you seen the video above – it's very good). I'll get to the boot size in a moment.
The Camaro 2SS is a four-seater, but those rear seats are only going to suit small children. I was able to fit my four year old's car seat into place with a bit of gentle persuasion, and while he could sit behind my wife, there was zero space behind me when I was driving. As for visibility, we'll get to that in the driving section below, but I can tell you he couldn't see much from his tiny porthole.
Cargo capacity of the boot is small, as you'd expect, at 257 litres, but the space is deep and long. The problem is not the volume, however, it's the size of the opening, which means you'll have to cleverly angle larger items to get them in, like pushing a couch through your front door. You know, houses are big, but their openings aren't. I know, profound.
Cabin storage is also limited, the door pockets were so thin my wallet couldn't even slide into it (no, it's not the wads of cash), but there was just enough room in the centre console storage bin for it. There are two cupholders, which are more like elbow holders, (because this part wasn't swapped over in the conversion and that's where your arm lands while driving) and a glove box. Rear-seat passengers have a large tray to fight over in the back.
The 2SS doesn't have a wireless-charging pad like the ZL1, but it does have one USB port and a 12V outlet.
Price and features
Ferrari 488
9/10
Let's get the big number out of the way. The Ferrari 488 Spider costs $526,888 before on-road costs.
Included in that not inconsequential figure is the 'E-Diff3' electronically-controlled differential, 'F1-Trac' traction control, ASR & CST, ABS, an anti-theft system, carbon-ceramic brakes, Magnaride shock absorbers, dual-zone climate control, racy leather seats, bi-xenon headlights with LED running lights and indicators, keyless start, Harman multimedia (including 12-speaker, 1280-watt JBL audio), 20-inch alloy rims, tyre pressure and temperature monitoring, and… a car cover.
But that's just the starting point. Any self-respecting Ferrari owner will need to put a personal stamp on their new toy and the prancing horse is happy to oblige.
If you want an exterior colour to match your favourite polo pony's eyes, no problem, the Ferrari Tailor-Made program will do whatever it takes. But even the standard options list (if that makes sense) offers more than enough scope to make an already spectacular four-wheel statement even more distinctive.
Our test car featured six new Mazda3's worth of extras. That's just under $130k, with the highlights being more than 25 grand in exterior carbon-fibre, $22k for the special, two layer, iridescent effect 'Blue Corsa' paint, over $10k for chrome painted forged rims, and $6790 for Apple CarPlay (standard on the Hyundai Accent).
But you've got to remember an inverse logic applies here. While some may see $3000 for cavallino rampante shields on the front wings as somewhat pricey, to a proud Ferrari owner they're badges of honour. In the yacht club carpark, showing off their latest acquisition, you can script the satisfied boast - 'That's right. Two grand. Just for the floor mats!'
---
Chevrolet Camaro
7/10
You know how people talk about cars not always being a rational purchase? This is the type of vehicle they're talking about. The Camaro 2SS lists at $86,990 and the total tested price of our car was $89,190, because it was fitted with the optional 10-speed auto for $2200.
In comparison, the V8 Ford Mustang GT with the 10-speed auto is about $66K. Why the big price difference? Well, unlike the Mustang, which is built as a right-hand-drive car in the factory for places such as Australia and the UK, the Camaro is only built as a left-hand drive. HSV puts about 100 hours into converting the Camaro from left to right-hand drive. That's a big job and involves gutting the interior, taking out the engine, swapping the steering rack and putting it all back together again.
If you still think $89K is a lot to spend on a Camaro, then think again because the top-of-the-range hardcore race-car-for-the-road ZL1 Camaro lists for about $160K.
Those are only the two grades of Camaro in Australia – the ZL1 and 2SS. The 2SS is a higher-specified version of the 1SS sold in the US.
Standard features in the 2SS include an eight-inch screen, which uses Chevrolet's Infotainment 3 system, a nine-speaker Bose stereo, Apple CarPlay and Android Auto, head-up display, rear-view camera and rear camera mirror, dual-zone climate control, leather seats (heated and ventilated, plus power adjustable in the front), remote start, proximity key and 20-inch alloys.
That's a decent amount of kit and I'm particularly impressed by the head-up display, which you don't get in the Mustang, and also with the rear-vision-mirror camera, which turns the entire mirror into an image of what's behind the car.
Engine & trans
Ferrari 488
10/10
The 488 Spider is powered by an all-alloy, mid-mounted 3.9-litre, twin-turbo V8, featuring variable valve timing and dry sump lubrication. Claimed outputs are 492kW at 80000rpm and 760Nm at a usefully low 3000rpm. Transmission is a seven-speed 'F1' dual clutch driving the rear wheels only.
---
Chevrolet Camaro
8/10
Sure, the 2SS doesn't produce the mammoth 477kW of the ZL1, but I'm not complaining about the 339kW and 617Nm it does make from its 6.2-litre V8. Besides, 455 horsepower from the 2SS's naturally aspirated LT1 small block is plenty of fun and the sound on start-up through the bi-modal exhaust is apocalyptic - and that's good.
Our car was fitted with the optional 10-speed auto ($2200), with paddle shifters. The automatic transmission was developed as a joint venture between General Motors and Ford and a version of this 10-speed is also found in the Mustang.
This traditional torque-converter automatic isn't the quickest shifting thing, but it suits the big, powerful and slightly lethargic personality of the Camaro 2SS.
Fuel consumption
Ferrari 488
8/10
Ferrari claims the 488 GTS will consume 11.4L/100km for the combined (ADR 81/02 - urban, extra-urban) cycle, emitting 260g/km of CO2 in the process. Not bad for such a monumental engine. You'll need 78 litres of premium unleaded to fill the tank.
---
Chevrolet Camaro
7/10
Okay, brace yourself. During my fuel test I traveled 358.5km and used 60.44L of premium unleaded, which comes out to be 16.9L/100km. That sounds awfully high, but actually it's not as bad as it looks, considering the Camaro 2SS has a 6.2-litre V8 and I wasn't driving it in a way that would conserve fuel, if you get my drift. Half of those kilometres were on motorways at 110km/h, the other half would have been in bumper-to-bumper city traffic, which would have driven up the fuel usage, too. 
The official fuel consumption after a combination of open and urban roads is 13L/100km.
Driving
Ferrari 488
10/10
We had the rare opportunity of driving the 488 Spider on road and track with Ferrari Australasia handing us the keys for a rural run from Sydney to Bathurst, followed by some private bonding time on the roads around town, then a batch of unrestricted hot laps on the Mount Panorama circuit in the lead up to this year's 12 Hour race (which the scuderia won in emphatic style with the 488 GT3).
On the freeway, cruising at 110km/h with roof open, the 488 Spider is civilised and comfortable. In fact, Ferrari claims normal conversation at speeds over 200km/h isn't a problem. Top tip (no pun intended) is to keep the side glass and small electric rear window raised to minimise turbulence. With the roof up, the 488 Spider is every bit as quiet and refined at the fixed roof GTB.
Even with the multi-mode Manettino in its regular 'Sport' setting and the seven-speed 'F1' dual-clutch gearbox in auto, all it takes is a gentle crank of the right ankle to despatch pesky road users with the temerity to impede the 488's progress.
On the quiet, open and twisting roads around the outskirts of Bathurst we may have flicked the switch to 'Race', slipped the gearbox into manual and given the 488 Spider a nudge. In some sweeping corners on Mount Panorama we might have even tested Einstein's theory that matter bends the fabric of space and time. In short, we were able to get a good feel for the car's dynamic abilities, and they are monumental.
Relative to the 458, power is up a lazy 17 per cent (492 v 418kW), and turbo-fed torque leaps a staggering 41 per cent (760 v 540Nm), while kerb weight is trimmed by 10kg (1525 v 1535kg).
The result is 0-100km/h in 3.0 seconds (-0.4sec), 0-400m in 10.5 (-0.9sec), and a maximum velocity of 325km/h (+5km/h).
If you must know, given fuel efficiency and emissions performance was the key driver behind Ferrari's move to a turbo powerplant, all this is balanced by claimed 11.4L/100km combined economy (down from 11.8 for the 458).
A full blown launch in this car is like lighting the wick on an Atlas rocket, with a seemingly never-ending surge of thrust pinning your back to the seat, and each pull of the column-mounted carbon gear paddle delivering a seamless and near instantaneous shift. Ferrari claims the 488'seven-speed 'box shifts up 30 per cent quicker, and down 40 per cent faster than the 458's.
The lofty summit of the twin turbo's torque mountain arrives at just 3000rpm, and once you're up there it's a table top rather than a peak, with more than 700Nm still on call at close to 7000rpm.
Maximum power arrives at 8000 (perilously close to the V8's 8200rpm rev ceiling), and the delivery of all this brute force is impressively refined and linear. To improve throttle response, the compact turbos incorporate ball-bearing-mounted shafts (rather than the more common sleeve bearing type), while the compressor wheels are made from TiAl, a low-density titanium-aluminium alloy. As a result, turbo lag simply isn't in the 488's vocabulary.
And what about the sound? On its way to 9000rpm the 458 Italia atmo V8's rising fortissimo howl is one of the world's greatest mechanical symphonies.
Maranello's exhaust engineers allegedly spent years fine-tuning the 488's aural output, developing equal length tubes in the manifold to optimise harmonics before gas flow reaches the turbos, to get as close as possible to the high-pitch wail of a naturally aspirated Ferrari V8. 
All we can say is the 488's sound is amazing, immediately turning heads on contact... but it ain't no 458.
Using the 488 Spider's incredible dynamic ability to translate forward momentum into lateral g's is one of life great pleasures.
Supporting the double wishbone front and multi-link rear suspension set-up is a host of high-tech widgets including the tricky E-Diff3, F1-Trac (stability control), High-Performance ABS with Ferrari Pre-Fill, FrS SCM-E (magnetorheological shock absorbers), and SSC (side-slip control).
Combine that with the active aero quietly turning the car into a four-wheel suction cup, plus ultra-high performance Pirelli P Zero rubber, and you have amazing grip (the front end especially, is incredible), perfect balance and stunning corner speed.
Our Mount Panorama blat confirmed the 488 Spider remains poised and throttle steerable through corners and curves at ludicrous speeds.
Chasing gears into the top of the 'box up mountain straight made the lights on the upper rim of the steering wheel look like a fireworks display. The Spider transmitted its every move across the top of the circuit through the lightweight seat, and the very fast blast into The Chase at the bottom of Conrod Straight was other-worldly. Set the car up on entry, keep squeezing the throttle, grease in just a fraction of steering lock, and it just blazes through like a high-speed hovercraft, at 250km/h-plus.
More time back outside Bathurst confirms feel from the electro-hydraulic rack and pinion steering is brilliant in the real world, although we did notice the column and wheel shaking in our hands over bumpy backroads.
The quick fix there is a flick of the 'bumpy road' button on the steering wheel. First seen on the 430 Scuderia (after then Ferrari F1 hero Michael Schumacher pushed for its development), the system de-links the shock absorbers from the Manettino setting, providing extra suspension compliance without sacrificing engine and transmission response. Brilliant.
Stopping power comes courtesy of a 'Brembo Extreme Design' system derived from the LaFerrari hypercar, which means standard carbon-ceramic rotors (398mm front, 360mm rear) clamped by massive calipers - six piston front, four piston rear (our car's were black, for $2700, thank you). After multiple stops from warp speed to walking pace on the circuit they remained firm, progressive, and hugely effective.
---
Chevrolet Camaro
8/10
Exactly how an American muscle car should be – loud, a bit uncomfortable, not all that easy, but a hell of a lot of fun. Those first three attributes may sound like negatives, but take it from somebody who owns and loves hot rods - it's part of the appeal. If an SUV is not easy to drive or comfortable there's a problem, but in a muscle car it can enhance the engagement and connection factors.
That said, there will be many who think the ride is too firm, the steering heavy and that it feels like you're staring out a letterbox slot through the windscreen. It's all true, and there are other performance cars out there which make as much horsepower, handle better and are so easy to drive they can almost (and some do) pilot themselves, but they all lack the feeling of connection the Camaro offers.
Wide and low-profile Goodyear Eagles (245/40 ZR20 at the front and 275/35 ZR20 at the rear) provide good grip, but also feel every blemish in the road, while four-piston Brembo brakes all round pull the Camaro 2SS up well.
Acceleration from 0-100km/h isn't disclosed by HSV or Chevrolet, but the official line is that it'll nail it in under five seconds. Ford reckons its Mustang GT can do the same in 4.3 seconds.
If you were wondering if you could live with the Camaro daily, the answer is yes but, much like wearing leather pants, you'll have to suffer a bit to look this rock and roll. I put 650km on the clock of our 2SS during my week with it, using it daily in peak-hour traffic into the city, in supermarket car parks, and for daycare drop offs, with country road and motorway drives on the weekend.
The seats can get uncomfortable over long distances and those low-profile 'run-flat' tyres and firm dampers don't make life any comfier. You'll also find that wherever you go people will want to race you. But don't get sucked in; you're slower than you look - another muscle-car trait.
Sure, it's not the quickest performance car I've steered and on winding roads its handling capability is not up there with many sports cars, but that V8 is responsive and angry in Sport mode and smooth in its delivery of grunt. The exhaust note is sensational and the steering, while heavy, offers great feel and feedback. The sound isn't electronically enhanced but it uses bi-modal valves, which open and close at different engine and exhaust loads to produce its addictive bark.
Safety
Ferrari 488
8/10
In terms of active safety the various driver aids mentioned above do their part to avoid a crash, and if the worst comes to worst dual front and side airbags are in place.
The 488 Spider has not been rated for safety performance by ANCAP.
---
Chevrolet Camaro
7/10
The Chevrolet Camaro 2SS doesn't have an ANCAP rating, but it's certain that it wouldn't achieve the maximum five stars because it doesn't have AEB. There is forward-collision alert which warns you of an impending impact, there's also blind-spot warning, rear cross traffic alert and eight airbags.
For child seats (and I did put my own four-year-old in the back) there are two top-tether points and two ISOFIX mounts in the second row.
There's no spare wheel here, so you'll have to hope you're within 80km of home or a repair shop, because that's how far the Goodyear 'run-flat' tyres will get you.
The low (ish) score is for the lack of AEB. If the Mustang can be fitted with autonomous emergency braking, then the Camaro should be, too.
Ownership
Ferrari 488
9/10
The Ferrari 488 Spider is covered by a three year/unlimited km warranty, and purchase of any new Ferrari via the authorized Australian dealer network includes complimentary scheduled maintenance, through the 'Ferrari Genuine Maintenance' program for the first seven years of the vehicle's life.
Recommended maintenance intervals are 20,000km or 12 months (the latter with no km restrictions).
Genuine Maintenance attaches to the individual vehicle, and extends to any subsequent owner within the seven years. It covers labour, original parts, engine oil and brake fluid.
---
Chevrolet Camaro
6/10
The Camaro 2SS is covered by HSV's three-year/100,000km warranty. Servicing is recommended at nine-month/12,000km intervals, with a complimentary inspection at the end of the first month. There is no capped-price-servicing program.