Mitsubishi Outlander 2022 review: Exceed long-term | Part 1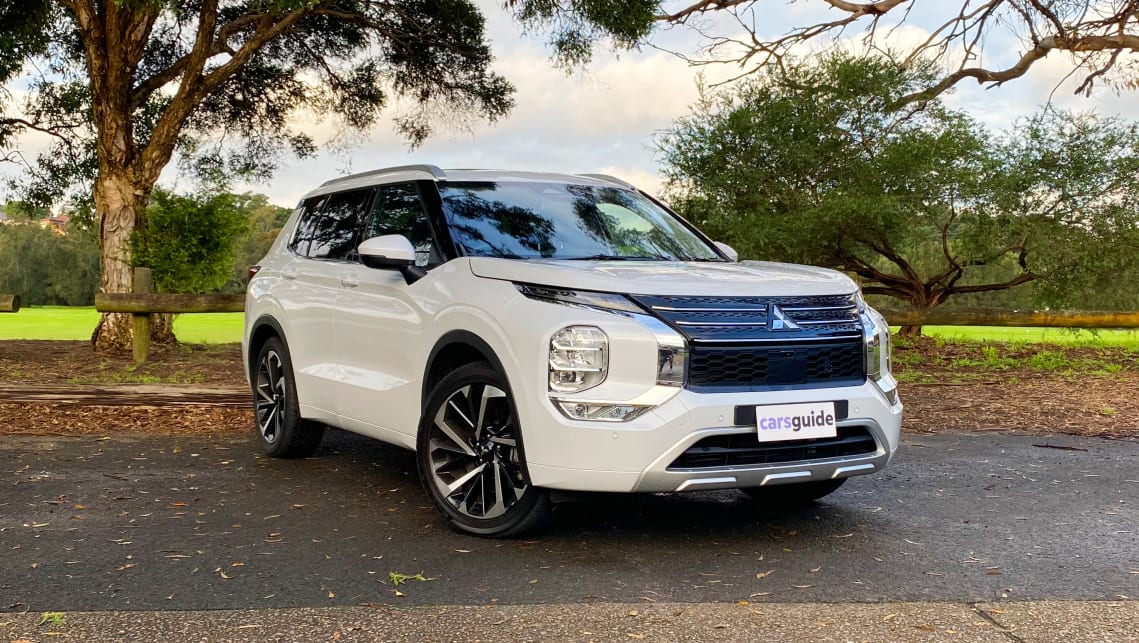 The Mitsubishi Outlander Exceed became the first car the newest Berry family member had ever been in when it ferried the newborn home safely from the hospital in Part 1 of this special long-term test.
Part 1: February 2022
The Mitsubishi Outlander Exceed arrived on February 17 and then just two weeks later the Berry family's new baby girl arrived. Yes, two long-terms tests at the same time.
Bringing a baby home from the hospital is pretty special and I was hoping to do it in my 1951 Ford, but it's garaged at the in-laws, a long way up the coast and the family Skoda was being serviced. But if I'm honest with you, I'm glad it was the Outlander (and I'm saying this more as a parent than a reviewer) because this mid-sized Mitsubishi SUV is big and new and safe.
If you've ever done that drive from the hospital to home with a new baby onboard, you know just how insanely stressful it can be. Seriously, I'd rather try to land a plane after the pilot has slumped unconscious than drive my newborn home.
Something happens to me – it's like I focus so hard on driving carefully that I forget how to drive at all: which foot do I use to brake? Is it safe to turn now? How do I change lanes? That's along with: Is she still breathing? I can't see her face. And: I think I need to pull over.
This wasn't our first baby… or Outlander. So, I knew she was actually totally fine back there, and I knew a bit about how the Outlander drives.
I'd tested this new-generation Outlander at its launch in 2021 and I also put the Mitsubishi up against the Subaru Forester, Kia Sportage and Hyundai Tucson in a comparison review that came not long after.
For this long-term test, I had the Exceed version of the Outlander which lists for $48,990. The only grade above the Exceed in the range is the Exceed Tourer, which is $1500 more. The extra money scores only a handful of features over the Exceed's standard list, such as massaging front seats, a black roof and two-tone leather upholstery.
The Exceed comes with a stack of family-friendly standard features including sunshades for the rear windows and dark tinted rear glass, climate control for the back seats, a power tailgate and a proximity key.

The Exceed's standard features includes sunshades for the rear windows (Image: Richard Berry).
It's a small thing, but the wireless phone charger made a massive difference to my life. See, I'm that guy whose phone is always on 5 per cent. Charging cables in our house are like socks – they disappear as soon as you've bought new ones and when, miraculously, there is one laying about I'm not the most disciplined when it comes to remembering to charge my phone.
So, the school run every day became phone-charging time. We'd dash out to the Outlander, jump in, the phone would get thrown onto the charging pad and the 30-minute round trip to school and back would add about 10 per cent. School pick up – another 10 per cent. What can I say? I live life on the edge.
The Outlander's phone connectivity is also easy and not once did we have any glitches with music streaming or call drop-outs. The system allows two phones to connect at once. That meant the Outlander could play music from my wife's phone while I could take calls on my phone. Brilliant.
The Outlander has good practicality with big door pockets, lots of seat-back pockets and a fold-down centre section of the seat back in the rear with cupholders. There's also good legroom for my seven-year-old behind my diving position, which is set pretty far back given I'm 191cm from top to bottom… well, top to foot, I'm actually 91cm top to bottom.

There's good legroom for my seven-year-old behind my diving position (Image: Richard Berry).
In my comparison test I gave the Outlander the thumbs-down for legroom in the front passenger seat when a rearward facing baby seat is installed behind it. My wife though isn't ridiculously tall like me and had more than enough legroom with the baby in the rearward facing seat behind her.  
The Exceed has seven seats, but with only two kids in our family they stayed folded down. Which is just as well because with the pram and nappy bag were always with us and we needed all the boot space we could get. That boot isn't enormous at 478 litres, but it was adequate for us.
Mitsubishi gives its all-wheel drive the over-the-top-name of Super All-Wheel Control, and while it's not four-wheel drive nor 'super' it's a good system that never let a wheel slip on me even in the endless rain which has been turning Sydney's roads into rivers this year.
All-wheel drive is good if you're up and down dirt and gravel roads a lot, but for me it's a safety feature, too, for wet roads.
The safety systems onboard the Outlander Exceed are another reason I wanted to take it to pick up our newborn. There's rear cross traffic alert with emergency braking, forward AEB with pedestrian and cyclist detection and lane changing assistance.
So, good practicality, great safety, excellent tech – is there anything not so good?
There is, and it was the one part I wasn't looking forward to – the ride. I knew from testing the Outlander, in the comparison and at launch, that the large 20-inch alloys, wearing thin 45-profile tyres, really affected the ride badly – it's a hard-edged feel, especially on bad roads. That combined with soft suspension, which leads to too much body roll, doesn't make for a comfortable and smooth ride
While I cursed that less-than-ideal ride on the way home from the hospital, it was something that over the following weeks we all got used to.
On the plus side, the Outlander has comfortable and supportive seats up front, plus it's an easy drive with light and direct steering.
The 2.5-litre four-cylinder engine looks like it should have plenty of oomph, but its 135kW/245Nm output isn't enormous and when combined through a continuously variable transmission makes for underwhelming acceleration. That said, the Outlander spent most of its time doing school drop-offs and trips to the shops, and the grunt felt more than adequate for these types of duties.

The 2.5-litre four-cylinder engine looks like it should have plenty of oomph (Image: Richard Berry).
This type of driving, though, seemed to use plenty of fuel. We filled the Outlander's 55-litre tank to full with 95 RON petrol and two and a half weeks and 351km later filled it again with 53.22L. That's 15.16L/100km.
We'll see in the next instalment of this review if the high fuel usage continues, but for now I better run because I can hear the bub crying…
Acquired: February 17
ODO: 7199km
Distance travelled: 351km
Average Fuel Consumption: 15.16L/100km (measured at the pump)
---
The Wrap
Likes
Beefy, prestige looks
Advanced safety
Cool cabin tech
Dislikes
Unsettled ride
Thirsty on fuel
Small boot
---
Disclaimer: The pricing information shown in the editorial content (Review Prices) is to be used as a guide only and is based on information provided to Carsguide Autotrader Media Solutions Pty Ltd (Carsguide) both by third party sources and the car manufacturer at the time of publication. The Review Prices were correct at the time of publication.  Carsguide does not warrant or represent that the information is accurate, reliable, complete, current or suitable for any particular purpose. You should not use or rely upon this information without conducting an independent assessment and valuation of the vehicle.