Porsche Macan 2014 review: road test
Meet the Porsche SUV that's cheaper than a Toyota LandCruiser or a Nissan Patrol, winding back prices almost 30 years for the German brand.
What we like
Dynamics
Relative value
Practicality
What we don't
Oprions pricey
Thirsty when pushed
Waiting list from launch
What we like
Dynamics
Relative value
Practicality
What we don't
Oprions pricey
Thirsty when pushed
Waiting list from launch
Meet the Porsche SUV that's cheaper than a Toyota LandCruiser or a Nissan Patrol, winding back prices almost 30 years for the German brand.  The last time a new Porsche cost less than $85,000 was in 1985, when Back To The Future, Rocky, Rambo, and Police Academy were blockbuster movies.
It's called the Macan (pronounced Mac-arn) and it's the smaller SUV sibling of the Cayenne that has transformed the sports-car maker into a mainstream manufacturer.
To paraphrase Paul Keating, SUVs are the cars Porsche had to have; the massive profits generated from selling these vehicles ensure the company still has the funds to invest in its sports-cars.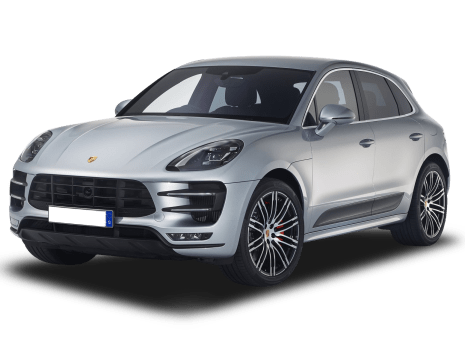 Explore the 2014 Porsche Macan range
Last year, Porsche sold three times as many SUVs than it did 911s, and the Macan will push the company's annual production beyond 200,000 for the first time.
Porsche sold 75,000 Cayennes last year globally, but plans to only build 50,000 Macans in its first year as it ramps up production despite it likely becoming the best selling Porsche of all time.
Porsche could easily sell more than twice as many Macans given its relative affordability, but for now Porsche doesn't want to give-away any Cayenne production slots because it's a more profitable vehicle.
Porsche says it can eventually add a third production shift at its Leipzig factory to boost Macan output, but for now it is keeping a tight rein on supply.
Macan customers in Australia who place their orders early won't have to wait too long to take delivery because Porsche says it has plenty coming in the initial batch. But those who place an order after the Macan goes on sale locally in June could be waiting until next year to take delivery.
The last Porsche to be cheaper than a Macan was the ill-fated 924 that was intended to be sold as a Volkswagen and was powered by an underdone four-cylinder Audi engine that was later also used in a VW van. It, too, was designed to boost volume and create revenue to go towards the development of 911 sports-cars.
So, it's deja vu all over again for Porsche, because the Macan, too, shares its roots with cars in the Volkswagen Audi Group, now its parent company.
Porsche goes to great lengths to highlight the differences between the Audi Q5 on which the Porsche Macan is based; you need to get them on a hoist to see the similarities. Porsche says the Macan is 70 per cent unique, even if they are indeed twins under the skin.
Most customers won't notice, let alone care, because everything you can see and touch is different. And, Porsche says, it has invested more heavily in performance and dynamics. We're not sure what Audi's performance division would make of that statement. Saucer of milk anyone?
VALUE
The Porsche Macan is certainly not one of the cheapest SUVs in its class, but it is a lot more affordable than most people were expecting.
The range starts with a turbo diesel ($84,900) and there are two twin turbo petrol models: a 3.0-litre V6 ($87,200) and a flagship 3.6-litre V6 ($122,900). All versions are backed by a seven-speed dual-clutch "PDK" automatic transmission.
Customarily, diesel versions are dearer than their petrol counterparts. But the price of the diesel undercuts the petrol model on this occasion because of the Luxury Car Tax concession afforded to vehicles that sip 7.0L/100km or less.
Porsche has so far denied overseas reports claiming a four-cylinder and/or hybrid version could join the line-up. But the boss of the company, Matthias Muller, said GTS and Turbo S versions will eventually follow, likely based on the turbo petrol variants.
DESIGN
If you think it looks like a Cayenne from the front, you'd be right. Porsche wanted to maintain a family resemblance. In photos, it's hard to pick the difference between the two Porsche SUVs, but in the metal the Macan's 10 per cent smaller proportions are more apparent.
Despite the compact dimensions, cargo space is generous: 500 litres with the rear seats up, 1500 litres with the rear seats stowed.
The biggest giveaway to its true identity is the view of the rear end, not least of which is because it has a giant "Macan" badge. The tail-lights are sleeker and more horizontal than the Cayenne's.
Every panel inside and out is different from the Audi Q5, and the engines are unique to Porsche or uniquely tuned (as is the case with the diesel).
Inside, the instruments are pure Porsche, and the same as those found on its sports cars and the Cayenne SUV. It's a classy execution, punctuated by the same steering wheel found in Porsche's latest super-exclusive supercar, the petrol-electric 918.
SAFETY
Eight airbags and a likely five-star rating are only part of the story. The Macan will do its best to avoid a crash in the first place, not only because of the highly competent steering and handling but by virtue of an optional automatic emergency braking system and side blind zone alert.
A rear camera, and front and rear sensors will be standard on all models sold in Australia. The space-saver spare must first be inflated, so the worst of both worlds, then, especially considering its off-road pretensions.
DRIVING
Porsche says the Macan is the sport-car of compact SUVs. It's a bold claim, but one it goes a fair way to living up to.
Porsche certainly doesn't have a monopoly on SUVs that feel nice to drive (BMW's X3 and the Range Rover Evoque are also highly capable), but the Macan does raise the bar in the off-chance a customer would ever dare to push the limits.
In normal driving, however, what matters most is that the engines are smooth and quiet, and do the job with relative ease.
The biggest surprise, to me at least, is that the seven-speed dual-clutch automatic transmission doesn't jerk between gears, as other gearboxes of this type tend to do.
Unfortunately we didn't get a chance to do a three-point turn on a hill (the best way to test the limitations of this particular gearbox design). In the main, on the bowling-green-flat roads surrounding the Macan's Leipzig factory, it worked smoothly and reacted to changes in acceleration promptly.
The flagship Turbo petrol V6 is predictably the most impressive to drive, and has exhilarating performance, but of course its extra grunt comes at a substantial price premium.
The Macan Turbo V6 may lack the V8 growl of its bigger brother Cayenne but it has a pleasing exhaust note that can produce a subtle "blat" sound between gearchanges.
The smaller turbocharged petrol V6 is ok, but it is easily outshone by the 3.0-litre turbo diesel which has more torque and therefore more urgency when you hit the gas.
Given that the diesel is slightly cheaper than the base model petrol, and will be cheaper to run (its sips as much fuel as a Toyota Yaris), we reckon there won't be much demand for the regular petrol version.
We tested a mix of Macans equipped with regular suspension and the optional air suspension, which was a pleasant surprise. Air suspension (which at the press of a button can adjust ride height and stiffness over bumps) has long been over-rated in my opinion because it can "thrum" over joins in the road and feel too floaty. But the latest air suspension system on the cars sampled was impressively refined and well tied down.
The steering was another element that Porsche focussed heavily on; it feels direct and predictable on the open road, and yet light and easy at parking speeds. Tick.
VERDICT
Rarely is the cheapest model the pick of any new-car line-up, but that's the case with the $84,900 Porsche Macan S Diesel. Early prediction: Porsche won't be able to build enough of them.
Pricing guides
$59,915
Based on 30 cars listed for sale in the last 6 months
Range and Specs
| Vehicle | Specs | Price* | |
| --- | --- | --- | --- |
| S | 3.0L, PULP, 7 SP AUTO | $52,990 – 68,888 | 2014 Porsche Macan 2014 S Pricing and Specs |
| S Diesel | 3.0L, Diesel, 7 SP AUTO | $54,888 – 62,990 | 2014 Porsche Macan 2014 S Diesel Pricing and Specs |
| Turbo | 3.6L, PULP, 7 SP AUTO | $62,400 – 78,870 | 2014 Porsche Macan 2014 Turbo Pricing and Specs |
Pricing Guide
$52,990
Lowest price, based on 32 car listings in the last 6 months
View cars for sale
Similar Cars
BMW X5

BMW X3

Lexus RX

Mercedes-Benz GLC-Class