Ford Ranger 0-100km/h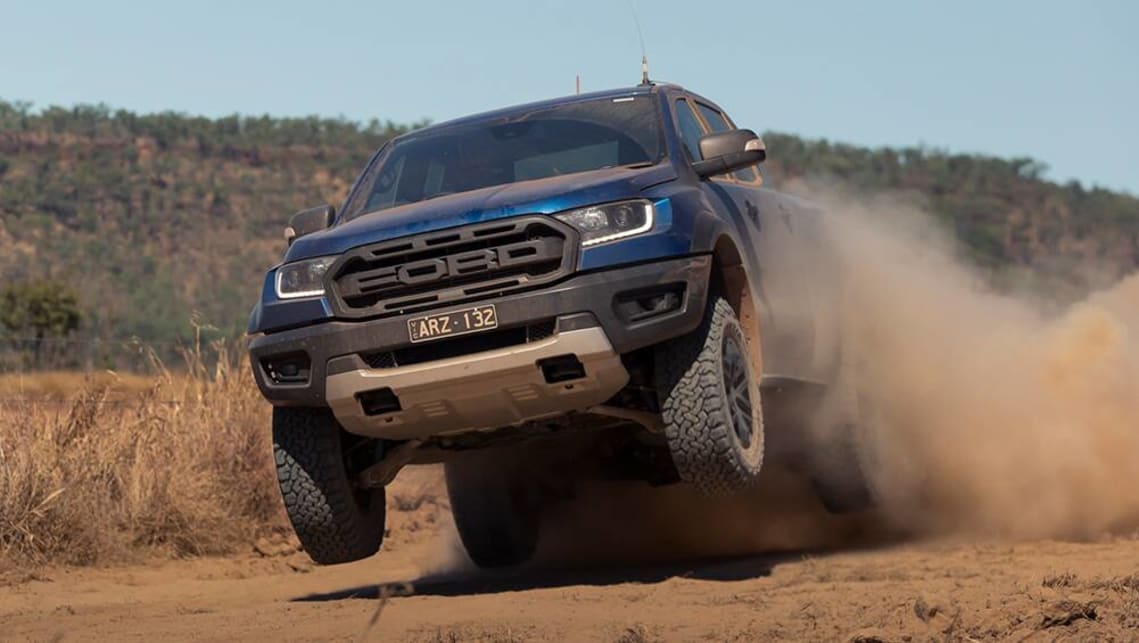 When you think Ford Ranger, you don't exactly think performance vehicle, but that hasn't stopped some owners from treating the mid-size ute as such, especially its formidable Raptor flagship, which is actually a lot slower than most realise.
In Australia, the current-generation Ranger is available with three diesel engine options, with the entry-level offering being a 118kW/385Nm 2.2-litre single-turbo four-cylinder, which we're not going to focus on here because it's essentially a fleet special.
Instead, we're going to direct our attention towards the Ranger's 147kW/470Nm 3.2-litre single-turbo five-cylinder and 157kW/500Nm 2.0-litre twin-turbo four-cylinder units, which are the two higher-performers primarily bought by private buyers.
The 3.2-litre engine is mated to a six-speed torque-converter automatic, while its 2.0-litre counterpart is matched to a 10-speed unit. That said, the former can be instead had with a six-speed manual, so the playing field isn't very even there.
Aside from one 4x2 variant each, the 3.2-litre and 2.0-litre engines are exclusively paired with a 4x4 system, so those are the comparable versions we're going to look at here.
To make matters interesting, Ford typically doesn't issue official acceleration claims for the Ranger, including the landmark 0-100km/h sprint time, let alone publicise top speed, so we've had to draw the following data from several unofficial sources, with few exceptions.
That said, Ford did surprise all-comers at the aforementioned Raptor's launch, where it confirmed the off-roader sprints from a standstill to triple digits in 10.5 seconds while on the way to its max speed of 170km/h. Not exactly quick nor fast, hey?
Now keep in mind the Raptor is only available with the 2.0-litre engine, which can be had in lesser (read: lighter) variants that're quicker by their very nature. Yep, believe it or not, a genuine Ford Performance model is actually slower than its 'regular' siblings.
So, how quick are the Ranger's XLT, Wildtrak and special-edition variants fitted with the 2.0-litre engine? Depending on who you ask, there are tenths of a second in it, so expect any of them to take just over 10 seconds to complete the zero-to-100km/h dash.
Meanwhile, the 3.2-litre engine (with its automatic) provides very similar straight-line performance. And we mean very similar when we say it, as test results are more than often dependent on the driver behind the wheel.
So, unless you're modifying your Ranger, don't expect either the 2.0-litre or 3.2-litre engine to do a sub-10s run to triple digits – unless they're going downhill, of course.
Nonetheless, the Ranger is still one of the quickest mid-size utes money can buy, having outgunned the best the Toyota HiLux (up to 150kW/500Nm), Mitsubishi Triton (133kW/430Nm), Nissan Navara (up to 140kW/450Nm), Isuzu D-Max (140kW/450Nm) and Mazda BT-50 (140kW/450Nm) had to offer in various tests, including some on video.
That said, there are two quicker mid-size utes: the soon-to-be-replaced Volkswagen Amarok and soon-to-be-runout Mercedes-Benz X-Class, with the former's TDI580 variants (up to 200kW/580Nm) needing just 7.3s to reach 100km/h and the latter's X350d (190kW/550Nm) taking 7.9s, according to their manufacturers.
Ironically, the next-generation Amarok will be a twin to the Ranger's replacement, with the latter set to get Ford's 3.0-litre single-turbo V6 diesel engine (codenamed Powerstroke) with about 185kW/600Nm for the first time. Needless to say, performance improvements are on the horizon.